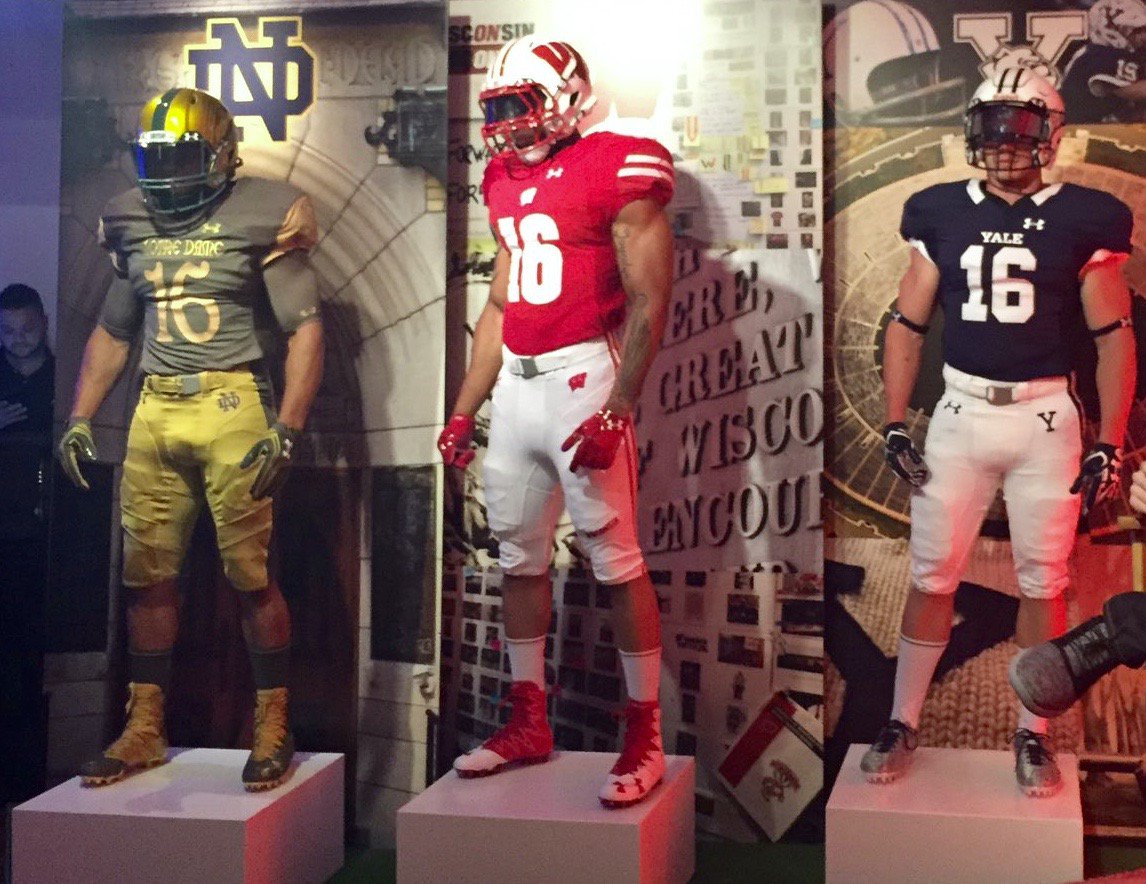 Click to enlarge
Under Armour threw itself a 20th-birthday party last night and took the occasion to unveil three new college football uniforms: Notre Dame's 2016 Shamrock Series design, plus the new looks for Wisconsin and Yale.
My thoughts on the Wisconsin and Notre Dame uniforms can be found in this ESPN piece, which was published this morning. Meanwhile, here are some additional photos (many of which can be clicked to enlarge).
Side-by-side comparison of old (left) and new Wisconsin football uniforms. pic.twitter.com/fOMQ9YIvDi

— Paul Lukas (@UniWatch) July 21, 2016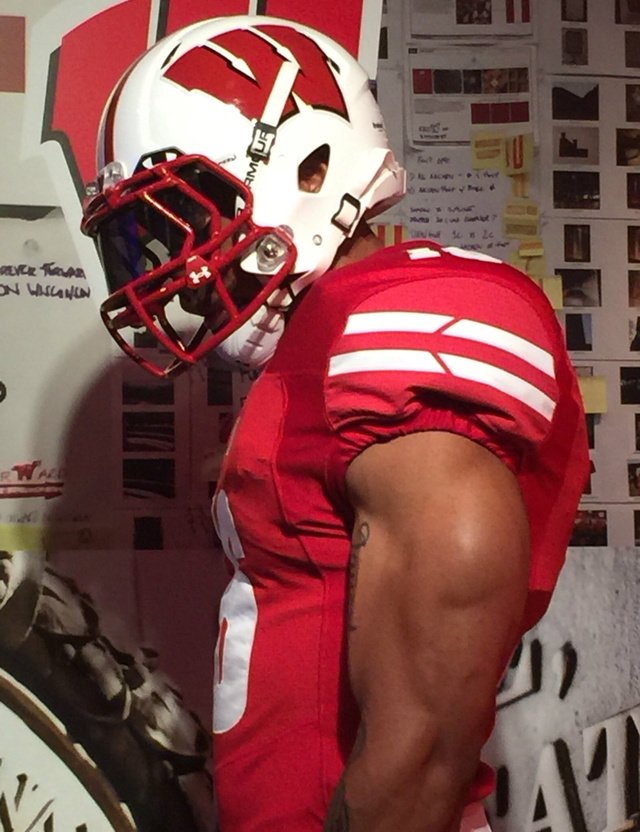 Arrows incorporated into Wisconsin's new sleeve/pant/helmet striping symbolize new slogan, "Forever Forward." pic.twitter.com/Cjac7a0XwW

— Paul Lukas (@UniWatch) July 21, 2016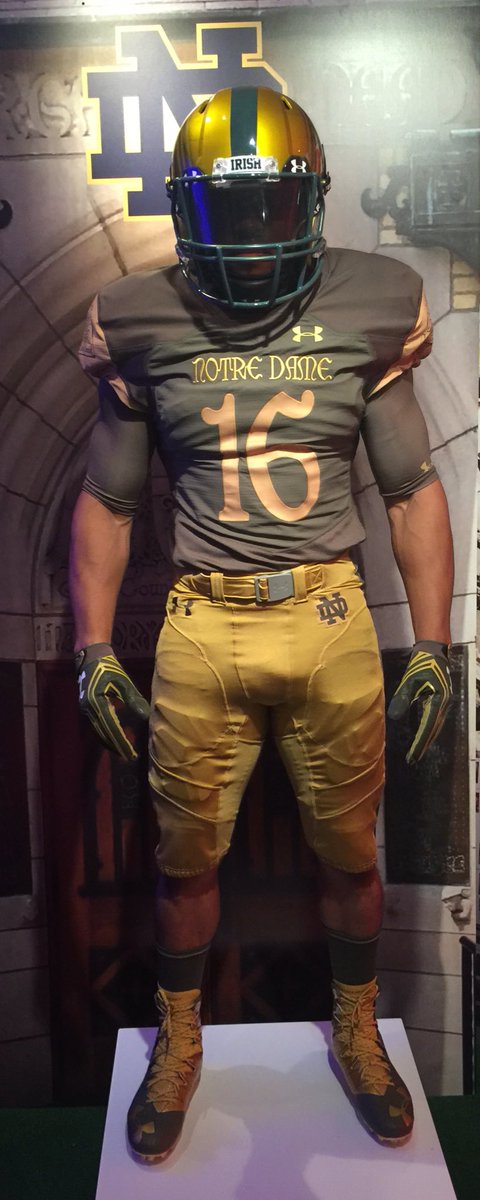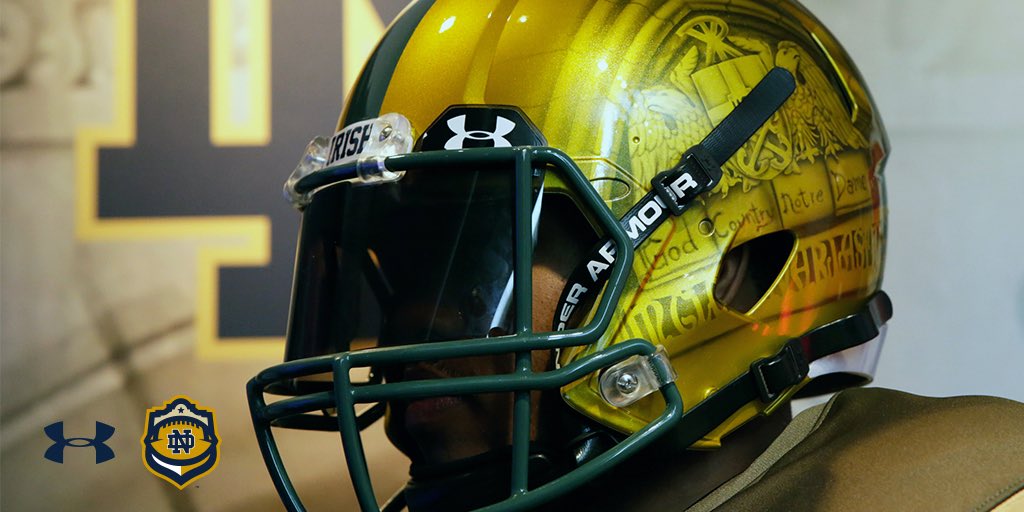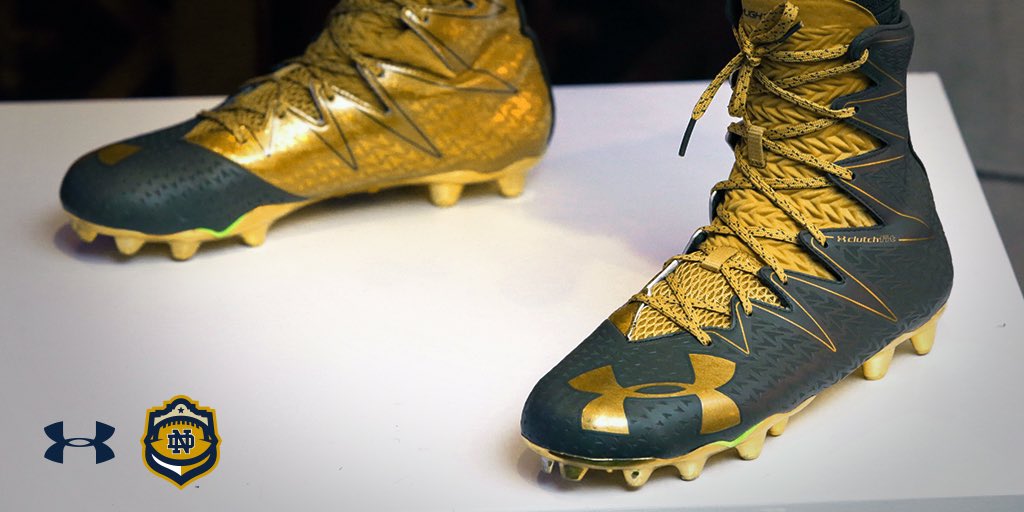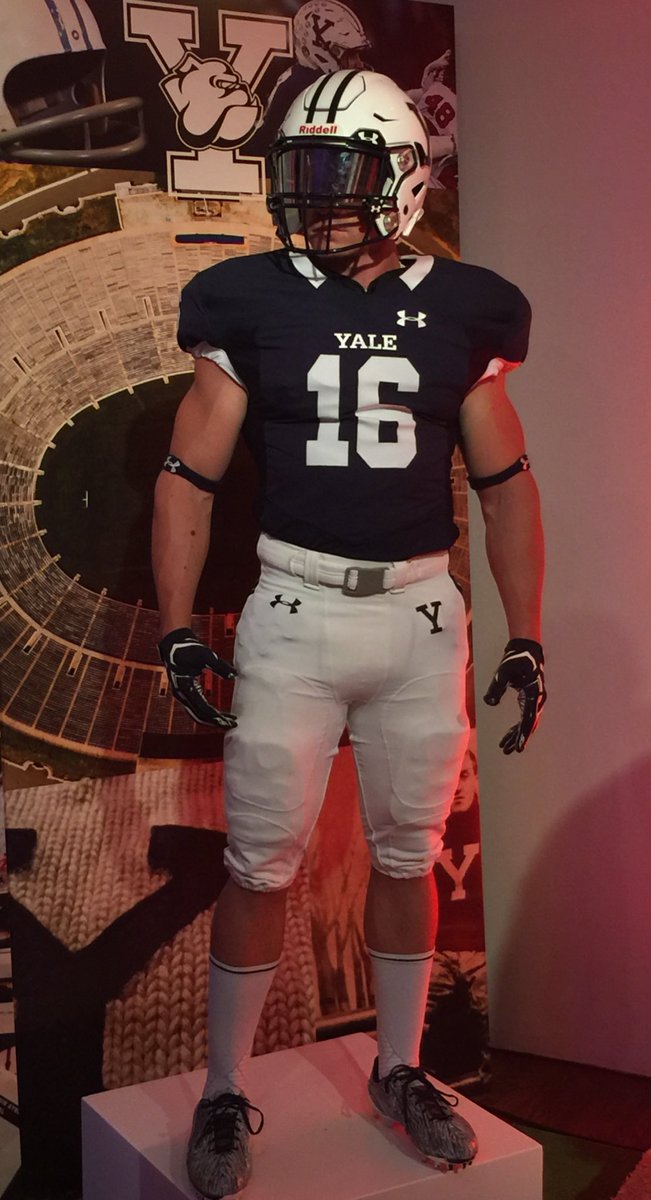 •  •  •  •  •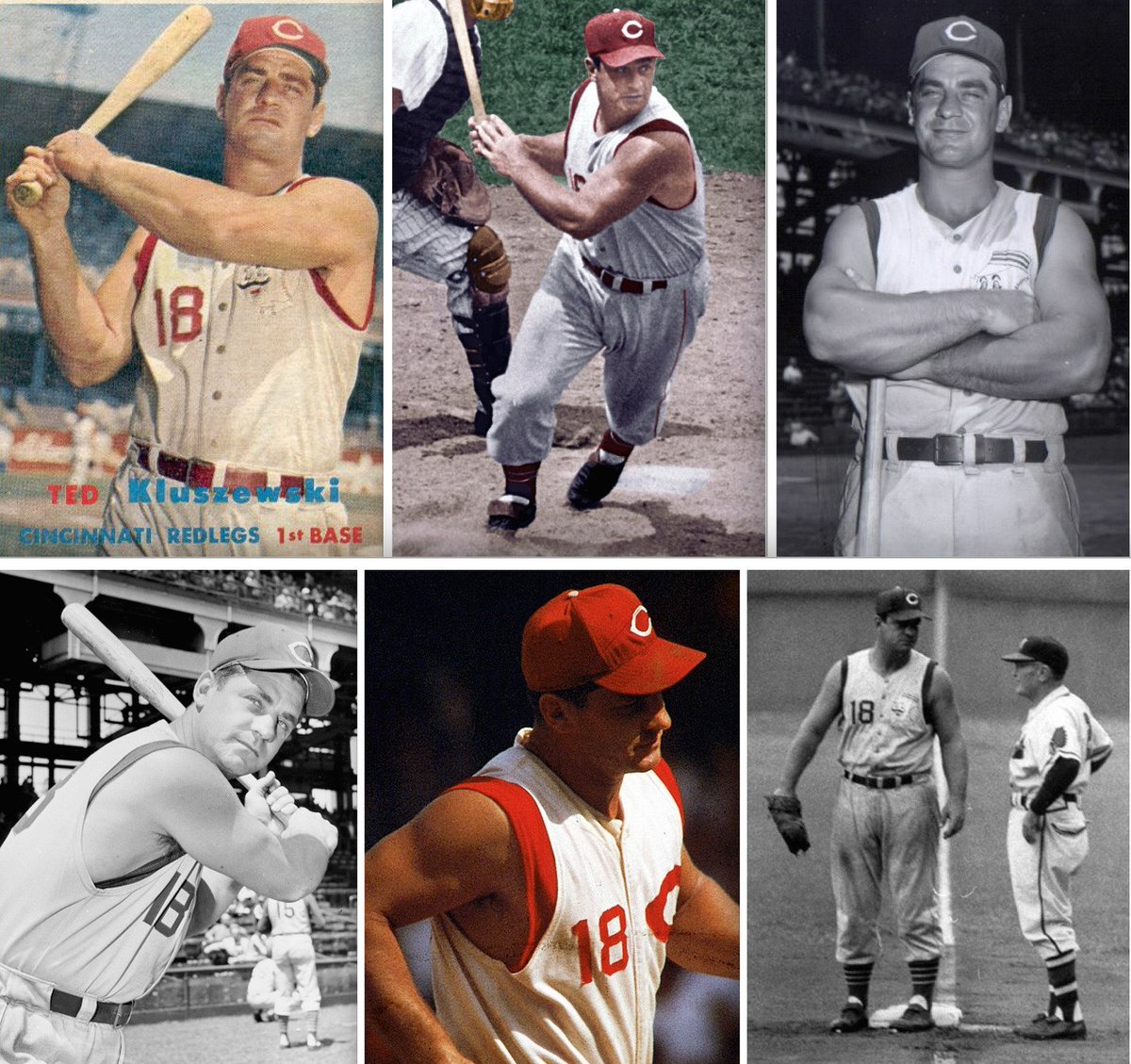 Click to enlarge
Friday Flashback: My latest Friday Flashback column over on ESPN takes a look at the history of MLB vests (including some discussion of the ultimate sleeveless player, 1950s Reds first baseman Ted Kluszewski, shown above). I even wore a vest for the video accompanying the piece. Check it out here.
• • • • •
Timberwolves-redesign contest reminder: In case you missed it earlier this week, I'm running an ESPN contest to redesign the Timberwolves. Details here.
• • • • •
Raffle results, and today's new raffle: The winner of the Padres cap is Bryant Robinson. Congrats to him, and thanks to all who entered.
Our next '47 cap up for raffle is this Orioles snapback:
Here's a closer look at the logo on the side (against a different background). There's a '47 maker's mark on the other side.
To enter, send an email with your name and shipping address to this address (not to the usual Uni Watch email address, please) by 8pm Eastern TODAY. One entry per person. I'll announce the winner on Monday, and I'll also announce Monday's raffle cap, and then we'll keep repeating that process for each remaining weekday this month. If you win one of the raffles, please be nice enough to step aside and stop entering the remaining ones. Thanks.
•  •  •  •  •
The Ticker
By Mike Chamernik

Baseball News: The Royals visted the White House yesterday and the presented President Obama with one of their gold-trimmed championship jerseys (here's the front). They also asked Obama to sign a standard home top, and he obliged. … Bryce Harper wore Stance socks with MLB logos on the backs yesterday (from Jason Whitt). … Both the Twins and Red Sox wore Heart of 29 patches at Fenway last night. Rod Carew, who wore a Red Sox jersey for the game, started the campaign to raise awareness about heart disease. … The Dodgers' 3D-printed helmet logos are coming undone in the DC heat and humidty. … The Mets increased the visibility of their retired numbers by moving the displays from a wall behind the left field bullpen to the top of the stadium. Are there any other teams that position their retired numbers that high? (From Patrick Sesty.) … As a Brewers fan, I know they wore their new dark blue ball-in-glove alternates often, but not this often. … David Ortiz wore a misspelled uniform during a game in his early Twins years. It reads "ORITZ" (from Mike Menner). … As Paul noted yesterday, the Giants wore historically inaccurate socks during their throwback game against the Red Sox on Wednesday. That's even odder considering that they wore period-appropriate black stirrups with orange sannies against the Rays just last month (from David Taub). … This blog post says that a couple of 1970s White Sox uniforms are on display in "The Bard's Room," an exclusive dining area at Sox Park. Scroll down to see old photos of the uniforms in action (from Eriq Jaffe). … Mets OF Timo Perez wore the wrong cap during player introductions prior to Game 1 of the 2000 World Series. … The Fresno Grizzlies will wear mariachi uniforms tonight. … We saw renderings a few days ago, but here are photos of the Myrtle Beach Pelicans' Kenny Powers tribute jerseys. … The Brazos Valley Bombers, a Texas summer collegiate team, wore Top Gun jerseys. … Here are the away and home uniforms for the Under Armour HS Baseball All-America Game on Saturday night at Wrigley Field. As you can see, both teams have racing stripes. Here's a front view of both sets (from Robert Onolfi). … Wow, check out these old Utah uniforms, circa 1916 (from Ben Wilkinson). … Dugout Memories, one of the earliest and longest-running vendors of throwback/nostalgia apparel, has had its MLB license revoked and will have to stop selling MLB merchandise soon. "To say I am heartbroken would be an understatement," wrote DM president Glenn Gough in an email to customers. You can read the entire email here (from Bernd Wilms).

NFL News: We'll have to continue to wait patiently for the Packers to reveal their Color Rash unis. … The Bears' season tickets suggest that the team will wear Monsters of the Midway throwbacks twice in October (from Jamie Uthe). … On a related note, check out this slideshow of Bears ticket designs through the years (from Ron Roza). … Hall of Fame CFL quarterback Matt Dunigan had a huge facemask for a time in the mid-1980s (from reader B.Q. G).

College Football News: Texas A&M coach Kevin Sumlin says that the Aggies will soon unveil throwbacks. The coach says they will honor a title-winning team, which means the unis will be from either 1919, 1927, or 1939. … Yesterday we noted that Michigan has a different shade of yellow after their switch to Nike/Jordan. Mark Praschan is here to clear up confusion: "Per the owner of M Den, the official retail outlet for U-of-M, Nike's 'Amarillo' is PMS7406, which is the exact color listed on the University's official Style Guide. Michigan calls this color Maize. Nike calls this color Amarillo."

Hockey News: The Islanders' first year at Brooklyn's Barclays Center was a disaster, so the team is reportedly considering building a new arena near Citi Field. … After doing the Metropolitan Division last week, Adam Rickert redesigned the jerseys of teams in the Atlantic Division. I like Adam's concepts because they are very clean and subtle, unlike the wacky reinventions we usually see in this space.

Basketball News: The NBA has pulled the 2017 All-Star Game from Charlotte due to North Carolina's controversial House Bill 2. New Orleans appears to be the most likely substitute city, although others are being considered as well. … Players on three WNBA teams were fined for wearing warm-up T-shirts protesting recent shootings by and against police officers. … Kevin Durant was in the middle of a shoe war in 2014, when Nike retained Durant by matching a $285 million offer he received from Under Armour. Durant says that the drama was one of the reasons he opted out of the FIBA World Cup that summer. … Jordan Brand unveiled the Jordan XXXI sneakers, which go on sale in September. The shoes are known as the "Banned" edition, an homage to the original black-and-red Jordans that the league fined MJ for wearing in the mid-1980s. … Rapper Lil Dicky sells his own sports-themed merchandise. Those socks say there's an outside chance he's a Uni Watcher (from Paul Kos). … Check out the wild dark pinstriped shorts (and script jerseys, and afros) that North Dakota State wore in 1972-73.

Soccer News: EA Sports may have leaked Manchester United's new kit (from @HolyCalamity). … Also from, um, Holy: After changing his jersey number to No. 3, Liverpool's Mamadou Sakho will sign fans' outdated Sakho No. 17 jerseys. … New away kits for Burnley FC and Sparta Prague (from John Hinton). … New neon-and-blue third kit for Arsenal. "Thankfully third kits are so rarely worn," says Ian Wright. "Yet Puma has created a new one for Arsenal in each of their three years [here's 2014-15 and 2015-16 – MC] as uniform manufacturers. In years past, with Nike, the previous year's away kit would become the current third kit." … Uniform ad regulations at the Rio Olympics will prevent Germany from wearing kits with the three stripes design (from Robert Marshall). … "1860 Munich of Bundesliga 2 (the second division of German soccer) have found a new jersey advertiser that actually fits quite well with the club," writes Bernd Wilms. "The company is called Die Bayerische ('The Bavarian'), and its logo happens to be a light-blue lion — not bad considering 1860 play in light blue and are nicknamed 'the lions.' In addition, the team is letting fans vote on the final design of the ads on the jerseys."

Grab Bag: The WWE held a draft the other night, and RAW chairwoman Stephanie McMahon wore a custom dress for the occasion (from David Firestone). … Also from David, director Garry Marshall wore a BFBS NASCAR jacket on the set of The Princess Diaries 2 in 2004. … I think we knew some of this, but Under Armour is seeking public funds for its move to Baltimore (from Andrew Hoenig). … Athletes not using Rogue-branded gear at the CrossFit games have to cover up logos with duct tape (from Chris Corbaz). … Someone did a pretty decent job dressing up as Abe Lincoln for Donald Trump's speech last night. … Readers can vote to determine the best uniform in Arizona pro sports history.