For many of today's photos, you can click to enlarge
There were four throwback games around Major League Baseball yesterday — part of Turn Back the Clock Day, which MLB says will be a new annual tradition (although it remains unclear why they did so little to publicize the new tradition and partially buried it by running two of the four throwback games in the afternoon, where they got much less exposure). Here's a game-by-game rundown:
Braves vs. Reds. This was a weird one, because the Reds wore early-2000s unis (as a tribute to Junior Griffey's upcoming Hall of Fame induction) while the Braves threw back to the road uniforms they wore from 1969-71, creating the odd spectacle of two opposing teams turning back to the clock to different eras. Obviously, the Braves couldn't have matched the Reds with an early-2000s look, because Atlanta's uniforms haven't really changed since then, but it was still weird to see the mismatched looks. We've seen plenty of games with only one team throwing back, of course, but how often have we seen two teams wearing throwbacks from separate time frames? It happened fairly often during the NFL's 1994 throwback-o-rama, because those throwbacks were drawn from different points in the teams' respective histories, but I can't recall seeing this happen in an MLB game. Anyone..?
I watched a fair amount of this game, and it was very easy on the eyes. A few notes:
•  Both teams looked good, although the plain Braves script, with no tomahawk and no front number, looked a bit plain: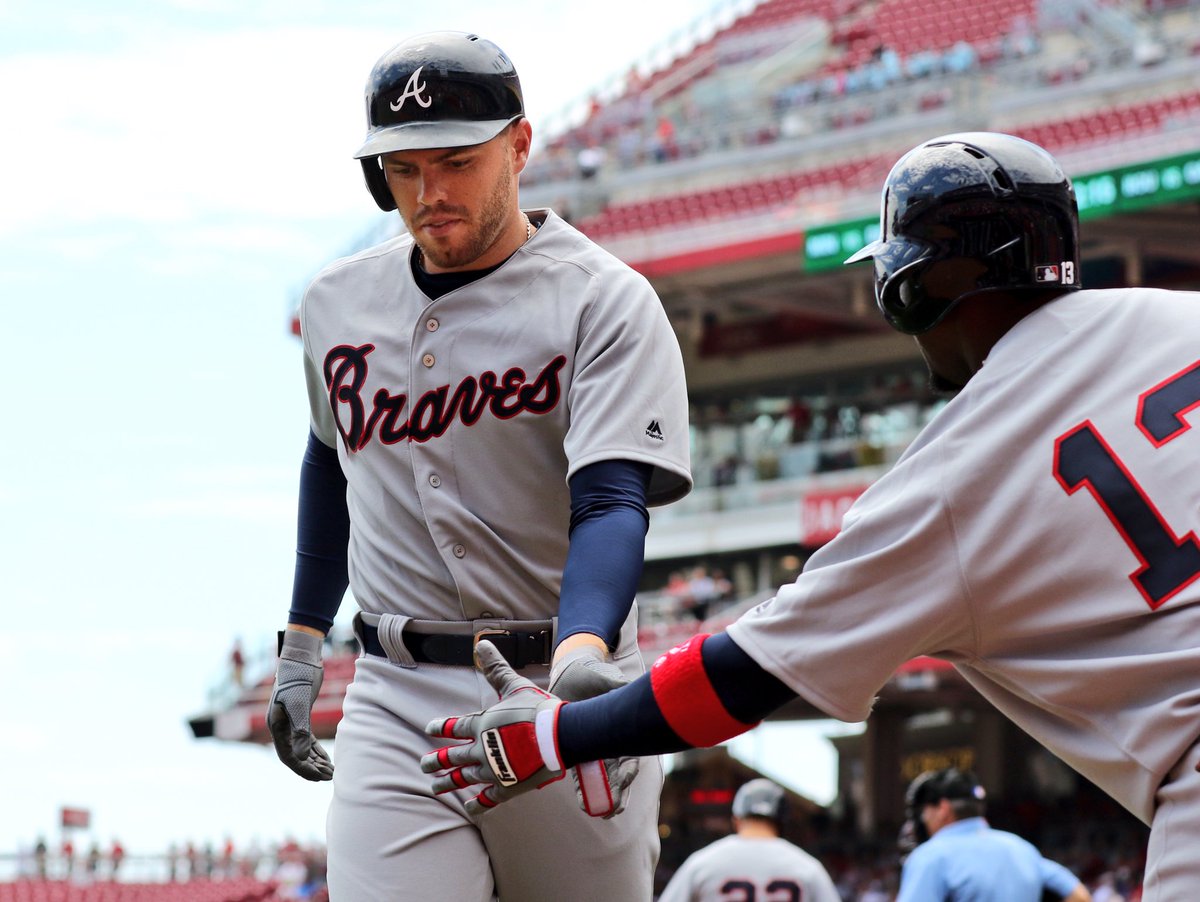 • I don't get too worked up about logo creep in throwback games. I mean, I wish it didn't happen, but I understand why it does. So it was an unexpected bonus to see that the Braves didn't have the MLB logo on the back of their jerseys (as you can see in the previous photo shown above), but the logo did appear on the Reds' jerseys — period-appropriate in both instances: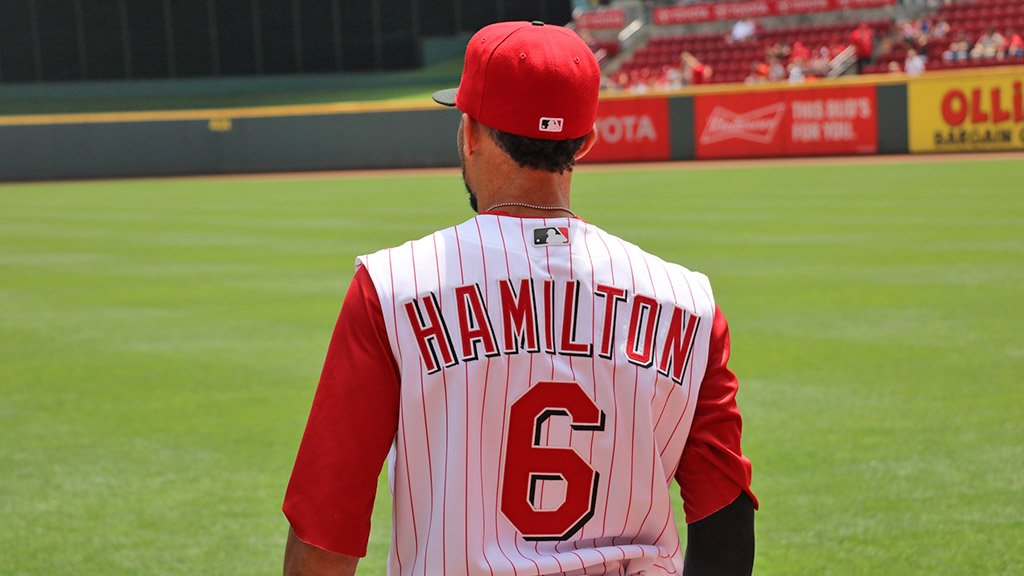 •  Back in the day, this Braves uniform included the Indian head sleeve patch. That was conspicuously absent yesterday:
Want to see more? Game photos are available here.
———
Mets vs. Cubs. Both teams wore 1980s uniforms (which in the Mets' case was the road grey version of the Sunday throwback they've been wearing at home this season). No mismatched-era issues here, as these two unis faced each other many times back in the day and even shared space on a 1984 Sports Illustrated cover.
I watched most of this game as well, and it wasn't so hot. Notes:
•  As many, many fans immediately noticed, he Mets' chest script was consistently riding too low: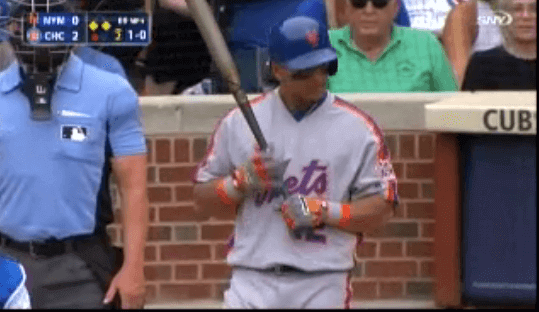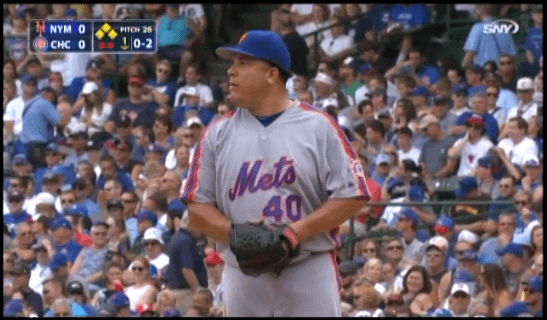 Not sure what that was all about, but it looked miserable.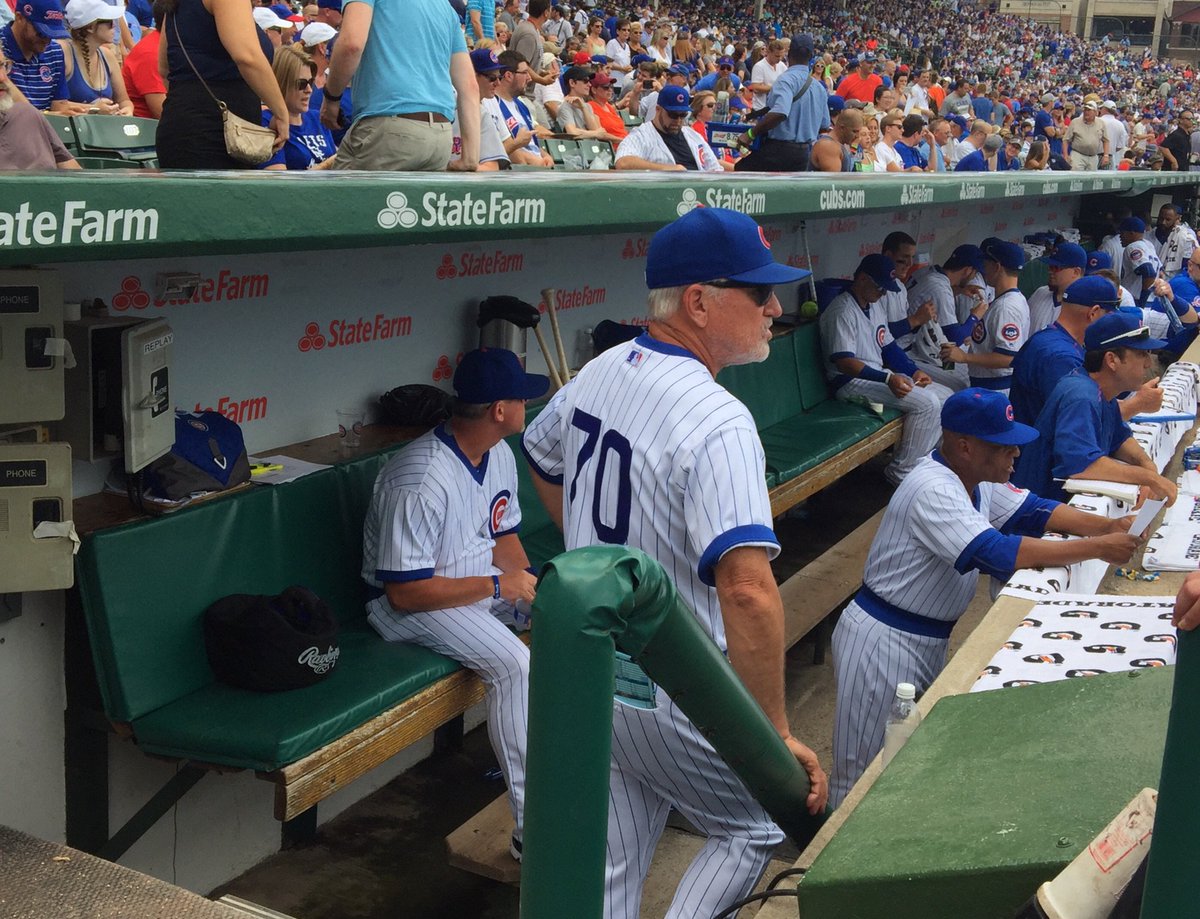 • Since I mentioned the MLB logo's presence in the previous game, I'm gonna keep doing it. Oddly, the Cubs wore it yesterday but the Mets didn't:"¨"¨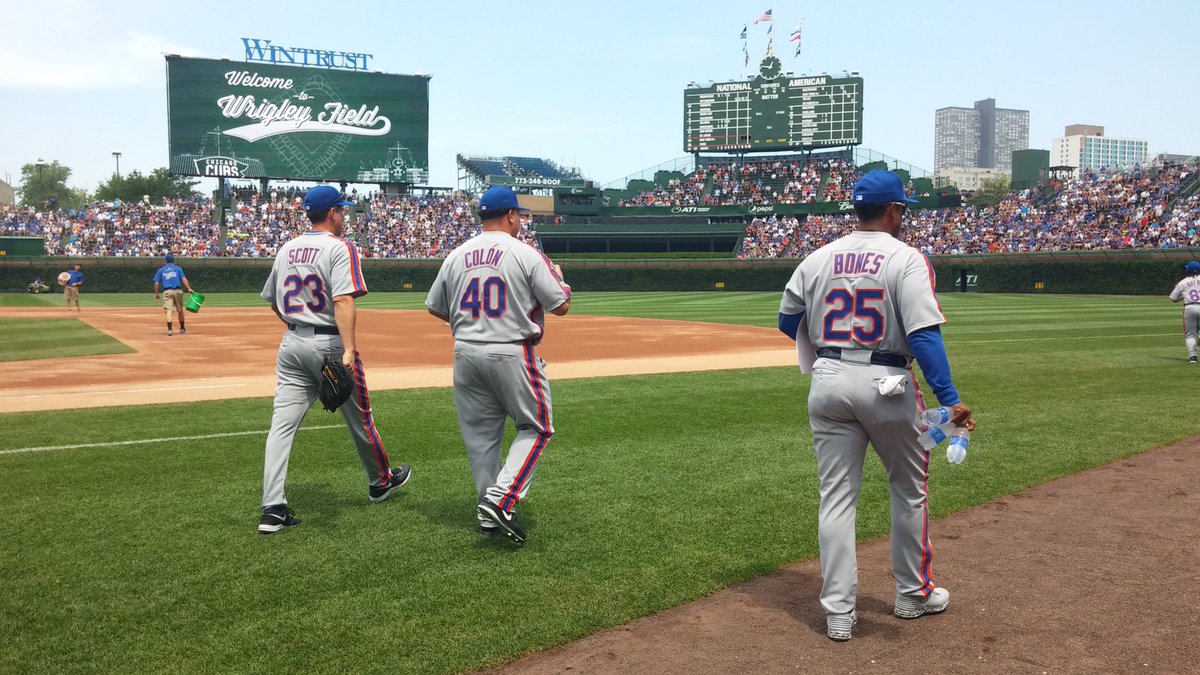 •  The Cubs' chest logo included the circle-R trademark logo back in the 1980s (per Henderson, it was added in 1979), but it wasn't there yesterday: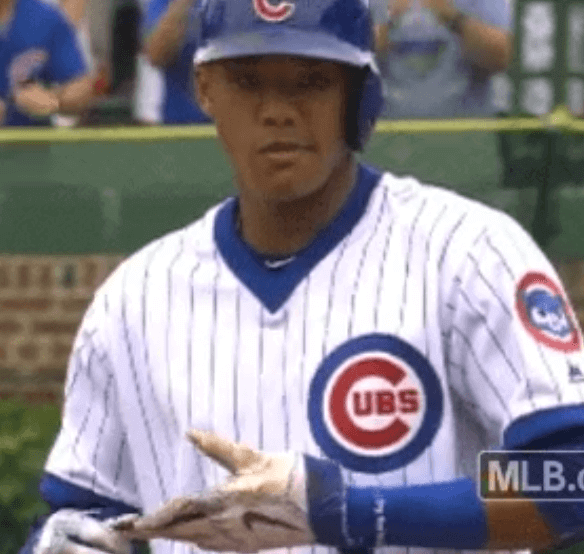 •  For the third time this season, Mets first baseman James Loney went with orange sannies. Whatever you think of that look, he really shouldn't be freestyling in a throwback game, and Cubs broadcaster Len Kasper called him out for it: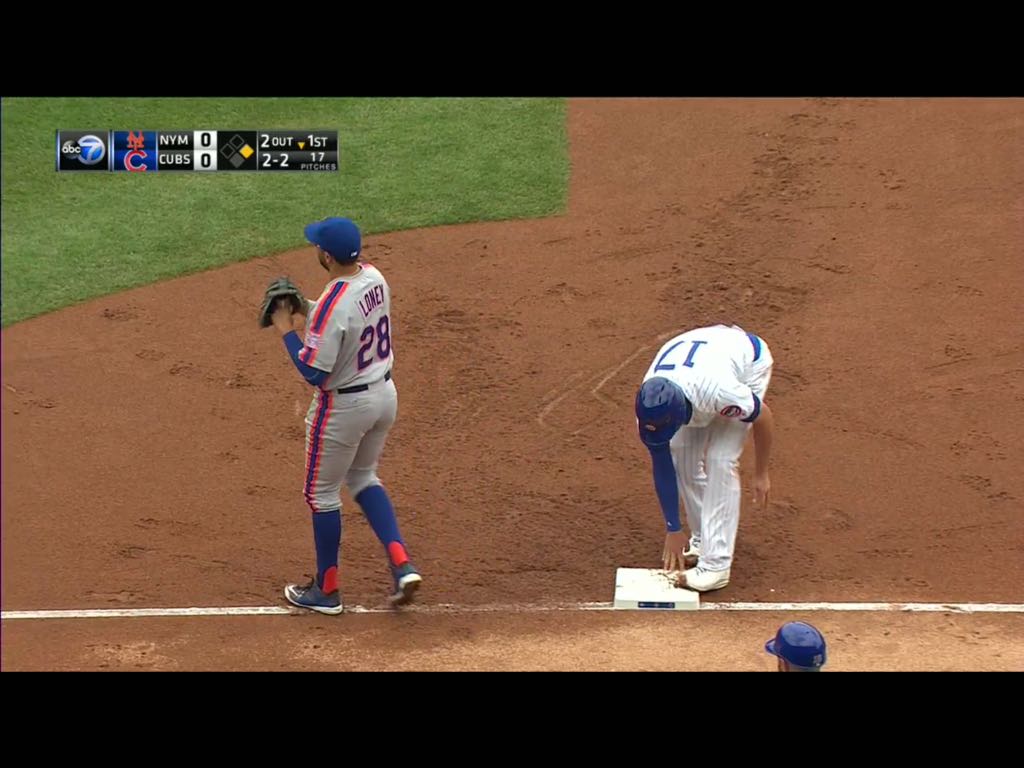 @PhilHecken @UniWatch Loney catches some crap for not being true to the '86 #Mets uniform. pic.twitter.com/WvxxUWN5vN

— Funhouse (@RNs_Funhouse) July 20, 2016
•  The Cubs didn't look terrible (do they ever?), but oy — that waistband:
You can see lots of additional game photos here.
———
Giants vs. Red Sox. The Red Sox wore 1975 home whites, complete with the Massachusetts bicentennial patch, and the Giants wore their late-1970s orange road jerseys. These two uniforms never appeared in the same season (at least not with the Sox wearing that sleeve patch), but at least they're from the same era. And for the most part, this was a good-looking game.
Notes:
•  The good news is that all of the Giants went high-cuffed; the bad news is that they all wore two-in-ones, which are clearly the lowest form of baseball hosiery. And in a very strange development, the two-in-ones didn't even simulate the Giants' real late-'70s hose, which consisted of black stirrups over orange sannies. Instead, they simulated orange stirrups with three black stripes and white sannies — something the Giants have never worn. Welcome to the brave new world of baseball socks, where you can just make things up as you go.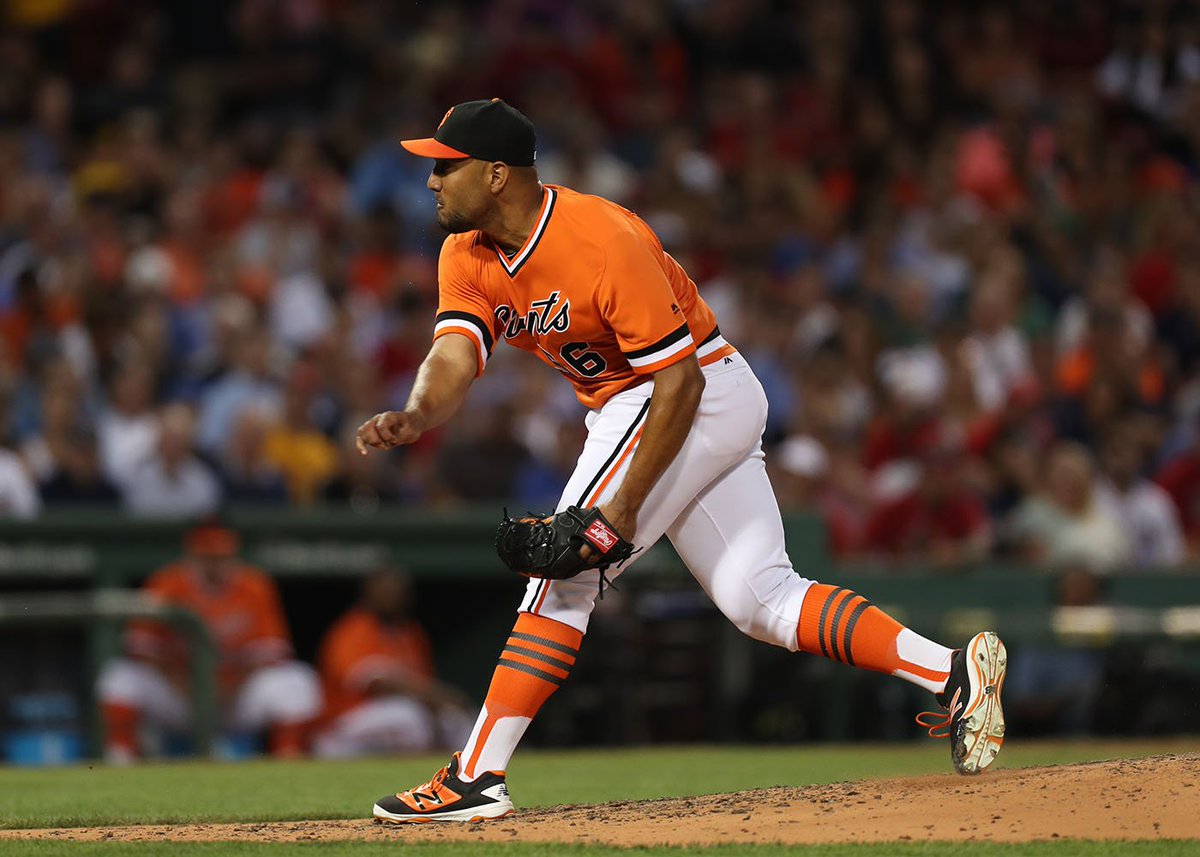 •  Most of the Red Sox went with pajama pants, although a few went high-cuffed with period-inappropriate solid-red socks and left fielder Brock Holt wore the proper throwback striping. At first I thought he was wearing striped socks, but a closer look reveals that he may have been wearing stirrups over red sannies, as seen in this video:
@PhilHecken @UniWatch Giants at Red Sox, throwbacks. pic.twitter.com/0fBi8eQ1yD

— Funhouse (@RNs_Funhouse) July 20, 2016
•  Just like in the Mets/Cubs game, there was an inconsistency regarding the MLB logo. The Red Sox wore it but the Giants didn't: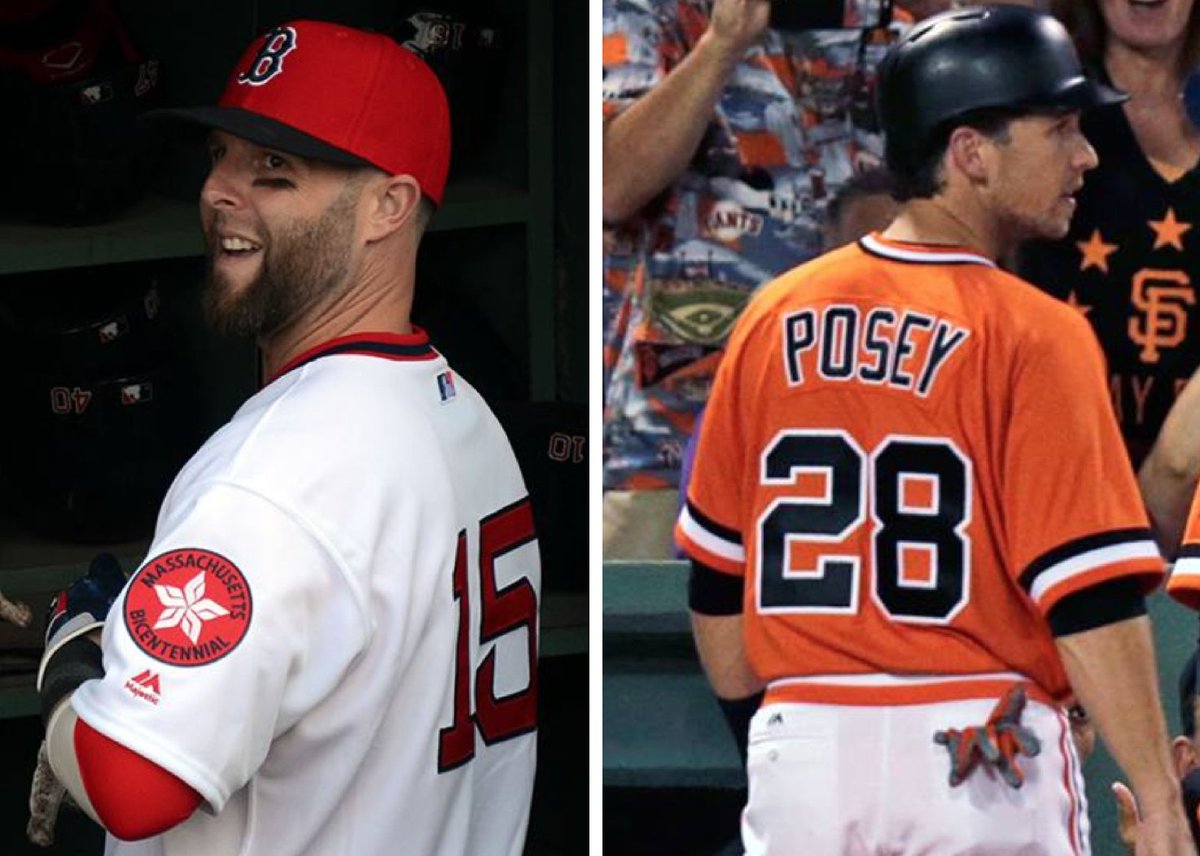 You can see a bunch of game photos here.
———
Rangers vs. Angels. The Angels wore their late-1970s home whites, which they also wore last just a few days ago (and which Phil covered in detail last Saturday), while the Rangers wore their 1986 road greys. If you can overlook the Angels' number/NOB font issues (see Phil's Saturday post for details), these two uniforms overlapped a bit in the late 1980s, so they're more or less from the same era.
Not a bad-looking game. I like the Rangers so much better in blue than in red — wish they'd stick to that.
Notes:
•  Rangers shortstop Elvis Andrus wore the team's current cap, instead of the throwback cap. Here's a comparison with Andrian Beltre on the left and Andrus on the right: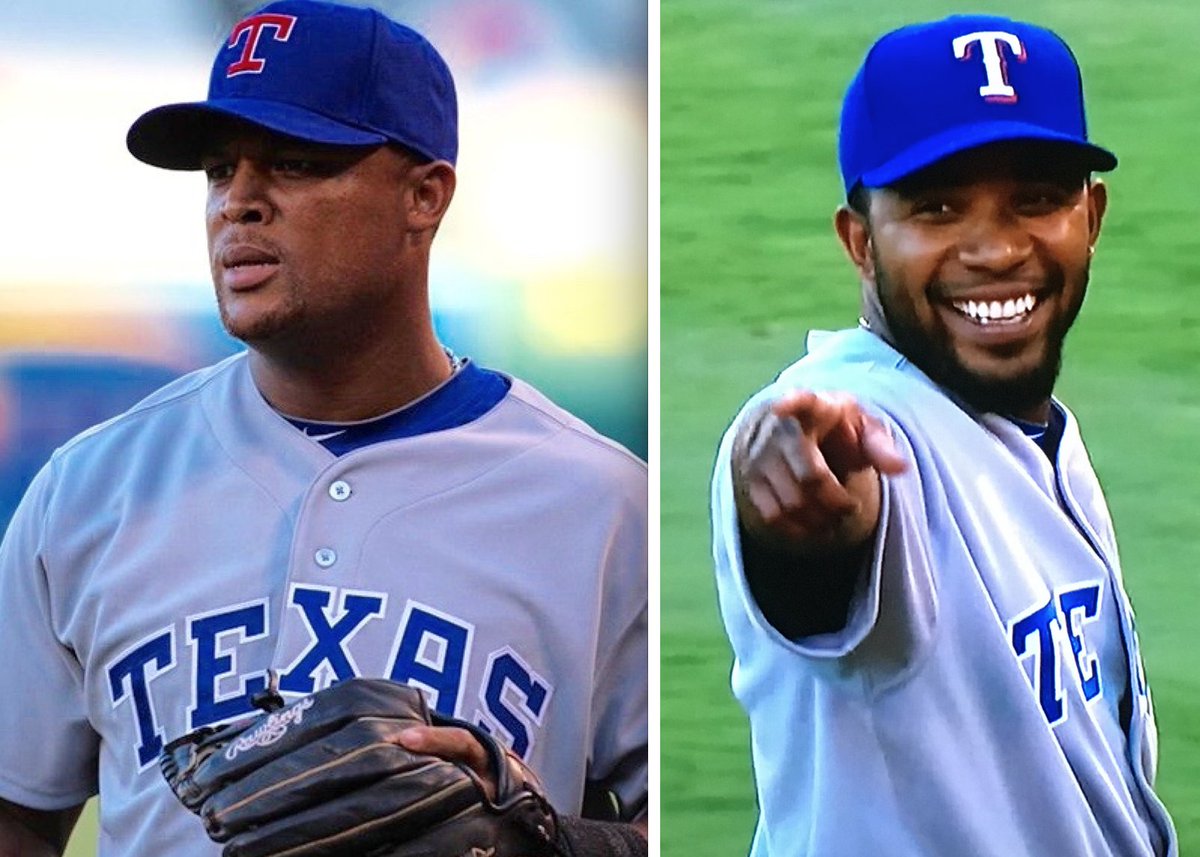 •  The logo decal on Johnny Giavotella's batting helmet switched from a regular to throwback during the game:
@UniWatch Giavotella wearing the latest Angels batting helmet logo in the 3rd, then the throwback logo in the 6th pic.twitter.com/NLQ1sZRSrA

— Alex Calinsky (@AlexCalinsky) July 21, 2016
•  The MLB logo did not appear on the back of either team's jersey: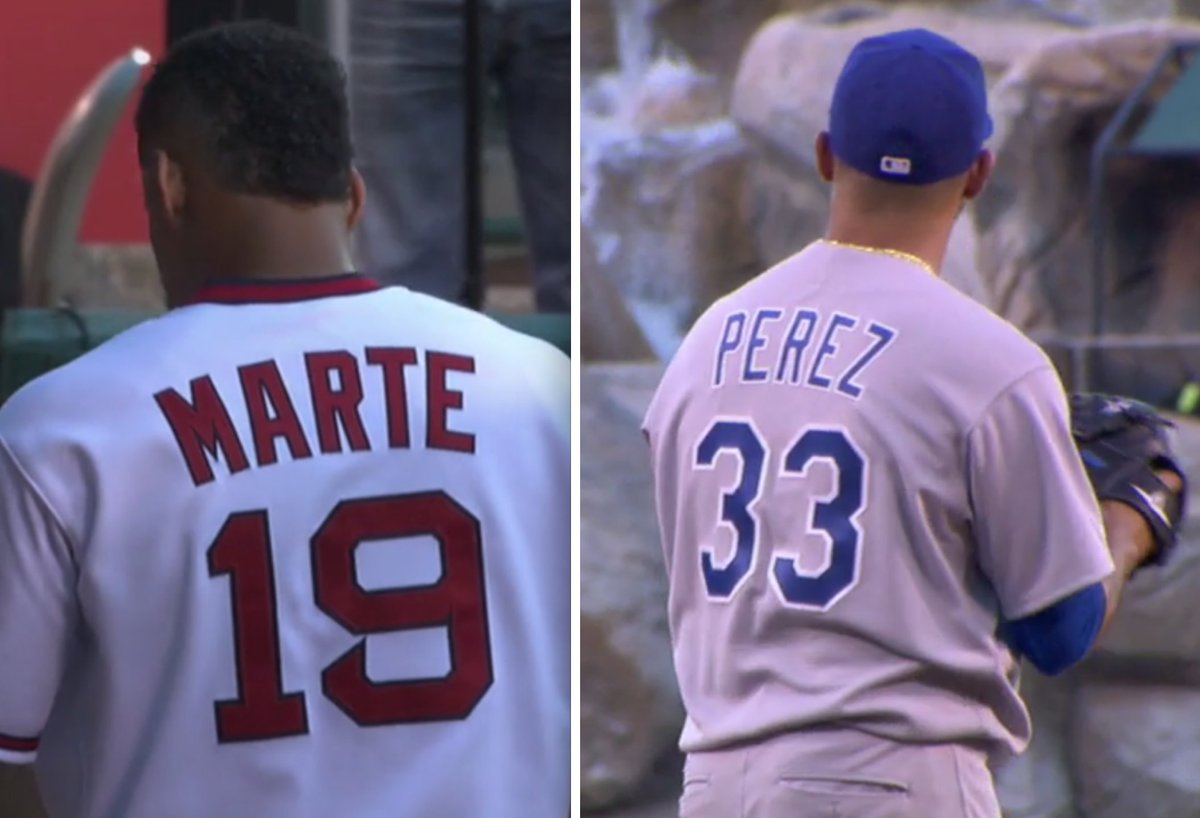 Game photos are available here.
All in all: a fun day around the league. If this really is going to be an annual thing, here's hoping it's a little better coordinated next time around.
Here are some additional shots from the four games:
(My thanks to all contributors, including Jonathon Binet, Brinke Guthrie, Chris Howell, Matthew Lohr, @RNs_Funhouse, @RoyDaddy13, Shannon Shark, and of course Phil.)
• • • • •
Timberwolves-redesign contest reminder: In case you missed it earlier this week, I'm running an ESPN contest to redesign the Timberwolves. Details here.
• • • • •
Raffle results, and today's new raffle: The winner of the Braves cap is Matthew Wilcott. Congrats to him, and thanks to all who entered.
Our next '47 cap up for raffle is this Padres cap, which has a fabric adjusta-strap in the back:
Trust me, it's brown. Here's a closer look at the logo on the side (against a different background). There's a '47 maker's mark on the other side.
To enter, send an email with your name and shipping address to this address (not to the usual Uni Watch email address, please) by 8pm Eastern TODAY. One entry per person. I'll announce the winner tomorrow, and I'll also announce tomorrow's raffle cap, and then we'll keep repeating that process for each remaining weekday this month. If you win one of the raffles, please be nice enough to step aside and stop entering the remaining ones. Thanks.
•  •  •  •  •
Click to enlarge
21 locks, waiting to be found: Like a lot of people (or so I assume), I have a drawer where I keep keys "" my spare car keys, keys to my mom's apartment, keys to my upstairs neighbor's apartment, house keys for the friend who I cat-sit for, and so on.
The drawer has become a bit of a mess, sort of like the drawer where Redd Foxx kept all his eyeglasses on Sanford and Son, so last night I decided to go through it and organize it. To my surprise, I found that most of the keys "" a total of 21, by my count "" are completely unfamiliar to me and I have no idea what they're for. Some are grouped together in twos and threes, others are by themselves. Two are connected to a yellow plastic thingie, which seems particularly odd because I'm not a yellow plastic thingie kind of guy. How the hell did I ever acquire that?
I'm pretty certain two of the keys are for the house I grew up in (which my parents sold 12 years ago), but I no longer recall which two. As for the rest, I must have considered them important or useful at some point "" they wouldn't have ended up in the drawer otherwise "" but now I don't even recognize them.
I can't decide whether I should recycle them, make some sort of art out of them, or just put them back in the drawer. Hmmmm.
•  •  •  •  •
The Ticker
By Paul

'Skins Watch (a day early this week): Cleveland hometowner/booster Drew Carey thinks it's time to move on from Wahoo (from our own Alex Hider). … Longtime 'Skins superfan and unofficial team mascot Chief Zee, who routinely wore a faux Indian headdress and carried a toy tomahawk at games, has died. … North Dakota state highway signs, which since 1923 have featured an outline of the Sioux luminary Red Tomahawk, are being changed to a design based on the shape of the state (from @GKG_77).

Baseball News: Buried toward the end of this item is the news that the South Bend Cubs will wear Star Wars jerseys on Saturday. … Remember that Asian heritage jersey hoax from a while back? The guy behind that is now selling T-shirts of the designs. … Lots of upcoming uni-related moves by the Mariners in connection with Junior Griffey's number retirement. They'll wear 1989 throwbacks with this patch on Aug. 5 and will switch to this patch on Aug. 6. And on Aug. 7 they'll give away a replica of the throwback (from Brad Iverson-Long and @notoriouscs). … Former Bulls center Brad Miller threw out the first pitch at Wrigley yesterday. He wore argyle Cubs shorts, a style popularized by Bill Murray (thanks, Mike). … OF Julio Borbón, who hadn't played in the bigs since 2013, was called up by the Orioles earlier this week. One difference from his previous MLB stints: He will now have an accent on his NOB (from Andrew Cosentino). … While looking for something else, I came across this shot of Pedro Martinez from 1993. Man, the Dodgers' front jersey numbers were huge! … In the 2000 MLB All-Star Game, Reds SS Barry Larkin wore a blank batting helmet. The shell looks more navy than black — maybe an Indians helmet..?

NFL News: Judging by this rundown, it appears that the Texans will wear white at home for their season opener against the Bears on Sept. 11, mono-blue against the Chargers on Nov. 27, and their red alts against the Jags on Dec. 18, along with the usual run of Pinktober and G.I. Joevember slop (from Kenny Saidah). … This is a 2013 item, so we may have seen it before, but I have no memory of it and, in any case, once more won't hurt: Someone has put together a very entertaining "hidden history" of what the Panthers might have looked like if they had existed in 1955 (from Scott Moody). … Steven Marks was recently at the Children's Museum of Art here in NYC and saw this quilt-y thing made of of football jerseys. Further info on the artist here.

College Football News: New BFBS alts for Brown (from Joel Mathwig). … Michigan's new uniforms will be unveiled on Aug. 2, and will apparently feature a slightly different shade of yellow. Further info here (from Chris Russell and Anthony Giaccone). … GFGS + Tulane's "Angry Wave" = this new helmet. … Coastal Carolina is switching to Under Armour. … New cleats for UNC (from James Gilbert). … Miami (Ohio) now has the state of Ohio above the nameplate (from Camden Henry). … Notre Dame will unveil its latest Shamrock Series uniform tonight (thanks, Phil).

Hockey News: New uniforms for the ECHL's Missouri Mavericks. … New Rangers acquisition Mika Zibanejad will wear No. 93. Never seen a number unveiled quite like that before (from @_ynnhoJ). … 15th-anniversary logo for the Saginaw Spirit.

Basketball News: The Suns will play two games in Mexico City this season. Seems like a safe bet that they'll wear "Los Suns" jerseys, or some other Spanish-language design, for those games (from Jeffrey Seals). … Great interview with designer Tom O'Grady about the Suns' 1990s sunburst uni design (thanks, Phil). … Good article on the renovations to NC State's arena (from J. Huckel).

Soccer News: New away kit for Burnley (from Josh Hinton). … "Roy Radics, a friend who was a massive Tottenham Hotspur fan and also the lead singer of a Brooklyn-based ska band called the Rudie Crew, passed away this March at the much too young age of 51," says Terence Kearns. "As a tribute to his love of Spurs and life, I had this Tottenham third shirt from last season printed. It's the only Spurs shirt I'll wear this season." … Here's an interview with the author of a book about soccer jerseys (from Mark Coale). … Here's a slideshow featuring the kits for this year's teams in the second flight of German soccer (from Anthony Zydzyk). … I don't generally get too excited about sports footwear, but this article about the engineering that went into Nike's soccer cleats for the Olympics is seriously interesting. Recommended (from Tim Cross).

Grab Bag: Bit of a kerfuffle in Oregon, where a county sheriff running for re-election has prompted some controversy by appearing at campaign events in uniform. … The airport at Terre Haute, Ind., is getting a new name, which of course is being described as a "rebranding." Sigh. … There's a new museum exhibit on men's fashion in Virginia (from Tommy Turner). … If your ultimate Frisbee team is called moontower, then this is a pretty cool jersey design.