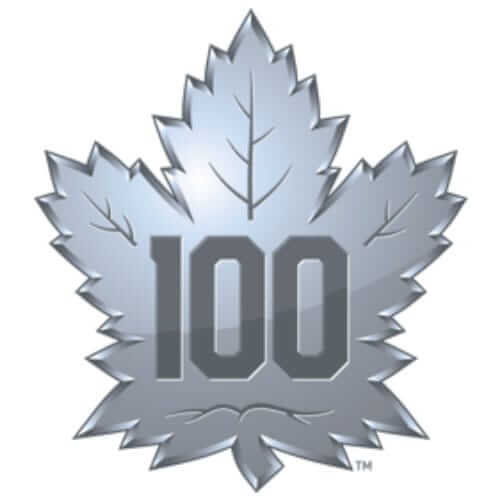 The Maple Leafs announced their centennial-season plans yesterday. Here are the uni-related essentials:
•  The logo shown at right will be worn as a helmet decal. It will not be worn as a jersey patch.
•  The Leafs will wear Toronto St. Pats throwbacks next March 18 against the Blackhawks.
•  The Leafs will face the Red Wings in an outdoor game — the NHL Centennial Classic — on Jan. 1 at at BMO Field (home of the CFL's Toronto Argonauts). The teams will wear "NHL Centennial Classic Commemorative uniforms" for the game, although it's not yet clear what those designs will be.
•  The Leafs are designing new banners for their 18 retired numbers. The current banners will be sent to the 18 players' hometowns.
There's more (but it's non-uni-related) — get the full scoop here. Meanwhile, in case you missed it two weeks ago, here's Phil's report on the Leafs' new uni set.
•  •  •  •  •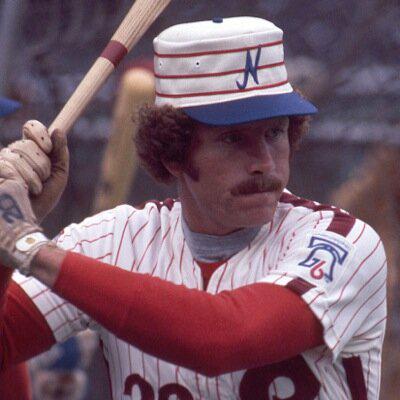 Friday Flashback: With the MLB All-Star Game coming up next Tuesday, my weekly Friday Flashback column on ESPN takes a look back at uni-notable moments from past All-Star Games (including the National Leaguers wearing pillbox BP caps in 1976, as shown above on Phillies third baseman Mike Schmidt). Check it out here.
• • • • •
One-day raffle: Speaking of the MLB All-Star Game, I'm raffling off this Wilson glove rendered in Padres colors, with the All-Star logo in the palm. It is the official commemorative glove of the 2016 All-Star Game. The photo at right can be clicked to enlarge, and you can see additional photos here.
Please note that this is a one-day raffle. To enter, send an email with your name and shipping info to the raffle address (not to the usual Uni Watch email address, please) by 8pm Eastern tonight. One entry per person. I'll announce the winner on Monday. Good luck!
•  •  •  •  •
Click to enlarge
PermaRec update: The latest letter from the files of the Hoge Brush Company is from the firm that invented molly anchor screws. Get the full scoop over on Permanent Record.
•  •  •  •  •
Uni Watch product endorsement: For years I've used an old cassette tape boombox, which I purchased in either the late 1980s or early '90s, in my backyard. But earlier this year it finally conked out. I could have gotten a new boombox (they still make them), but instead I decided it was time to finally get a Bluetooth speaker.
I'm sure all of you know what Bluetooth speakers are (in case you don't: They let you play music or podcasts or any other audio from your phone or computer), and most of you probably already have at least one of them. The woman I was dating in 2011 had one, and I remember thinking it was really cool. I haven't exactly been avoiding them since then; I just haven't felt the need for one until now.
After a bit of research and shopping, I ended up buying a Sony SRS-X11, and I'm really happy with it. As you can see in the photo above, it's a small cube — only 2.5″ on all sides — but it puts out a surprisingly decent level of sound. I used it at my backyard party last Saturday (I just hung it from the fence and then used Spotify on my phone to program the day's tunes), and several of my guests, some of whom are musicians, went out of their way to say how impressed they were by it.
The SRS-X11 lists for $70, but I got it on sale for $50 — not bad. Although it's small, it doesn't look like a toy or something designed exclusively for millennials (a big problem with a lot of the Bluetooth speakers on the market). I'm sure serious audiophiles would poo-poo it, but they would've poo-pooed my old boombox too, so whatever.
Overall: Recommended.
• • • • •
The Ticker
By Paul

Baseball News: Axe Bat, the maker of the axe-handled baseball bats, has signed its first MLB player: Red Sox OF Mookie Betts. Further info here. … Non-Hodgkin's lymphoma awareness jerseys and bobbleheads for the Bowie Baysox. … Here's something awesome that I've never seen before: Back in 1976, there was a "name the team" contest for Toronto's then-new MLB franchise (great find by Martyn Bailey). … New Reds signee Alfredo Rodriguez is a big Barry Larkin fan, so they let him pose for a photo with a Reds jersey featuring Larkin's No. 11, even though that number has been retired (from Brice Wallace). … Kenn Tomasch found this ad for cool baseball-themed men's accessories in a 1958 issue of Baseball Digest. … The Metropolitan Museum of Art here in NYC currently has an exhibit on NYC baseball, featuring lots of old baseball cards and a lot more. Further info here (from Tommy Turner). … Arcade Night jerseys tonight for the Frisco RoughRiders (from @Sturg_23). … After Mets C Travis d'Arnaud gave up his No. 7 so Jose Reyes could wear it, Reyes gave d'Arnaud a Rolex as payment. … A bunch of NYC baseball scribes played a media softball game at Citi Field yesterday morning. As you can see in the front row, it appears that one of the writers wore a Céspedes-style neon compression sleeve. … Rare sight: Rod Carew in an Indians uniform. That's from the 1991 MLB All-Star Game, where Carew was the American League's honorary captain. He was a special instructor for the Indians that year (they hired him specifically to teach their players how to steal home), so he wore the Cleveland uni (from Christopher Pisciotti). … Look closely and you can see "19" written on Fred Lynn's Red Sox stirrups (from BSmile). … The dining hall at Dodgertown in Vero Beach, Fla., has this sensational photo, along with this explanation (from Jay Abbott). … Mets 1B James Loney has been wearing David Wright's batting gloves. … Also, it looks like Loney may have Mr. Met on his cleats. That's his footwear at far left — looks like it might be a reverse image of this illo (from A.J. Frey). … Here's the jersey for the Pioneer League All-Star Game (from @Utahrd). … "Game of Hope" jerseys tonight for the Vermont Lake Monsters. … The Nashville Sounds wore throwbacks last night, including high-cuffed pants and stirrups for the whole team (from Brandon Travis).

Pro Football News: Here's one observer's picks for the five worst NFL unis and how to fix them (thanks, Phil). … Concussion discussion: Former Packers great Paul Hornung is suing Riddell, claiming that the helmet manufacturer's products failed to protect him from brain injury. … Meanwhile, a new study indicates that high school and college players' brains are still affected six months after a concussion. … The Hamilton Tiger-Cats debuted their new stripeless black pants last night.

College and High School Football News: Here's a uniform ranking of the Big 12, and another for the SEC (thanks, Phil). … Check out this shot of Eastside Catholic (Fla.) players trying to stretch out their quarterback's jersey (from Jay Danborn).

NBA News: The NBA will have new 24-second clocks this season. In a disappointing development that adds yet more corporate visual clutter to the game, the new clocks will carry the logo of their manufacturer, Tissot. … Kevin Durant discussed his new KD9 sneakers, and also talked about how the price point on the KD line has shifted over the years, from $88 (for the KD2s in 2009) to $180 (KD8s, last year) to $150 (the new KD9s). Key quote: "As humbly as I can say it, I'm not a $88 player. I'm an elite player in the league. I wanted everything to be affordable, but I knew we had to sacrifice some stuff. I just wanted the fans of the brand and of the shoe to just stay patient with me. And stay patient with who I am as a player, and the level I was trying to go to" (thanks, Mike). … Looks like Joakim Noah may wear No. 13 for the Knicks (from Douglas Ford). .. Thunder C Enes Kanter has an idea for what people can do with their old Kevin Durant jerseys (thanks, Mike). … Kanter, incidentally, has an interesting personal logo. The basketball appears to spell out "EK" (good spot by Kevin Fridy).

College Hoops News: Nebraska posted this patch on Twitter yesterday. It's not clear if it will actually be worn on jerseys, although that's the implication (from Bryan Holdcroft).

Soccer News: Tottenham Hotspur unveiled their new uniforms earlier this morning. Additional photos and info here. … New uniforms for Piast Gliwice (from Ed Å»elaski). … Also from Ed: New uniforms for PogoÅ" Szczecin. … River Plate's new kits have leaked (from Paul Lee). … Here's an article on how MLS kits are assigned (from @3rdDegreeNet). … The U.S. women's national team will wear "Equal Play, Equal Pay" T-shirts during media availability ahead of tomorrow's friendly against South Africa in Chicago. The players will also wear temporary tattoos with that same slogan during tune-up matches leading up to the Olympics.

Grab Bag: In case you haven't been keeping track, here are all the reasons why the Rio Olympics are totally fucked. … Here's a jersey ranking for the GAA World Games. … Really interesting piece on the use of default typefaces. … Nike is suing the WWE, claiming that the Rock's "Just Bring It" phrase is too similar to Nike's "Just Do It" slogan (from Drew). … Ibtihaj Muhammad, a fencer, is poised to become the first U.S. Olympic athlete to wear a hijab (from Trevor Williams). … Cricket news: During the recent England vs. Sri Lanka One Day International, umpire Bruce Oxenford wore an unusual hand and forearm protector (from Graham Clayton).