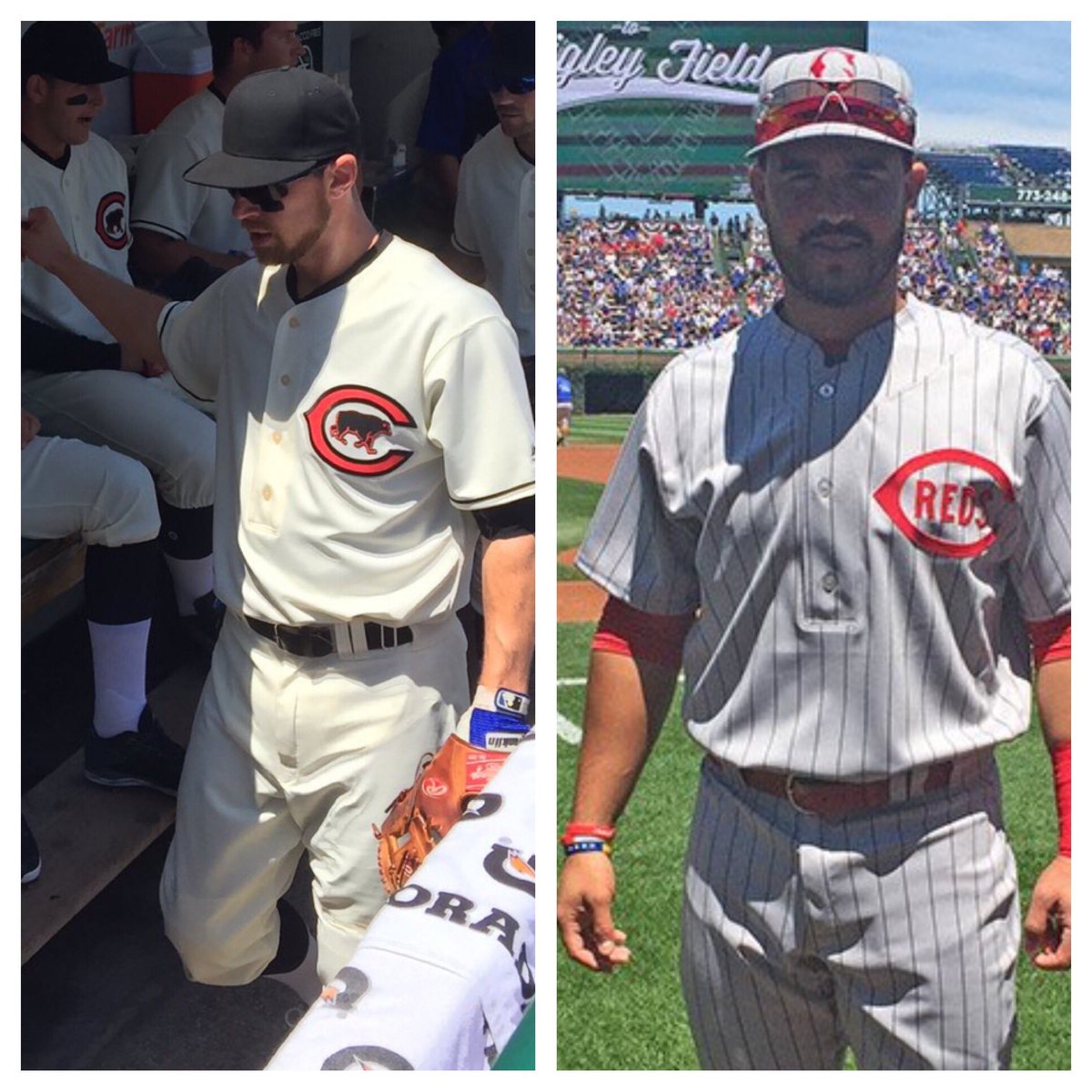 Click to enlarge
The Cubs' first game at Wrigley Field was against the Reds in 1916. The two teams marked the centennial of that game by wearing 1916 throwbacks yesterday. As you can see above, it marked something rare: a battle of the wishbone-Cs!
Cubs broadcaster Len Kasper brought this up in the bottom of the third inning and even referenced yours truly. Here's a transcript of what he had to say:
You've probably noticed, both teams have a similar-looking "C," known as the wishbone-C. [Screen shows the two teams' throwback jersey logos.] It's been used quite a bit in sports over the decades. Paul Lukas, the great uniform expert, wrote a piece for ESPN.com back in 2012 about the wishbone-C. The Reds first used it in 1905, and since 1909 it's been part of their look. Cubs had it, starting in 1916, for about two decades. The Indians had it for a long time. The Twins, it's part of their "TC" Twin Cities logo.

In the NFL, the Bears have had it on their helmets since 1962. The Chicago Cardinals had it on their sleeves in the '20s and '30s.

So, Lukas tried to figure out who was the first team to wear it. It appears as though the Reds were the first pro team to wear it, but the University of Chicago first used it in 1898. So now you know!
Obviously, I appreciate the kind words from Kasper, but what I really like is that he conveyed a lot of the key uni-related info succinctly, accurately, and without even a hint of the condescension or half-apologetic cutesy overtones that so many broadcasters lapse into when discussing uniforms. Nice job.
Other notes from this game:
•  If you look again at those two photos at the top of the page, you'll see that both teams wore henley-style pullovers, but the Cubs' jerseys had four buttons while the Reds' had three. Sure enough, Okkonen shows four buttons for the 1916 Cubs and three for the 1916 Reds.
•  Look at that beautiful cadet collar on the Cincy jersey — very nice work.
•  Here's a really great detail: Look at the Reds' placket — the panel that surrounds the buttons and then goes up and wraps around the collar. See how the pinstripes on the placket don't align with the stripes on the rest of the jersey? That may look like an error, but it's actually a period-appropriate detail. Old jerseys used to be made that way, as you can see, for example, in this Joe DiMaggio gamer. Really impressed that they got this element right — well done.
•  The Cubs wore plain black caps (again, period-appropriate). For their batting helmets, they got a set of matte black lids and added decals based on their throwback jersey's chest logo — a bit of a liberty to take, but a good one (click to enlarge):
•  The Reds wore a very cool cap design with a thick red stripe at the base. I would
love
to see something like this being used on an everyday basis. They stuck with their regular batting helmets, which is certainly forgivable for the road team in a throwback game (click to enlarge):
•  As far as I can tell, every single player on the field went high-cuffed. The Reds had
solid red hose
, while the Cubs wore two-tone socks that were black at the top, white at the bottom. But the black section had a little white spot — our first officially sanctioned bit of logo creep from Stance, MLB's new sock supplier. Sigh:
100 years at Wrigley Field. Cubs are wearing throwback 1916 uniforms today,including @StanceBaseball on-field socks pic.twitter.com/1pNjxFgwnR

— Stance (@stance) July 6, 2016
You can see more photos from the game here, and there's an interview with the guy who oversaw the production of the Reds' throwbacks here.
(My thanks to @CoachCrewser, David Friedman, Robert Hayes, @TheSkimmers, and Joanna Zwiep for their contributions to this section.)
•  •  •  •  •
Culinary Corner: One of my favorite things to cook in the smoker over the years has been a lamb roast. I buy about three pounds of butterflied leg of lamb from the butcher, ask them to roll and tie it into a roast, make a garlic/herb paste to slather over it, and then pop it in the smoker for 90 to 120 minutes (the cooking time depends on the size and shape of the roast, how low I can keep the smoker temperature, etc.).
It's always delicious, but lately I've been a bit frustrated by the herb paste. It forms a nice exterior crust as the roast cooks, but some of that crust invariably falls off in the smoker, and then a lot of it falls off while I'm carving. Sure, you can scoop it up off of the carving platter and add it to your plate, but it's not the same. And the meat underneath the fallen-off crust looks pale and unsatisfying.
So when I threw a big backyard party last Saturday, I decided to try something different. I made the herb paste before I purchased the roast (it's basically 1/4 cup each of fresh rosemary leaves, fresh thyme leaves, and olive oil, plus six garlic cloves and salt/pepper to taste, all pulsed together in a food processor to form a paste) and then brought it along with me to the butcher. When I asked them to roll and tie the butterflied lamb into a roast, I also asked them to layer the herb paste into the folds of the meat.
The results were spectacular. Unfortunately, I didn't get a good photo of the uncooked roast by itself, but trust me, it was sooooo beautiful. Here it is just before it went into the smoker, along with a little pork roast with a Southwestern spice rub (that's the dark-orange thingie), some beef short ribs with a coffee-based spice rub (those are the three dark-brown cubes), and some chicken thighs with a spectacular jerk paste that the Tugboat Captain made (those are the things that look like chicken thighs). The bowl next to the rack is filled with water-soaked applewood chips, which provided the smoke (for all photos, you can click to enlarge):
The lamb turned out just as I'd hoped, with a ribbon of herbs running through the meat:
Incredibly good. Meanwhile, here's how the beef short ribs turned out:
And here's the pork roast:
And the chicken:
We also cooked a bunch of food on the grill — a London broil, more jerk chicken (wanted to compare grilled vs. smoked), assorted sausages, pork ribs, chicken/scallion kebabs, and a lot more. Here's some of that stuff on the grill rack, followed by a shot of the cooked pork ribs alongside the lamb roast:
Finally, the Tugboat Captain made a beautiful blueberry pie with a latticework crust. Dig:
Mmmmmm — now I'm hungry.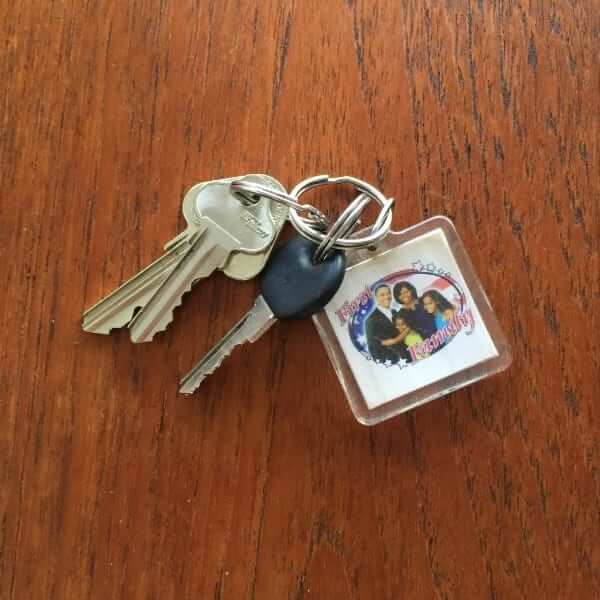 •  •  •  •  •
KRC update: The latest installment of Key Ring Chronicles is about an Australian who keeps a portrait of the Obama family on her key ring. Check it out here.
I'm still very much in the market for new entries for this project. If your key ring includes an object with a good story behind it, send photos (preferably showing your entire key ring and everything on it, with nothing bleeding out of the frame) and stories (preferably in the 200- to 350-word range) here.
• • • • •
The Ticker
By Mike Chamernik

Baseball News: Blue Jays 3B Josh Donaldson was named to the American League All-Star team the other day. During last night's game, Fox Sports Kansas City ran a graphic showing a Toronto NBA All-Star logo, instead of an MLB All-Star logo, during one of his at-bats (from @Jarferama). … MLB put the kibosh on Bryce Harper's patriotic bat and spikes during the Nats' game on Independence Day. The bat manufacturer had been warned beforehand and may have its MLB license suspended (from Tommy Turner). … We've seen this before, but Charlie Manuel wore a massive facemask when playing ball in Japan in the late 1970s (from Mike Williams). … A 1940s San Diego Electric Railway baseball uniform from the 1940s is on display at Petco Park (from Matt Shevin). … Ryan Kluever went to a game between the Arkansas Travelers and the Midland Rockhounds the other night. Though there were camo tops and pajama pants, Ryan enjoyed one player's striped socks. … The Orioles made an animated bobblehead birthday video for Manny Machado. … Not uniform-related, but here's a good oral history of the White Sox's infamous Disco Demolition Night in 1979.


NFL & College Football News: We've seen similar instances before, but the Dolphins got an endzone painted in Steelers colors for the 1972 AFC title game in Pittsburgh (from Matthew Solan). … New gloves for Louisiana-Lafayette (from @fiverse).

Hockey News: The Penguins put their 50th-anniversary logo, now revised to include a fourth Stanley Cup, at center ice of their practice rink. … Sabres goalie Jonas Johansson has a misspelled nameplate (from @Buffalo_Tony). … Jets first-round pick Kyle Connor wore a GoPro at the team's development camp.

NBA News: New Knicks guard Brandon Jennings revealed his jersey number with this playfully bad Photoshop attempt (Bleacher Report later produced a better version). … Suns rookie Dragan Bender has already changed his number from 3 to 35 to accommodate veteran G/F Jared Dudley, who's returning to Phoenix after a three-year hiatus. … The Kings' white Summer League jerseys have the team's outdated logo (from Paul Simpson). … The NBA used both big league and D-League refs to work last night's Spurs-Sixers game. Is that typical for Summer League ball? (From Pat Costello.) … Snoop Dogg gave Kobe Bryant a purple-and-gold custom convertible as a retirement gift. … With Dwyane Wade signing with the Bulls, SportsCenter Photoshopped him into Doug McDermott's No. 3 Bulls uniform, complete with the 50th-anniversary logo patch (from Micah Tanis).

Soccer News: Portugal and Wales both wore away jerseys for their match yesterday. This article notes that "No official explanation has been given, but apparently UEFA decided that Portugal's home kit was too dark and thus too similar to Wales' predominantly black change uniform. Reportedly UEFA then decided to have both teams use their away kits" (from Trevor Williams). … Three new kits for Torino FC (from @Dan_Lamma). … New uniforms for a bunch of clubs from across the world: Montpellier HSC, Club America, Watford FC, Lazio, Juventus (the blue is supposed to resemble the Italian national team's kits), AS Roma, and Inter Milan "" home and away (from Josh Hinton). … Who's that in the heavily striped soccer uniform? None other than pop musician Boz Scaggs, in a 1961 high school yearbook shot (from Clay Byington).

Grab Bag: Here are some of the best and worst looks from the WGC Bridgestone PGA event (from Kevin Byrne). … The U.S. golf team revealed its Olympic uniforms (from Tony Andela). … At Wimbledon, Roger Federer is wearing shoes with London's skyline on them (from Brinke). … The University of North Carolina has a new billboard that honors its recent national championship teams (from @F3Ventura). … New logos and unis coming for Western Kentucky teams (from Josh Claywell). … New logo for Mystery Science Theater 3000. … Here's a story about the different jersey colors in the Tour de France (from Ricky Schumaker).