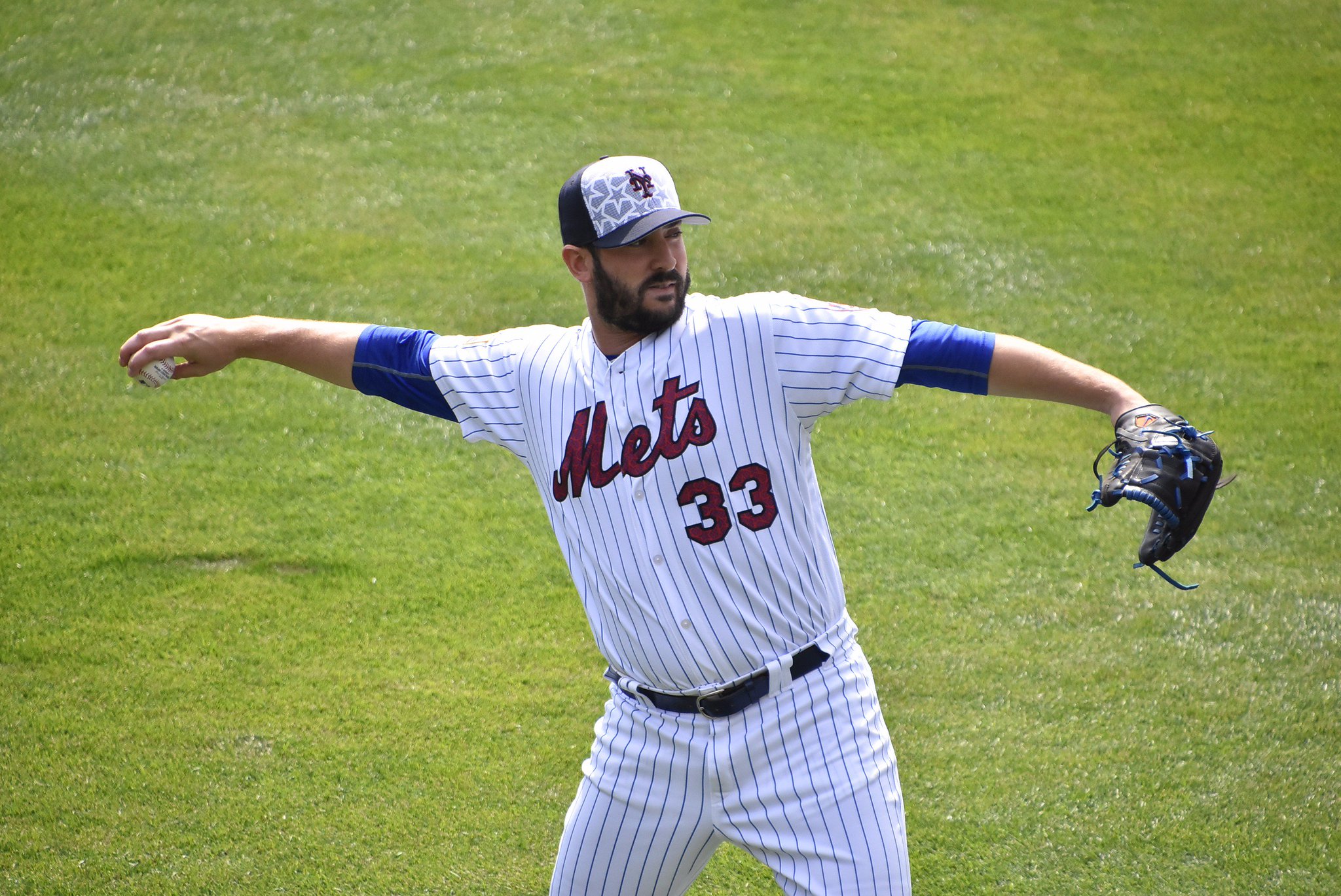 Click to enlarge
I spent most of yesterday on a boat (more on that later), so I didn't catch much MLB action, although I did my best to catch up later on. The short version: Most of the jerseys seemed okay and all of the caps were embarrassing. Speaking of which: I hear through the grapevine that this cap template was originally being cosidered for the All-Star Game before they decided to use for Independence Day instead. Very patriotic!
A few notes:
•  The White Sox wore a variation of their basic "Sox" home jersey but, oddly, wore their throwback batting helmets:
•  The A's, as is so often the case on July 4, looked particularly ridiculous wearing colors that have nothing to do with their team colors:
•  As has been the case with all the holiday jerseys (Ma's Day, Pa's Day, Memorial Day, etc.), the circle-R trademark symbol on the Cubs' jersey logo was nowhere to be seen:
•  The grey interior space on the Reds' chest logo looked particularly bad:
•  Interesting to see the Giants wearing white at home, instead of their usual cream:
•  The Phillies' NOBs were barely visible:
•  The Blue Jays wore their regular blue alt jerseys, but without their 40th-anniversary patch. Instead, they wore a Canadian flag patch on the left sleeve and an American flag patch on the right sleeve, and their caps had silly little maple leaves instead of silly little stars (the second photo can be clicked to enlarge):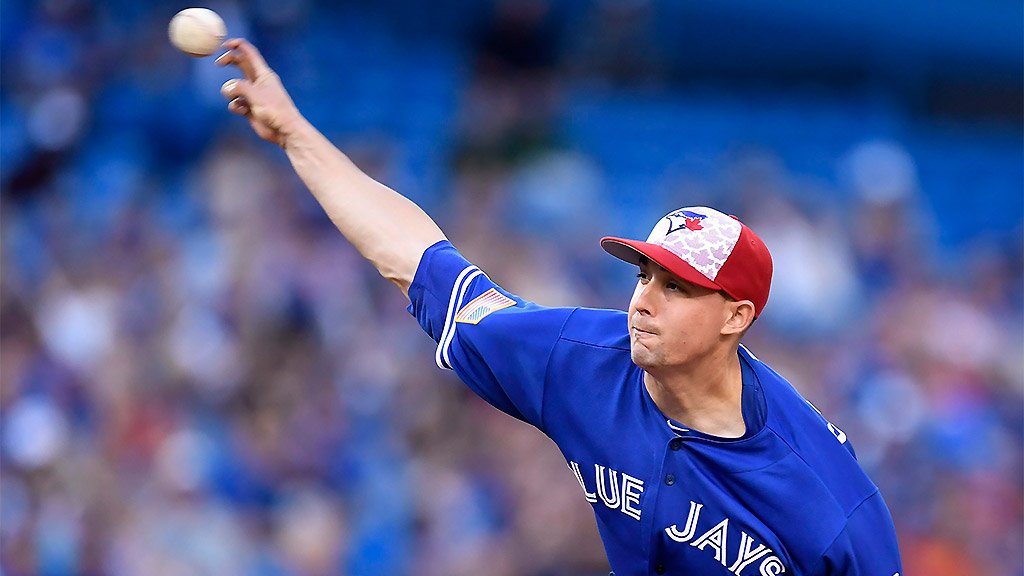 •  Pirates catcher Erik Kratz wore a stars/stripes chest protector:
🇺🇸🇺🇸🇺🇸 pic.twitter.com/rCveqX00nM

— MLB GIFS (@MLBGIFs) July 4, 2016
•  Several players, including Carlos Gomez and Luis Valbuena of the Astros, wore star-spangled compression sleeves:
•  Mets starter Matt Harvey wore white shoes:
Harvey, incidentally, has started three of the Mets' four special-uniform holiday games — Mother's Day, Memorial Day, and now Independence Day (but not Father's Day). Throw in the other Mets jerseys he's worn this season and he's probably in the running for having worn the most uniforms of any starting pitcher this year — no mean feat for someone who's pitched so badly.
Finally: Proceeds from the sales of these jerseys and caps are going to MLB's Welcome Back Veterans charity. That's very nice, but it's also the latest example of MLB promoting bad history and bad civics, because Independence Day is not about honoring the military. It's the anniversary of when the Declaration of Independence was ratified by the Continental Congress. A more appropriate move would be to donate funds to the National Archives (where the original Declaration is preserved), or to donate funds to Independence Hall National Historical Park (site of Independence Hall, where the Declaration was debated and adopted), or to support American history programs in public schools (which could teach kids, among other things, that Independence Day is not about the military). Instead, MLB has yet again chosen to conflate patriotism with support for the military — a terrible piece of political messaging. Very disappointing.
•  •  •  •  •
Click to enlarge
And you should've seen the one that got away: The Tugboat Captain and I decided to spend our Independence Day on a fishing charter that operates out of the southern tip of Brooklyn. As you can see above, I wore holiday-appropriate hosiery — something that was sorely lacking amongst my fellow seafarers.
About 45 seconds after we dropped our lines in the water, the Captain landed a fluke. Alas, it wasn't a keeper (anything smaller than 18″ has to be thrown back), and neither were the other six fish we landed during the course of the afternoon. But it was a great day — perfect weather, good people, plenty of cold beer (for all of these, you can click to enlarge):
The other passengers and the crew were a melting pot of ethnicities — some Asians, some Hispanics, and a surprisingly large contingent of Orthodox Jews, one of whom wore a baseball cap with a logo that I couldn't resist photographing:
He explained that it was from a Jewish softball league he'd once played in. I told him I had known Jerry Dior, the designer of the MLB logo on which his cap's logo was based, and he said, "Really? Wow, I'm a graphic designer myself, and I've always wondered about that." Small world. And it gets even smaller when you're fishing.
• • • • •
The Ticker
By Alex Hider, with an assist from Paul

Baseball News: Not uni-related, but check out the hole-in-one that Josh Reddick hit for the A's at Oakland Alameda Coliseum the other night (from our own Mike Chamernik). … Here's a cool behind-the-scenes look at how the roof at Miller Park opens. … The White Sox's Tim Anderson tucks his jersey into his underpants. Yikes (from Chuck Rios). … Mets 1B James Loney was wearing orange sannies on Sunday — apparently the first time any Met has ever done that (thanks to all those who shared). … Wait, check that, Loney also wore the orange sannies with his Royal Giants throwbacks a week or so earlier. … Brian Love points out that as of Sunday night, the Dodgers' were two-for-two when Howie Kendrick wore stirrups. He also sent along some shots of the Dodgers' Old-Timers Game (note the patch on the right sleeve). … Is that a snow-white Mets jersey in the background of this TV ad? (From Niko G.). … Looks like the someone used a photo of a patch instead of a Fort Bragg Game graphic in this ad (from James Gilbert). … Neil Walker is from Pittsburgh, but it's still strange to see him on the bottle of "Steel City" mustard now that he plays for the Mets (from Jim Vilk). … ESPN analysts went red, white and blue Sunday night (from Ethan May). … Awesome shot of the roof detailing at the Polo Grounds, circa 1912 (from BSmile). … The Salt Lake Bees mowed the Liberty Bell into the outfield for Sunday's game (from Trent Knauphus). … The Brooklyn Cyclones became the Coney Island Franks on Sunday. Here's another look. (thanks to everyone who shared). … The Kalamazoo Growlers wore Uncle Sam-themed July 4th uniforms on Monday. … The Sioux Falls Canaries and the Winnipeg Goldeyes went #SocksUpForKids on Sunday. Seems like a movement that the entire uni-verse can get behind, but I can't seem to find any information on the campaign. Anyone have any info? (From Jennifer Hayden). … Number color inconsistencies for the Somerset Patriots last night (from Nick Yaeger). … Two new looks for the Chunichi Dragons of Nippon Professional Baseball (from Graveyard Baseball). … Jose Reyes, due to be called up from the minors and activated by the Mets today, will wear his old No. 7. It's not yet clear what Travis d'Arnaud, who had been wearing that number, will switch to. d'Arnaud had worn No. 15 earlier in his career, but Matt Reynolds is currently wearing that number. … Lots of new content at Craig Brown's Threads of Our Game site, which chronicles pre-1900 baseball uniforms. Get the latest update here. … Uncle Sam was a pajamist (from Pete Woychick). … Here are this year's Double-A All-Star Game jerseys, which are based on the design worn by this year's hosts, the Akron Rubber Ducks (from Justin Huyck).

Pro Football News: Lots of helmet number inconsistencies for the Hamilton Tiger-Cats (from Steve B. Creations). … Before coaches wore windbreakers and sweatpants, they wore this (from Pro Football Journal). … In case we haven't seen it before: Antonio Brown has been wearing a personal logo on his arm band (from Jason Triplett).

NBA News: In an effort to recruit Kevin Durant, the Patriots' Julian Edelman posted an terribly-photoshopped photo of him wearing a No. 35 Celtics jersey. Brian Jud points out that Durant wouldn't even be able to wear 35, unless the Celtics un-retire Reggie Lewis' number. … The New York Daily News used a ton of outdated logos in a free agency graphic (from Jacob Resnick). … Sometimes, in summer league ball, you've got to get creative (from Johnny).

Grab Bag: Red Bull's F1 racing team went all out with lederhosen suits during the Austrian Grand Prix this weekend "" they even posed for a Sound of Music-esque photo shoot. (from David Firestone). … What do gun stores, ED pills and bail bondsmen have in common? They've all sponsored IndyCars (also from David Firestone). … Here's your chance to vote for NASCAR's paint schemes of the week. … It's not every day you see a four-digit uni number. Paris St. Germain signed Grzegorz Krychowiak through 2021, and made a jersey to commemorate the signing (from Jeremy Brahm). … Here's a bizarre dress code: At one Brooklyn courtroom, immigrants who've gone through the naturalization process and are about to take the oath of citizenship are told that they can't take the oath if they're wearing blue jeans. … After a businessman from Abu Dhabi was mistakenly identified as a terrorist while traveling in Ohio, the United Arab Emirates has warned its citizens to avoid wearing traditional clothing when traveling abroad. … Thanks to a rule change, the Rio Olympics will be a much bigger branding advertising free-for-all than previous Games have been. … An unexpected result of the UK's Brexit vote is that it may cause complications for British sports.