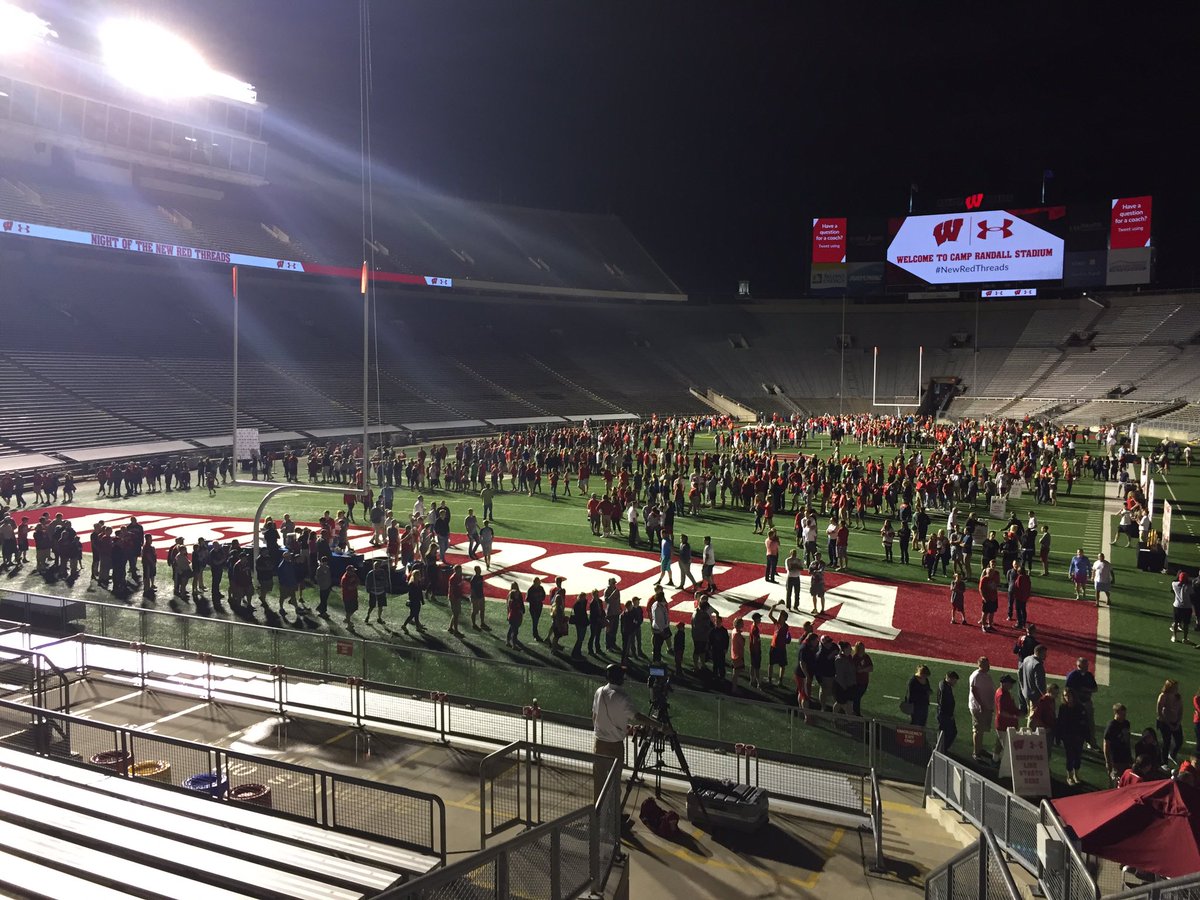 Click to enlarge
Wisconsin's new apparel contract with Under Armour kicked in at midnight, so the school held an outdoor unveiling event last night at Camp Randall Stadium. Or at least everyone thought it was going to be an unveiling — instead, they just showcased some fan merch (sweatshirts, T-shirts, etc.) and ran a lame-o hype video. In other words, a big fuss over nothing. I received several emails from Badgers fans who seriously annoyed by the whole thing.
If the actual uniforms are unveiled today, Phil will have full coverage tomorrow.
One possible bit of news from last night's event: I believe that's a new end zone font, isn't it?
•  •  •  •  •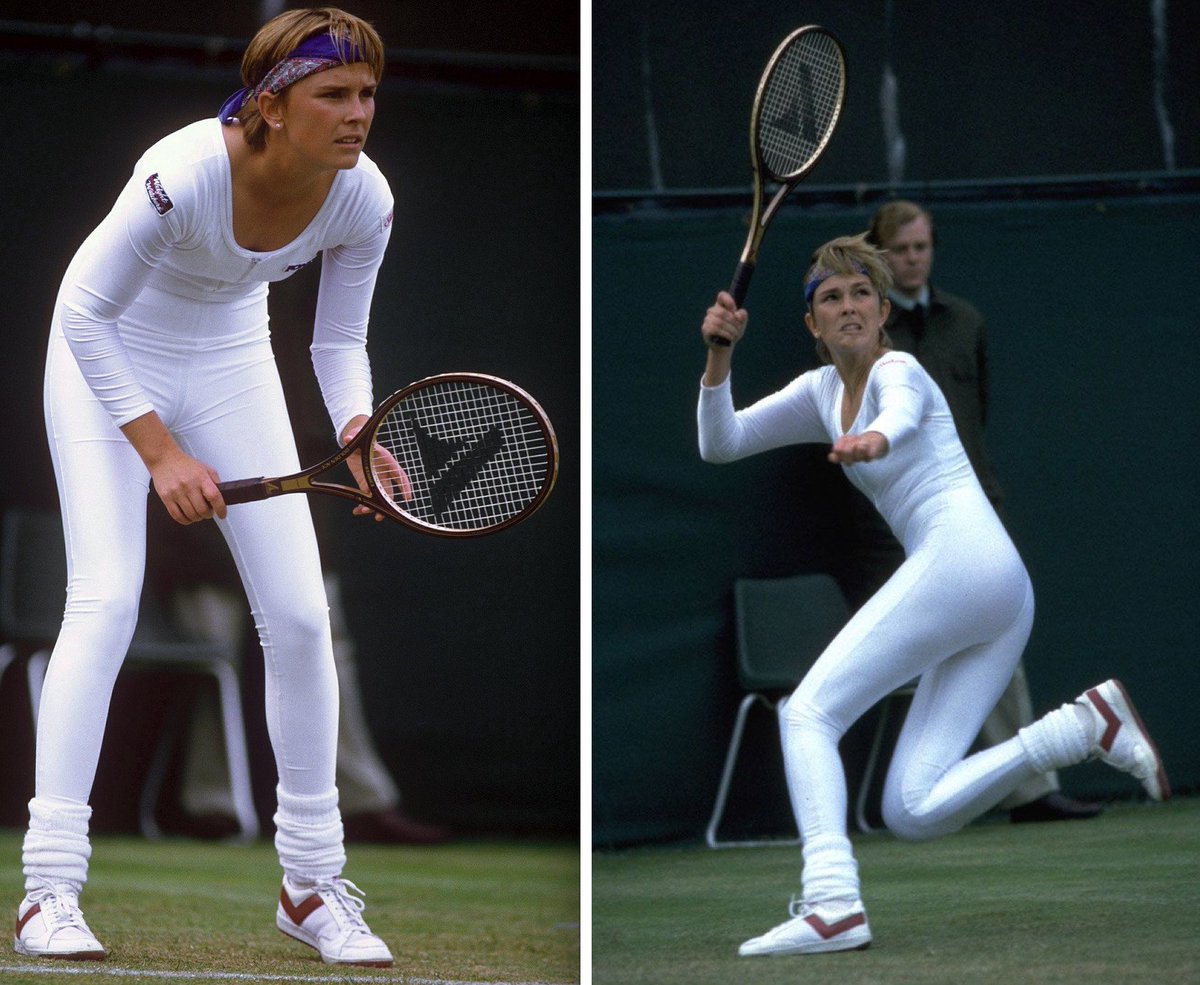 Click to enlarge
Friday Flashback: With Wimbledon now taking place across the pond, my weekly Friday Flashback piece on ESPN takes a look at players who've run afoul of Wimbledon's notorious dress code (including Anne White in 1985, above). Check it out here.
• • • • •
The Ticker
By Paul

'Skins Watch: California state law prohibits public schools from using the team name "Redskins" as of Jan. 1, so Tulare Union High School's teams will now be known as the Tribe (from Michael Hobson).

Baseball News: If your dream job was to write game summaries of minor league ballgames, forget it: The AP will have that job done by computer software. I figure they're probably working on software that can provide uniform coverage too, but I'll probably be retired before they can perfect it, right? … Here's a photo gallery from the recent Congressional baseball game (from Gil Neumann). … "At Wednesday night's White Sox game, the Bulls' top draft choice, Denzel Valentine, threw out the first pitch," says Steve Johnston. "During the game he joined the TV broadcast for an interview, and one thing that came up was his wearing No. 45 both for the Bulls and then on the Sox jersey he was given for the first pitch. Long story short: He wears No. 45 because that was his father's number when he played at Michigan State." … The Iowa Cubs will wear U. of Iowa-themed jerseys on July 16 (from Julia LaBua). … The West Michigan Whitecaps wore emoji jerseys yesterday. … Kind of odd that the White Sox would use the Twins' logo to tout a victory. … Someone at last night's Mets/Cubs game was wearing the Uni Watch T-Shirt Club's BP design. … We all know the Cubs have the circle-R trademark symbol on their jersey logo. But that same logo has a "TM" symbol, instead of the circle-R, on skipper Joe Maddon's windbreaker (from Max Wagner). … Here's how much it costs to do a public wedding proposal at each MLB ballpark (from Marc Viquez). … Muhammad Ali tribute jerseys upcoming for the Richmond Flying Squirrels (thanks, Phil). … Very good piece on how D-backs players feel about the team's new uniforms. Key quote, from manager Chip Hale: "I think we're going to make some changes. I don't want to let those out of the bag, but I think we'll do some different things for next year. We'll make them more toward the traditional side."

NFL/CFL News: Someone is claiming that the first cheesehead ever seen on TV was during a 1986 Bears/Packers game. I have no idea if that's true, though (from Jude S.). … The Montreal Alouettes wore white helmets at home last night — a new look for them. … Speaking of the CFL, I didn't realize that their penalty flags are orange (from our own Mike Chamernik). … Presumptive GOP presidential candidate Donald Trump used $12,000 in charitable donations to his foundation to buy a Broncos jersey and helmet autographed by Tim Tebow.

College and High School Football News: New uniforms for New Mexico State (from Zac Zielinski). … The recent flooding in West Virginia completely wiped out a high school's uniforms and equipment in the town of Clendenin. "Sad to imagine some schools nationwide having a Oregon-esque smorgasbord of gear while these kids have nothing," says Josh Newman, who hails from that town. "I know these are trivial things, as we as a community have so much to recover. But I hope you can share our story."

Hockey News: Some Canadiens uni number changes, courtesy of Mike Engle: "Greg Pateryn concedes No. 6 to new acquisition Shea Weber and will take No. 8 now. This is after he moved down from No. 64. I think this is the first number transfer since Brendan Gallagher conceded No. 73 to Michael Ryder in 2012." … A Chinese hockey team apparently poached a video game logo (from Jay Bracken).

Basketball News: Isaiah Thomas of the Celtics is not a fan of sleeved jerseys (from Kyle Clauss). … Lakers top draft pick Brandon Ingram initially said he wanted to wear No. 13, not realizing it was retired for Wilt Chamberlain. So he'll wear No. 14 instead. … Fun fact: Former UNC coach Dean Smith had his letters typed in Carolina blue ink (from James Gilbert).

Soccer News: This article is several months old, but still: Given Iceland's recent rise to soccer prominence, it's interesting to learn about their unusual NOB protocol (from Neil Robinson). … Here's Benfica's new home jersey. … New jerseys for the Mexican soccer club Pumas. "The mural as a texture is an interesting idea, but it's too intricate for a shirt, and it's rendered so strongly on that garish gold — ugh," says Bryan Spangenberg. … New away jersey for Borussia Dortmund (from Yellow Away Kit). … New badge for Manchester City Yellow Away Kit again). … New jerseys for Sevilla, Lillie LOSC, Lens, Nantes, Lorient, Kobenhavn, Eintracht Frankfurt, and Werder Bremen (all of those from Patrick Thomas).

Grab Bag: Nike founder Phil Knight has retired from the company's board of directors (thanks, Brinke). … The Miss Teen USA pageant will no longer have a swimsuit competition. Instead, they will have the contestants dress in athleticwear. … All the hubbub over Nike's disastrous Wimbledon dress design has raised a good question: Why do female tennis players still wear skirts and dresses? (From @holycalamity.) … We talked about three-digit numbers in Mexican soccer yesterday, but how about a three-digit cricket player? … Here's a ranking of Tour de France jerseys (from @Ciclavalley). … Latest evidence of "brand"-ing run amok: The New York Times reports that Kellogg's will be opening "a branded boutique" in Times Square. Why not just call it, you know, "a store," or "a cafe," or "a tourist trap"? … A cricket umpire in the Caribbean Premier League wore a helmet and facemask last night. … A University of Houston sprinter has the USA Track and Field logo tattooed across his chest. … Speaking of USA Track and Field, several athletes competing in today's Olympic trials will wear black tape over the makers' marks on their jerseys as a protest against Olympic sponsorship restrictions. … New 150th-anniversary uniforms for Harlequins rugby (from @Stumpy7780).
• • • • •
Happy Canada Day to all our north-of-the-border readers. Have an extra butter tart for me!