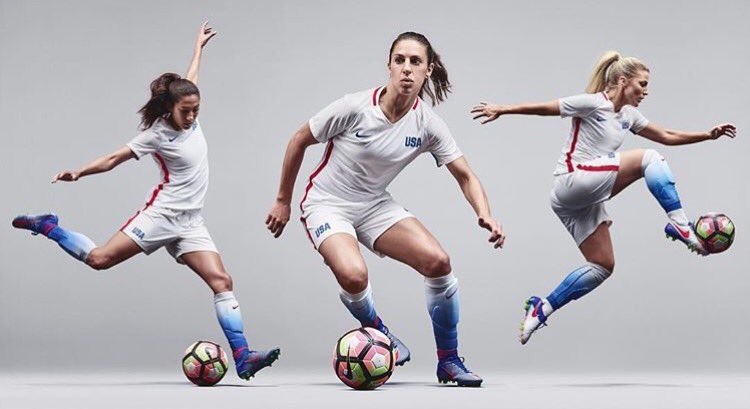 Click to enlarge
Lots of Olympics news yesterday, as a bunch of Team USA uniforms were unveiled, beginning with the women's soccer kit (shown above). There are lots of additional photos and details here. Interestingly, the shoulders and sleeves have sparkly thread that should reflect in the light (click to enlarge):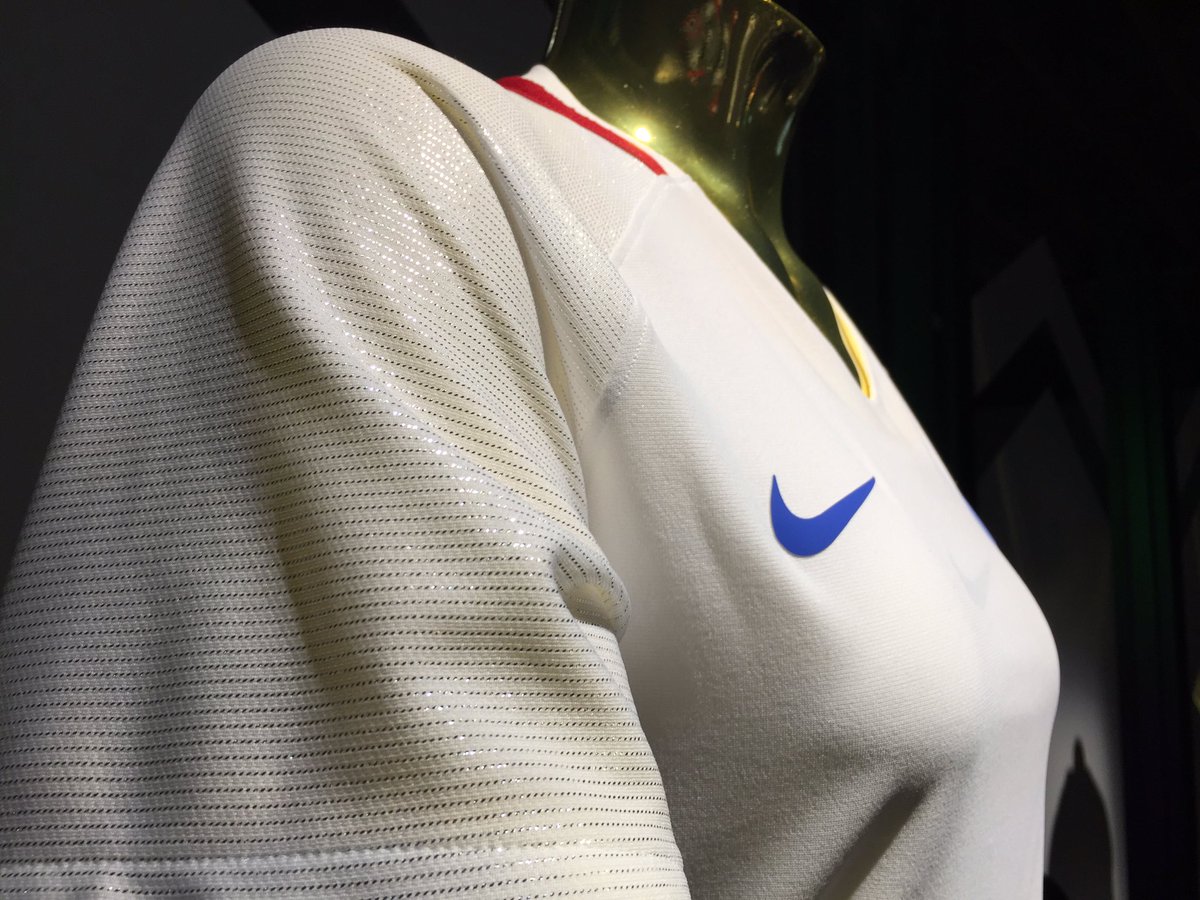 •  Nike-outfitted track and field athletes will wear tape — neon-colored, of course — studded with little silicon blades, which will supposedly cut down on aerodynamic drag (additional info here; click to enlarge):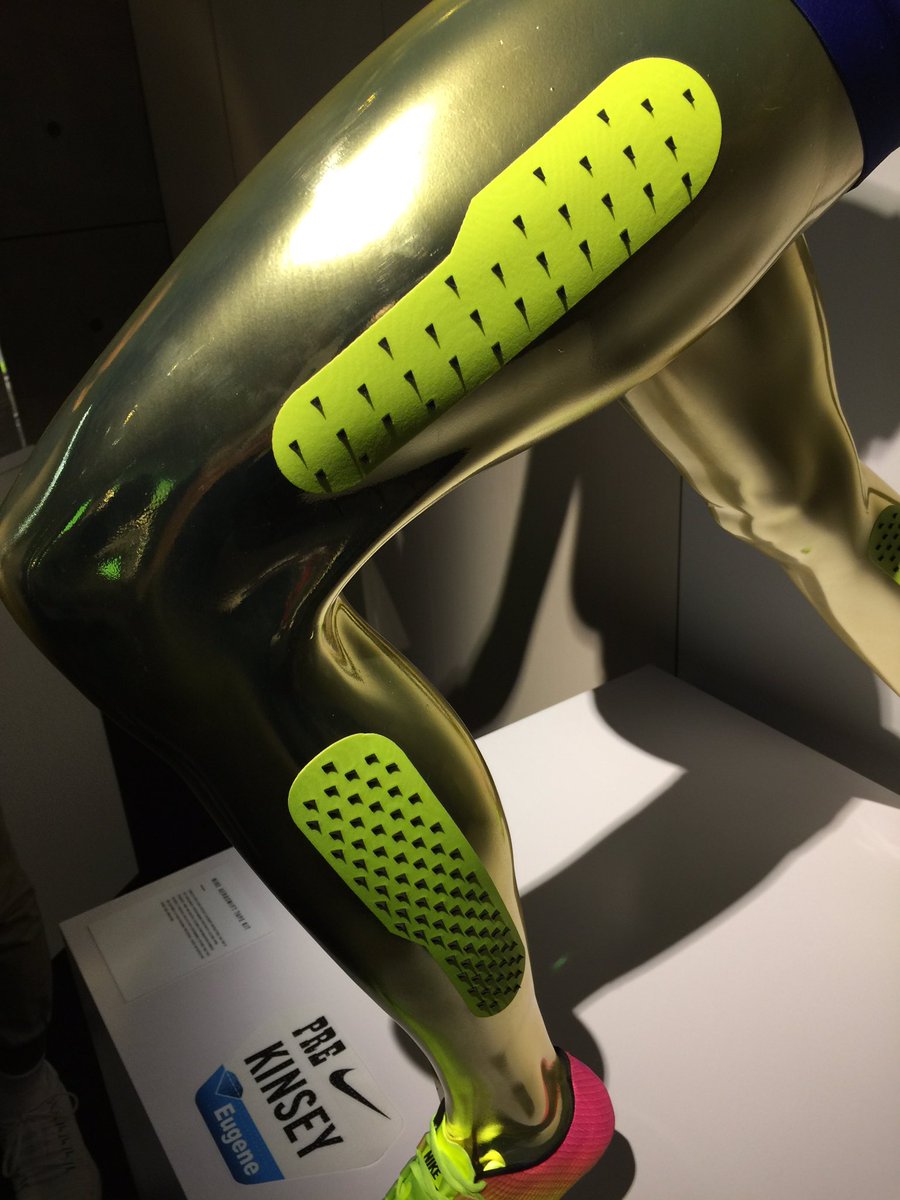 •  Meanwhile, over by the pool, Speedo unveiled Team USA's swimming uniforms (click to enlarge; additional photos and details here):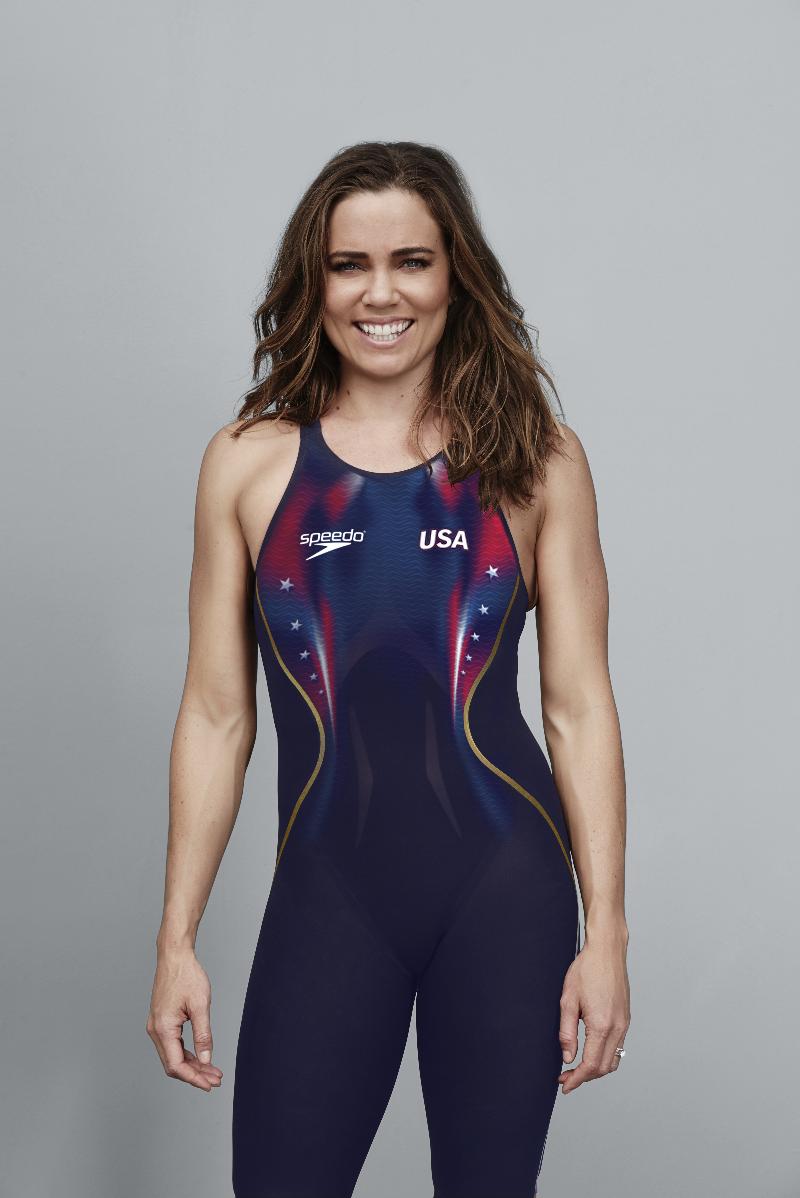 •  And when Americans win gold, silver, or bronze, here's the outfit they'll be wearing on the medal stand. It's a perfectly nice design until you get to the shoes — a textbook case of Nike, you know, being Nike (click to enlarge; additional info here):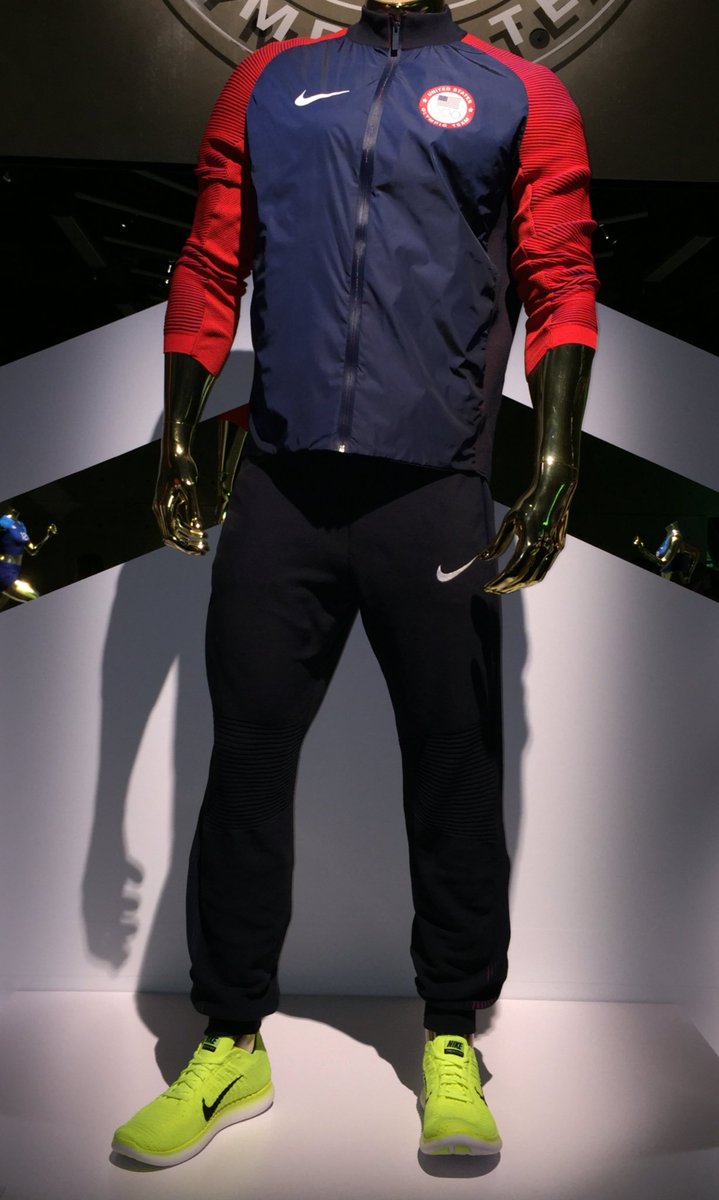 (As an aside, there's been lots of chatter about Nike having "unveiled" Team USA's basketball uniforms earlier this week, when the team's roster was announced. But those uniforms were actually unveiled more than three months ago, so there's nothing new there.)
(My thanks to Andrew Cosentino and Phil for their contributions to this section.)
•  •  •  •  •
The Ticker
By Paul

Baseball News: Frightening prospect: D-backs players say they've heard that their charcoal road uniforms will soon be copied by other MLB teams. … New "Legend Series" uniforms Hokkaido Nippon-Ham Fighters (from BigDaddy45). "¦ The Iowa Cubs and OKC Dodgers went blue vs. blue yesterday (from Chuck Eldridge). … The recent Atlanta/Cleveland games provided a very nice stirrups vs. stirrups moment. That's Francisco Lindor batting against Tyrell Jenkins (from Samuel Barrett). … Camel-themed jerseys — yes, camels! — for the Kane County Cougars. … Very supersitious: As reported in yesterday's Ticker, Cubs 3B Kris Bryant tore his pants on Monday night. He also became the first player in history to hit three homers and two doubles in the same game. So, perhaps unsurprisingly, he's sticking with the torn pants. For the record, he went 1-for-5 last night with an RBI (from @burkeman78). … Brutal flag-desecration cleats for Rockies OF Brandon Barnes. … But that's not as brutal as the Independence Day jerseys that will be worn by the El Paso Chihuahuas. … Yesterday was Army Day at Nats Park, so the racing presidents went G.I. Joke (from Andrew Hoenig). … I think we've seen this before, but once more won't hurt: The visiting batboy in Tampa last night had a facemask (but no logo) on his helmet (from Stephen Hayes). … Oooh, look at these teal-striped D-backs socks. Too bad the other high-cuffed player didn't get the memo, eh? (Thanks, Phil.) … Speaking of the D-backs, here's a close look at how their grounds crew applies the logo to the back of the mound. … Cubs C David Ross uses a QB-style wristband. "It contains scouting reports about specific hitters, and he refers to it in situations to call pitches specific to hitters and counts," says Ariel Shoshan. … Mets trainer Ray Ramirez appeared to be wearing baseball pants, but without the Mets' blue stripe, last night (from Frank Manganello). … Pretty sure we've seen this before, but just in case: Here are some early logo concepts that were proposed for the Royals (from Matthew Lippe). … My newest hosiery hero: Dodgers INF Chris Taylor.

NFL News: Just when you thought Johnny Football's behavior couldn't get any weirder, he boarded a plane yesterday wearing a Browns jersey — but not his Browns jersey. … Reprinted from yesterday's comments: Good view of the bizarre throwback that the Cardinals wore in 1994 as part of the NFL's 75th-anniversary program. Still looked better than what the coaches were wearing, though (from Dave Mills).

College Football News: Back in the 1960s and '70s, Esso gasoline (forerunner of today's Exxon) had a years-long ad campaign featuring a tiger. Take a close look at that tiger, and then check out the helmet in this 1963 Auburn locker room photo. Looks pretty similar, right? "To my knowledge, a tiger's head has never been worn on any Auburn football helmet," says Brian Powers. "Perhaps a few players wore this as a one-off 'test' decal similar to the oversized 'AU' logos Auburn wore on a trial basis during their 2009 Spring Game." "¦ New uniforms SUNY-Buffalo and Clemson. … Virginia Tech's new cleats have a backwards swoosh (from Andrew Cosentino). … Changes apparently in store this Friday for Boston College (from @sleepkins).

Hockey News: As you're probably aware, Wisconsin's athletics dept. is about to switch to Under Armour (the official unveiling will be late tomorrow night — too late for me to have coverage on Friday morning, but Phil will have full coverage on Saturday). That includes the hockey team, which will wear UA jerseys and socks, but the rest of the team's gear will be Reebok-CCM (from Jeff Ash).

Basketball News: Here's a look at Team USA basketball jerseys through the years (from Phillip Foose). … Remember that distiller who was making a product called Kentucky Mist Moonshine and then got into a trademark spat with the University of Kentucky, in part over basketball merch sales? Incredibly (at least to me), the distiller has lost the case. … UNC women's basketball coach Sylvia Hatchell did an interview about the passing of Tennessee women's coach Pat Summitt, and it includes a passage in which Hatchell talks about why the Lady Vols wore light-blue trim (from James Gilbert). … Oh baby, check out the sensational shorts lettering in this 1949 Texas A&M shot. "Throwbacks, please," says Ryan Sprayberry, and I'd second that request.

Soccer News: New away kit for Inter Milan, and Manchester United's new third kit has leaked (both of those from Josh Hinton). … Dani Alves, now with Juventus, says he will wear No. 23 in honor of LeBron James. … GQ has some thoughts on the right way to wear a soccer jersey. … Louisville wants fans to vote on a scarf design for 2016 (from Joseph Matlock). … Umbro has decided to kick England while they're down.

Grab Bag: Lots of tremendous photos of classic NYC storefronts here (from Michael Planey). "¦ Here's a look inside Under Armour's new innovation lab, where, among other things, robots make sneakers (thanks, Phil). "¦ Air France will feature the logo for Paris's bid to host the 2024 Olympics on 10,000 of its flights. "¦ Parents in England are upset because Christian school removed the cross from its logo. … Our own Alex Hider reports that Frisch's, a chain of "Big Boy" restaurants in Ohio, has given the iconic Big Boy mascot a makeover. As some of you may recall, a few years ago I visited a manufacturer of fiberglass statues, whose assortment of molds includes several Big Boys. … That wispy tennis dress that Nike whipped up for Wimbledon is shaping up as a major snafu.