Reader Brian Sullwold's mother was recently going through her attic and found something cool: a 1965 Mets program, apparently purchased and saved by Brian's grandfather half a century ago. His grandfather even filled out the scorecard, which was apparently from this Mets/Cardinals game, played on Aug. 21, 1965.
There are several noteworthy things about the program, beginning with the cover (shown above), which shows a Mets player with no front jersey number. As it happens, 1965 was the year that the Mets added a front number, after having gone number-free for their first three seasons. It's not clear if the lack of the number on the cover illustration was a carryover from the previous look or an attempt to make the illo player seem more generic by not assigning him a real player's number.
A few other things that caught my eye (for all photos, you can click to enlarge):
•  Looks like the Mets celebrated Casey Stengel's 75th birthday by presenting him with a Shea Stadium-shaped cake. Or at least I think that's what they gave him — the caption doesn't specifically say that the item in the photo is a cake, but that's what it looks like to me:
•  In 1965 you could buy a Mets cap (for $1.50!), but not a jersey. Quite a variety of Mets scripts on the assorted logos:
•  This is interesting — an ad for Orlon socks. Thanks to the selective use of color, the unstated implication is that MLB stirrups at the time were made of Orlon (which I suppose they may have been, but I suspect not):
•  Interesting to see a Pepsi ad with the "For Those Who Think Young" slogan. As I wrote in 2011, this was part of a long run of generationally charged Pepsi slogans — a very different approach than Coke has taken over the years:
•  And sure enough, here's a Coke ad with a non-generational slogan ("Things Go Better with Coke") and, for reasons that aren't entirely clear, three players in old-timey uniforms and gear. Note that two of them have mustaches, which were unheard of on the field in 1965:
•  Speaking of beverages, it's striking to see how many ads for hard liquor are scattered through the program. Here's one of many (you can click through all of the program's pages to see more here):
•  I began eating Milky Way bars back in the early 1970s, and the package design hasn't changed much since then. But it was apparently a lot different in 1965. Also, at the bottom of the page, the Mets jersey on the little boy in the ad actually says, "Met's" — with an apostrophe:
Want to see more? You can see the entire program here.
(Doubleplusthanks to Brian Sullwold for sharing this family treasure with us.)
• • • • •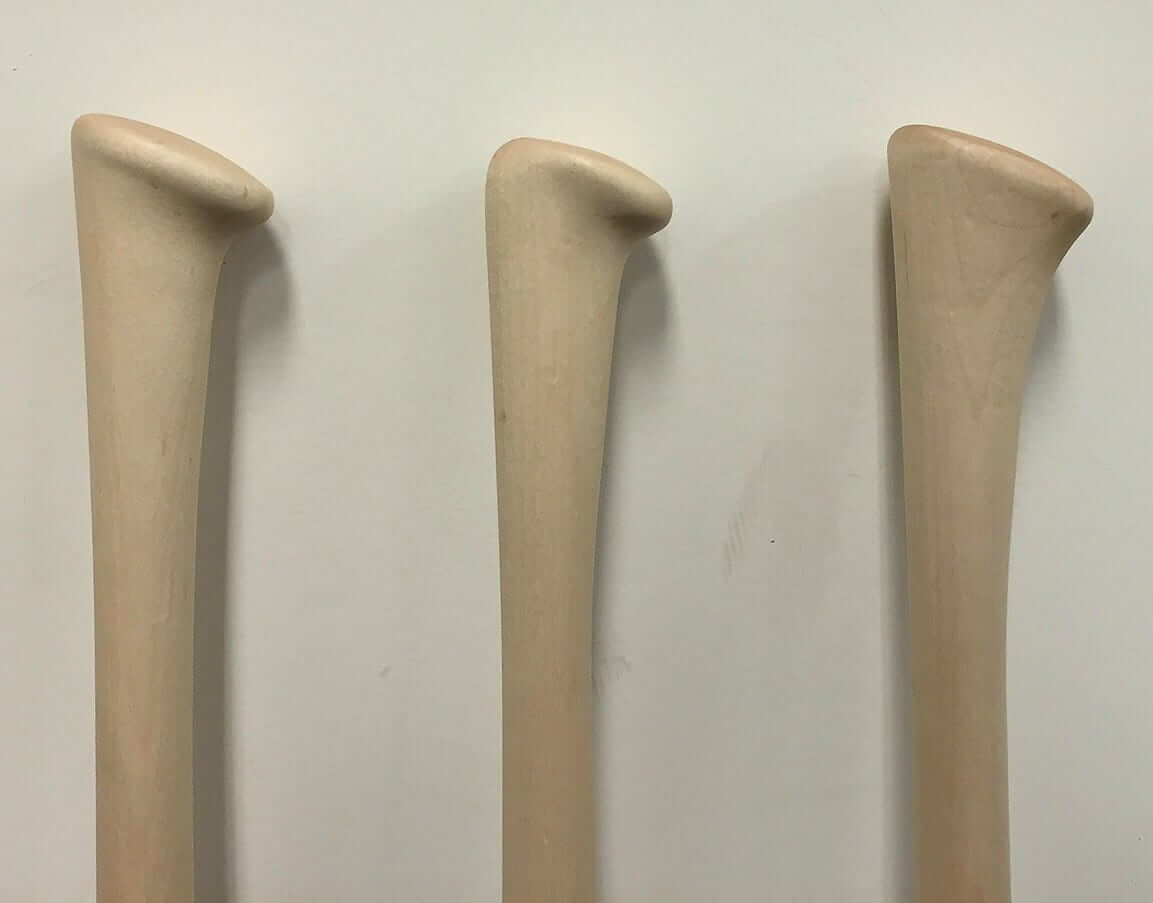 Click to enlarge
Special handling: Last Thursday I mentioned that Twins catcher Kurt Suzuki was using an axe-handled bat. That prompted a communiqué from Matt Peterson, the PR manager for axe bat manufacturer Baden Sports, who explained that the company actually has three separate axe handle designs. He sent the photo shown above, and the following note:
The one on the far left is our standard Axe knob. This is still the most prevalent, and the one being used by players such as Mookie Betts, Jake Lamb, Dustin Pedroia, and Kurt Suzuki.

The middle version is the variation being used by Carlos Correa, as you can see in this photo. The backside has more of a curve to it than on the standard version. Our director of R&D, Hugh Tompkins, says, "The idea is that guys who sit all the way down (on the knob) will have a little bit more freedom through the swing."

On the far right is the variation Avisail Garcia has used for most of this season. The main difference, as you can see from the picture, is that the ridge of the knob has been filled in on the sides and on the front hook. The bottom perimeter is the same size as the standard knob. From Hugh Tompkins: "This can be better for guys who have bigger hands or who really like to get all the down on the knob, or might even hang a finger normally. This lets them sit all the way down and not feel like their pinky is being kicked out by the hook, and not feel like they have the side hook pressing into their palm."

There are several more variations we're working with right now, but those are the main three you'll see around the league this season.
• • • • •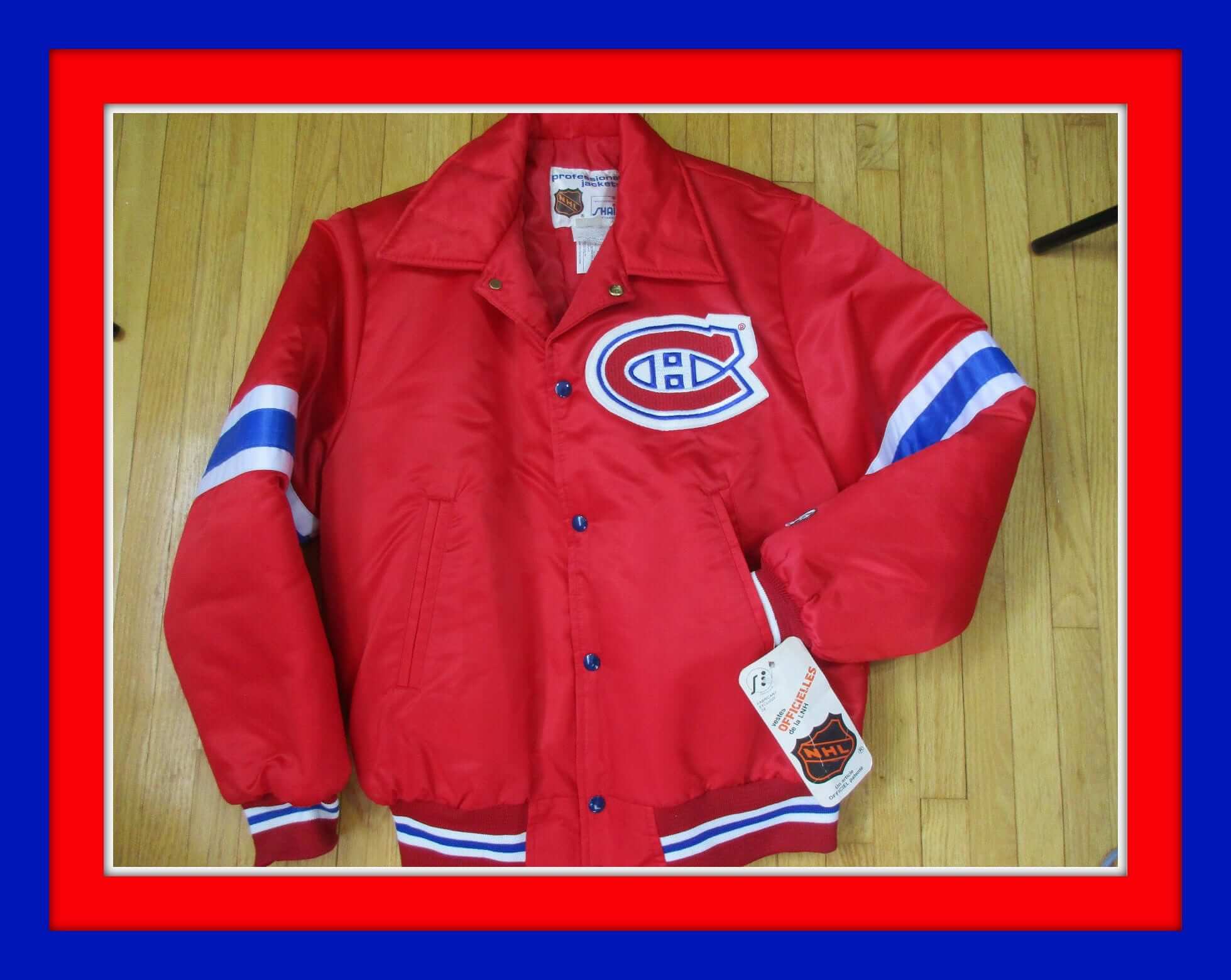 Click to enlarge
Collector's Corner
By Brinke Guthrie
Canadiens fans! This is one nice-looking 1980s jacket, made by Shain of Canada. "Vestes Officielles de la LNH." Of course it is. Now, I can't really find much on Shain, but it looks like they made a good product!
Now here's the rest of this week's picks:
• How about this vintage Chiquita Banana NFL ball? This was a premium you could send away for — and get yourself a set of my beloved Chiquita NFL stickers. Interesting point here: this one comes with an inflation needle, so I guess you could pump it up! I would swear these things were made of really hard-packed foam, like a Nerf. (And how many Nerf footballs did I go through every summer! Those things could sure soak up the water at the Terrace Park Swim Club. And then lifeguard Sally Beach would bench all of us. Had a quicker hook than Sparky Anderson.)
• These vintage Oscar "Big O" basketball shoes look decidedly lo-tech, don't they? Curiously, no brand name anywhere that I could find (and that era woulda pretty much been Converse or Keds, right?).
• Here's a Vikings T-shirt of alleged 1970s vintage. I don't recall ever seeing this type of facemask used on an NFL team T-shirt before.
• I also don't recall ever seeing a Saints version of these great 1960s Acrometal helmet plaques, but here you are.
• Had one of these! These big ol' 1970s beer stein mugs with the gold trim around the top. This Bengals one sat next to my 1975 and 1976 Reds World Series mugs, as I recall.
• Here's an unused vintage 1960s Washington Senators glass. That "W" looks familiar, no?
• I guess if you didn't have permission to use Bucco Bruce, you had to go with a generic football player for your "Follow the Bucs" window sticker.
• What's A FlyerJak, you ask? Well, you're gonna need to click here to find out.
• Look at this old Detroit Tigers kids duffel bag!
• With all the World Series logos and years, this jacket makes it clear that you are indeed a fan of the Cincinnati Reds.
• And from reader John Nolan, a set of amazin' 1969 Mets programs — a perfect capper to today's main entry.
• • • • •
The Ticker
By Mike Chamernik

Baseball News: Cardinals OF Tommy Pham removed his cap to shield his eyes from the sun while catching a fly ball in Seattle the other day. Inventive! Never seen that before. … Cards P Adam Wainwright nearly hit a bird with a pitch last night. By rule, that means we have to cue up the old Randy Johnson video. … Cubs 3B Kris Bryant tore his pants last night (from Matt Barnett). … XYZ: Red Sox DH David Ortiz had an unzipped fly yesterday (from Ted Zeigler). … Also from Ted: The Yankees had two third basemen on their lineup card yesterday. Aaron Hicks played right field. … D-backs C Chris Herrmann turned his Kobe II Elite Lows basketball shoes into baseball cleats (from @DizzleAZ). … New Balance released a line of spikes for the All-Star Game. … The Cardinals added a girls' "Dizzy and Daffy Dean" playsuit to their Hall of Fame Museum (from Elena Elms). … Here are the All-Star practice unis for Nippon Professional Baseball. @GraveyardBall tells us that two games are played, one in Fukuoka and one in Yokohama. … Also in Japanese baseball, the Yokohama Bay Stars revealed uniforms for a Kids Star Night in July (from Jeremy Brahm). … "I was shopping this weekend at a Dick's Sporting Goods and was disappointed to see that almost the entire stock of baseball pants comes without elastic cuffs," says Dan Herr. "The pajama pants look seems to be institutionalized at this point." … The White Sox have tightened up the letter spacing on the fronts of their 1980s alternates. Last year was more spaced out than this year, particularly evident between the "S" and the "O" (here's another look at Carlos Rodon from both last year and this year). The spacing on the original mid-'80s jerseys looked to be closer to last year's version (from Eriq Jaffe). … You know those rubber bands that players train with during spring training? A Phillies prospect suffered a freak eye injury due to one of those bands. He's already had one surgery and may need another, and other reports say the injury may be career-threatening.

NFL News: The Buccaneers are installing new video boards. … Not uni-related but amusing: LA Rams rookie WR Pharoh Cooper's nickname is King Tutt-chdown. … David Firestone found a 1957 Steelers jersey on eBay. It's only a cool $17,000.

College Football News: New unis for Miami (Ohio) (from Phil). … Buffalo players got to see their new uniforms. The official revealing will be held this morning (from Mike Monaghan). … Lou Holtz wore a Miami hat once while coaching Arkansas. That screenshot comes from an old tape so I can't quite see if that's the legit "U" or some type of parody logo.

Hockey News: Are the Rangers switching helmet logos? They previously had the "NYR" wordmark on the sides, but the Rangers tweeted this photo yesterday that shows the primary logo on the helmets (from Mark Grainda). … This has probably jumped the shark with a lot of you, but here are Crying Jordan logos for all 30 NHL teams.

NBA News: J.R. Smith celebrated the Cavs title by going everywhere shirtless for an entire week. Now a "shirtless" J.R. Smith T-shirt is on sale (from Andrew Cosentino). … President Obama says that he loves meeting with championship teams and even encouraged the Cavs to stop by the White House before he leaves office. … Bulls rookie Denzel Valentine will wear No. 45, which was Michael Jordan's number after his return from baseball in 1995. Three Bulls players have worn the number since then, most recently Rasual Butler in 2011 (from Brinke).

Soccer News: The Richmond Kickers' jerseys are so light and tight that they are easy to rip. The USL club has suffered eight jersey tears this year (from Tommy Turner).

Grab Bag: WTA tennis player Camila Giorgi doesn't have a corporate apparel outfitter. Drew Stiling says that her mom, a fashion designer, creates her attire. … Good list here of the most notable regional hot dogs. I need a Papaya dog and a Sonoran (from David Firestone). … The SafeTrack repairs have shut down entire rail sections in Washington D.C. Shuttle busses are helping to move people around, and that includes an old Northern Illinois Huskies bus (from JohnMark Fisher). … An illustrator added some intricate detailing to some athleticwear company logos (from Brinke).