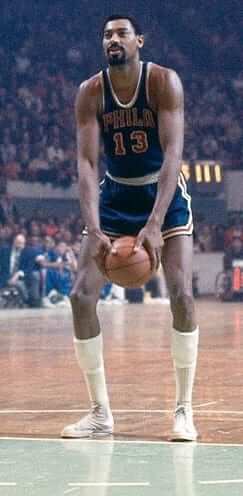 On Saturday the Tugboat Captain and I drove to the north shore of Long Island so she could show me her hometown. (Fun fact: For several years her next-door neighbor — at least on weekends — was William Shea, the namesake of Shea Stadium. One time she even went trick-or-treating at his house for Halloween.) On the drive there, we listened to the new epside of This American Life, which turned out to be largely about Wilt Chamberlain and underhand free throws.
Quick background: Everyone knows Rick Barry did his free throws underhand, but you might not realize that Chamberlain did it as well, at least early in his career. On the night of his famous 100-point game in 1962, he made 28 free throws (still a single-game record) — all of them underhand. He was a very good free throw shooter when he used the underhand style, but he didn't stick with it. Instead, he reverted to the conventional overhand shot — and was, for most of his career, a brutal shooter from the charity stripe.
The This American Life episode is all about people who make bad choices even when they know better, and the poster child they present for this phenomenon is Chamberlain, who stuck with the overhand shot even though he knew he was much better with the underhand style. At one point the segment's narrator — the writer Malcolm Gladwell (who, aside from writing bestselling books like The Tipping Point, happens to be a big basketball fan) — quotes from Chamberlain's autobiography, written in the 1970s, as follows:
I felt silly, like a sissy, shooting underhanded. I know I was wrong, I know some of the best foul shooters in history shot that way. Even now, the best foul shooter in the NBA, Rick Barry, shoots underhanded. I just couldn't do it.
In other words, Chamberlain's objection to the underhand style — and, I think it's fair to say, most people's objection to it — was aesthetic. He didn't like the way it looked, or how he looked while he was doing it, or how he imagined he looked to other people who were watching.
Gladwell thinks this is ridiculous, because it kept Chamberlain from being the best player he could be. (Barry, who's interviewed extensively in the piece, agrees.) Personally, I think it's more complicated than that, because you can't always compartmentalize one aspect of an athlete's game and say, "Okay, perfect that one aspect" without impacting other aspects. Either way, though, it's a really interesting example of how aesthetics can play into sports.
The piece got me thinking about the aesthetics of certain athletic maneuvers. When I was a kid, I'd stand in front of a mirror and mimic a particular pitcher's wind-up, or a particular batter's stance, or the way a particular quarterback lined up under center, or a particular hockey goalie's pose, or a particular tennis player's serve. I didn't choose random players to mimic, and I didn't even necessarily choose the ones who played for my favorite teams. I chose the ones whose motions or stances I thought looked cool. I definitely knew about Rick Barry's underhand free throw style back then, and I was always fascinated by seeing it on TV, because it seemed like such a novelty. But I never once thought to mimic it in front of the mirror. Didn't look cool.
The This American Life segment isn't perfect. Like most economists or economist-wannabes, Gladwell frequently falls into the trap of celebrating success as a self-justifying end in itself, with little concern for ethics, morals, or social standards. (That's why Rick Barry — a guy whose idea of success was basically that everyone else should always give the ball to Rick Barry — is Gladwell's hero in this story, even though Barry basically comes off sounding pathological in the segment.) But those quibbles are all tangents off of the larger aesthetic point, which I think is a really interesting. The segment is 28 minutes long and highly recommended. To hear it, go here and skip ahead to the 8:57 mark.
Meanwhile, here's a little more about Chamberlain and free throws:
• • • • •
Raffle results: The winner of the green Adidas cleats is Shawn Dobbins. I'll have more raffles soon — possibly later this week, and definitely next week — so stay tuned.
• • • • •
Birthday boy: Happy birthday to Ticker assistant Mike Chamernik. Hope you get everything you wish for when you blow out the candles, Mike!
• • • • •
The Ticker
By Alex Hider

Baseball News: Brewers and Nationals went color-on-color yesterday (from Chris Jorgenson). … Three days, three alternate uniforms for the Mariners (from Edward). … Kids at the Pirates game last night got an awesome free jersey (from BSmile). … Great find by Kenneth Traisman who pulled this Cubs' "Boys of Zimmer" T-shirt out of the attic. RIP, Don. … Painter Robert Thom incorrectly depicted Wrigley with ivy walls in this painting of Babe Ruth's called shot (1932). The ivy wouldn't be planted for another five years, in 1937 (from Tom Ekstrand). … Creighton blatantly ripped off the Toronto Blue Jays in the 1991 College World Series "" maple leaf and all (from Tyler Maun). … Check out this Indians "Pictorial Review" from 1965 "" and note the incorrect version of Chief Wahoo on the 1948 uniform (from T.J. Zmina). … Maryland flag unis for the Bowie Baysox (from Adam Vitcavage). …. The Orix Buffaloes are wearing "galaxy-themed" uniforms for a few gams this season (from Graveyard Baseball). … Jose Reyes wore a single-flapped Mets batting helmet while playing for the Brooklyn Cyclones yesterday. It's common for MLBers to wear their single-flapped big league helmet, instead of the standard MiLB double-flapped helmets, while playing on MiLB rehab assignments, but Reyes isn't rehabbing — he signed a minor league contract with the Mets and was assigned to Class-A Brooklyn — so it's odd that he was given a single-flapped Mets lid (from Jack Pesin). … Keith Hernandez always had great-looking stirrups, but late in his career, while he played for Cleveland, he dabbled with two-in-ones (from George N.). … A recent study compared hitting performance with axe-handled bats vs. conventional handles.


Pro and College Football News: Seahawks QB Russell Wilson has a new personal logo. … Check out this photo of Steelers Dave Williams wearing a knit hat over his helmet (thanks Phil). … Louisiana Tech football recently became an Adidas school, so the team photoshopped the Nike logos out of their team schedule (from Oscar Collum). … The B1G is taking the freebie race T-shirt to the next level by letting runners pick their preferred school (from Kenneth Traisman).

Hockey News: Check out what the U.S. wore in the 1976 Canada Cup (from Jason Gurwin). … Some Leafs fans ordered custom Auston Matthews jerseys before the team even drafted him first overall on Friday. … Did the makers of this poster use an action figure instead of a photo to represent Blackhawks goalie Ed Belfour? (from J. Walker.)

Soccer News: NOB misspelling for the Galaxy's Steven Gerrard. Tony the Tiger must be the LA's equipment guy. … Here's Manchester City's new change kit. Also, new kits for Burnley (from Patrick Thomas). … Arsenal's new third kit has leaked (from Josh Hinton). … Nashville's new USL club will get a name, logos and colors on Friday (from Lee David Wilds). … Soccer player or superhero? (from Yellow Away Kit).

Grab Bag: Think keeping your white Chucks clean is tough? Try keeping a pair of white Tom Fords clean. … U.S. Rowers will get antimicrobial suits for the Olympics, to protect them against Rio's polluted water (from Tim Cross). … Samsung is developing a Google-glass like product that attaches to helmets. … Here's your chance to vote for the NASCAR Paint Schemes of the Week.
•  •  •  •  •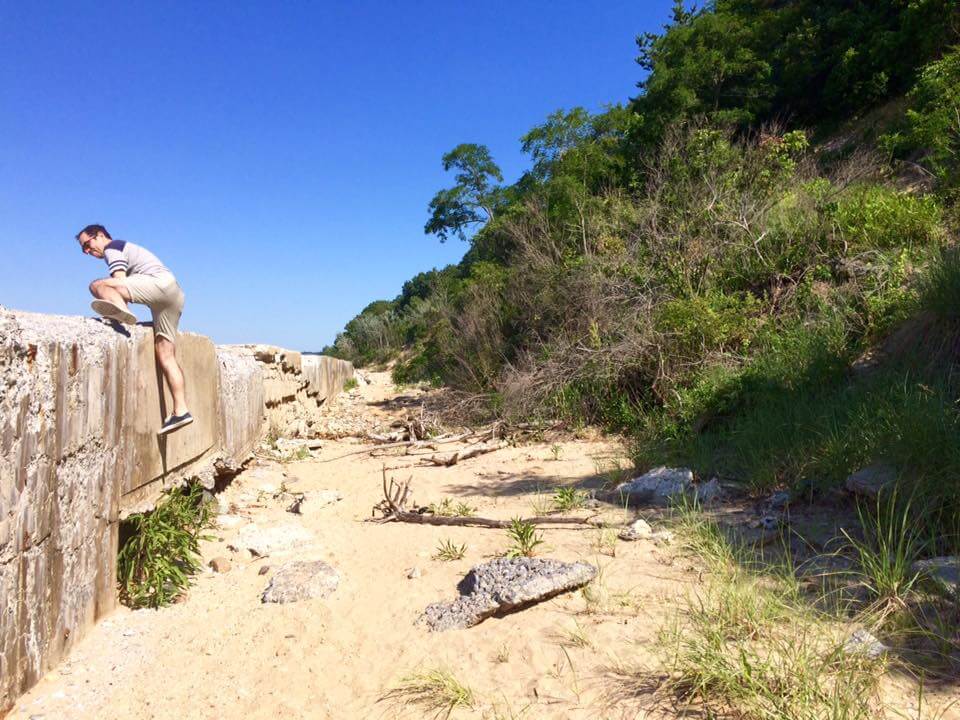 Click to enlarge

What Paul did last night over the weekend: Six years ago, in June of 2010, my friend Victoria said, "This is going to be the best summer ever," to which I replied, "What about last summer?"
"Oh," she said, "that was the best summer ever, too!"
"And next year..?"
"That's going to be the best summer ever!"
"Okaaay," I said. "But if everything is special, then nothing is special, right?"
"No no no, you're missing the point. It's really easy for summer to not be special, unless you make it special. This summer is the only summer we've got, so it's important that you make it the best summer ever, because it'll be gone before you know it."
Of course, you could just as easily apply that same mindset to any of the other seasons, or even to each individual day (best day ever!). But I got her point, and I liked it, so I tried to put it into action. When my upstairs neighbors knocked on my door the very next day and invited me to go kayaking with them, I started to say, "Thanks, but I'm busy with all this work…," but then I thought, "Best summer ever!" and ended up going with them. We had a great time, and it turned out that postponing the work I was doing didn't cause the sky to fall after all, so after that I was in full-on BSE mode: An impromptu dinner party at a friend's house even though I had planned to stay in for the evening? Best summer ever! A quick weekend getaway even though I'd planned to clean the house and the backyard? Best summer ever! An unexpected opportunity to get naked with a certain someone, which might be ill-advised but would almost certainly be fun? Best summer ever!
You may be thinking, "Why do you need a slogan or a mantra to have a fun summer? That's nuts!" Yes, it is. But BSE is a good mental exercise for someone like me. I'm better at planning than at being spontaneous, I get seriously engrossed in my work (ever wonder how I manage to crank out so much content?), and I often default toward being solitary over being social, all of which can be unhealthy if I overdo it. BSE turned out to be a good corrective to those tendencies.
Anyway: I stuck with the BSE program over the next year or two, but at some point I drifted. Last summer, frankly, was a stinker, and I'd say at least part of the reason was that I never got into the BSE mindset. I'd forgotten about the whole thing until last week, when Victoria — the one who taught me about BSE in the first place — marked the summer solstice with a Facebook post that included the hashtag #bestsummerever. And I was like, "Oh, right — that!"
All of which is a very long-winded way of saying I had a fucking awesome weekend. Highlights included eating crabs with friends at my favorite crab shack, a long sit-down with friends at my favorite bar, shooting pool, swimming in the ocean, eating some of the best fried seafood I've ever tasted, exploring a nature preserve, scaling a wall (that's what I'm doing in the photo at the top of this section), visiting the house my girlfriend grew up in, having drinks on a pier at sunset, seeing some great music, playing with the cats, playing with my friend Robert's super-cool vintage spy camera, doing a bit of small but satisfying car maintenance, getting a soft-serve cone from an ice cream truck, going for two absolutely perfect bike rides, and a lot more. Several of those things wouldn't have happened if I hadn't been in BSE mode.
Will every weekend be this good? Maybe, maybe not. But I'm pretty sure it's gonna be the best summer ever.