Click to enlarge
The NBA Draft was yesterday, so the Timberwolves' office marked the occasion with prospect jersey cookies. If you click on the photo to access the larger version, you'll see that they did a pretty amazing job of including makers' marks, conference logos, patches, etc. — impressive! My compliments to the baker.
(Thanks to T-Wolves group events program supervisor Jared Hensch for the photo.)
•  •  •  •  •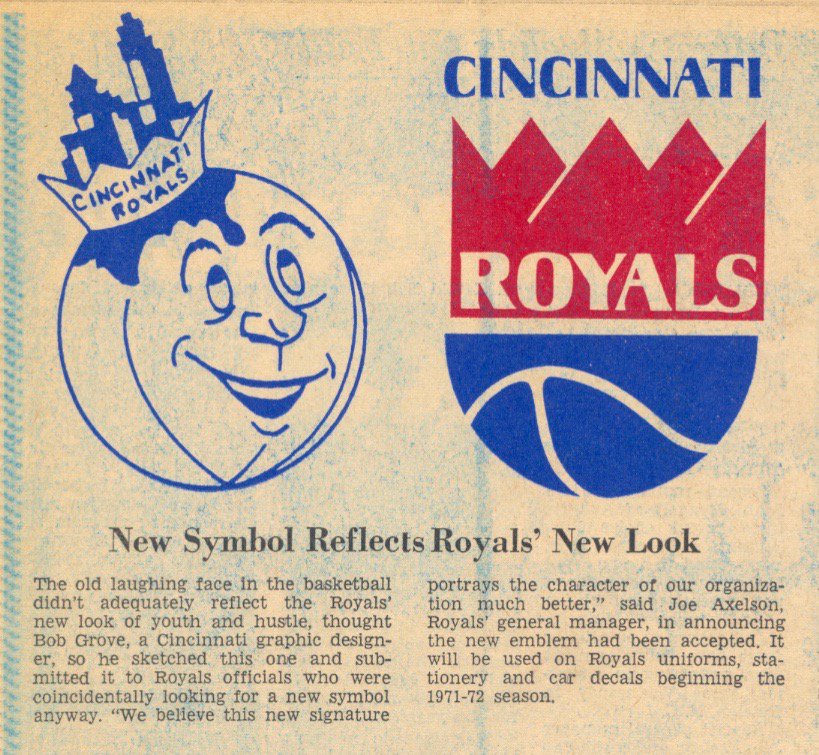 Click to enlarge
Friday Flashback: The clipping you see above, announcing the release of the Cincinnati Royals' new logo — the same logo that was recently revived by the Royals' current incarnation, the Sacramento Kings — appeared in The Cincinnati Enquirer on April 2, 1971. As you can see, it mentions that the logo was designed by a graphic designer named Bob Grove.
Grove's name has been lost to history, and his story has never been told — until now. I have an exclusive interview with him for my Friday Flashback column today on ESPN. Check it out here.
•  •  •  •  •
Raffle reminder: Today's the last day to enter the raffle for the pair of green Adidas baseball cleats. Details here.
• • • • •
The Ticker
By Paul

'Skins Watch: A Delaware school district will no longer call its teams the Redskins (from Kurt Esposito and Erik Autenrieth). … The DC school from which President Obama's daughter Malia just graduated has banned 'Skins-related clothing. … I've seen plenty of football helmet designs based on Native American headdresses, but until now I'd never seen that idea used for a baseball batting helmet. That team, incidentally, has nothing to do with the Atlanta Braves — it plays in a Pennsylvania amateur league(from Brian Wulff) dang, that link has been taken down. … A school in Edmonton will no longer call its teams the Redmen. Students recently participated in a project to cover up paintings of the old logo — good for them (from BQG).

Baseball News: The Battle Creek Bombers, a collegiate summer league team in Michigan, is hosting Second Amendment Education Night tonight. Key quote: "Open carry is permitted at the game, however anybody caught drinking while carrying will be asked to leave immediately." What could possibly go wrong? (From Patrick Sesty.) … A bunch of pro wrestlers attended Weds. night's Pirates game. Further info here (from our own Mike Chamernik, who's supposed to be busy with other stuff this week but apparently couldn't resist contributing). … Not many white jerseys so far in the College World Series. … Edward Kendrick has provided up-to-date uni tracking for the Diamondbacks. … The annual Congressional baseball game was last night. Politicians wore the uniforms of teams in or near their districts. So Connecticut Senator Chris Murphy wore a Hartford Yard Goats uni (from Stephen Langdon).

NFL News: Here's a marketing partnership you probably never thought of before: the NFL and Cirque de Soleil. … The Vikings apparently have an inaugural-season logo for their new stadium. No word yet regarding a jersey patch, although that seems likely (from Luke H.). … Falcons prexy Rich McKay says he'd like to revive the team's throwbacks (from Britton Thomas). … Check this out: NFL Films softball teams! That's the 1975 team on the top and the current squad on the bottom (from Robert Leavell). … Eric Wright spotted an NYC construction worker wearing a 49ers hard hat. Matches his safety vest! … Inconsistent "7" styles and NOB spacing in this old Oilers photo (from Pro Football Journal). … John Chapman recently scored this awesome-looking NFL Huddles book at a library sale. "I'd also be willing to part with it if anyone is interested," he says. If that's you, contact John here.

College Football News: There's some sort of contest for the best-looking college marching band truck. Frankly, I didn't even realize college marching bands had trucks, but live and learn (from James Gilbert).

Hockey News: Holy moly, look at this amazing old Buffalo Bisons jersey. That's from a Buffalo fan's vintage memorabilia collection, which you can see more of in this slideshow (from Buffalo Tony). … Jeez, ya think they have enough circle-R trademark symbols on this Game Six Stanley Cup puck? (From Ryan Connelly.) … Great shot of Kevin and Kelly Klima — Petr Klima's 19-year-old twin sons — with FNOB and smaller-lettered first names (from Kevin Tiessen).

Basketball News: Derrick Rose will wear No. 25 for the Knicks. … Draft prospect Denzel Valentine wore Denzel Valentine socks to the draft (from Mike T). … The draft picks were given team-branded headphones, the Kings version of which had the wrong logo (from Chasen Rogers). … Man, French basketball has some seriously weird uniforms (from our own Alex Hider).

Soccer News: New home kit for Slovenian national champs NK Olimpija LJ. … New home kit for the Polish team ZagÅ'Ä™bie Lubin (from Ed Å»elaski). … New kits for Wolverhampton, Sevilla FC, and Celta Vigo (all of those from Josh Hinton).

Grab Bag: Product placement deals are just another bullshit form of stealth advertising. The new movie Independence Day: Resurgence, which opens today, has one that's more than a little awkward. Douchebags. … Here's a timeline of NC State mascots, colors, and team names (from J. Huckel). … A measure to bar the Confederate flag from cemeteries run by the Dept. of Veterans Affairs has been dropped. … I haven't bet money on sports since I was seven years old, in part because I don't like to set up conflicts between my heart and my head (that's what I learned when I was seven), in part because it's a sucker's game (I figured that part out soon enough), and in part because sports betting is an unsavory scene populated by scumbags. So I don't usually read articles about sports betting. But this one, about betting tout RJ Bell, is really, really good. Like, really good. Strongly recommended. … Here's a list of the year's best corporate logo redesigns. … The 2016 edition of ESPN Mag's annual Body Issue will feature a transgender athlete for the first time. … Oh man, check this vintage 1960s STP racing jacket (from David Firestone). … "What do you get when you combine a love for Helvetica, Swiss-style poster art, and thoroughbred racing jockey silks?" asks Ben Fortney. The answer can be found here. … Here's a history of Batman's costume in movies (from Steve Dodell). … An international trade commission has ruled that the Chuck Taylor sneaker's diamond-patterned sole pattern is protected by trademark, but the sneaker's other design features are not.