Click to enlarge
Yesterday was Father's Day, so MLB teams wore blue-themed uniforms and accessories, along with dark-grey caps — basically the same as Mother's Day, but with the pink swapped out for blue. It marked the first time MLB has worn special unis for this holiday (in the past, players just wore blue ribbons and wristbands).
A few notes:
•  Teams that normally wear blue jersey graphics, like the Mets, Dodgers, Royals, Blue Jays, Rays, and Rangers, didn't look radically different than they usually do:
• One team deviated from the all-blue theme: the Giants, who wore orange chest lettering and back numbering. Why? Because they didn't want to look like their rivals, the Dodgers. Yes, that seems ridiculous, but whatever:
• For some reason the Angels insisted on wearing their red softball tops, which looked particularly brutal with the blue lettering and the grey caps:
•  It was a Sunday home game for the Padres, so they wore their blue G.I. Joe jerseys — but with light-blue lettering:
•  As has been the case for the other holidays, the circle-R trademark symbol that normally appears on the Cubs' home jersey was not there yesterday (click to enlarge):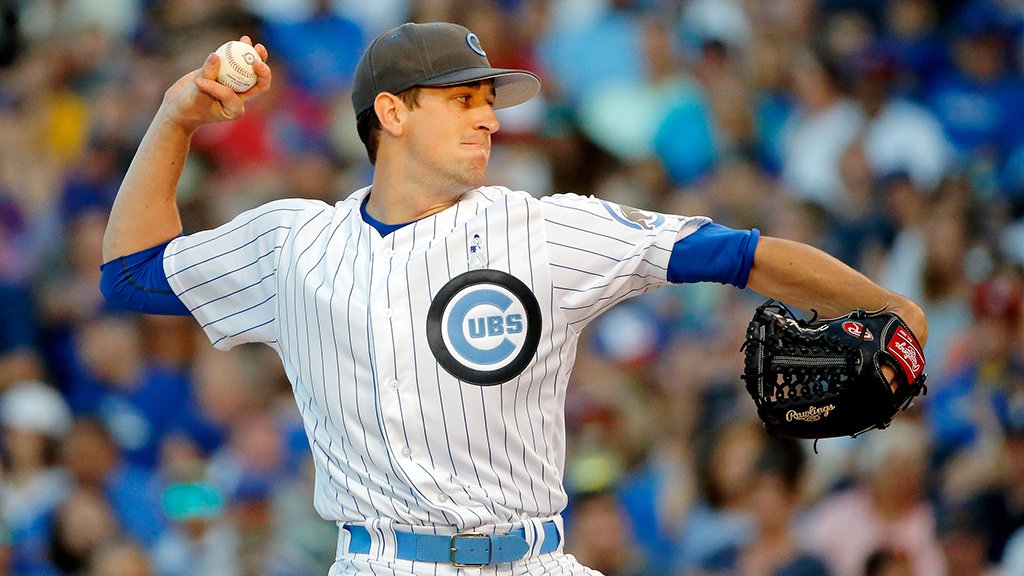 •  Lots of players went high-cuffed with light-blue socks or — in at least one case — light-blue stirrups. But some high-cuffed players just wore their standard-issue team hosiery:
•  At least one catcher — Martin Maldonado of the Brewers — wore light-blue catching gear:
•  A few Adidas-outfitted players in the Reds/Astros game (and maybe in other games as well, not sure) wore paisley-patterned accessories. I guess the idea was that a paisley necktie is the typical clichéd Father's Day gift (these two shots courtesy of @PatDStat; click to enlarge):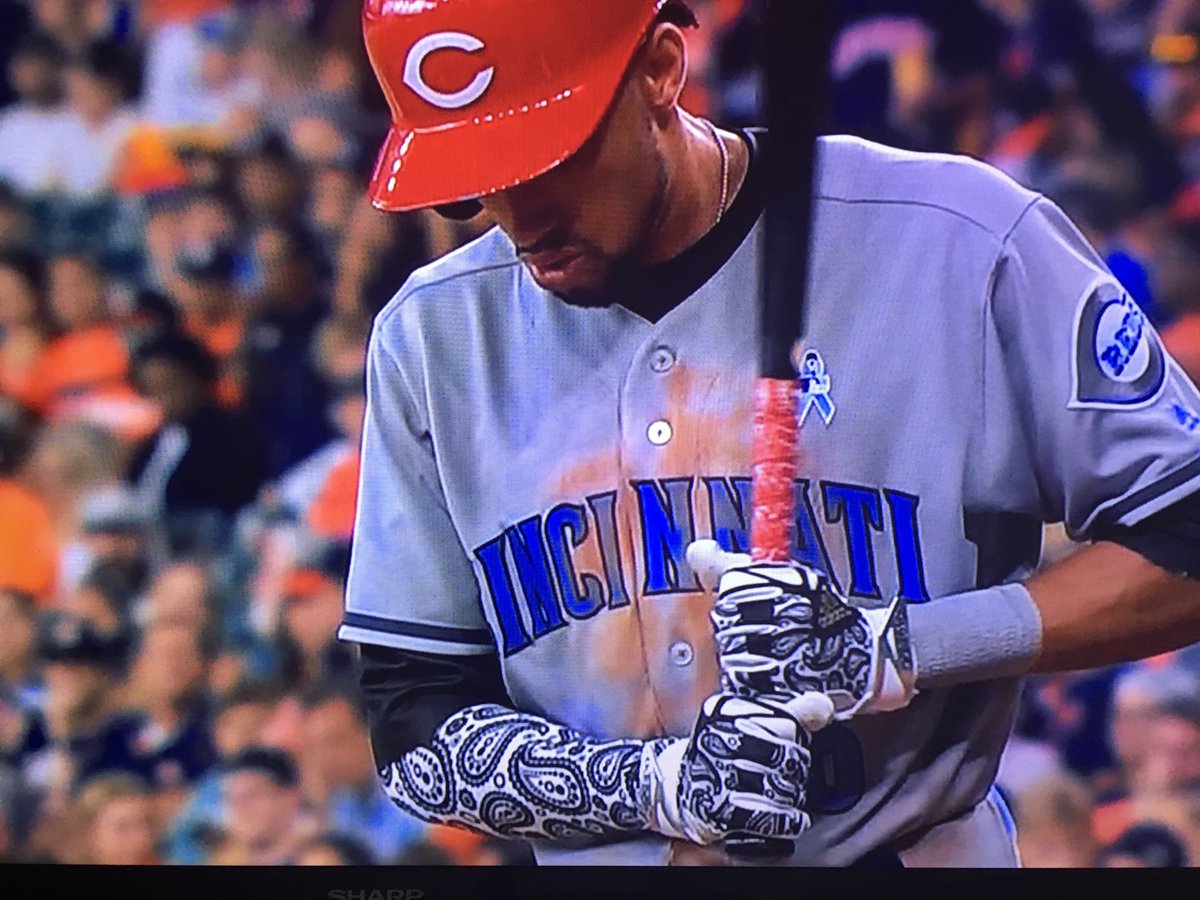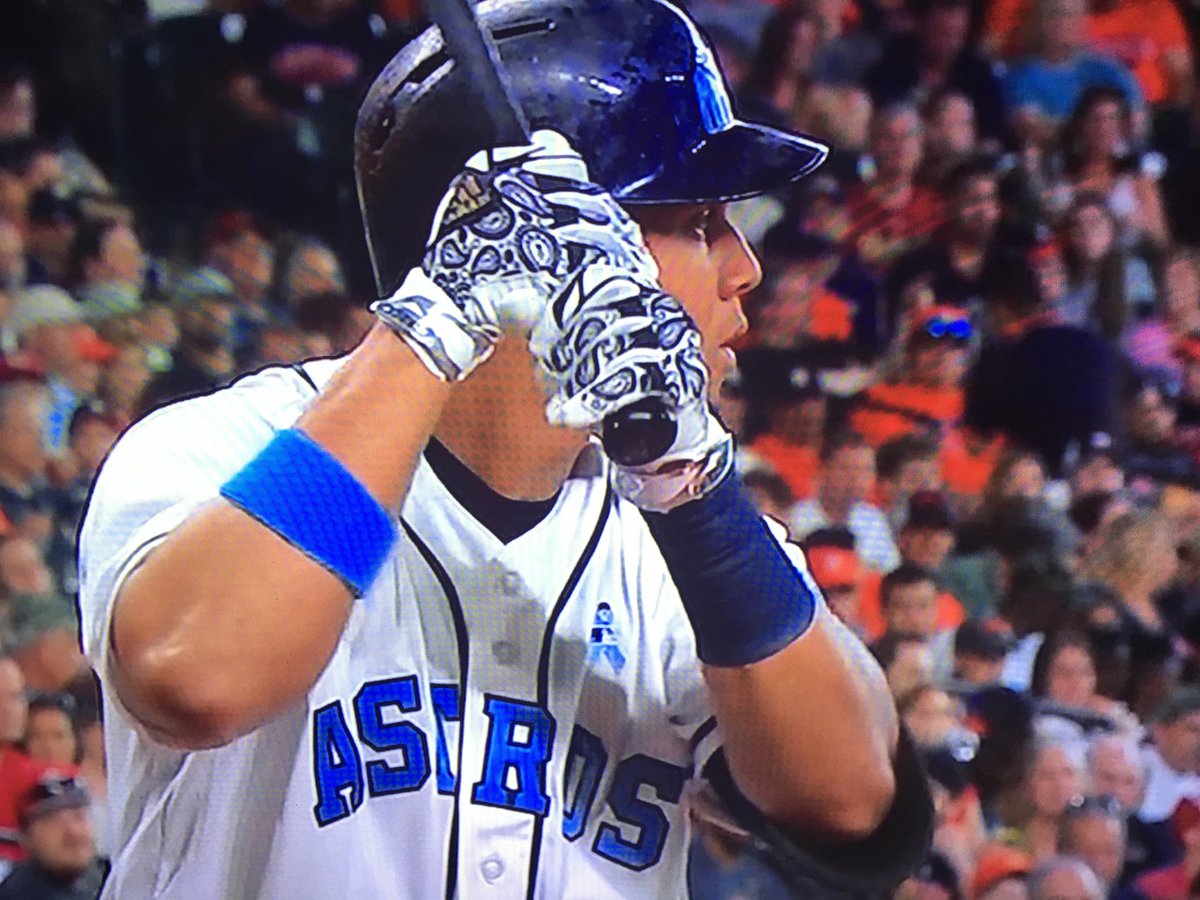 •  As was the case on Mother's Day and Memorial Day, sleeve patches were rendered in the prevailing color of the day, with one glaring and predictable exception: Wahoo. Now, I can think of some good reasons why Wahoo should not be rendered in blue (or pink, or camouflage) — but those reasons are really arguments for why Wahoo should not be used on the uniform at all.
Finally, no wrap-up of this sort would be complete without a look at the Diamondbacks. I think this could arguably be considered an improvement over their usual look:
Can't wait for the next MLB-wide holiday uniform program? Don't fret — Independence Day is only two weeks away.
•  •  •  •  •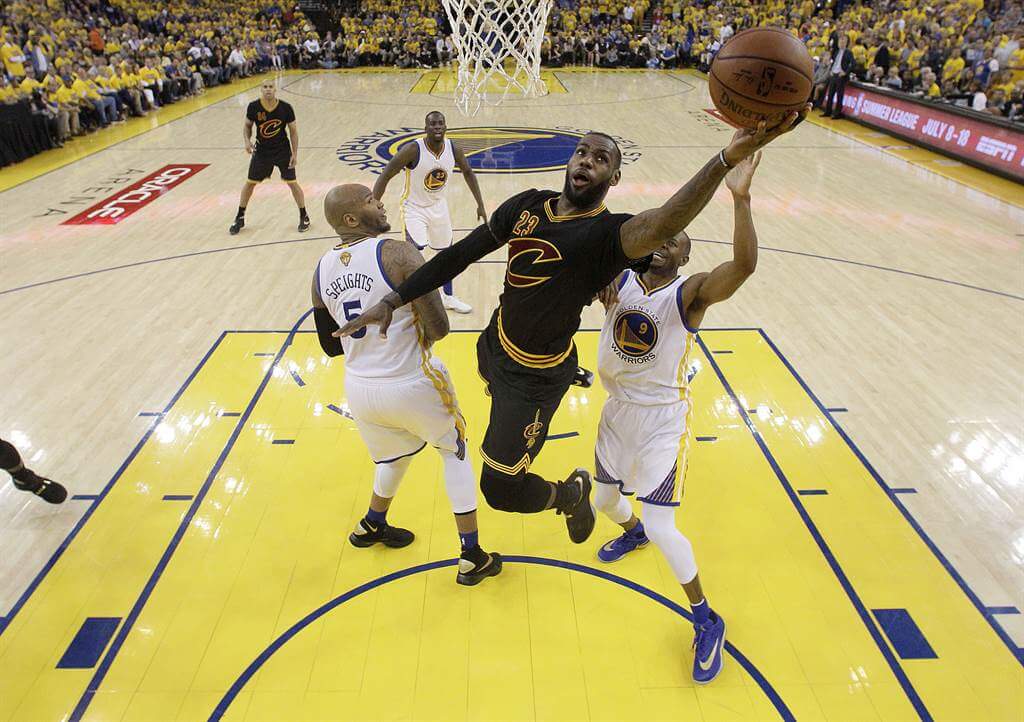 Click to enlarge
With their hearts on their sleeves: Last Monday the Cavs became the first team ever to wear sleeved jerseys in an NBA Finals game. Last night they topped that by becoming the first team to win an NBA championship while wearing sleeved jerseys.
Given the other historic aspects of this title (no NBA team had ever come back from a 3-1 deficit in the Finals, and no Cleveland team had won a championship since 1964) and the special role that the BFBS sleeved jerseys played (the Cavs wore the sleeves in Game 5 specifically at LeBron James's insistence), it's hard to imagine that the Cavs will retire this jersey design in the foreseeable future, especially now that they've had the jerseys tailored to the players' liking. It's worth asking if this might even save the sleeved format when Nike takes over the league's uniform program in 2017.
Another Cavs-related note: They reportedly had a 16-piece jigsaw puzzle of the O'Brien Trophy — one piece for each of the 16 postseason wins needed to win the title — that they used for motivation throughout their title run. Interesting! No photos, alas.
Congrats to all of our long-suffering Cleveland readers. Savor your moment — you've earned it.
•  •  •  •  •
Tickle me this: There's a new documentary, called Tickled, about an underground sport called competitive endurance tickling (yes, really). The trailer is shown above, there's an informative review here, and there's a good interview with the filmmakers here.
Haven't seen it yet, but I plan to, in part because there's a uni-related subtext: The competitors all wear Adidas! Look:
Just for the record: They don't switch to Nike this fall — that's next fall. Ditto for the jersey ads.
•  •  •  •  •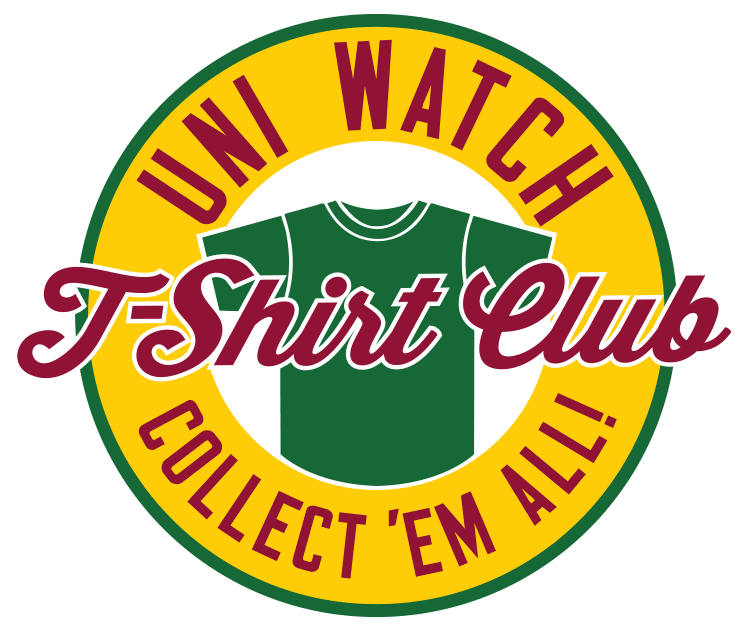 T-Shirt Club "" time running out: In case you missed it last week, the Uni Watch T-Shirt Club's third limited-edition design of 2016 is now available for your consideration — but only for two more days.
As you'll recall, we're going one sport at a time this year, and we already covered baseball and hockey. Our latest shirt takes us to the hardcourt, as we're launching two different basketball designs — one showing a home uniform and one showing a road uniform (click to enlarge):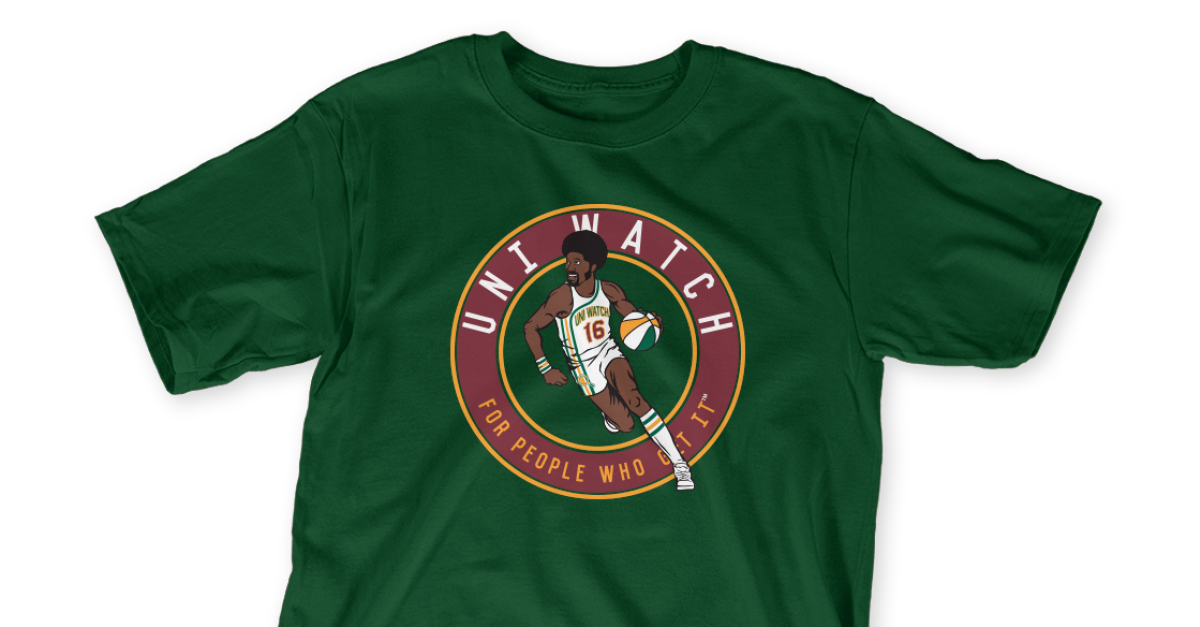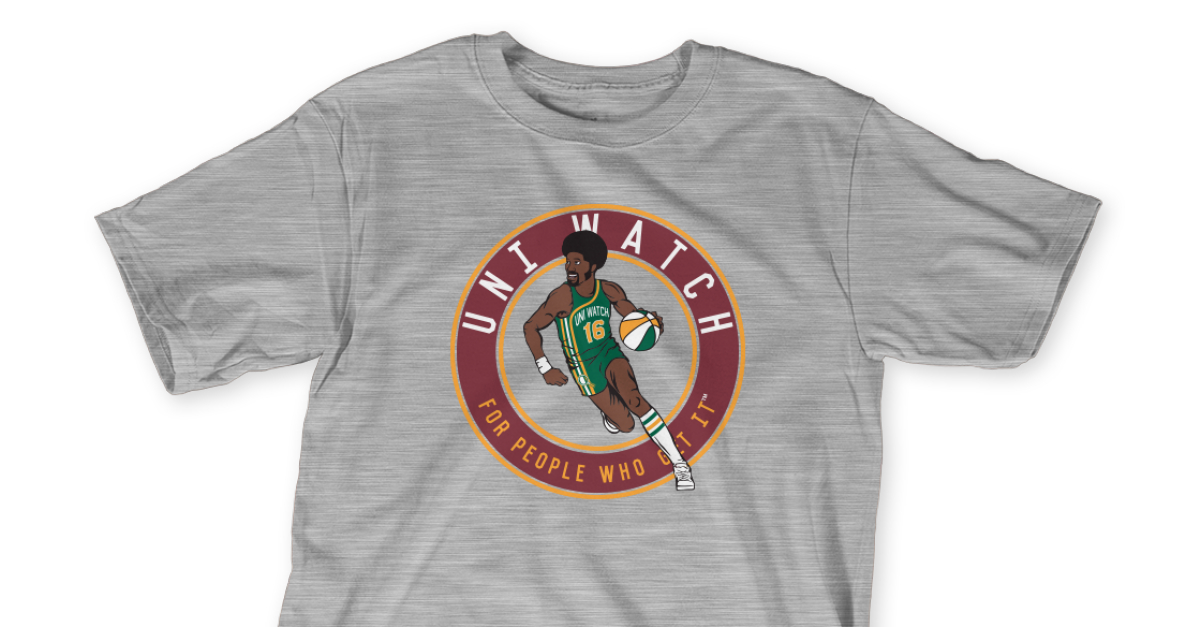 Pretty cool, right? I really love seeing that racing stripe uniform concept done up in Uni Watch colors, and ditto for the ABA-style ball.
Important: Although green and grey mock-ups are shown above, we're offering both of these designs in four different shirt colors (green, grey, black, and white), and also in two different styles (short-sleeved and long-sleeved).
Here's where you can order the home and road designs. You only need to purchase one of them — the home or the road — in order to maintain your 2016 "Collect 'Em All" eligibility (although you're welcome to purchase both, obviously).
As always, big ups to my Teespring partner, Bryan Molloy, for his great work on these. I'm very happy with the way they turned out.
One more time: The home shirt is available here and the road shirt is avaialble here. Thanks.
• • • • •
Culinary Corner: Three months ago, almost to the day, the Tugboat Captain and I were walking to my birthday party and spotted a perfectly decent paella pan that someone had left on the curb. I'd never had the pleasure of owning a paella pan, and it seemed like a nice birthday present from the world at large, so we grabbed it and stashed it in the trunk of my car, which was parked around the corner. Then we continued on to the party.
A week or so later I remembered that there was a paella pan in my trunk. I retrieved it, cleaned it, put it in a cupboard, and then mostly forgot about it until two weeks ago, when the Captain received the latest issue of Cook's Illustrated, which features a recipe for making paella outdoors on the grill — something I'd never even thought of doing before. But hey, I now own a paella pan! So we decided to try it on Saturday, and it was a tremendous success.
A few of the ingredients — chicken thighs and chorizo — were lightly seared on the grill rack before being added to the paella, but most of the cooking took place in the pan itself. In other words, we used the grill more like a stove, something I haven't done much of over the years.
We followed the Cook's Illustrated recipe pretty closely, using arborio rice, shrimps, clams, onions, roasted peppers, peas, garlic, saffron, clam juice, sherry, and more. It all turned out surprisingly well, and we even ended up with a decent socarrat — the browned, crunchy bottom crust that's the mark of a truly excellent paella.
Here are some photos (if you can't see the slideshow below, click here):
I'll definitely be making this again. If you want to learn more about the recipe, check out this video.
•  •  •  •  •
The Ticker
By Alex Hider

Baseball News: On Saturday, the Rays and Giants threw back to the late '70s "" or, at least Giants did. The Rays wore their fauxbacks "" including batting helmets! Lots of Giants went the extra mile by wearing Frank Robinson-style extra high stirrups. However, Brett points out that the Giants didn't wear the correct logo on their cap. … Justin Turner's 3D batting helmet logo suffered some damage Saturday night (from James E. Siddall). … The Blue Jays and Orioles went color-on-color on Saturday (from Funhouse). … For some reason, Cleveland's Trevor Bauer was wearing Danny Salazar's BP jersey in the dugout during the game Saturday night (from Andrew J). … Pick a side, McEnroe (from Peter Sobieski). … The A's supported their fellow Oaklanders by wearing Golden State Warriors shirts during BP yesterday (from Richard Paloma).. … XYZ: Yankees OF Carlos Beltran forgot to zip up before his an at-bat yesterday (from Jeffrey Bovitz). … A group of fans dressed up as the 1908 Cubs at Wrigley yesterday. Pretty good effort, all the way down to the socks (from Griffin Smith). … Jean Ross, the mother of MLBers Tyson and Joe, has a Frankenjersey for both of her sons (from Andrew Hoenig). … Andre Dawson was an honorary base coach for the independent Frontier League's Joliet Slammers this weekend. J. Colbert points out that Dawson was wearing pants with the MLB logo rendered in orange on the belt tunnel "" did he get them from the Marlins? … The Gateway Grizzlies wore Batman jerseys Saturday night. … The Irish Hills Leprechauns of the Great Lakes Summer Collegiate League have some pretty crazy camo jerseys (from Paxton Rembis). … Here's a very exhaustive breakdown of Coastal Carolina's record by uni combo (from Rob Anderson). … Speaking of the Chanticleers, they have football-style pride stickers on their batting helmets (from Dustin Semore). … Here's the logo for the 2017 Midwest League All-Star Game (from Cody). … The Reds recently called up pitcher Cody Reed, who wears goggles — the same pair he's had since high school! Additional info here (from Patrick O'Neill).

Soccer News: When the 2016 Euro kits were revealed, France was slated to wear a white kit with both blue and red sleeves. However, the white kit they wore yesterday was all-white. Apparently, according to UEFA rules, sleeves must be in the same color (thanks to everyone who shared). …Switzerland's jerseys looked like Swiss cheese yesterday. … Orlando City SC's fans coordinated for a rainbow-out during last night's game in honor of the Pulse nightclub victims (from Ben). Orlando City's Brek Shea also wore rainbow cleats for the game (from Michael Driscoll). … The Washington Spirit of the United Women's Soccer League had a gay pride ribbon on the field in honor of the Pulse shooting victims (from @yellawkt). … Check out this Star Wars-themed soccer kit (from Hugo Boutin). … New kits for Millwall (from Josh Hinton). … Neil MacLeod received this Father's Day card yesterday. "As you can see, it shows a soccer jersey on the front and came with various stickers to customize the design. Please forgive my son's efforts — he's only three!" … DIYer Wafflebored made a 1972 Manchester City replica jersey for his brother.

Grab Bag: Cool graphic of the history of NBA Game 7s, with period-appropriate logos (from John Sabol). … Did anyone else remember that O.J. Simpson wore No. 36, not his familiar 32, during the preseason of his rookie year? Here's why (from Josh Harris). … Happy Father's Day! Jordan Speith celebrated by wearing Steph Curry's "Dad Shoes." … Strange but true: Jelly Belly once sponsored a cycling team (from Kristopher Sharpe).
• • • • •

What Paul did last night a few nights ago: On Friday night I saw a bunch of music, including the singer-songwriter Megan Reilly. Nothing especially remarkable about that — I've seen her several times over the years, and I'm sure I'll see her several more. She's not one of my tip-top-favorite artists (more of a middle-of-the-packer), but I really like her band, and she has a few songs that I particularly love, two of which have been echoing in my head since Friday's show — first one, then the other, then back to the first one, and so on.
Here are those two songs (one of which is a fairly radical reworking of a Roy Orbison tune). Enjoy: