Yesterday was presumptive GOP presidential nominee Donald Trump's 70th birthday, so there were lots of childhood photos of him floating around, including several that showed him in uniform. For example, here's his eighth grade football team at New York Military Academy — that's him in the second row (seated), second from the left (for all of these, you can click to enlarge):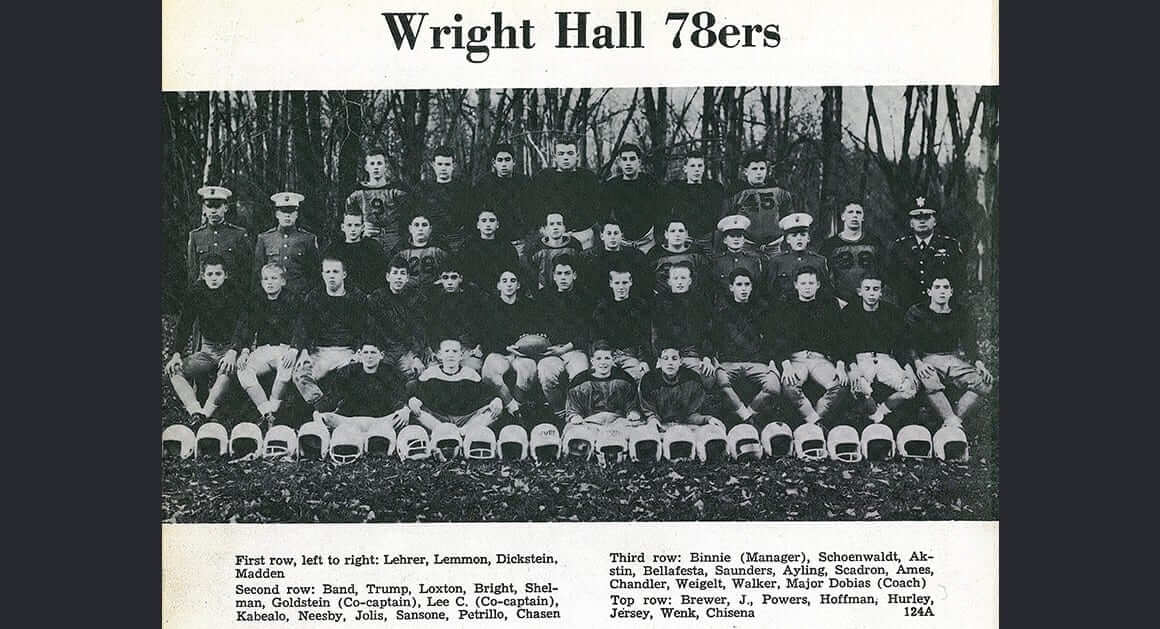 And here's his ninth grade baseball team. He's at the center of the second row: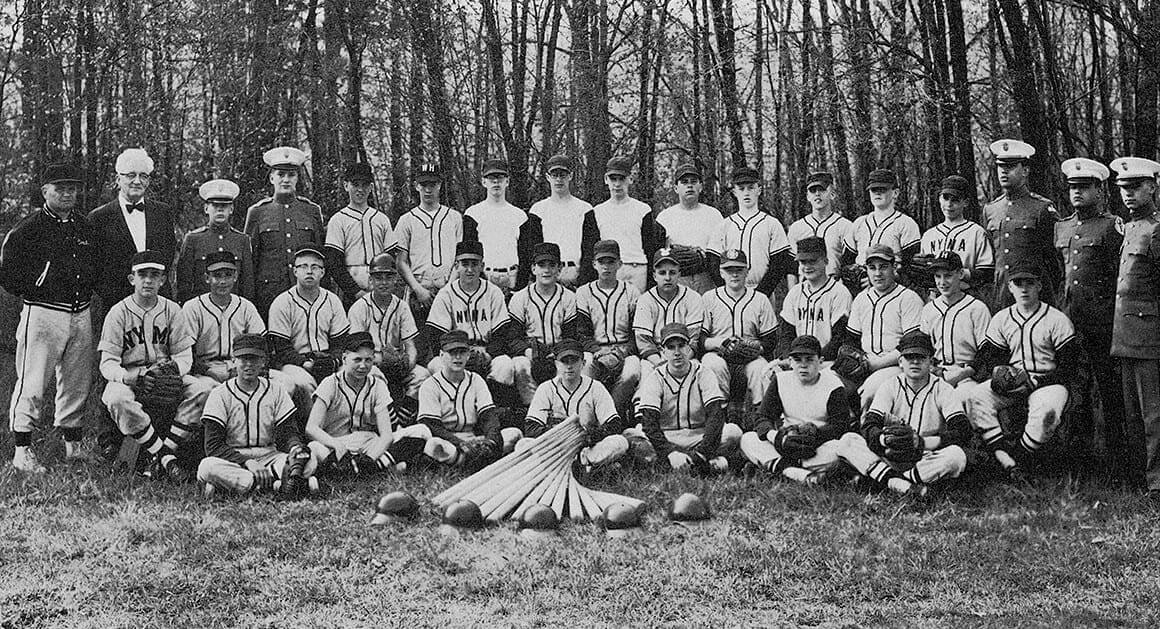 Here we have Trump's 10th grade football team. He's near the center, wearing No. 8: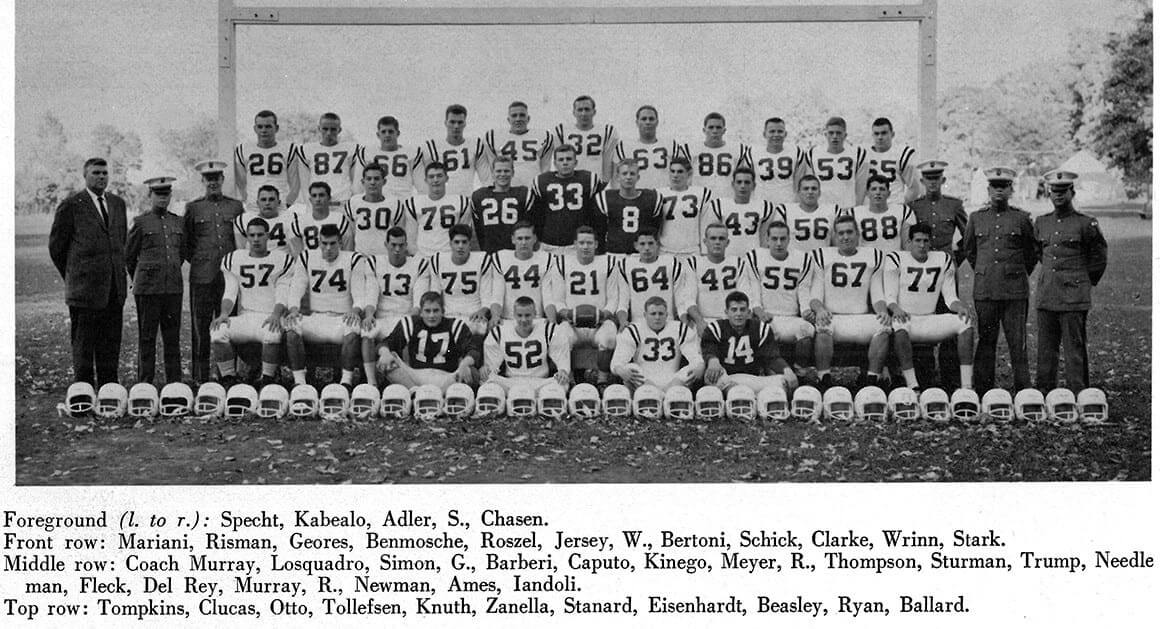 Back to baseball, again from the 10th grade. Trump is in the front row, third from the left. His pants are a bit lower than I'd prefer, but his stirrups appear to be shipshape: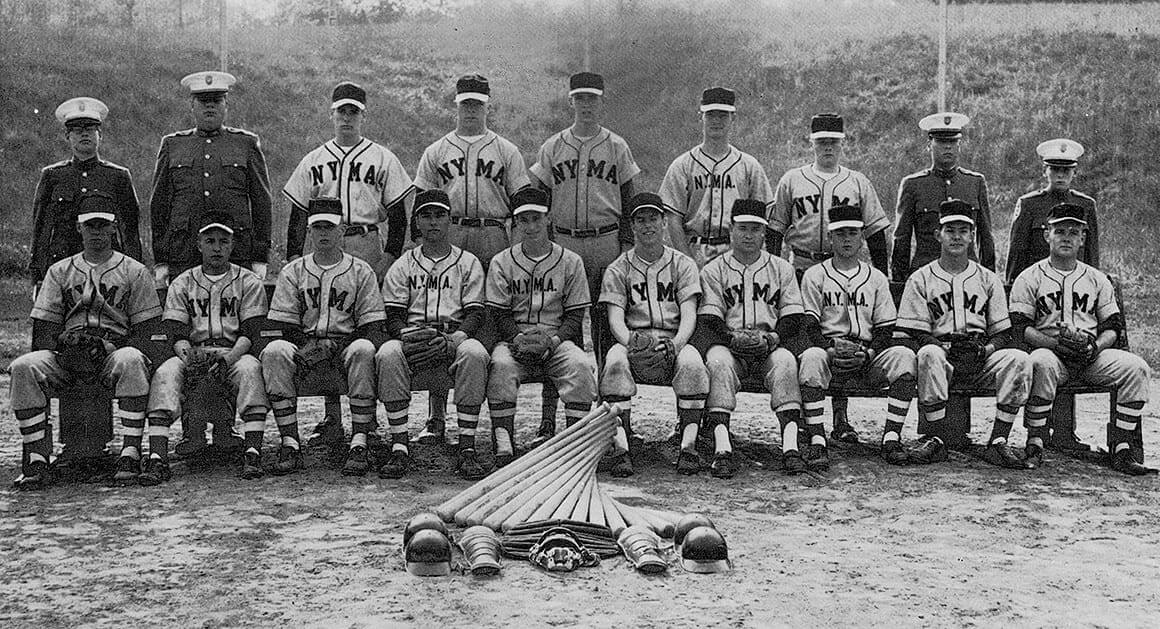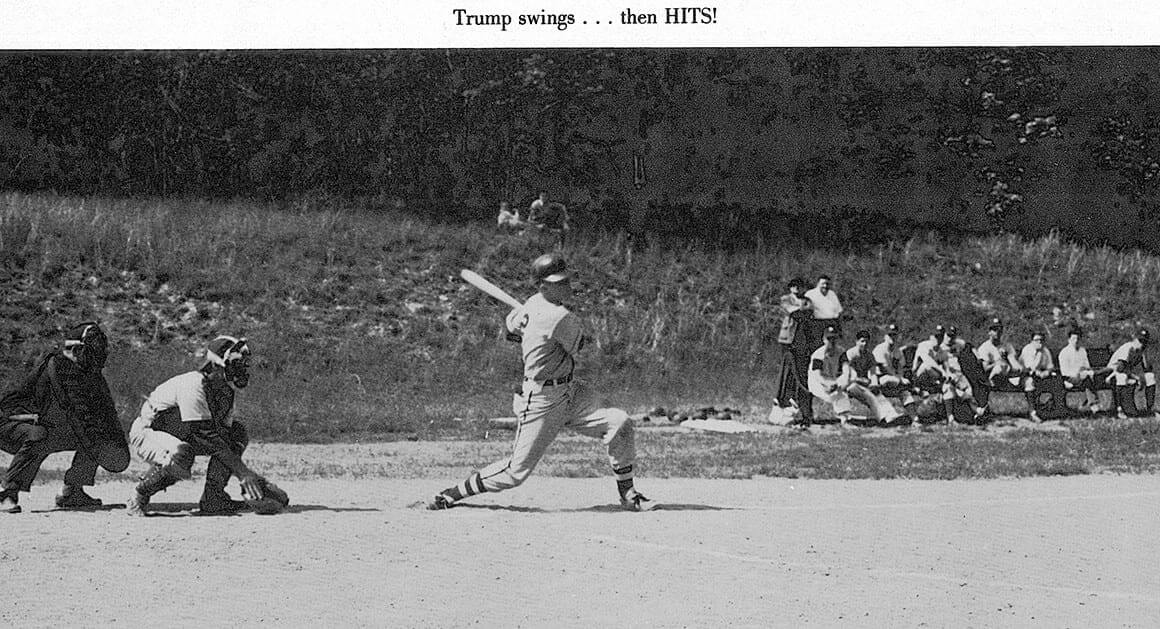 Next up is a shot of Trump's high school wrestling team. He's third from the left — the one with the striped socks. Interestingly, he appears to be the only one wearing a blank singlet: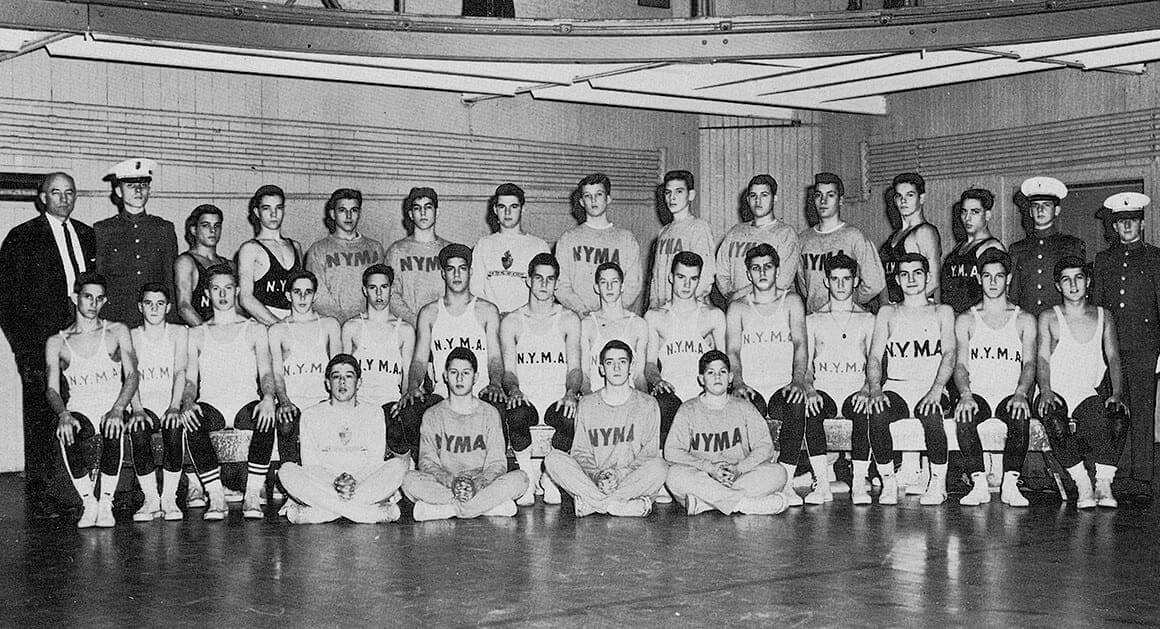 Another football shot. By this time Trump had made the varsity squad. He's in the back row, wearing No. 85: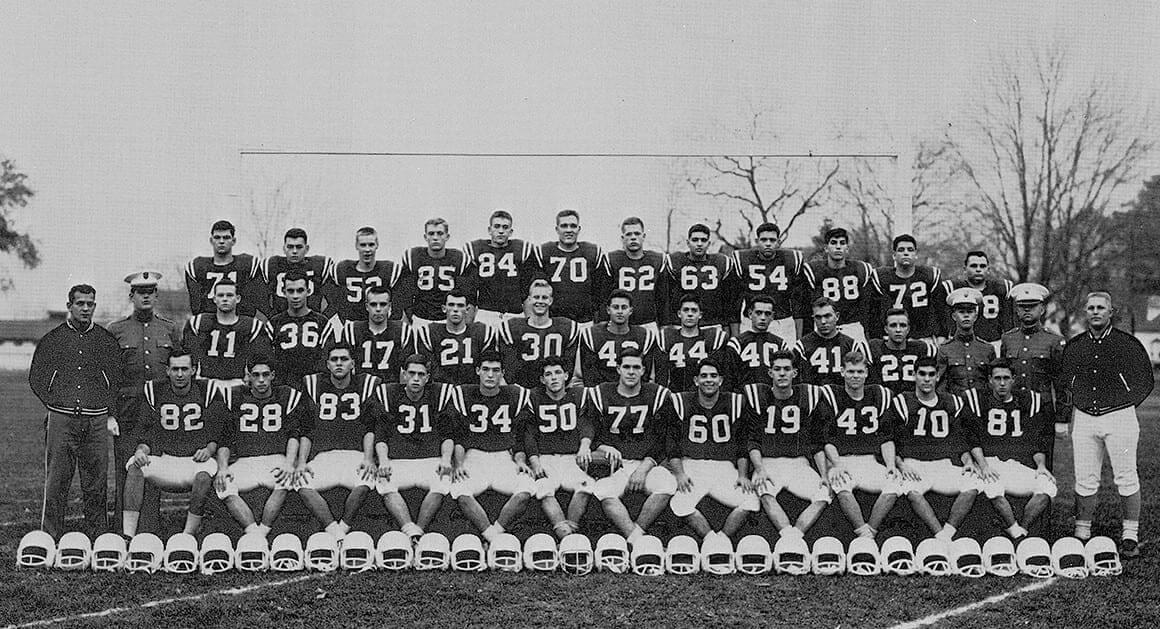 In his senior year, Trump was a co-captain on his varsity baseball team. See the two guys holding the baseball in the front row? He's the one on the left: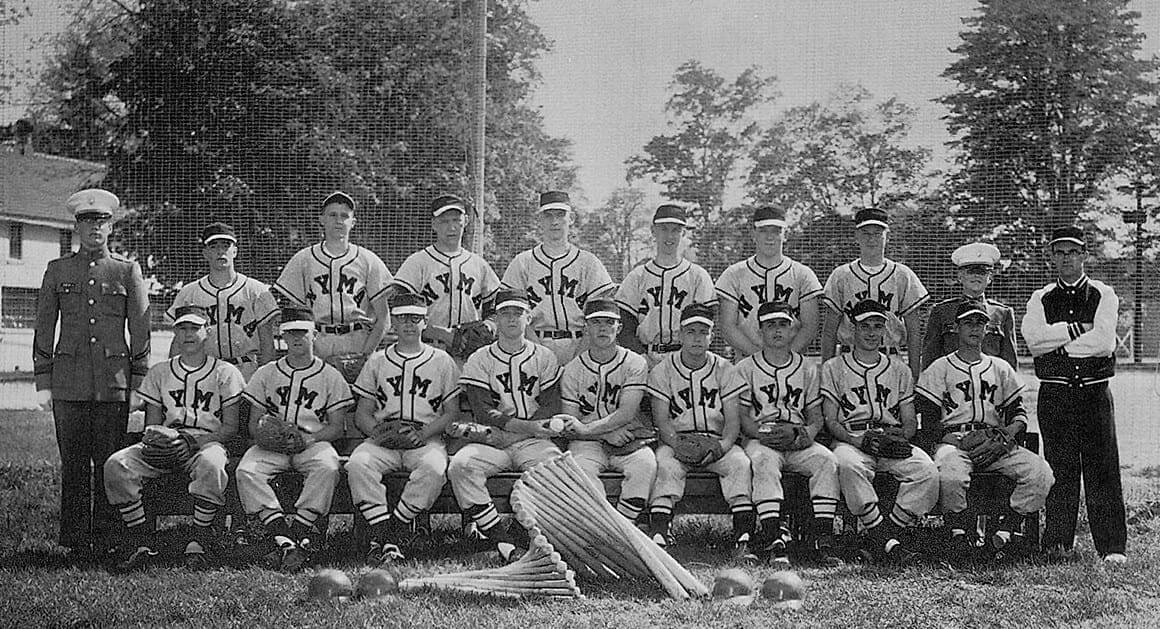 As co-captain of the baseball team, Trump got to pose with the captains of his school's other sports teams, resulting in an interesting multi-uni photo. He's the one in the baseball uniform, near the center: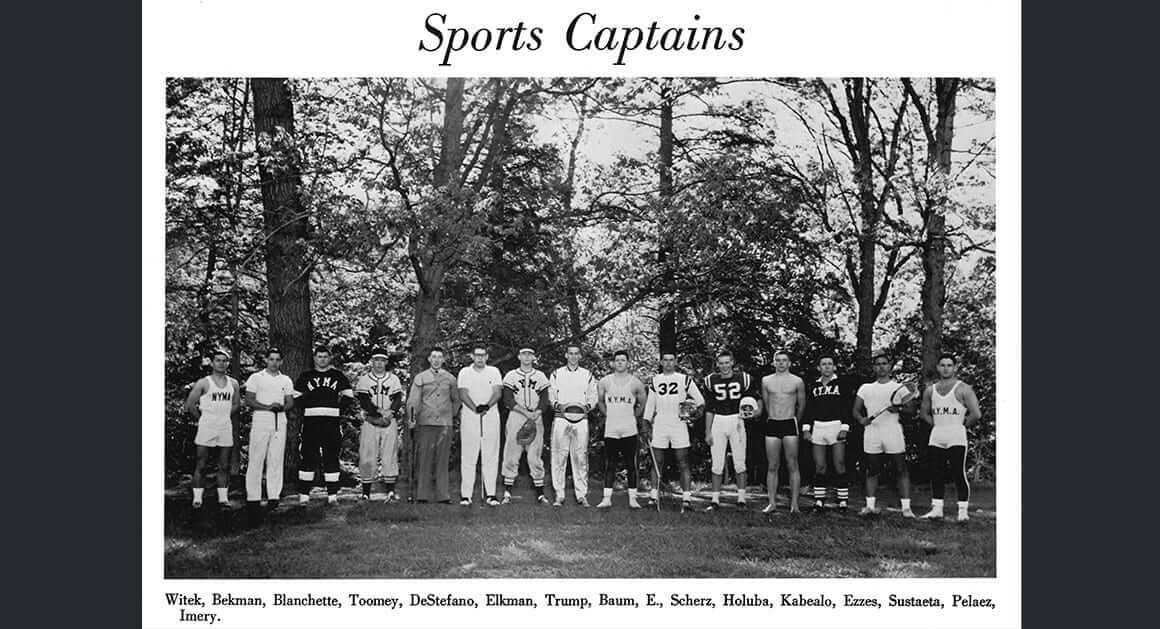 Trump also played high school soccer. In this shot he's seated in the front row, fourth from the left: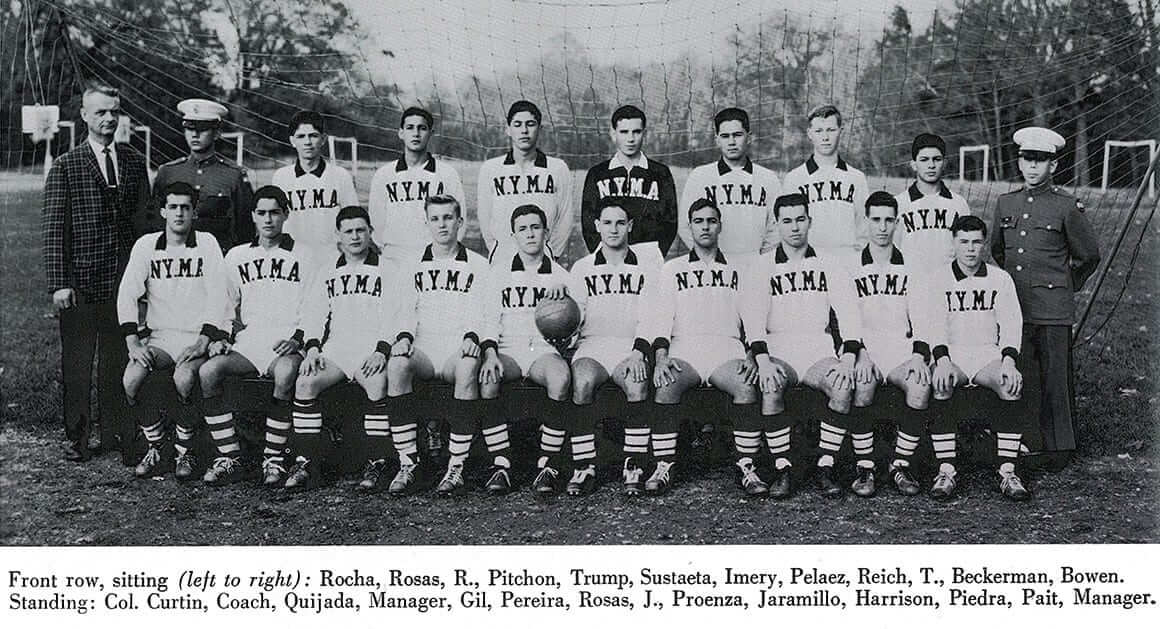 Since Trump's high school was a military academy, there are also quite a few photos of him in military uniforms. He's second from the left in this shot: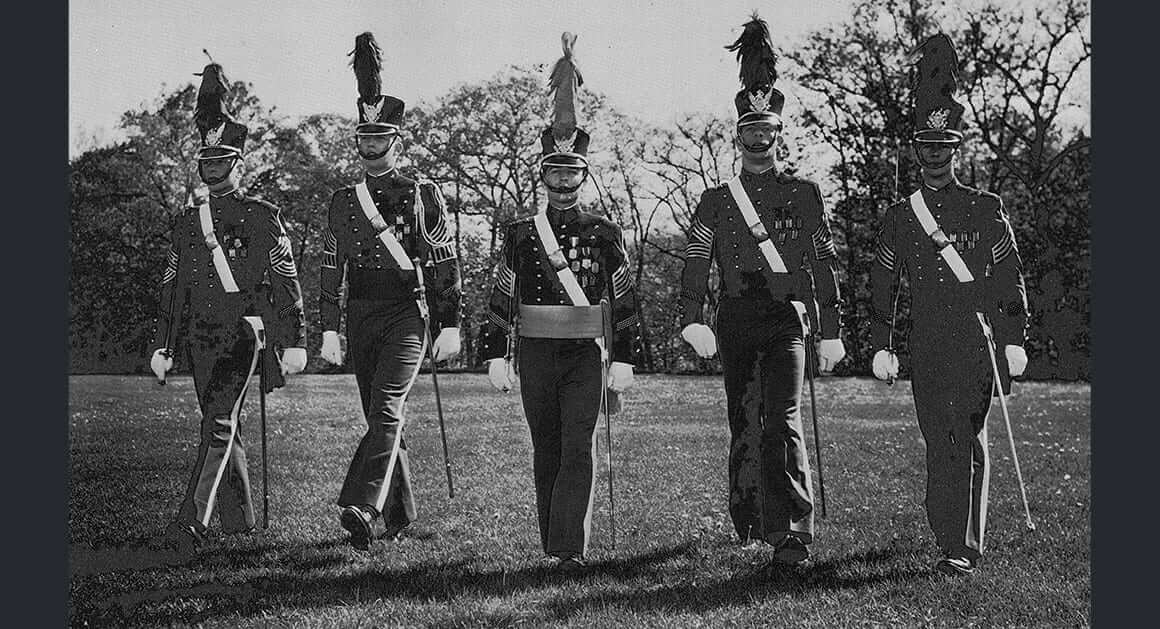 I'm not aware of any photos of presumptive Democratic presidential nominee Hillary Clinton in uniform, but I'd be happy to post them if any turn up. I did find this shot of her accepting a Lakers jersey from Kareem Abdul-Jabbar in 2012 when she was Secretary of State, for what that's worth: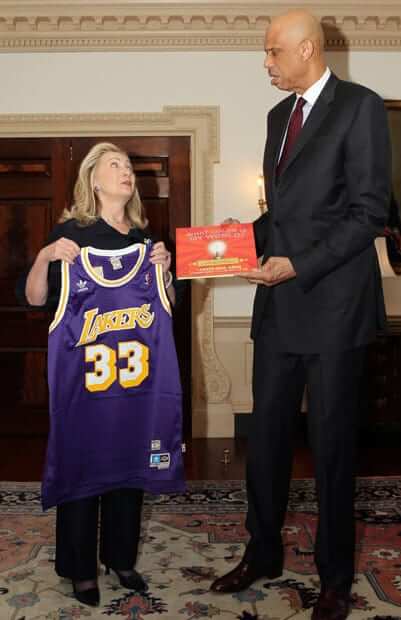 •  •  •  •  •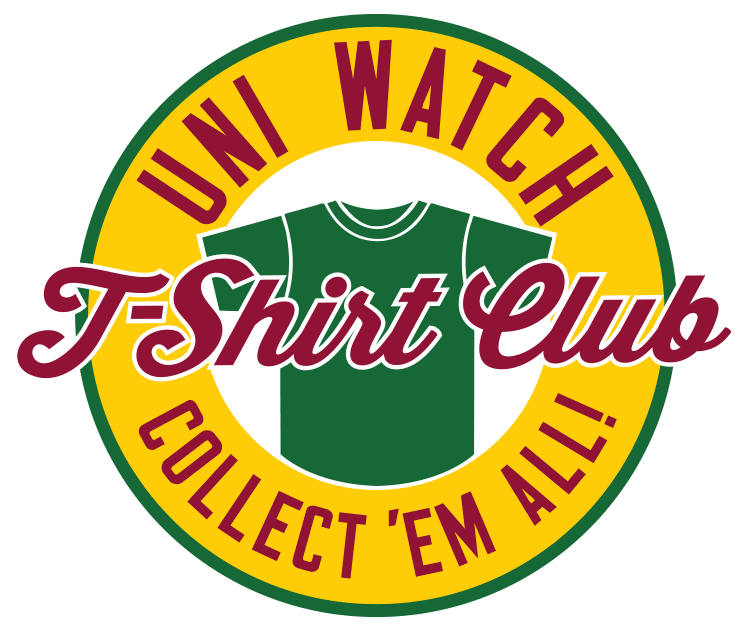 T-Shirt Club update: The Uni Watch T-Shirt Club's third limited-edition design of 2016 is now available for your consideration.
As you'll recall, we're going one sport at a time this year, and we already covered baseball and hockey. Our latest shirt takes us to the hardcourt, as we're launching two different basketball designs — one showing a home uniform and one showing a road uniform (click to enlarge):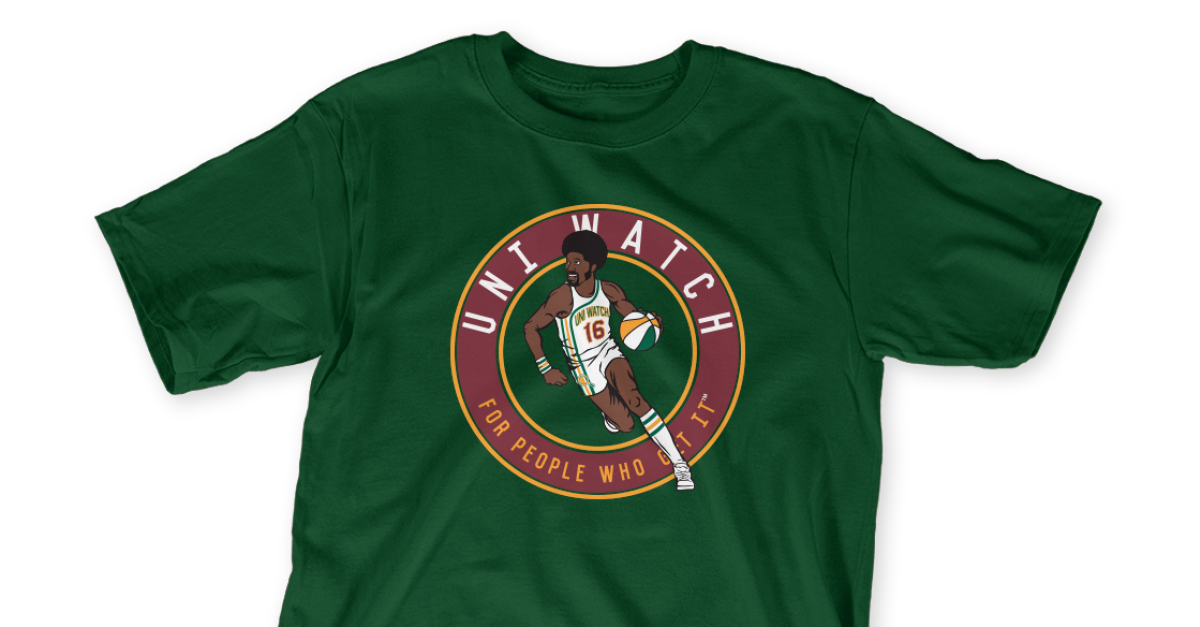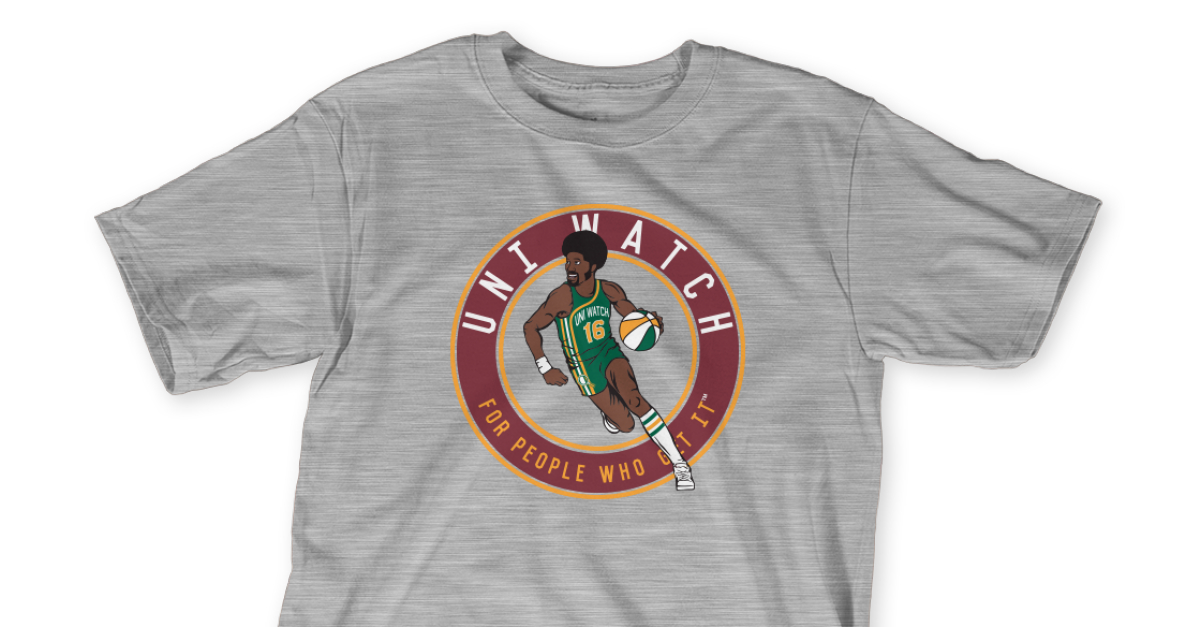 Pretty cool, right? I really love seeing that racing stripe uniform concept done up in Uni Watch colors, and ditto for the ABA-style ball.
Important: Although green and grey mock-ups are shown above, we're offering both of these designs in four different shirt colors (green, grey, black, and white), and also in two different styles (short-sleeved and long-sleeved). As usual, they'll be available for one week.
Here are the links for the home and road designs. You only need to purchase one of them — the home or the road — in order to maintain your 2016 "Collect 'Em All" eligibility (although you're welcome to purchase both, obviously).
As always, big, big thanks to my Teespring partner, Bryan Molloy, for his great work on these. I'm very happy with the way they turned out.
One more time: The home shirt is available here and the road shirt is availble here. Thanks.
• • • • •
Just another case of the Man keeping us down: As you know, this website's subtitle is "The Obsessive Study of Athletics Aesthetics." And then there's our slogan, "For People Who Get Itâ"¢."
But there's another Uni Watch slogan I've often joked about: "Decreasing Workplace Productivity Since 2006." And now it appears that someone has noticed:
Off all the websites blocked at my new job, @UniWatch is one of them! How will I read about NBA sleeved jerseys 1st finals appearance?!

— Jack (@jackgiroux) June 14, 2016
That's the first time I've heard of Uni Watch being blocked by an employer. While it is, of course, an honor to be accorded the same status as such esteemed websites as Facebook and Pornhub, I feel bad for Jack, who can't get his daily dose of Uni Watch at his desk. Try it on your phone, Jack!
• • • • •
And now a word from Phil: In case you missed it over the weekend, Phil is once again doing something very special for Father's Day. I'll let him explain:
The idea for our "Dads in Uniform" feature on Father's Day began in 2013, and really took off in in 2014. last year's edition was the best yet.

If you'd like to participate, please submit a photo (or photos) of your father (or even grandfather) in uniform, along with a short description of him in that uniform. It doesn't have to be sports-related — it could be a trade or military uniform. I'll collect the stories over the coming week and run them this Sunday, which is Father's Day.

Please send your photo(s) to me at Phil.Hecken@gmail.com, along with a brief description of your dad in his uniform, by this Thursday, June 16th. Thanks!
• • • • •
The Ticker
By Paul

Baseball News: Crazy NOB for Rays prospect David Olmedo-Barrera (from my old ESPN pal Thomas Neumann). … Here's an alphabetical photo gallery of all 123 players who've suited up for both the Mets and the Yankees. … Fans attending Friday nights Rays game will receive a rainbow-patterned "We Are Orlando" pride T-shirt. … This story is more than a month old, but it's worth telling, courtesy of Will Shoken: "May 8 was the 50th anniversary of the day when Frank Robinson hit a home run off of Cleveland pitcher Luis Tiant that flew completely out of Memorial Stadium in Baltimore. That was the only time a homer was ever hit out of that ballpark. A week or two later, a local group called the Sports Boosters had a flag made with the word 'Here,' which was hoisted at the spot where the ball left the stadium above the left field bleachers (further info here). That was based events that took place on May 4, 1894, when Dan Brouthers of the the old National League Baltimore Orioles hit a mammoth home run out of Union Park, and afterwards a cross was painted on the fence with the word 'Here' to mark the flight of that homer. Last month, to mark the 50th anniversary of Robinson's shot, a Baltimore artist named Mark Melonas had a new flag fabricated by the same company that fabricated the original 'Here' flag, and it was flown at the site of Memorial Stadium, which now houses a YMCA facility and a sports field financed by Cal Ripken." … Here's a piece on the top 25 MiLB teams in terms of merch sales. … First 1,500 kids at last night's Lehigh Valley IronPigs game got a soccer ball with the IronPigs logo (from Andrew Dillon). … The Mets and Pirates played each other in Queens last night. Both teams wore ribbons — like, real ribbons attached with safety pins, not patches depicting or representing ribbons — for the Orlando massacre victims. That link showed the Buccos' jersey; here's a photo for the Mets. Nice job by both teams. … It's standard practice for MLBers on minor league rehab assignments to take their MLB batting helmets with them. That's because MiLB helmets are all double-flapped, but the rehabbers are allowed to wear their single-flapped helmets. So when Dodgers OF Yasiel Puig began a rehab stint with the Rancho Cucamongo Quakes the other day, he wore his Dodgers helmet. Last night, however, he wore a double-flapped Quakes helmet (thanks, Phil).


Pro, College, and High School Football News: The Virginia Historical Society has a new exhibit about the evolution of pro football (from Tommy Turner). … Here's a look back at when Auburn wore orange jerseys (thanks, Phil). … New uniforms for Vanderbilt. … Teams in a Dallas school district are getting their own Color Rash uniforms (from Matthew Spencer).

Hockey News: The Red Wings lowered their banners at Joe Louis Arena for a Gordie Howe memorial service yesterday. … There's also a movement to name the Wings' new arena after Howe, which would certainly be an improvement over the corporate "pizza" chain it's currently slated to be named after. … The NHL is apparently headed for Vegas. If you want to refresh your memory, here's how our "Create a Vegas NHL Team!" design contest turned out a while back.

Basketball News: The Kings' new uniforms have apparently leaked. Additional screen shots here. Shortly after those tweets were posted, the Kings pretty much confirmed the leaks' legitimacy by posting this view of the home whites. Expect a more formal unveiling later today. … A Fox Sports chyron used a hybrid logo of the Cavs' "C" and the O'Brien Trophy. … Great video report on a Brooklyn cat that wears a Warriors jersey (from the Tugboat Captain). … Here's the full story behind the Cavs wearing sleeves two nights ago. Good info — recommended reading (from John Sabol). … As noted in that last piece, the Cavs won't be able to wear the sleeved jerseys in Game 6, because the NBA doesn't allow home teams to wear dark colors in the Finals (thanks, Phil). … New uniforms for Brockport (from Ty B).

Soccer News: Was the Hungarian goalkeeper really wearing sweats on the field yesterday? Or are they pajamas? Further info on that player is available here.

Grab Bag: London's mayor plans to ban body-shaming ads from the city's mass transit system. … The cycling jersey manufacturer Borah Teamwear has partnered with artist Michael Valenti to create a cool-lookng line of custom cycling jerseys. … A Minneapolis TV news reporter has written a piece about why she doesn't wear the standard on-camera "lady uniform." … Here's an oddity: a vintage Sprite delivery jacket — in orange. … NJ.com had a contest to redesign the New Jersey state flag (from Steven Santangelo). … Why do people wear sneakers? Here's why (from Tommy Turner). … Here's yet another article about how the future of uniform sponsorship advertising might play out (from Dave Cataldi). … The American Athletic Conference has updated its logo (from Kevin Slattery). … Here's Milwaukee's prospective new flag (from J Goede). … Here are the uniforms for the Japanese Olympic field hockey team (from Jeremy Brahm).
• • • • •

What Paul did last night: Last night my friend Nina was showing a film she'd recently made, so the Tugboat Captain and I walked over to where that was taking place. On our way, we passed this new-ish fencing place that recently opened near my house. I'd walked past it many times before, but this time was different, because they had a big door open, so we could see people fencing inside.
It was interesting to watch people fencing, but what I really liked was that the instructor was wearing socks that said — of course — "fencing" (click to enlarge):
Afterward, I asked the Captain, "Which is the more questionable Olympic sport: Fencing or curling?"
She immediately responded, "Curling."
I said, "You know, you could have at least hesitated a little before answering."