History was made last night, as the Cavaliers wore their BFBS sleeved jerseys for Game 5 of the NBA Finals. It marked the first time a sleeved design has been worn in the Finals. Ironically, the Cavs did this while facing the Warriors, who started the modern NBA sleeve trend in 2013 but have never gone sleeved in the Finals themselves.
And here's a surprising wrinkle: Cavs beat reporter Chris Haynes is reporting that the guy who pulled the trigger on the sleeves last night was none other than LeBron James — the same LeBron James who found the sleeved jerseys so uncomfy seven short months ago that he famously ripped open his own sleeves. 'Twould appear he's had a change of heart (or maybe they just changed the tailoring on his jersey to make his sleeves less constricting).
All of which makes this the perfect day to revisit something that came up last month. As you may recall, I asked people who like the sleeved jerseys to explain why they like them, and also asked them to describe what it felt like to be out of step with so many of their fellow readers.
More than two dozen pro-sleeves readers responded. Their reasons were really interesting, ranging from "I like things that are new and different" to "I have scrawny arms, so I always preferred to wear sleeves myself when I played," with lots of other rationales in between.
In order to keep today's content at a manageable length, I've gathered all of the sleeve-related responses together and put them on their own page, which you can see here. You can't comment on that page, though, so after reading about the sleeves, please come back to today's post (i.e., this page) to offer comments. Thanks.
As for the Cavs, they won last night, so will they stick with the sleeves for Game 6?
•  •  •  •  •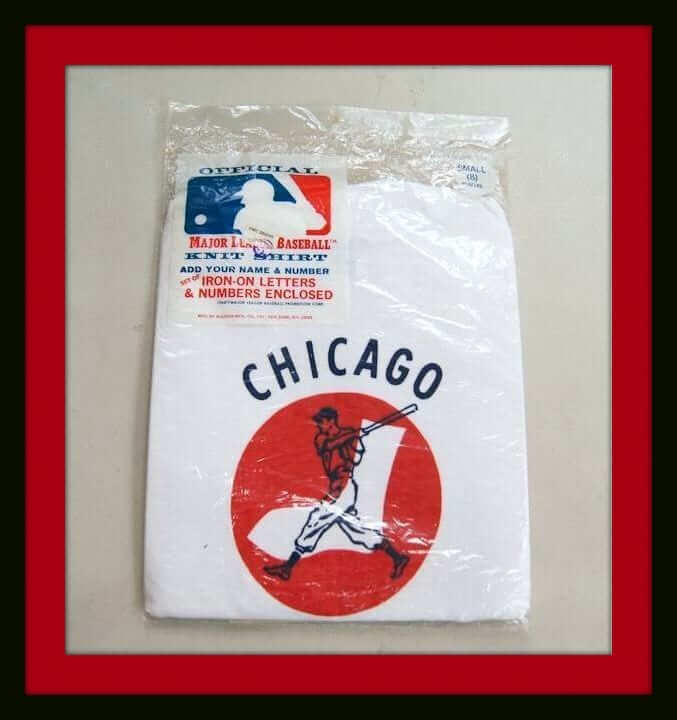 Collector's Corner
By Brinke Guthrie
We start off this week with a real rarity: a Chicago White Sox T-shirt, still in the package! It comes with an iron-on number and letter set. Never seen one for a T-shirt before!
Now for the rest of this week's picks:
•  Check out this 1970s kids-sized Steelers bathrobe from the Sears NFL Team Shop!
•  Note the hockey stick hands on this 1970s Chicago Blackhawks alarm clock!
•  I like the Eagles helmet design on this pennant (from the Canteen Corp., don'tcha know). The ad says 1970s, but the Iggles only wore that helmet design — green with white wings — in 1969.
•  Here's something you don't often see: a cap featuring the old NFL shield.
•  Yes, you can bet this 1970s Pete Rose watch keeps great time!
•  This eBay seller did a little DIY action on this vintage NFL gumball helmet/goalpost kit.
•  This 1969 bronze medallion celebrates 50 years of the NFL.
•  Here's 1970s NFL Zippo lighter — brand-new in the box. "It works or we fix it free!" I love a company that stands behind its work.
•  And we wrap up this week with a great-looking 1970s Vikings poster, showing the team's road white uniforms.
•  •  •  •  •
And now a word from Phil: In case you missed it over the weekend, Phil is once again doing something very special for Father's Day. I'll let him explain:
The idea for our "Dads in Uniform" feature on Father's Day began in 2013, and really took off in in 2014. last year's edition was the best yet.

If you'd like to participate, please submit a photo (or photos) of your father (or even grandfather) in uniform, along with a short description of him in that uniform. It doesn't have to be sports-related — it could be a trade or military uniform. I'll collect the stories over the coming week and run them this Sunday, which is Father's Day.

Please send your photo(s) to me at Phil.Hecken@gmail.com, along with a brief description of your dad in his uniform, by this Thursday, June 16th. Thanks!
• • • • •
KRC update: The latest installment of Key Ring Chronicles involves a broken key whose head — now shorn of its shaft — remains on its owner's ring. Check it out here.
I'm always looking for more KRC submissions. If you have a special item on your key ring with a good story behind it, send your story (no more than 400 words, please) and photo (ideally showing your entire key ring with everything on it, with nothing bleeding out of the frame) here. Thanks.
• • • • •
The Ticker
By Mike Chamernik

Baseball News: Indians 3B Juan Uribe, who suffered a testicular contusion after being hit by a ground ball in the groin the other day, says he doesn't wear a cup because — wait for it — they don't have one in his size. … The Royals' mascot, Sluggerrr, has his own championship ring. … The indie band Phantogram uses a Tigers-style Olde English "P" as its logo (from Andrew Cosentino). … Dodgers OF Andre Ethier still wears his Spring Training cap (from @BesseBoy). … Yankees fans are having issues with accessing mobile tickets to get admission into Yankee Stadium. The team banned print-at-home tickets this season. … The Blue Jays announced their Canada Day jersey. It's the 14th time they'll be wearing a special jersey for the holiday and the 13th different design (from Martyn Bailey). … Marlins 1B Justin Bour's helmet decal isn't doing so well, what with all that pine tar. .. Back in April, the San Jose Giants honored the memory of the San Bernadino mass-shooting victims with "#SBstrong" jerseys. They'll wear a similar design tonight as a response to Sunday's mass shooting in Orlando. Further details here (from David Taub).

NFL News: Broncos defensive coordinator Wade Phillips says his name was misspelled on his Super Bowl ring. … The Lions will have cheerleaders this year. That leaves only six teams are now without a cheer squad: the Packers, Bears, Steelers, Bills, Browns and Giants (Green Bay uses a collegiate team, though). … This story on O.J. Simpson contains an incorrect photo caption. It says that this photo was taken during the game Simpson set the single season rushing record in 1973, but the Bills still wore the standing buffalo logo on their helmets that year (from Keith Curtis). … Great shot of an old Oilers helmet cart.

College Football News: An odd Notre Dame-Auburn hybrid jersey is being sold in Notre Dame's online bookstore (from Jeff Cox). … North Carolina's equipment manager shared the team's new training shoes (from Zack Pearson). … Speaking of UNC, Elena Elms visited the school's library and snapped some photos of a 1892 football uniform, consisting of quilted pants and a sweater jersey. She also found a "couple of letter-sweaters from 1920s and '30's, given out to varsity athletes as members of the Monogram Club," she says. "The navy one was for a tennis player""GT may be his initials. The white one was for a student who lettered in football."

Hockey News: The Penguins have completely abandoned Vegas Gold. They wore the color for road games this postseason but wore Pittsburgh Gold at home. They will switch to the latter next season (from @elwreckingball). … No video, but Fred Teigen heard an unconventional ad during Game 6 of the Stanley Cup Final on Sunday: "There was a guy sitting directly behind one of the benches wearing a neon yellow T-shirt screaming the name and phone number of a bail bonds business," he says. "Is this a new form of product placement douchebaggery (perhaps paying someone to wear their advertising T-shirt where they will be seen on TV) or is it nothing?" … New unis for the Janesville Jets, a junior hockey club. The blue jersey has a Minnesota Wild feel to it (from Eric Oetken). … Here's a great graphic showing the jersey worn by every Stanley Cup-winning team at the moment they won the Cup. Further info here.

Basketball News: Here's a video that shows how the Warriors' logo and uniforms have evolved since their Philadelphia days in the 1950s (from @roryjayz). … Northwestern will renovate the Welsh-Ryan Arena.

Soccer News: New road jersey for FC Porto, a Portuguese team (from @mike3783). … Venezuela and Mexico went neon-vs.-green last night. Here's another look (from Zach Wadley and Yellow Away Kit). … New font and number style for the Polish Ekstraklasa (from Ed Å»elaski).

Grab Bag: A Minneapolis bus driver got a tattoo of the Metro Transit bus she drives on her forearm (from Chris Bisbee). … An Australian collector saved a bunch of beautiful old Polish posters, including some great sports-themed ones. … A couple NHRA notes from David Firestone: Top Fuel driver Leah Pritchett worked a stiletto heel into her logo and top fuel driver Dom Lagana wore an outdated suit last weekend. The suit has a patch for Full Throttle Drag Racing Series, which was the series name from 2009 to 2013. "What makes this odd is that he has or had at lease one suit with the current Mello Yellow Drag Racing series logo, as evidenced from this picture in 2015," David writes. … Portland has a new logo to indicate tip-free restaurants. … Artists and designers named their least-favorite corporate logos of all time. … The beautician who invented the beehive hairstyle has died. … Here's more on the curling world's "broomgate" controversy (from Paul Lee).