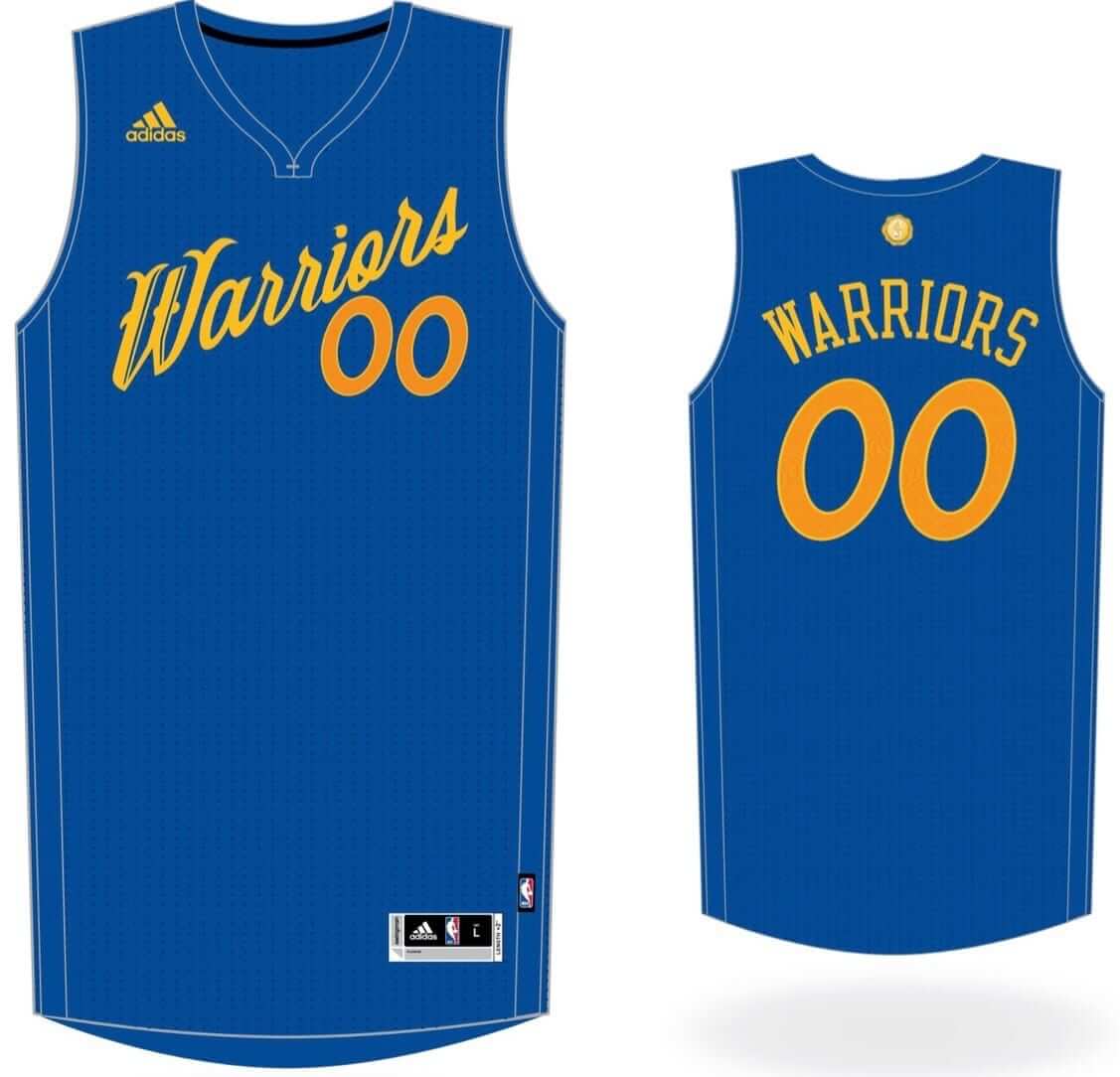 Click to enlarge
Big news today: For the third consecutive year, I have exclusive details on the NBA's upcoming Christmas Day uniforms. As you can see from the Warriors design above, the 2016-17 designs are similar to last year's, but with a greater emphasis on team colors.
You can get the full scoop, and see all of the designs, in this ESPN piece, which was posted this morning. Enjoy.
•  •  •  •  •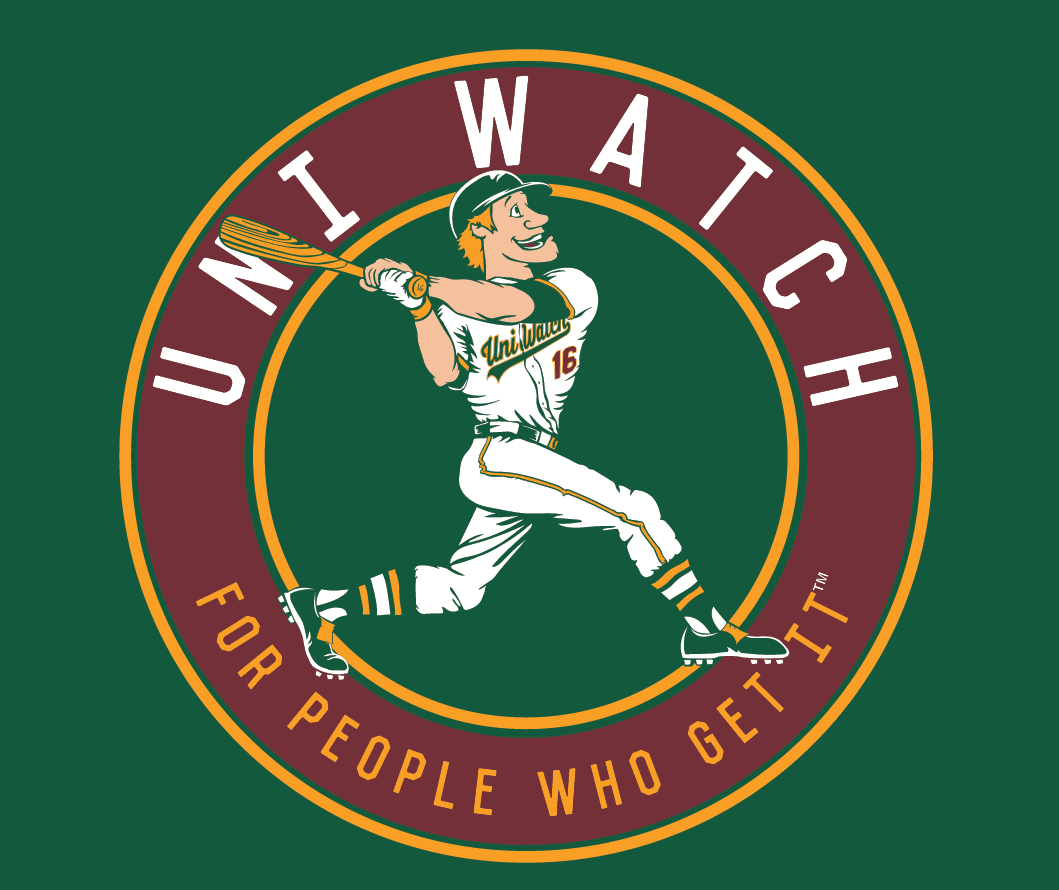 Baseball T-shirt 2nd chance reminder: We had some requests for the Uni Watch T-Shirt Club's baseball-themed design (shown at right; click to enlarge) after I wore the tee in last week's Friday Flashback video. So we've made it available again, but without the T-Shirt Club's jock tag graphic.
The good news is that the lack of the jock tag means the shirt is now a bit less expensive, plus we've been able to add a hoodie option; the bad news is that this version of the shirt will not count toward the T-Shirt Club's "Collect 'em all" status.
Again, the shirt is available here up through tomorrow.
• • • • •
The Ticker
By Paul

Baseball News: Here's a video that shows, among other things, how the Indians choose their jersey each day. … A Green Bay Packers beat writer wrote something about baseball uniforms. yesterday. In this Q&A session, Vic Ketchman talked a bit about how color TV has affected the NFL and then added: "I think one of the reasons baseball's popularity declined as the number of color TVs in households increased is due to the fact baseball was a somewhat colorless sport back then. The visiting team wore grey and the home team wore white. The only splash of color was on the hat and the socks, and most of those colors were dark. Everybody laughed at Charles O. Finley when he put his A's in grasshopper uniforms, but he saw it coming; he was always ahead of the curve." … In a vaguely related item, both teams in the Delaware state high school championship game wore white jerseys with white pants (from Mike Diodati). … Mike Rosenberg shops at a Giant supermarket in Washington, DC, and was surprised to see them using a sign featuring a San Francisco Giants logo. Looks like someone stuck a sticker on there. … The Angels are giving away an Angels/Ducks hybrid-logo cap (from @grant3young). … Whoa, even if you don't follow or care about Japanese baseball, you have to see these posters that the Chiba Lotte Marines have created for their games against the Hiroshima Toyo Carp, the Yokohama DeNA BayStars, the Hanshin Tigers, the Tokyo Yakult Swallows, the Chunichi Dragons, and the Yomiuri Giants (all these from Jeremy Brahm). … "Texas A&M pinch-hitter Walker Pennington hit a huge home run in the SEC tournament while wearing a No. 46 NNOB jersey, instead of his usual No. 9," says Mike Davidson. "The only explanation I found was that he had left his maroon jersey back in College Station, which seems odd, right? Wouldn't the equipment manager(s) be in charge of uniform transportation? Texas A&M went on to win the SEC Championship game the next day vs Florida, with Pennington back in his normal No. 9." … The Indians are reportedly scrapping their cream alternate next season but are keeping the red cap. Unclear what, if anything, this means for Wahoo. … Speaking of the Indians, they'll be wearing these 1976 throwbacks on Saturday (thanks, Phil). … Dodgers OF Carl Crawford was wearing earplugs last night at Wrigley, something he's done before (from Jason Ricles and Mike Petriello, respectively). … White Sox closer David Robertson, who usually goes high-cuffed, went low-cuffed yesterday as a slump-buster move. That led to the following passage in this article: "Robertson, who routinely wears his pants hiked up to expose his stirrups, runs a foundation with his wife Erin for tornado victims called High Socks for Hope. But after he allowed six runs Saturday, he wanted to mix things up a bit. Robertson said he also wore a different, lighter jersey and shaved his beard in between." The use of "stirrups" there is erroneous — Robertson wears socks, not stirrups. As for the "lighter jersey," I guess that means he switched from a Flex Base to a Cool Base..? (From Mike Schindler.) … A Mets fan got an autograph from White Sox P Chris Sale by beating him at rock paper scissors.

NFL News: The Pro Bowl is reportedly moving to Orlando. … Good view of former Browns QB Bernie Kosar's split-level hand-warmer pockets (from Scott Mason). … Cowboys RB Ezekiel Elliott did a photo shoot wearing the team's blue jersey with the wrong pants.

College Football News: Tennessee has donated hundreds of jerseys to the Israeli Football League, becoming the IFL's largest donor (thanks, Phil).

Hockey News: Dainius Zubrus had a Roman numeral IV written near the end of his stick two nights ago. Anyone know what that's about? (From Paul Wajgel.) … Here's a shot of Penguins C Evgeni Malkin wearing mismatched gloves (from @NunyaCleorpe). … Here's the latest in a long series of articles to pose the question, "Is it a jersey or a sweater?" … Here's a good view of that mid-1970s Flyers Stanley Cup patch that was worn for photo shoots but never made it onto the ice. … CCM made tiny goalie pads for Canadiens G Carey Price's newborn daughter (from Richard Obrand). … Stephen Peat is the latest in a disturbing run of former NHL enforcers to show serious signs of CTE.

NBA News: Kids these days: Research data indicates that millennials are more okay with uniform advertising than older fans are. … Former SuperSonics fans back in Seattle are practically giddy about the Thunder's collapse.

College Hoops News: This is pretty cool: The Richmond Spiders will be playing some games in France this summer. "When we travel abroad, we try to design jerseys with 'Spiders' in the native language," explains team spokesman Will Bryan. "We were Las Arañas in Spain in 2008 and Ragni in Italy in 2012. This year, in France, we are Araignées." … Villanova's players visited the White House yesterday and presented President Obama with two jerseys. Here's a close-up of the inscription.

Soccer News: Leicsester City's new kits, which had previously leaked, have now been officially released. … There's a false rumor spreading in the UK about the England soccer jerseys being banned in pubs. … England's Euro 2016 kit has been released (thanks, Phil). … Neymar is the first soccer star to collaborate with the Jordan Brand (from Tim Cross). … In a related item, Neymar was at last night's Mets game. They gave him a jersey with JrOB but no front number (from @CoachGrapes).

Grab Bag: The Houston Chronicle is inviting readers to vote for their favorite Houston sports uniform. … Here are China's uniforms for the Rio Olympics (thanks, Phil). … Athletes are supposedly risking big-money endorsement deals to wear TruSox (from Gary Chanko). … A Nevada sheriff may have violated a state ethics code by endorsing a local political candidate while in uniform. … Police personnel at previous Republican National Conventions have worn riot gear, but the police at next month's RNC in Cleveland will wear their regular uniforms. … Here's a sensational series of infographics about national flags. Recommended (big thanks to JohnMark Fisher). … Also highly recommended: this faaaascinating article about how Louisville was once the capital of disco ball production. Who knew? Now the Louisville football team just needs to come out with disco ball-themed helmets. … A 22-year-old Australian design student is the winner of a contest to create Hawthorn Hawks' new Aussie football alternate guernsey (from Gil Griffin). … Latest sport to allow professionals, rather than amateurs, to compete in the Olympics: boxing. … Okay, so I really love meat, but I would never throw slabs of meat at vegans!