It's a common complaint: Can't everyone on the team wear their uniforms more uniformly?
A Pirates fan recently expressed that sentiment in the weekly mailbag column written by one of the The Pittsburgh Post-Gazette's Pirates beat writers, Stephen Nesbitt. The fan, named Mark Gleason, had a lot to say, but here's the meat of it:
I used to write to the manager of the Pirates each year and suggest the team all dress alike, like the Pirates of old. Dress like a ballplayer. No long pants. We were such a poor playing team [during the team when I wrote these letters], at least they could look like the Clemente teams of old. Look alike, play the best you can, but look like a ball team even if you aren't. "¦

Now we have a mixture. One night Andrew [McCutchen] wears long pants, the next night he wears the Clemente striped socks. "¦ A few of the players wear black socks, not striped.
This is really a mix of two distinct gripes. There's the "Hike up your pants and look like a real ballplayer" gripe, which is mostly a matter of taste, and then there's the "Let's bring some uniformity to the uniform" gripe, which really gets to the heart of what a uniform should be.
The cool part is that Nesbitt — the beat writer — did something most writers wouldn't bother to do: He walked around the Pirates clubhouse with Gleason's email cued up on his phone, showed it to some of the players, and asked them what they thought (although, perhaps tellingly, he didn't get quotes from McCutchen or any of the team's other big names — maybe he thought this was too trivial for them). Here are some of their responses:
•  From pitcher Kyle Lobstein: "Well, honestly, I don't know that he's wrong. I can't say I feel that strongly either way."
•  From infielder Jordy Mercer: "My response to that would be: no. Here's my reason why: Some guys like to wear their pants down. It's personal preference."
Mercer also referred to something I've written about many times: Minor leaguers are often required to go high-cuffed, so they often relish the chance to go pajama-style once they make it to the bigs, just as a way of rebelling against the rules they'd been subject to in the minors. His quote: "That's one of the privileges of being called up. You get to wear your pants down."
Unfortunately, Nesbitt didn't ask the players (or the team's equipment manager) about the different sock designs that the Buccos wear. It's one thing for some players to go high-cuffed and others to wear pajamas; it's another for some high-cuffers to wear solid black socks and other high-cuffers to wear stripes. To me, that's actually a bigger issue because, as we've discussed before, it essentially reduces socks to the level of equipment instead of a uniform element. But I realize that point is probably a bit nuanced for the average MLB beat writer.
There's more — I recommend reading the full mailbag piece here.
The reality, of course, is that there have always been variations in the ways various players wore their uniforms. Even in "the good old days" (however you choose to define that term), some players cuffed their pants higher or lower than others, some players had larger or smaller stirrup openings than others, and so on.
So I ask you: Just how uniform should a uniform be? Discuss.
•  •  •  •  •
Technical difficulties: There will be no Friday Flashback today. I promise that next week's installment will be worth the wait.
• • • • •
Click to enlarge
And a killer jumpsuit, too: The next neighborhood over from mine is called Gowanus. It takes its name from the Gowanus Canal, a fetid waterway that's now a Superfund clean-up site. (The joke used to be that it was probably where Jesus could walk on water.) Lots of industrial businesses used to operate along or near the canal, but most of them are now gone. The building that housed one of them was converted a few years ago into a place called Royal Palms, which is a shuffleboard club. They have a bar, leagues, etc. — it's a lot like a bowling alley, but with shuffleboard.
I've never actually played suffleboard at Royal Palms, but I occasionally stop in just to watch when I'm passing by. That's what the Tugboat Captain and I did last night. One of the courts was occupied by a young Orthodox Jewish couple (the guy had tzitzit), who appeared to be out on a first date. They also appeared to be very new to the game of shuffleboard, so a staffer "" a black woman "" came over to give them a quick tutorial (see above).
Watching a black woman give shuffleboard lessons to an Orthodox couple in Gowanus "" I'm tellin' ya, sometimes I really fucking love New York.
•  •  •  •  •
T-Shirt Club reminder: The Uni Watch T-Shirt Club's second release of 2016 — the hockey design — is now available. Here's the base design (which you can click to enlarge), followed by the three shirt color offerings: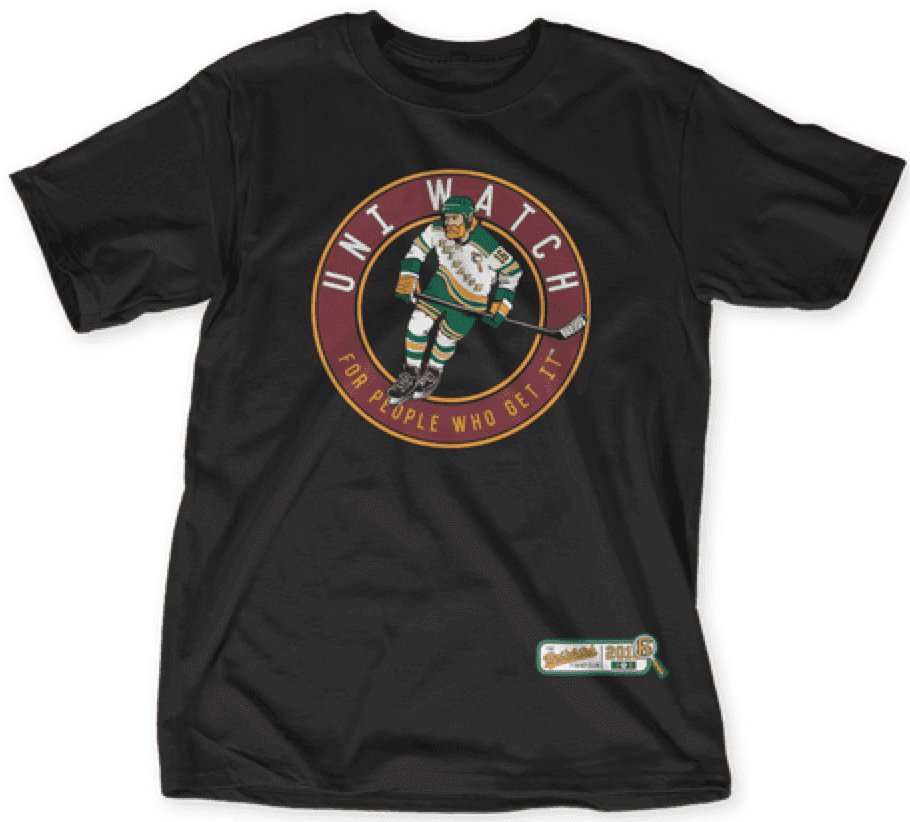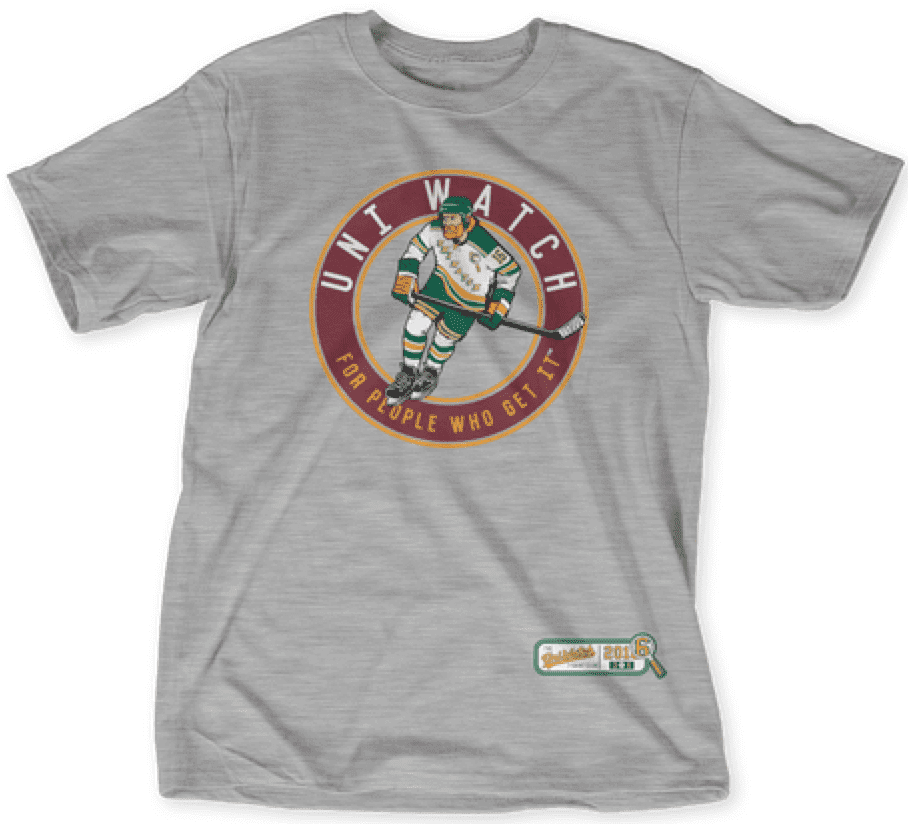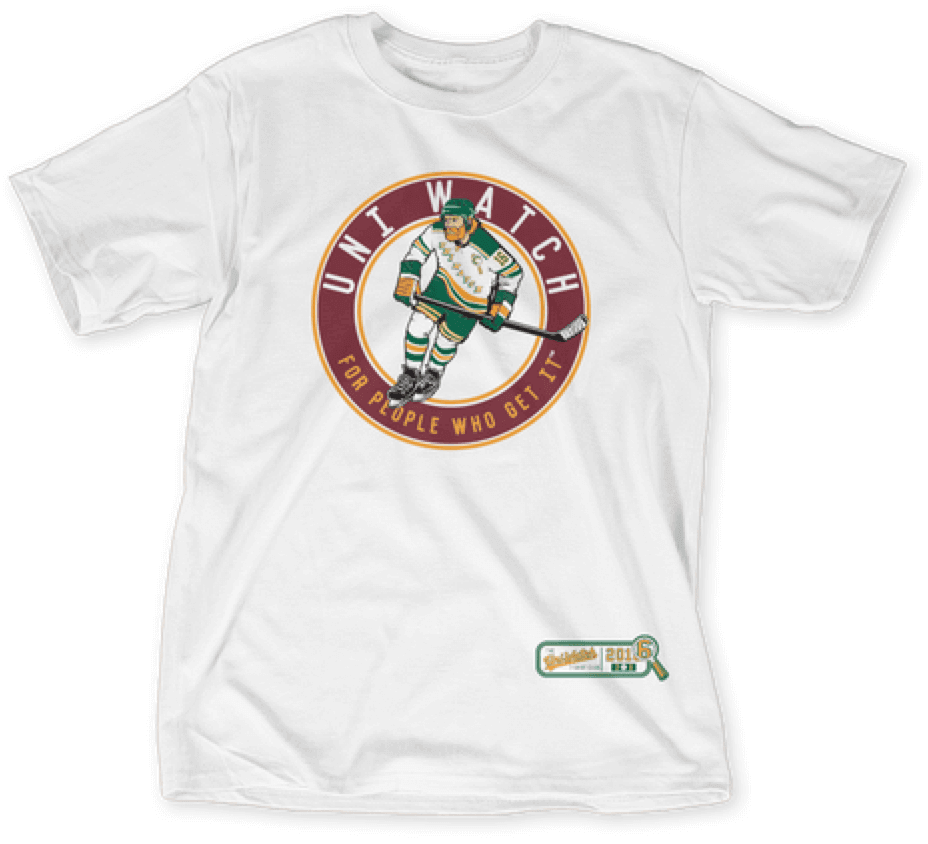 The shirt is available here from now through next Tuesday.
We also have a goalie design that's available for sale as a bonus shirt. Here's the base design, and the three color options: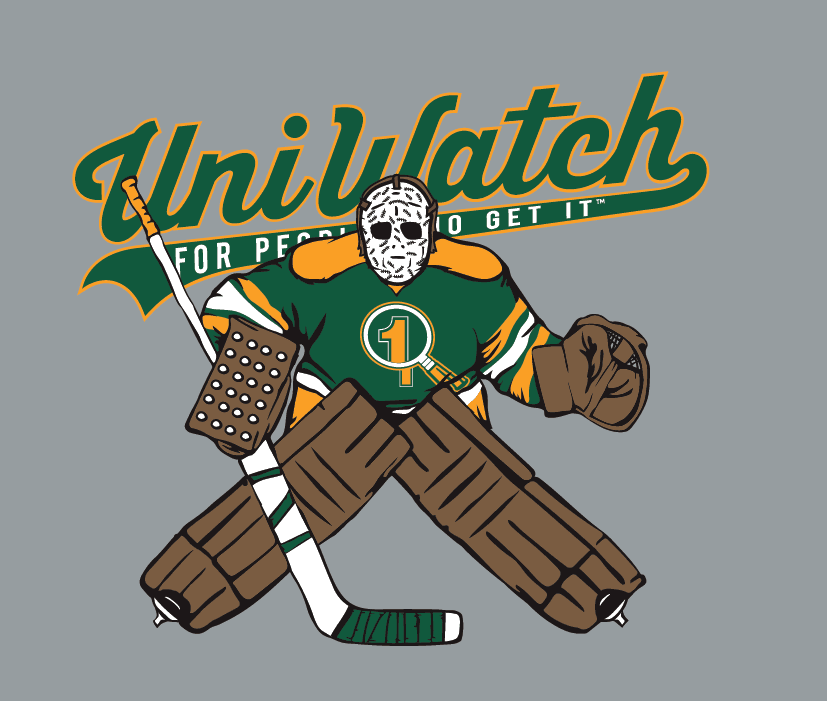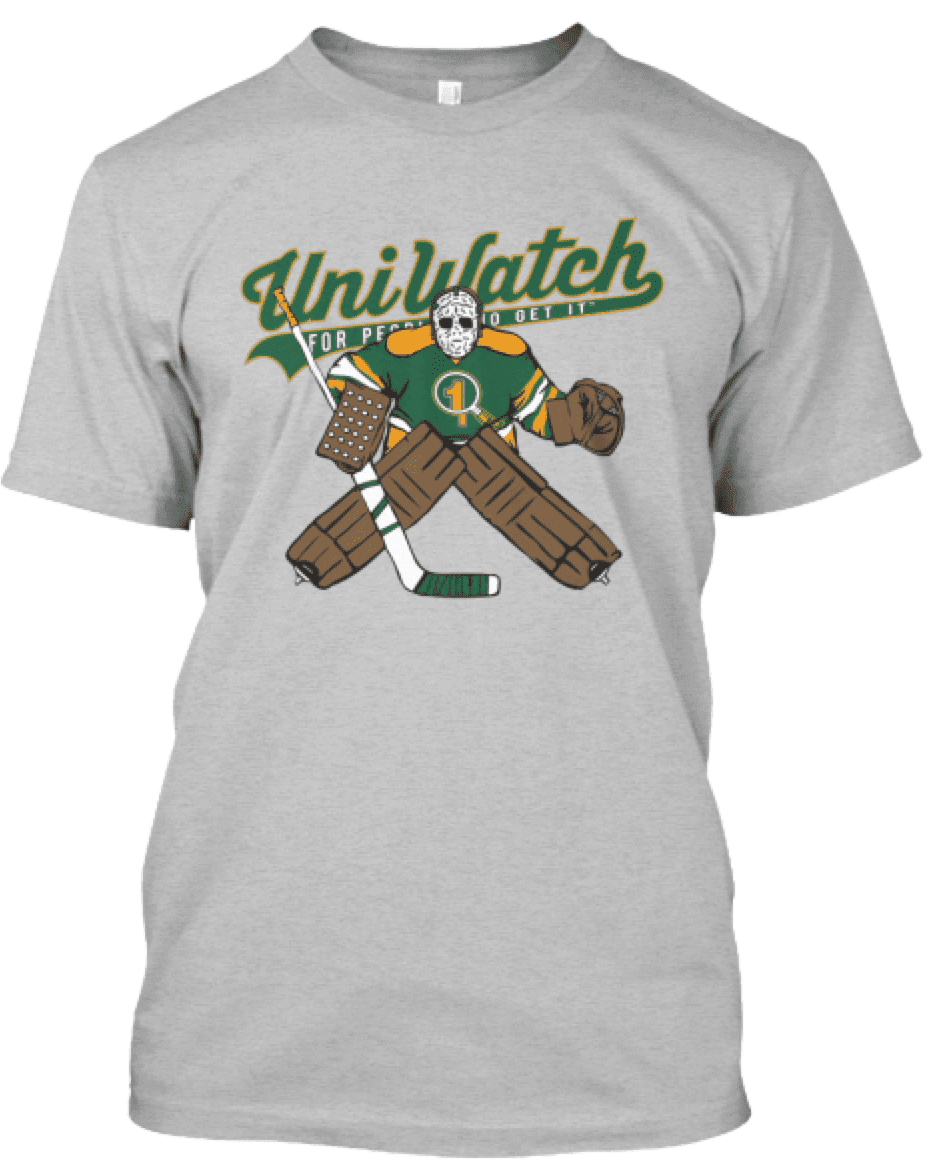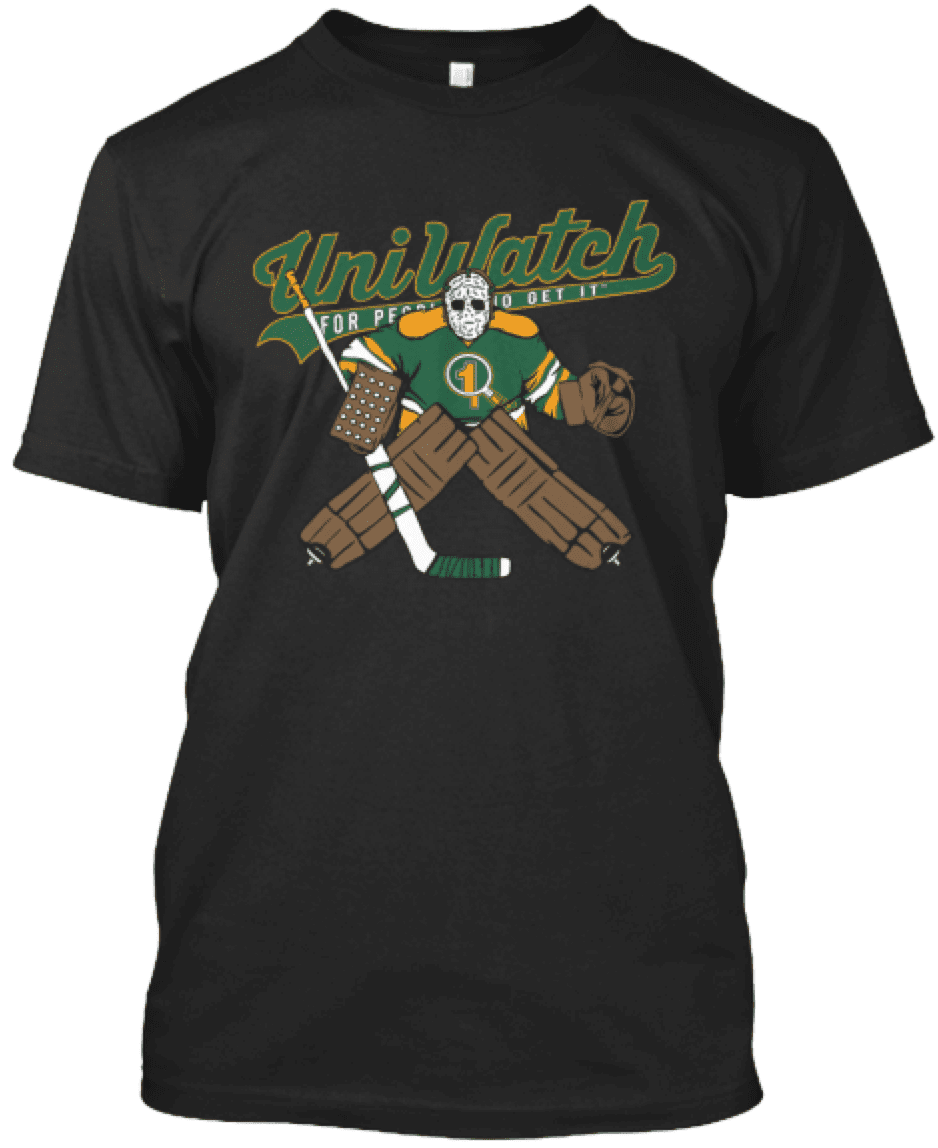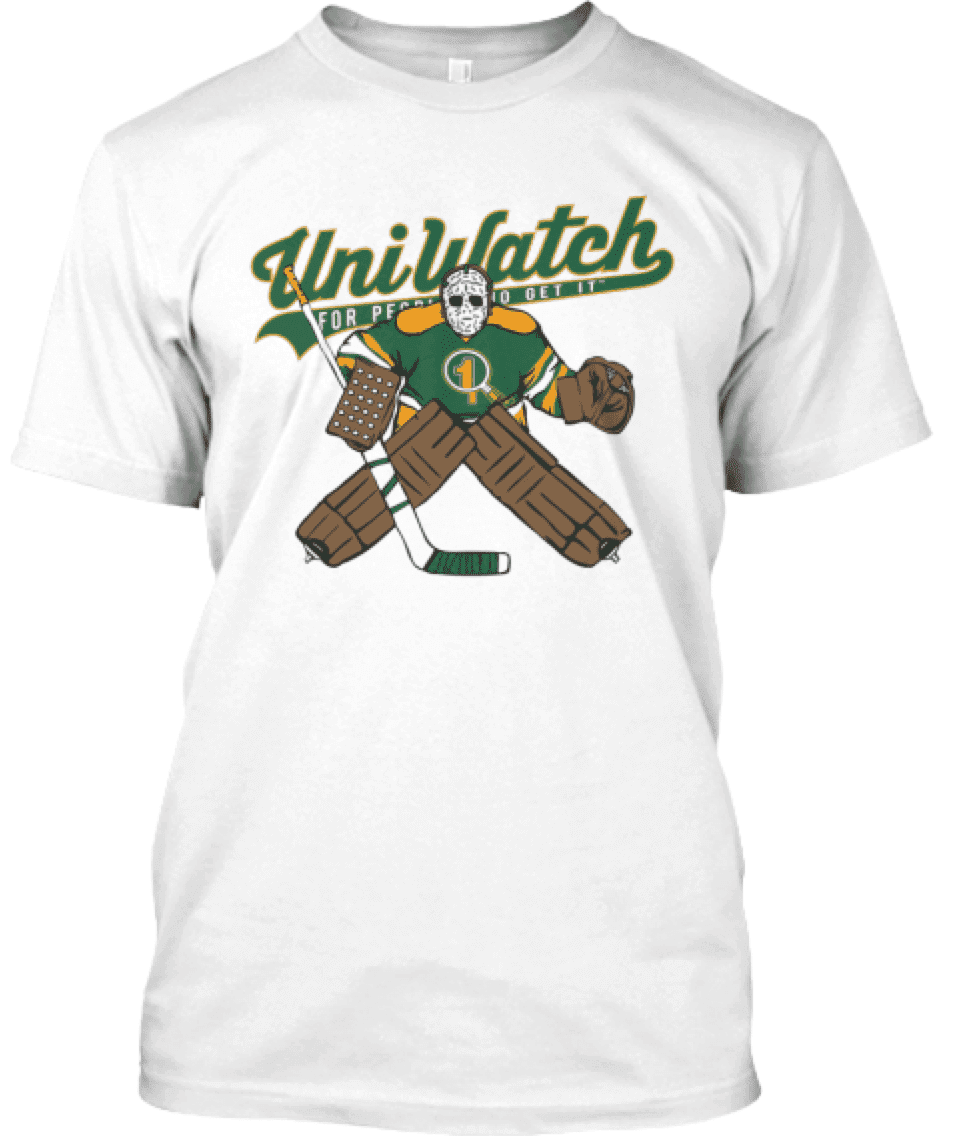 This shirt is not part of the T-Shirt Club, does not have Club's jock tag graphic, and neither counts toward nor is required for 2016 "Collect 'Em All" eligibility. It's just a bonus design that we're offering for those who want it. You can get it here.
• • • • •
Uni Watch roster move: Meet Alex Hider, the newest member of the Uni Watch team. He'll be preparing the Tickers that appear on Mondays (which tend to be small-ish, because we don't get too many submissions on Sundays), beginning this coming Monday. I will continue to compile the Wednesday and Friday Tickers, Mike Chamernik will continue to handle Tuesdays and Thursdays, and Phil will still handle the weekends.
Alex was one of the finalists when I began hiring Ticker assistants back in the fall of 2013. He was the final roster cut, so to speak, and I told him at the time that he'd be the first person I contacted if and when I found myself needing more help. I kept my word and got in touch with him a few weeks ago when I decided to bring on another assistant, but two and a half years had gone by, so I didn't really expect him to still be interested or available. To my very pleasant surprise, he jumped at the chance, so here we are.
Alex majored in journalism at Ohio University (this means he, Mike, and Phil all have more formal journalism training than I do) and now works for the media giant Scripps in his hometown of Cincinnati. I'll shut up now and let him tell you a little about himself:
I've been interested in sports design for almost as long as I can remember. As a kid growing up in Cincinnati, I used to hoard copies of Sports Illustrated and NFL Shop catalogues and just stare at the jerseys for hours on the floor in my room. If I wasn't oogling glossy photos, I was messing with the uniform generator on Madden's Create-a-Team feature.

I played a little high school football but quickly realized I wasn't going to stick around in the sports world by standing on the sidelines. It was around that time I discovered a passion for journalism, so Uni Watch is a natural intersection of my two favorite things.

I'm a fan of the Cincinnati Reds (drop the drop shadow), the Cleveland Browns (fart noise), my alma mater Ohio Bobcats (Russell Athletic's favorite client), the Nashville Predators (collar horns and all) and the Cleveland Cavaliers (though mostly as a bandwagon fan).

I look forward to hearing from all of you!
You can follow Alex on Twitter here. Please join me in welcoming him to the Uni Watch team.
•  •  •  •  •
The Ticker
By Paul

'Skins Watch: A Delaware high school is moving closer to scrapping its "Redskins" team name. "¦ Here's a good analysis of how the 'Skins trademark case could play out at the Supreme Court. "¦ Here's a bunch of academics and a reporter debating the merits of the 'Skins trademark issue. "¦ The Macon Telegraph published a column calling for the return of Chief Noc-A-Homa — and then promptly deleted it, imagine that. "¦ Slowly but surely: Two Toronto-area schools will stop using indigenous people's imagery for their teams (from Mike Styczen). "¦ Aussie rules football teams often have guernseys with indigenous-patterned designs. Here's Melbourne's (from Franklin). "¦ Yeah, if there's one thing those crazy Injuns like, it's a good ballgame (thanks, Phil).

Baseball News: We've seen this before, but it's always interesting to see a college baseball jersey that's a henley masquerading as a button-front, as in the case of this Texas A&M jersey. The top two buttons are functional; the lower ones are just for decoration. Doesn't look bad, although it would be better if the horizontal seam below the second button were hidden beneath the lettering (from Colin Sherrod). "¦ Interesting to see this shot of Rickey Henderson wearing gold sannies but no stirrups (from Eric Wright). "¦ Lots of really nice baseball paintings here (from Kellen Dargle). "¦ The first problem with Florida State's military appreciation uniforms is — well, you know what the first problem is. The second problem is that the jerseys appear to be T-shirts. The third problem is that the cap design appears to be poached (thanks, Phil). "¦ The Reds wore their Los Rojos alts last night for Cinco de Mayo. "¦ Here's what's the Birmingham Barons will be wearing for this year's Rickwood Classic: "Current players will wear the uniforms worn by the 1967 Birmingham A's, featuring the iconic A's script on the left side of the jersey, which will be white with green sleeves and green numbers on the front right and back of the uniform. The team will also wear special green caps with the white old English 'B' on it" (from Charles Eldridge). "¦ If you've been waiting to vote for your favorite Virginia high school baseball cap, here's your chance (from Jon Kamide). "¦ Union workers at Majestic, which makes all 30 MLB teams' uniforms, are planning a job action on Friday as a protest over contractual issues. The union reportedly has the support of the MLB Players Association. Further info here (from Eric Longenhagen and @WiredDevils, respectively). "¦ Batman jerseys for the West Virginia Power. "¦ The Montgomery Biscuits' staff celebrated Cinco de Mayo about the way you'd expect (thanks, Phil). "¦ Reds OF Billy Hamilton has been going high-cuffed more often since first trying out the look on Jackie Day. "¦ A cap that appeared to be a Nats cap — but actually wasn't — ended up in a bit of humiliation for a U.S. Senate candidate in Missouri (from Erik Spoonmore). "¦ During last night's Mets/Padres game, SNY broadcasters Gary Cohen and Ron Darling suggested that the reason for the matte helmet trend is to keep players from gunking up their helmets with pine tar. The actual reason for the trend, of course, is that it's just one of those things that has come into style and caught on with certain teams. "¦ Speaking of the Mets, here's Curtis Granderson wearing a uni/cap combo that the team never actually wears. "¦ The Saitama Seibu Lions have switched from Adidas to Majestic. "¦ There have been only three rainouts at Petco Park in San Diego since it opened in 2004, the most recent one coming two years ago, but there's rain in the forecast for today.

NFL News: Reprinted from yesterday's comments: New uni number assignments for the Broncos' rookies (from DenverGregg). "¦ So many outerwear garments to love in this shot — the Browns sideline cape, the NFL Films windbreaker, and Ed Sabol's fur coat! (From John Falardeau.) "¦ Did you know the Saints used to have a St. Bernard mascot named Gumbo? It's true! Also, we've all seen plenty of photos of the Saints' black helmets from the 1969 preseason, but here's a shot I hadn't seen before. And that headline writer was prescient, eh? (All this from Benji King.) "¦ Always fun to see players getting their head shots taken while they wear numberless jerseys. "¦ Here are some shots of the Packers' seamstress sewing the names and numbers on the jerseys for the team's rookies (from @svndrtywrds). "¦ I've written a few times about this guy who does amazing football artwork. He now has his dream job doing drawings for the 49ers (from Aaron Husul).

College and High School Football News: New uniforms for UCF (from Jeff Sharon). "¦ Aeropostale has filed for bankruptcy, which reminded someone that they once made UConn's football uniforms. Who knew? (From @VictoryCB.) "¦ The Arizona high school player who faced felony charges for exposing part of his penis in his team portrait won't face felony charges after all. "¦ Former Michigan QBs Jim Harbaugh and Rick Leach wore pink softball jerseys as part of a home run derby for charity (thanks, Phil).

Hockey News: Did you know Donald Trump has a Zamboni? He does! I assume that means these guys will be playing at his inauguration. "¦ You must wear the ribbon color: The Lightning's foundation is telling fans to wear blue to work tomorrow. I wear blue jeans almost every day (and not just at work!), so I guess I'm a good Lightning fan. "¦ Remember Anthony Zych's awesome Blue Jackets gameday posters? The team is now letting fans vote for their favorite, and the top four will be available as limited-edition prints, with proceeds benefitting the Blue Jackets Foundation. "¦ Love love love the logo on this old Portage Terriers jacket. And from the same team, look at this awesome sweater! Yowza (big thanks to Will Scheibler).

NBA/WNBA News: Despite lots of rumors, no uni or logo changes this coming season for the Pistons. "¦ New uniform and court design for the Phoenix Mercury (from Josh Pearlman).

College Hoops News: Love this old UGA women's hoops shot. Both teams untucked, and check out the number placement and collar on UGA (big thanks to Mike Givler). "¦ Crazy new court design for Santa Clara (from Andrew Cosentino).

Soccer News: New kits for Hamburg and Borussia Mönchengladbach (from Robert Marshall). "¦ I don't usually get too excited about soccer jerseys, but I really like this vintage NYCCC model. "Bukta is a great vintage British brand that made the England World Cup team kits throughout the '60s and '70s," explains Jeff Flynn. "¦ New jerseys for Panama. "¦ New kits for Detroit City FC (from Ryan Keberly). "¦ New home and away jerseys for Stoke City (from Josh Coles).

Grab Bag: You know how the exits on Interstate highways will have those blue signs that say, "Attractions at Exit 13" or "Food at Exit 47," or whatever? Here's a good story on how businesses end up on those signs. "¦ Reprinted from yesterday's comments: Good article on the design of the biohazard symbol (from James Gilbert). "¦ Here's a review of Nike honcho Phil Knight's new memoir. "¦ Adidas is doing better on Wall Street this year than Nike or Under Armour (from Tim Cross). "¦ "After the death of Jules Bianchi, F1 is testing ideas to protect the exposed part of the driver while at also keeping the car an open cockpit," says David Firestone. "Two possibilities are here and here." "¦ There's a new arena football league in China, of all places. Here are the team names and logos (from Marc Viquez). "¦ Jim Vilk was doing a bit of thrifting and came across a great-looking bowling league scheduling kit. "¦ Uni-related passage in this article about college beach volleyball: "The NCAA reined in the skimpy uniforms that are sometimes required on the professional circuit and are a not-so-secret Olympics draw. Players' tops must cover their midriffs while standing still, and shorts or briefs must have at least a one-inch inseam. 'We want them to be able to feel comfortable out there and yet not be in a bikini, because that's not what the image is for us,' Kristin Fasbender, a championships director at the N.C.A.A., said." "¦ How can you tell if tech startups are doing well? Follow the ping-pong table sales (from Mary Bakija). "¦ Four different blue shoe styles for the Japanese women's volleyball team (from Jeremy Brahm).