[Editor's Note: Today we have a guest entry from Michael Clary, who's going to tell us about a near-brush with stardom involving former Bosox/Expos pitcher Bill Lee. "" PL]
By Michael Clary
Back in November of 2013, a bunch of guys from my baseball league and I were tabbed to be extras in a movie about Bill Lee, called The Wrong Stuff, starring Timothy Hutton as the former Red Sox/Expos pitcher. Ballplayers in their 40s were needed to fill out the roster spots of the Longueuil Senators (the semi-pro French-Canadian team that Lee played with after being released by the Expos) and their opponents.
So on an unseasonably balmy, late-November day, we joined a slew of other guys who answered a cattle call, showed up at the Dan Duquette Sports Academy in Hinsdale, Mass., for an informal tryout and screen test. We had to fill out a long questionnaire about our acting experience, baseball experience, special abilities, languages spoken, height, weight, clothing sizes, body modifications, and so on. Head shots were taken, and then they filmed us taking batting practice, infield/outfield, and playing in an actual game.
The director, Brett Rapkin, told us Timothy Hutton was right-handed and not very athletic, so they were going to try to teach him to throw lefty like Bill Lee. He also said that if throwing left-handed didn't work out for Hutton, they were considering using a lefty stunt pitcher, or filming Hutton throwing righty while wearing a uniform with backward lettering, and then flipping the footage during post-production. And if they did decide to flip the footage, they would need a left-handed catcher — right up my alley, because I'm a lefty and have spent many years both pitching and catching. So it looked like I might have an inside track at getting some screen time.
We were told that filming would begin sometime in 2014, and to let our beards and hair grow out because the movie timeline was the early '80s. They would be in touch.
Throughout 2014, all we heard was that there were delays, possibly because of funding or Timothy Hutton's inability to look even remotely coordinated. Then in mid-2015 we found out that Hutton had been replaced by Josh Duhamel (a very athletic guy who looks a lot like Bill Lee), that the movie title had been changed from The Wrong Stuff to Spaceman, and that filming was underway on the west coast instead of here in the east. So ended our shot at stardom.
So after the 18-month buildup and hopeful anticipation of my 15 minutes of fame, all I ended up with was the first beard (and second mullet) of my life, as you can see in this photo of me doing my best Bill Lee impersonation [click to enlarge]: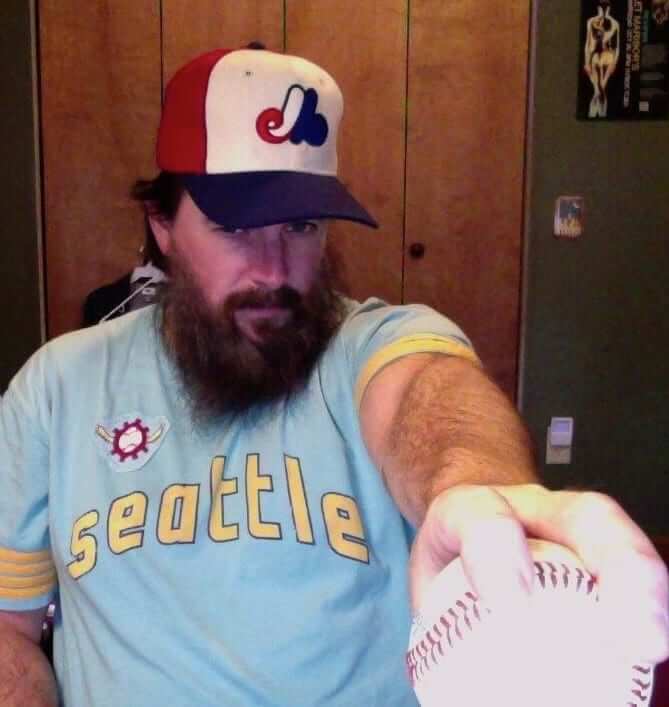 Meanwhile, here's a pic of Josh Duhamel side-by-side with Lee [click to enlarge]: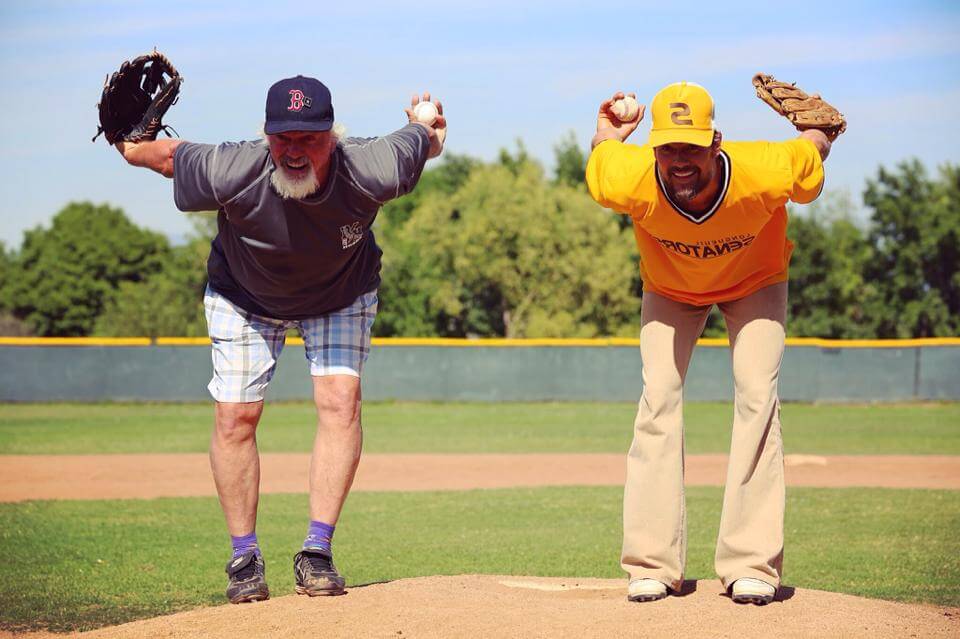 As you can see, Duhamel is right-handed and the lettering on his jersey and cap are backwards, which presumably means they ended up flipping the footage of at least some of the baseball scenes. The movie should be out later this year.
———
Good stuff, Michael — thanks.
Some of you may be thinking, "Using backwards uniforms and then flipping the film — that's what they did with Gary Cooper when they filmed Pride of the Yankees!" And yes, for a long time people thought that was the case. But it isn't true, as Baseball Hall of Fame curator and longtime Uni Watch pal Tom Shieber proved a few years ago. Further info here.
•  •  •  •  •
Northpaw bias strikes again: Yesterday was primary day here in New York, which meant I got reacquainted with an annoyance at my polling place (and, I'm guessing, at others): The pens for marking the ballots are consistently anchored on the right side. So if you happen to be left-handed, as I am, the pen's cable and the cable's shadow end up obscuring part of the ballot. Bad design. Would it kill them to include an additional pen anchored to the left side?
(This is the part where a bunch of you are gonna say, "It's illegal to photograph your ballot!," blah-blah-blah. But it's actually more complex than that. In New York, it's illegal to photograph your completed ballot [I photographed mine before marking it], and even that restriction is coming under legal challenge as a free speech issue. Details here. Let's please not get bogged down with this issue in today's comments [although discussions of ballot design, like the left/right issue I raised, are welcome]. Thanks.)
• • • • •
The Ticker
By Paul

Baseball News: What's even better than Lou Brock in a 1976 pillbox cap? Lou Brock in a '76 pillbox cap while posing with a fan who's wearing a "Mad Hungarian" T-shirt (from BSmile). "¦ Great story about how the cold-weather games early this season have featured a lot of bundling up (from Tommy Turner). "¦ Speaking of cold weather, check out White Sox 2B Brett Lawrie last night. And what happened to his cap logo? "¦ These laser-engraved bats are pretty cool (from Beau Cribbs). "¦ "In my New Jersey town (Scotch Plains/Fanwood), they've named all of the T-ball teams after superheroes and villains — Team Ironman, Team Superman, Team Riddler, etc.," says Michael Galante. "I wasn't sold on it when I originally heard they were doing it, but it's actually pretty awesome. The younger kids were super-excited about it, and all the older kids that have team names based on minor and major league teams (Bulls, Mud Hens, Yankees, Angels, etc.) were jealous at the parade when they saw the little kids rockin' some pretty cool, unique unis." "¦ Clemson went G.I. Joke last night. "¦ Amidst all the military appreciation promotion, here's a refreshing concept: The Tacoma Rainiers are having a Tacoma Public Schools Night, with a uniform designed by a local student. "¦ Lots of specialty jerseys for the Indianapolis Indians (from Chris Hagan). "¦ See these padded-looking batting gloves that Melky Cabrera's wearing? Turns out they're weighted (grom Chris Rhode.) "¦ Good piece on the stories behind MLBers with unusual uni numbers (from Brian Lauvray). "¦ I'd forgotten all about this old Pirates BP jersey design until Hugh McBride asked about it. Further info here. "¦ Good catch by eagle-eyed Jerry Kulig, who spotted an upside-down "8" on the Fenway scoreboard last night. "¦ Crisis of sorts at Camden Yards, where Natty Boh is nowhere to be found (from Jack Krabbe). "¦ Not sure if this happened earlier in the season or just yesterday, but Braves skipper Fredi González now has an accent on his NOB. He definitely didn't have it last year (from Glen Macklin and Sean McGarity). "¦ The Fresno Grizzlies did the Fresno Tacos thing yesterday (from Daniel Evans). "¦ Looks like New Mexico has been taking cues from the D-backs. "¦ A brewery has found an unlikely place to sneak in a "Go Mets!" message on its packaging. "¦ I was reading a recap of last night's Yanks/A's game and was struck by all the empty seats in the Bronx. "¦ Stars/stripes jersey last night — and some brutal side panels — for Louisville. Also: Front-brimmed catcher! "¦ Cal infielder Robbie Tenerowicz takes his high-cuffery to Hunter Pence-like extremes (from John Furstenthal). "¦ Here's some rare color footage from Jim Maloney's 10-inning no-hitter in 1965. Note that his pitch count was 187! (From Alan Tompas.) … How hard does Mets P Noah Syndergaard throw? This hard.

NFL News: There's a bit of Color Rash info about Washington toward the middle of this Q&A page. "¦ Nicely researched piece about how the Bears wore tank tops in 1922! "¦ Orlando is preparing a bid to host the Pro Bowl. "¦ Nike has cut ties with Johnny Football.

College Football News: Here's a piece on how Rutgers freshmen are "knighted" by having the black stripe removed from their practice helmets. "¦ One observer things LSU should retire two players' numbers. "¦ Colorado sure has a lot of gear (from Gilbert Lee).

Hockey News: The Red Wings provided a history lesson on their rally towel (from David Raglin). "¦ Have the Penguins always had white top-stitching on their black sleeves and I just hadn't noticed, or is that something new?

NBA News: Here's a great slideshow on how the Trail Blazers and Clippers have changed their looks over the years. "¦ ESPN got a comic book artist to illustrate the NBA playoff match-ups, and the results are pretty good (from Jorge Cruz). "¦ The "Crying Jordan" meme has found its way onto a customized pair of Air Jordans (from @ZJL00).

Soccer News: Chelsea's new home kit has leaked (thanks, Phil). "¦ New centennial patch for Espanyol. "¦ DIY genius Wafflebored has made himself a Wafflebored FC jersey.

Grab Bag: There's a new 30 for 30 short about what it might have been like if Elvis had been really, really into racquetball. "¦ Fun little collection of photos of people who dress like their surroundings (thanks, Mike). "¦ The slogan on DC license plates could be changing. "¦All Day I Dream About Socialism: Former Cuban president Fidel Castro, now 89 years old, made a rare public appearance yesterday at a Communist party meeting and was wearing an Adidas track jacket. "¦ A cricket player says a new helmet design saved him from a broken nose. "¦ Minnesota's state university system has a new name, with a new logo on the way.