As most of you know, I'm not much of a NASCAR guy. But I recently got a note from reader Bryan Moore that I want to share with you (and if you're not into NASCAR either, don't just scroll straight to the Ticker — this has implications that go way beyond NASCAR):
As I am sure you know, with all of the sponsorship and logo changes and driver swaps that are a part of NASCAR, manufacturer and brand loyalty may actually trump driver loyalty for a good chunk of fans within the sport. "Once a [insert sponsor] guy, always a [insert same sponsor] guy."

So, when Stewart-Haas Racing (Tony Stewart being a long-time GM stalwart) recently announced a manufacturer switch from Chevrolet to Ford, the social media world exploded in reaction. Among some of the more colorful reactions I saw from various fan comments on ESPN, NASCAR.com, and Twitter were gems like "F*ck!!! Tony is Benadick [sic] Arnold!" and "This is almost as bad as when Dale Earnhardt Senior died, I'll never route for (Stewart-Haas) again."

There were also reactions like "It's as if Derek Jeter signed with the Red Sox after 2003" and "It would be like the Green Bay Packers changing their colors to black and red next year." It's hard to come up with anything in the sports world that's truly comparable to a racing sponsor switch, but I fully understand these reactions. Earnhardt, Gordon, Johnson, and of course Tony Stewart have long been as synonymous with General Motors as the Packers are with their colors and Derek Jeter was with the Yankees.

A proper analysis of these manufacturer loyalties would probably entail dipping into the worlds of psychology, sociology, and behavioral economics, but I would be curious to hear some fellow Uni Watch readers' opinions as to how their particular teams' branding and aesthetics affects their loyalties. Are there any images/logos/brand tie-ins with teams/individual athletes/sports that are so iconic that they are considered untouchable?
Bryan has raised two distinct issues here: (1) The way fans respond to corporate sponsorships and partnerships in NASCAR, and (2) the way non-NASCAR endorsements and corporate affiliations affect our perceptions of teams and athletes.
Personally, I'm not in love with these lines of inquiry, because I find the corporate theater aspect of sports highly distasteful. But I'll play along, at least for now. I can't speak to the NASCAR thing because that's outside of my realm of expertise. But as for other sports, I think we can safely say that the University of Oregon can never again be outfitted by anyone other than Nike, and it's also impossible to think of Michael Jordan being associated with any company other than Nike.
I'm sure there are lots of other examples. What do you think? Discuss.
•  •  •  •  •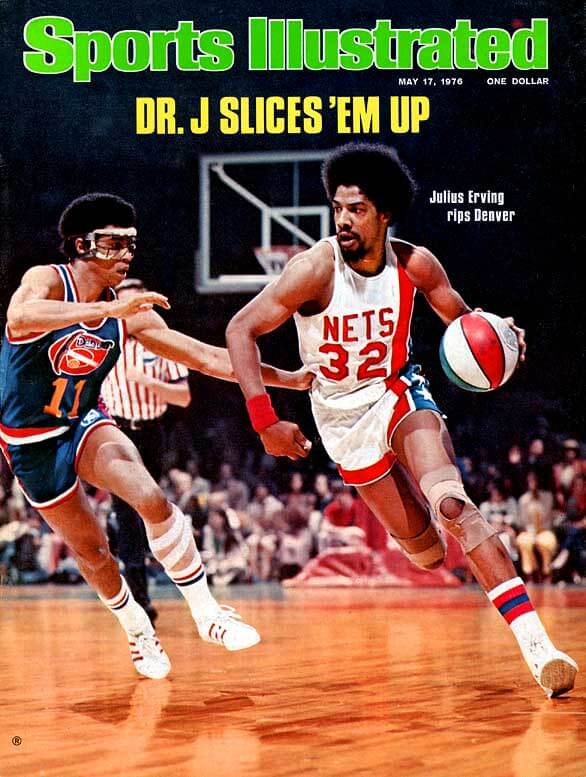 Friday Flashback: In the wake of last week's sensational story about how the Nets almost became the Swamp Dragons (which, if you haven't read it already, you should definitely check out), my weekly Friday Flashback column on ESPN takes a look back at Nets uniform history. Check it out here.
• • • • •
The Ticker
By Paul

'Skins Watch: It appears that the latest organization boycotting the 'Skins name is the New York Giants. Check that — if you scroll to the bottom of the story, the Giants seem to have done an about-face. "¦ "Every lacrosse league I've been a part of has placed a premium on honoring the sport's Native American heritage," says Kevin Mueller. "This year my youngest sons' youth league added the Hiawatha's Belt wampum design to the league's base-layer shirts. This design has grown to become a symbol of the Five Nations. It also forms the basic design of the Iroquois Nation flag. The league also sent an email to all parents explaining the meaning of the symbol, and the reasons for its inclusion on the shirts. I thought it was a good way to honor the heritage and educate everyone." "¦ An Oregon school district has reached an agreement with a local Native American tribe to keep calling its teams the Braves. The is in keeping with Oregon law, which requires schools using Native iconography to receive permission from one of the state's nine tribes. "¦ A high school in Woonsocket, S.D., will no longer call its cross-country team the Redmen (from Taylor Nicolaisen).

Baseball News: Today is Jackie Robinson Day. All MLB and MiLB uniformed personnel will be wearing No. 42. There'll no doubt be the usual assortment of high-cuffery and special-edition footwear as well. "¦ In a related item, the Philadelphia City Council has passed a resolution formally apologizing for Phillies players taunting Robinson with racial slurs during his rookie season. … Fort Scott Community College got a jump on Jackie Day yesterday (from Matt Newbery). "¦ Good piece on the Richmond Flying Squirrels' equipment manager (thanks, Phil). "¦ In a related item, the Squirrels' stadium has gotten some renovations for the new season. "¦ This is interesting: As we've mentioned here before, although this year's MLB All-Star Game is being held in San Diego, the American League is the designated home team. That presents a problem for the Padres, because they changed their home color scheme specifically because they're hosting the ASG, but their player(s) on the N.L. roster will be wearing the team's road uni. The solution? Padres All-Stars will wear a grey version of the team's current home whites. This could have been avoided if they had simply extended the new color scheme into their road set, which they should have done all along. "¦ The Pirates went G.I. Joke yesterday. And look, the camouflage pattern really works! (From Chris Howell.) "¦ The Phillies wore their new red alts yesterday, and the Padres wore their blue alts, setting up a color vs. color game. "¦ New "Strike out ALS" uniform for Notre Dame. "¦ You might think most people are stupid, but they're not stupid enough to like the D-backs' new road uniforms (from Adam Vitcavage). "¦ Cort McMurray spotted this Astros tequila sunrise flag in Pasadena, Texas. "¦ Royals C Salvador Perez used teammate Omar Infante's bat last night (from Dave Singleton). "¦ Mix and match: Some Scranton/Wilkes-Barre RailRiders players had MiLB jersey and MLB pants last night (good catch by Mike Slesinski). "¦ Speaking of pants, Twins OF Eddie Rosario's pants didn't have the MLB logo yesterday (from Aaron Rusnak). "¦ According to several sources, including here and here, 44 years ago today — April 15, 1972 — was an important date because it's when Reggie Jackson became the first MLBer to wear a mustache since 1914! … The Mets reportedly sold all of the jerseys from the first post-9/11 game, not just Mike Piazza's. But as Mets Police honcho Shannon Shark, this whole controversy is overblown because the Mets, like most teams, have been selling game-worn jerseys for years (well, not counting the stuff Charlie Samuels stole).

Pro Football News: The newly released NFL schedule shows the Steelers and Colts playing on Thanksgiving Day. Since that's a Thursday, it will be a Color Rash game. There's some info on how the Steelers might dress for that game, including quotes from owner Art Rooney, in the middle of this page (from Jerry Wolper and Ronak Singhal). "¦ The new schedule also has the Giants and Eagles slated to play a Color Rash game on the Thursday before Christmas, which led some observers to speculate that we could have a green vs. red pairing. But that seems unlikely, given the colorblindness issues that arose when the Jets and Bills wore those colors in the inaugural Color Rash game last year. "¦ The Winnipeg Blue Bombers of the CFL are switching their main color to royal blue (from Moe Khan).

College Football News: Here's someone's concept for a Jack Trice-themed Iowa State redesign (from Nathan Gruber). "¦ New uniforms being unveiled today for Purdue (from Jeff Demerly). "¦ Oregon State doesn't usually use merit decals, but they appear to have them now, at least for spring practice (from Ian Gerig). "¦ Virginia Tech went with a new uni combo — metallic orange, orange, white — at yesterday's practice (from Andrew Costentino). "¦ Here's the first look at Colossus, the TV that will be hanging above the field when Virginia Tech plays Tennessee at the Battle at Bristol (from Andrew Cosentino).

Hockey News: You can never read too many articles about the Blues' infamous trumpet jersey from the 1990s (rare non-Pittsburgh-related contribution from Jerry Wolper). "¦ Former New Orleans Saints DE Will Smith, who was killed over the weekend, grew up in Utica, N.Y., so the Utica Comets have added a memorial decal for him.

Basketball News: The NBA is expected to vote this afternoon on the proposal to allow ads on uniforms. I'll have a reaction piece over on ESPN. The NBA has gone ahead and voted to allow uniform advertising. Here's my take. "¦ The Grizzlies are holding a "garage sale" (from Gilbert Lee). "¦ Kobe Bryant threw Nick Young's sneakers in the trash instead of signing them. … Former Kansas G Wayne Selden Jr. has a big Kanas jersey collection (thanks, Phil).

Soccer News: New third kit for the Portland Timbers 2. "¦ Here's the inaugural kit for the Orlando Pride. "¦ Southampton FC is now with Under Armour (from Chris Morris). "¦ New kits for FC Kansas City.

Grab Bag: Here's the logo for Budapest's 2024 Olympic bid. "¦ Here's a good article about how uniforms — sports and non-sports — provide an identity and purpose. "¦ Check this out: an automated logo generator. "Interesting in terms of generating ideas, but I think human designers can rest easy that their jobs are still necessary," says Charlie Kranz.