The Mets debuted their 1986 Sunday throwbacks yesterday. By happy coincidence, Matt Fratboy was pitching. He usually prefers to wear the blue softball tops, and the team usually obliges him, but the new Sunday throwback protocol took precedence over that. Memo Mets management: Can we please arrange for all of his subsequent home starts to take place on Sundays, just to cut down on the blue alts? Thanks.
A few notable things about the throwbacks:
• The Mets' standard blue home cap has had an orange squatchee since 1995. Back in '86, however, the squatchee was blue, and they got that detail right on the throwback: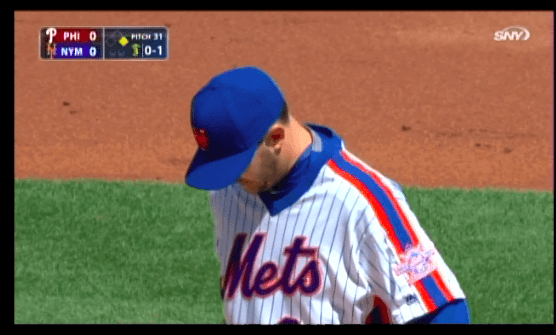 I'm told that Mets radio broadcasters Howie Rose and Josh Lewin, both of whom definitely Get Itâ"¢, discussed this detail at length during the bottom of the 5th inning ("It was like a half-inning of uni-geekspeak awesome," says reader Lawrence Comeau), although I wasn't listening at the time.
• In another period-appropriate headwear detail, the throwback caps had grey undervisors: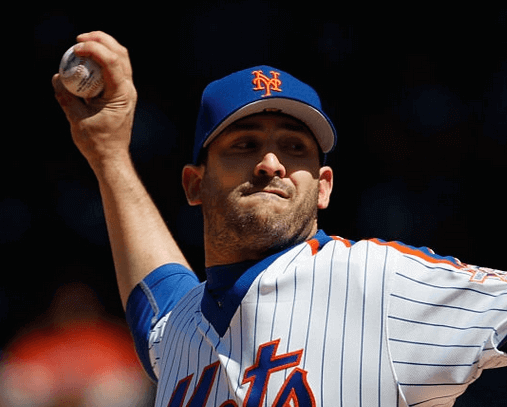 • Yet another headwear detail: The Mets have used raised orange helmet squatchees for their past few years. They're little adhesive domes supplied by Pro Helmet Decals. But the helmet squatchees were nowhere to be seen yesterday: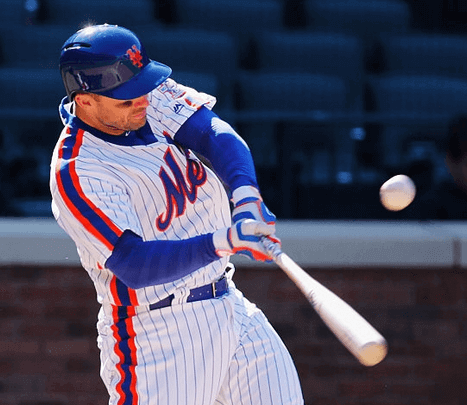 That means equipment manager Kevin Kierst — or some kid on his staff — must have removed all of the helmet squatchees just for the throwback game (and will presumably restore them for tonight's game against the Marlins). Good attention to detail!
• The MLB Style Guide shows the throwbacks being worn with high-cuffed pants and stirrups (and yes, they depicted the stirrups backwards, but that's another issue). I was skeptical about the player actually following this guideline, and it turns out I was right: Most of the Mets were pajama-pantsed, and even the handful of high-cuffers wore solid stockings, not stirrups. Bummer.
• The '86 Mets wore non-pinstriped nameplates over their pinstriped jerseys — a terrible look, but of course they had to do it that way for the throwbacks: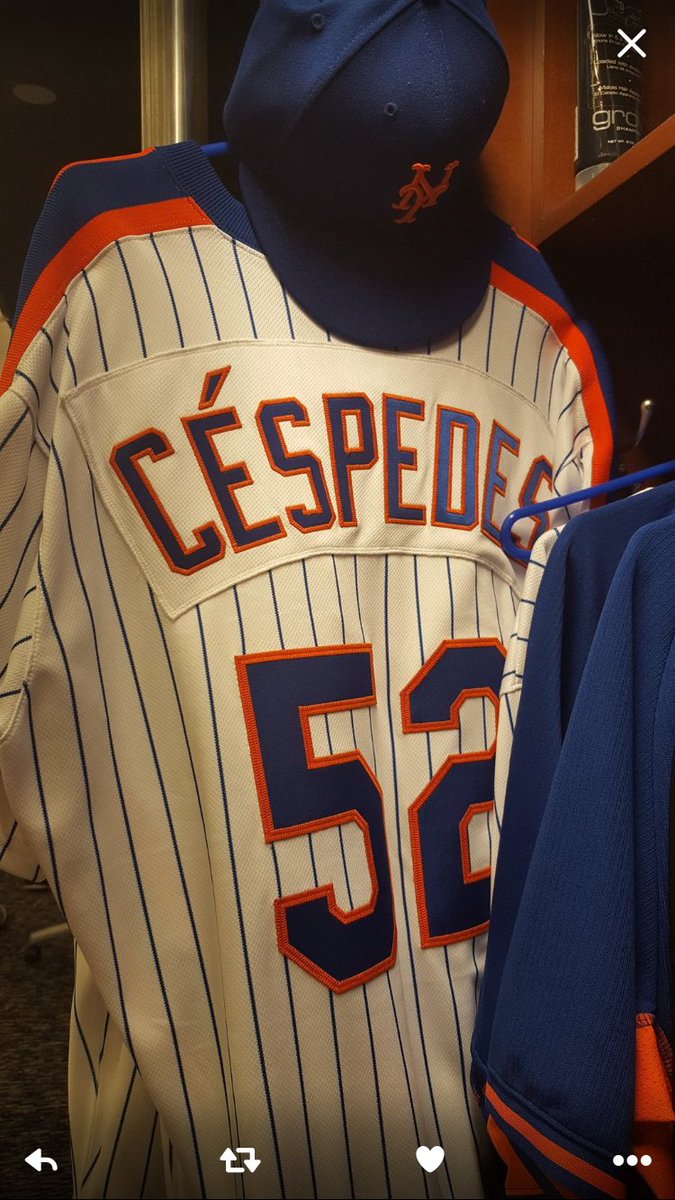 The other interesting thing there is that they included the accent on Yoenis Céspedes's NOB (and, presumably, on Bartolo Colón's NOB as well). I'm pretty sure no MLB player had worn an accent on his NOB in 1986. Tildes, yes, but not accents. I'm not saying they shouldn't have included the accents on the throwbacks for that reason, but I wonder if it's something they even thought about. Also, it's interesting to see how the accent made the nameplate itself much thicker, with lots of white space across the top.
Of course, you could quibble with certain details — it would've been nice, for example, if the MLB logo hadn't been on the cap, jersey, and pants. Overall, though, they appear to have gotten this one right.
Looking forward to next Sunday, when the Pirates' bumblebee throwbacks will make their debut.
(My thanks to Mets Police blogger Shannon Shark for one of the screen shots used in this post.)
•  •  •  •  •
Photo by the Tugboat Captain; click to enlarge
Family affair: Generally speaking, a day with the Lukasas (or the Lukae, as we like to call ourselves) is no day at the beach. But yesterday it was — literally. My mom just turned 92 (!), so we took her out to lunch at a nice French restaurant and then went for a stroll along the shore of Long Island Sound. That's her on the left, with my brother Roy in the middle.
For most of Mom's recent birthdays, she's been a bit wistful — maybe feeling the loss of my father, or the loss of various friends who she's outlived, or just the accumulation of aches and pains that come with age. But yesterday was different — she was uncharacteristically chipper about her age. "I'm already looking ahead to 93," she said. Her own mother lived to be 97, and I think there's a strong chance Mom could beat that number. Amazing lady.
•  •  •  •  •
The Ticker
By Paul
I was busy with my family all day yesterday and didn't get around to dealing with the Ticker until late at night. I was pretty pooped, so more things than usual didn't make the cut (sorry about that), and I included a few things without fully researching them (ditto). Thanks for understanding.

Baseball News: Herbert Hoover is the Nats' new racing president (from Tommy Turner). "¦ Ken Burns's new film about Jackie Robinson premieres tonight on PBS. "¦ Wow — mono-gold uniforms with purple trim for James Madison (from Daren Stoltzfus). "¦ Cream unis yesterday for UNC (from Christopher Newbury). "¦ Throwbacks with Northwestern-striped stirrups yesterday for Indiana (from Craig McKean). "¦ Not sure which Nats player this is, but he seemed to have a cup holder on his balaclava. "¦ The Mariners wore their Sunday creams yesterday, and that uni looks even better with striped socks and striped stirrups. "¦ Meanwhile, in that same game, check out the socks worn by A's OF Khris Davis. Never seen that combination of logo and striping on an MLB player before. "¦ Speaking of the A's, Josh Reddick appeared to be wearing his Spider-Man costume under his jersey. "¦ After Red Sox 3B Pablo Sandoval popped his belt during a swing on Saturday, a Blue Jays fan taunted him yesterday with an XXXXXXXXXL belt. "¦ I'm not sure what Nebraska's softball team was wearing yesterday, but it appeared to involved pink lettering on a pink jersey (from Matthew Daley). "¦ It's a little hard to see, but a Harrisburg Senators player had the MLB logo on his pants yesterday (good spot by @213MFS). "¦ Giant hen's head logo on the jersey for Delaware. "¦ The Rockford Rivets have created a bobblehead set for hometown heroes Cheap Trick (from @HOVG).


Pro and College Football News: This is pretty great: Gene Sanny, whose custom-painted electric football figurines have previously been featured on the site, has now designed trading cards for his electric football players. Very cool. … Is Clarendon coming back to UCLA football? Shmaybe (thanks, Phil).

NBA News: The Wizards and Hornets went red vs. purple yesterday (from Robert Kahn). "¦ The Spurs wore black at home last night, so the Warriors wore white on the road.

College Hoops News: The U. of Kentucky is suing a small distiller because — get this — the school wants to protect its supposedly exclusive rights to the word "Kentucky." The university says it's mostly concerned with protecting the sale of T-shirts and caps connected with the school's basketball team. Douchebags.

Soccer News: In the 1970s, Leeds United players had uni numbers on their socks (from @KohlenSchaufler). … "I've recently run a set of articles on what I feel is the best-looking league season, the 1990-91 Italian Serie A," says Denis Hurley. "Here is a recap."

Grab Bag: In minor league hockey news, the Albany Devils went G.I. Joke yesterday. … Reader Aaron Dana collects beautiful old sports patches and posts them on Instagram and Tumblr. He also does some awesome sports-themed artwork. Great, great stuff and highly recommended. "¦ There's a new book about Japanese uniforms from all walks of life (thanks, Brinke). "¦ Here's your latest chance to vote on the NASCAR paint scheme of the past weekend. "¦ What's even better-looking than a color-on-color lacrosse match? A color-on-color lacrosse match in the snow (from Matt Shevin).