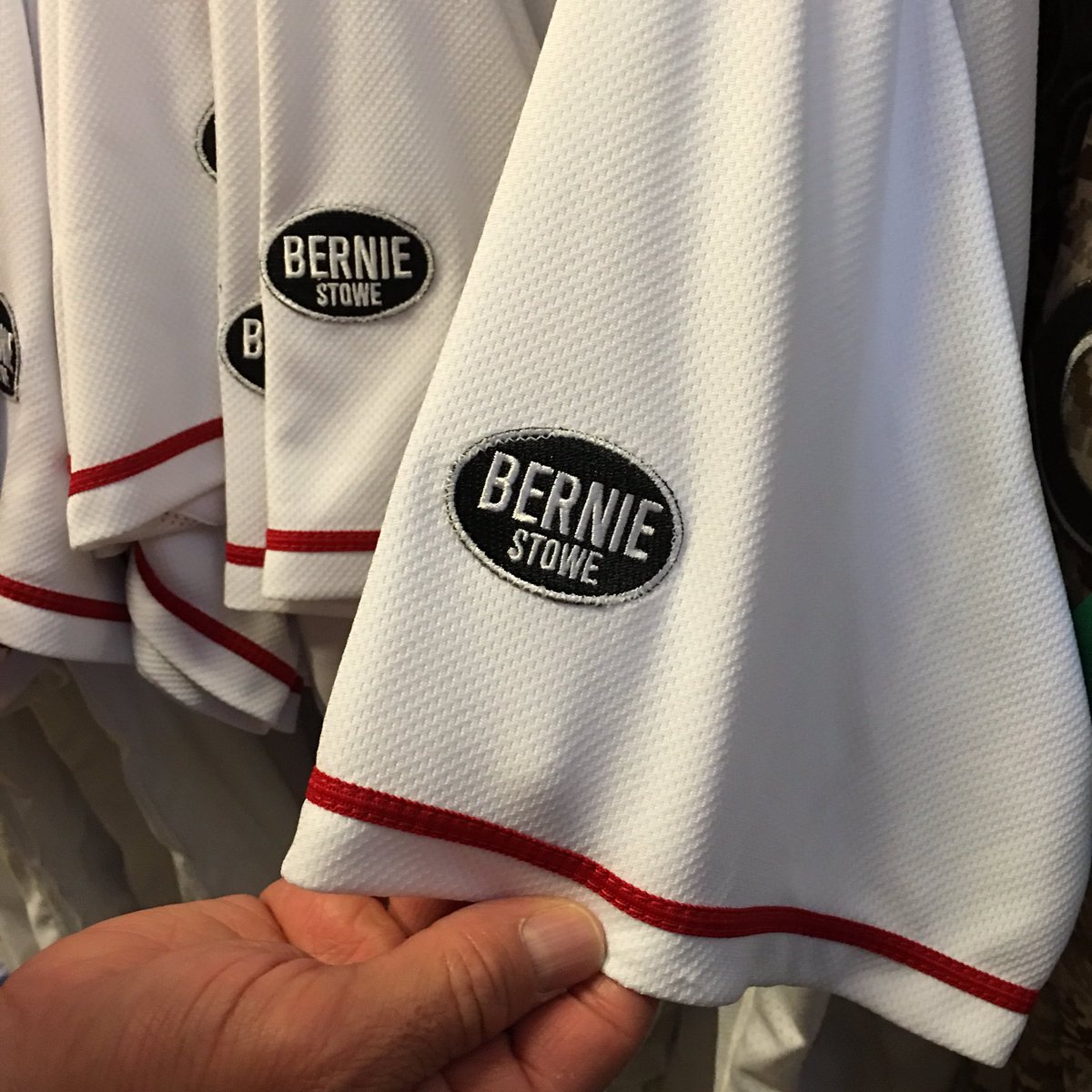 Click to enlarge
It was reported several weeks ago that the Reds would be adding a memorial patch for longtime clubhouse manager Bernie Stowe, who passed away in February. Yesterday they revealed the patch design (see above).
The patch matches the design of a sign that the team posted at its spring training complex after Stowe's death: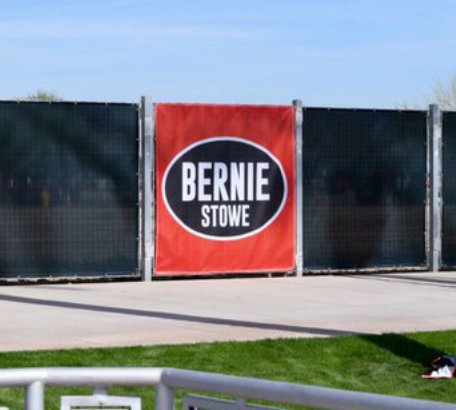 Interestingly, the patch/sign design is actually a modification of a design that first appeared on T-shirts that Reds players wore in the days following Stowe's passing:
As you can see, it's the same oval, the same font, but the smaller "Stowe" lettering appears to have been added to the sign and patch almost as an afterthought.
Memorial patches often just have the person's first name or nickname, so there was nothing unusual about the simple "Bernie" design. Why was Stowe's surname added to it? My strong hunch: The Reds wanted to avoid any potential confusion about the "Bernie" graphic being connected with — or even being a reminder of — Democratic presidential candidate Bernie Sanders.
I could have asked the Reds about this, but I opted not to. The last week of spring training is a super-busy time, plus teams tend not to give straight answers about anything that's even vaguely political. But I did ask a few people who I thought might have some insights, and they basically said my hunch was probably on the money.
I don't mean to suggest that there's anything pernicious or partisan in what the Reds did. On the contrary, it's completely understandable, and I'm sure they would've done the same thing if Stowe's first name had been Donald, or Hillary. I just think it's interesting. And it's even more interesting because Sanders's campaign branding is based almost entirely on his first name. You never see a "Sanders" button or bumper sticker; it's always "Bernie." That's very unusual for a high-level male political candidate — men usually campaign on their surnames (Jeb Bush was a recent exception, but of course he was using his first name to distinguish himself from his brother and father), while first-name campaigns have largely been the province of female candidates. These aren't iron-clad rules — I'm sure you could find exceptions on both sides of the gender line — but they're definitely trends I've observed over the years. It seems to reflect our culture's tendency to associate men with strength and gravitas and women with the warm fuzzies. Sanders's campaign identity has scrambled this deck a bit.
It all reminds me of how tennis players were referred to on TV when I was growing up. If you were watching televised coverage of the men's draw, it was all "Borg," "McEnroe," "Lendl," and "Connors." But on the women's side, the broadcasters routinely referred to "Chrissie," "Martina," "Steffi," and "Tracy." Even as a kid, this annoyed me — in part because it sent the subliminal message that the women's game was squishier and less important, but also because the first-name references made coverage of the women's game sound like a big happy slumber party that I wasn't invited to. (Of course, women's tennis has been dominated for nearly two decades now by the Williams sisters, who are referred to by their first names in order to distinguish them from each other, but that's a separate issue.)
Anyway: RIP, Bernie Stowe.
•  •  •  •  •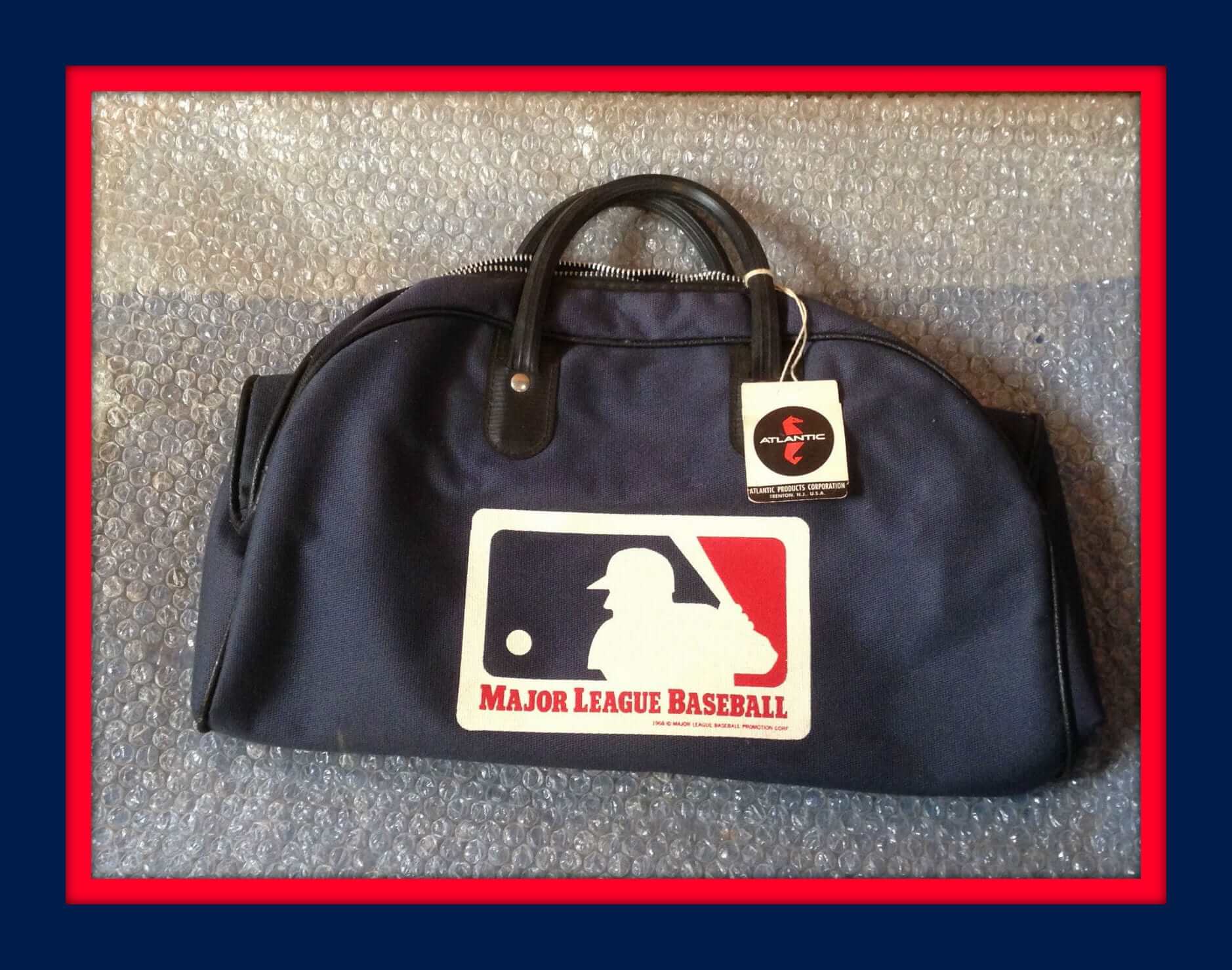 Click to enlarge
Collector's Corner
By Brinke Guthrie
Almost time for Opening Day, so how about this nifty 1968 MLB gym bag from the Atlantic Products Company of Trenton, N.J. The listing says it's a little out of shape, but aren't we all.
Now on to the rest of the week:
• Here's a Reds World Series poster from The Cincinnati Post — maybe 1970 (vs. the Orioles) for this one?
• If you're an A's fan, you'll want to check out this 1990s-era Oakland Athletics varsity jacket from DeLong. Had a Reds version of this one, and it was fantastic. Leather sleeves and trim, all logos embroidered, and quilted lining. And here's one more varsity jacket if you're a Dodgers fan.
• Luv Ya Blue! My sixth grade football team was called the Oilers, and we all used the silver helmet version of this decal, but I've never seen a powder blue helmet before. (I always figured our coach wrote to the Oilers and said, "Can you send me like 50 of your decals and we'll name ourselves the Oilers?")
• Just chew, baby: How about this Oakland Raiders gumball machine. The listing says "1970s-1980s" — I'd almost think later than that due to the Raiders font. Yes? No?
• It appears there was a generic line of sneakers promoted by the NBA as their "Official Athletic Footwear." Here's a box with some great artwork on the lid. And here's another box from that era — the Keds that Pistol Pete is wearing sure look like Adidas, do they not? (Here he's down to two stripes. Also got a Pistol Pullout Poster.)
• Here's a Bills T-shirt that says "One Buffalo" on the front. Looks like a marketing slogan from a couple seasons back.
• Check out this Bernie Brewer Bank from Sentry Foods, circa 1999. Great design.
• Great cover art on this 1972 Rockets/Bullets game program.
• I can't imagine there would be too many fans in Miami that would need a Dolphins winter scarf to wear to the game, but you never know.
• The listing says this NFL pennant is for Buchanan Scotch. (Monday nights 6 p.m.!) All I see are puppies.
• Here's a "20 Ans" (years) promo seat cushion for the Les Expos de Montreal, so that puts it at 1989, no?
•  •  •  •  •
Click to enlarge
Name game: We often talk about how various teams style names like McNair or LaRussa or deGrom on a jersey, but jerseys aren't the only place where such questions come into play. Case in point: I live on DeGraw St. Or at least that's how I style it — solid, with a capital "G." There are other ways: Degraw, De graw, De Graw. I don't necessarily expect my city's municipal signmakers to agree with my version, but I do wish they could at least be consistent regarding their version.
• • • • •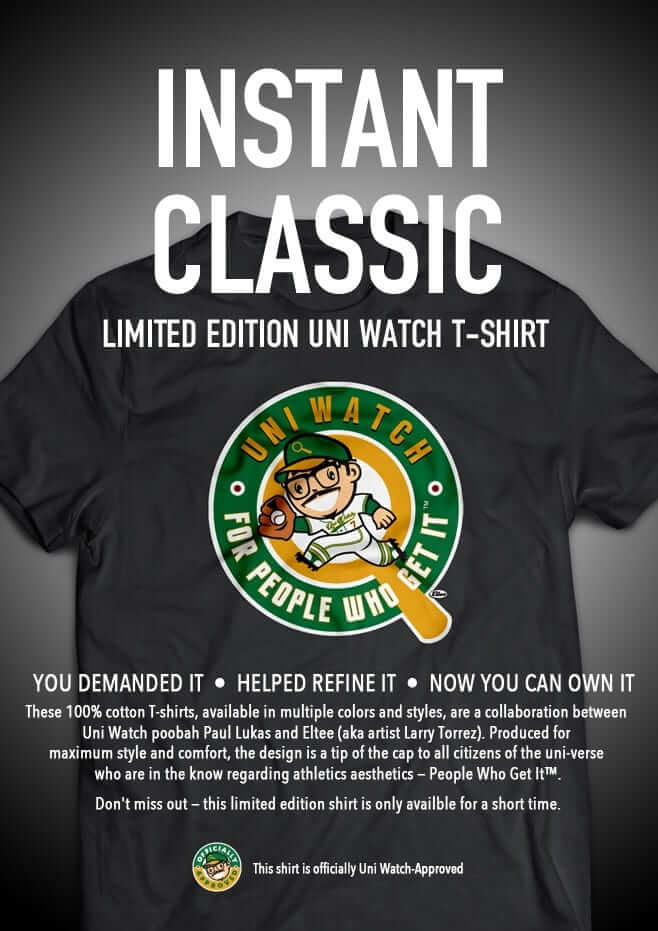 Click to enlarge
Frying pan tee now available: My thanks to everyone who offered feedback last week on the logo with Larry Torrez's caricature of me. We made a few tweaks to the design, which is now final (click to enlarge):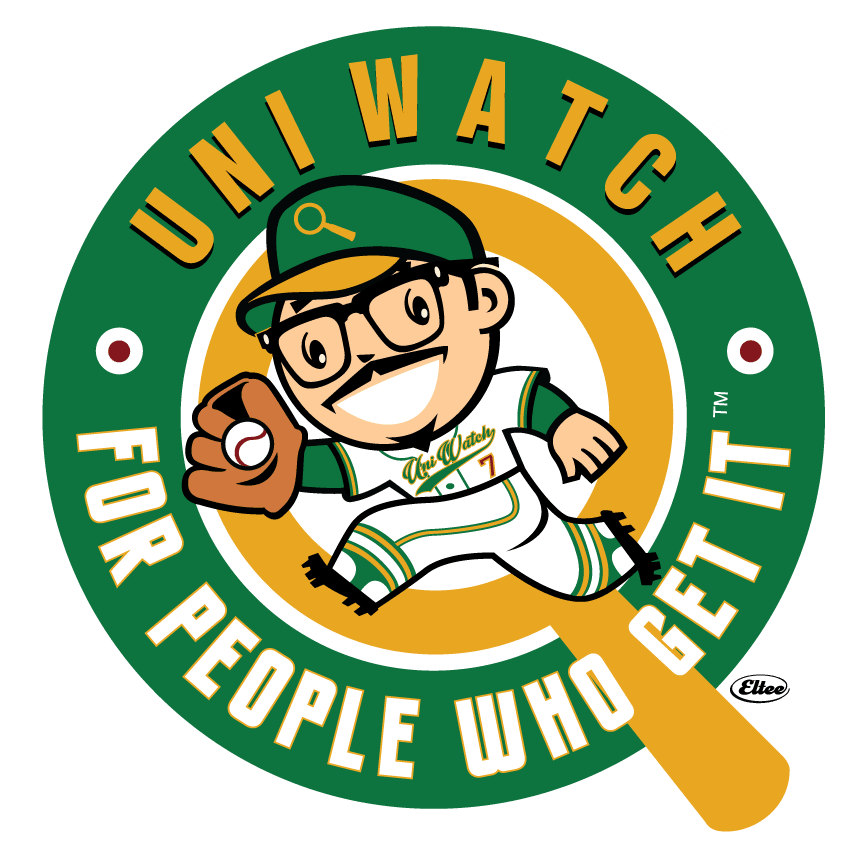 I know a bunch of you are gonna say that the red dots that we've added to the white dots are supposed to look like grommets, but they're not. We just wanted to add a bit of visual interest to the white dots and also add a little more maroon to the design.
I'm happy to announce that this design is now available as a limited-edition T-shirt, in a variety of colors and styles — grey, black, white, and a white baseball shirt with green sleeves: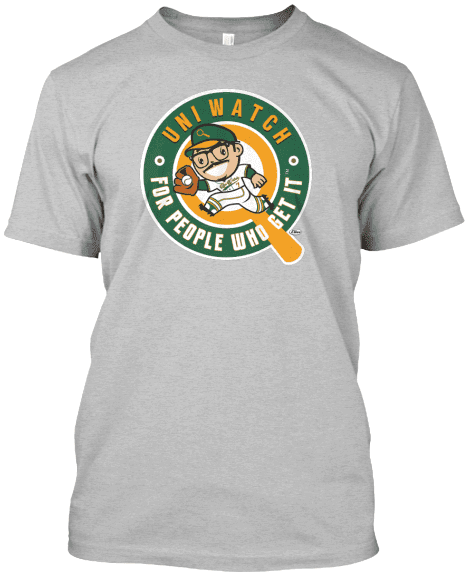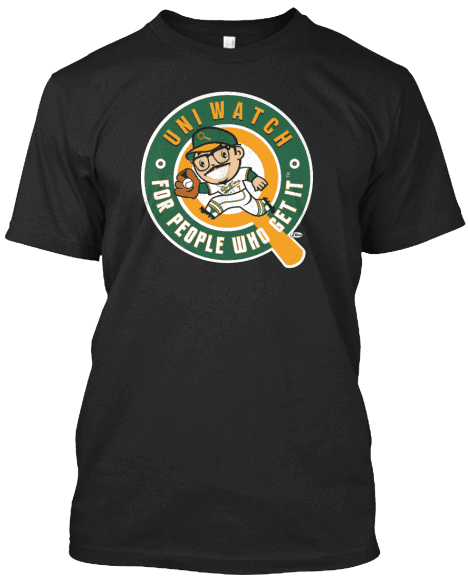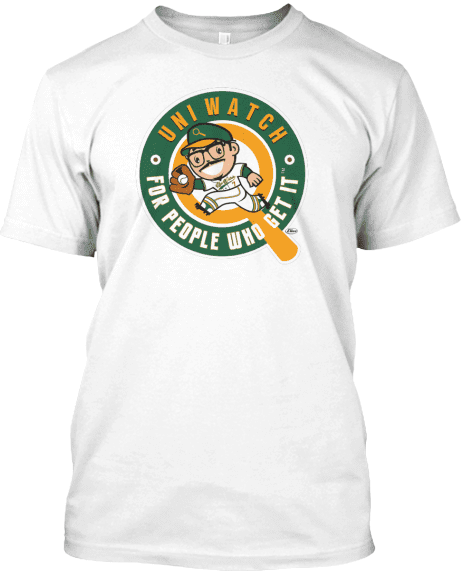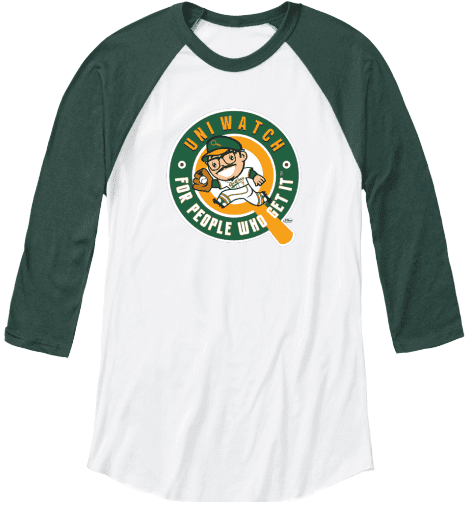 The shirt is available now through next Friday, April 8. Profits will be split between Larry and myself. It is not part of the T-Shirt Club and does not have to be purchased in order to maintain this year's "Collect 'Em All" eligibility. (Speaking of the T-Shirt Club: New design soon, promise.)
•  •  •  •  •
The Ticker
By Mike Chamernik

Baseball News: Which player will have the best-selling jersey by the end of the year? (From Phil.) … The Orioles installed another Eutaw Street home run medallion, this one for a Chris Davis homer from last year. The O's place a new marker for every home run that leaves the stadium and reaches the street. This site maps the medallions and shows video for every homer (from Andrew Cosentino). … We saw that the Chattanooga Lookouts unveiled new uniforms last week, but here's a good side-by-side comparison with the old (on the left of each shot) and the new (from Mark Paczewski, via Phil). … Red Sox DH David Ortiz took a ride on a personalized golf cart yesterday. Also, he was honored with Dominican Republic flag bases (from Phil). … The Cincinnati Fire Department's Station 3 firehouse is a few blocks away from the Great American Ballpark. The station's logo incorporated a fireman version of Mr. Redlegs (from Patrick O'Neill). … The USS Hartford submarine has a partnership with the Hartford Yard Goats minor league team. "Once top enlisted submariners on the boat achieve certain levels of competence, they get to wear a specially designed Yard Goats cap around the boat," the article reads (from John Muir). … The Expos mixed and matched their home and road unis in this 1973 spring training shot. Maybe an intrasquad scrimmage?

Pro and College News: New Titan DeMarco Murray will continue to wear No. 29. … 49ers kicker Phil Dawson will change his uni number from 9 to 4. He wore No. 4 in college and with the Browns for more than a decade. … Here's a look at the new NFL Draft caps (from Clinton Dybul). … Auburn is the latest school to use the Riddell SpeedFlex helmet, easy to spot thanks to its distinctive cutout panel on the crown. … After the NFL threatened earlier this month not to have a Super Bowl in Atlanta due to the Georgia state legislature's passage of a bill that had been widely denounced as anti-gay, the governor announced yesterday that he will veto the bill.

Hockey News: The Blue Jackets' Boone Jenner got hit in the face with a puck during last night's game against the Caps. He changed jerseys and masks after the bloody aftermath. Also, it seems that one of the teeth he lost is permanently embedded into the Verizon Center ice (from @OlegKvasha). … A Blues original prototype jersey from 1966 has turned up. The full story is here (from Mark Richter and Sam Chandler). … Pete Woychick Photoshopped a Easter Eggs with the colors and stripes of the Original Six teams. I like the slight pastel tinge. Anyone want to try and dye those eggs for real? … Newly released emails show that the NHL has been lying about concussions. One email shows that commissioner Gary Bettman speculated about banning fights due to fighters like Rick Rypien and Wade Belak committing suicide, apparently due to concussion-related depression.

NBA News: Lots of WNBA news: The league will replace home whites with secondary color uniforms, effectively making every game color vs. color. The full set of jerseys can be seen here. Also, this will be the league's 20th season so all the teams will have a 20th season logo on their back necklines. The logos will also be on the basketballs. As that last link shows, the three teams that have been with the league since the beginning "" the New York Liberty, Phoenix Mercury, and Los Angeles Sparks "" will all have 20th-season patches on their uniforms. … On Friday, Under Armour will release Giants- and Athletics-colored Stephen Curry shoes (from Brinke). … Here's a collection of NBA logos reimagined as superhero logos. … Here's a good story about the guy who played Thunder, the Warriors' old mascot character.

College & High School Hoops News: Here's a neat look at how this year's and next year's Final Four logos were developed. … How far out of control is the NCAA's branding obsession? This far: They even put their logo on the scissors teams use to cut down the nets (from E Ofcharsky, via Phil). … Glenn Stern sent in a few items. First, his wife played basketball for Brownsboro (Texas) High from 1989-1991, and her team wore untucked blue-and-gold Marquette-esque uniforms (as you can see in the shot on the right, the opposing team was also untucked). During warm-ups the players wore candy-striped pants, a little like what Indiana has. "I know a lot of high schools copy one college, but pretty cool to see two references in one team, especially to such unique looks," Glenn says. Also, he sent in his wife's youth basketball all-star shirt from the early 1980s.

Soccer News: The USMNT wears purple-on-red practice shirts (from Derek Lilleskov). … A player wore a three-digit jersey number in this weekend's Deportivo Toluca vs. Carolina Railhawks friendly (from @sixball3000). … FC Barcelona doesn't have kit advertiser for 2016-17 yet, so the club will sell kits without any advertising on them (from Anthony Emerson). … "I found your bit about math symbols on jerseys highly entertaining," says Markus Kamp, referring to yesterday's post. "The custom Sounders jerseys [my wife and I] used to announce our wedding weren't the first time we'd done something like that. I had this jersey custom-lettered to announce my then-fiancee's first pregnancy back in 2012."

Grab Bag: An architect and golf fan made a 3,000-block Lego replica of the Masters Tournament leaderboard (from @TheBigJamesG). … New state tourism logo for Rhode Island. … A local police chief in Texas wants to put a Bible verse on his officers' uniforms (from Phil). … Here's a photo history of the Navy Goat (from John Muir). … UAB is reportedly switching to Under Armour.