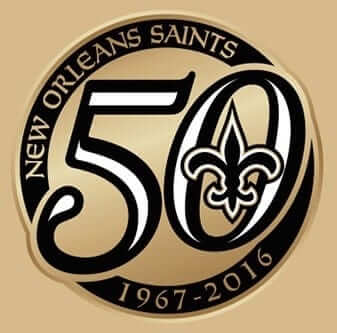 Just the other day we were discussing the difference between an anniversary and an ordinal, and how an Nth-anniversary patch is so much better than an Nth-season patch (at least in my book). And now the Saints have come along and raised the issue all over again.
As you can see at right, they'll be going with a 50th-season patch this fall (further details here). And just like I said in that recent post, the date range is highly unsatisfying. Disappointing that they didn't have the patience to wait until 2017 — that way they could have a 50th-anniversary patch, and the date range would read "1967-2017." Much better.
At least the Saints are consistent: They wore a 30th-season patch in 1996, and a 25th-season patch in 1991.
Such issues aside, I don't much care for the design. For starters, I hate the way the 5 is bigger than the 0. Yes, I realize some fonts are like that (look at the headline on this post, for example), but it doesn't look good on a patch. I also hate the way the two black outlines converge on the 5's vertical stem. (It doesn't bother me when the black borders converge along a curved part of the numeral, but for some reason it really bugs me on a straight area.) More importantly, the Saints continue to issue patches that don't include Sir Saint, which seems like a huge missed opportunity.
Anyway: Don't call it an anniversary patch, because that's not what it is.
• • • • •
Click to enlarge
Friday Flashback: With March Madness in full swing, my weekly Friday Flashback piece on ESPN looks at the story behind Marquette's infamous untucked jerseys from the mid-1970s, and also examines some other schools that adopted the untucked look. Check it out here.
•  •  •  •  •
The Ticker
By Mike Chamernik

Baseball News: The Reds wore a mix of green caps, green jerseys, and red jerseys yesterday. … The Pirates, Astros, Red Sox, Phillies, D-Backs, Tigers, Royals and Braves wore green, and the Orioles and Dodgers wore white with green numbers and letters, with green caps. … St. Paddy's Day caps even had sublimated shamrocks on the side. … Here's the logo for this year's World Series. … An artist produces some cool painted bats (from Seth Erdmanczyk). … Dusty Baker wears his own Say No To Drugs wristband (from James Ryder). … A's season ticket holders received their passes in a chest protector-shaped package. … Interesting that the Brewers' season tix use the ball-in-glove throwback logo instead of the team's primary logo. "They know what's what we want, so why are we stuck with the ugly primary unis?" asks The Barrelman. … Very cool graphic: this minor league color wheel. … Brett Ducharme was at yesterday's Tigers spring training game with his two sons. The boys were chosen to participate in pregame activities on the field, which culminated in a photo op with Miguel Cabrera featuring three different Tigers caps. … USC wore green caps yesterday. Also, some players had TV numbers on the left sleeve and some had it on the right (from John Furstenthal).

NFL News: The Ravens proposed an eligible receiver rule change: When a normally ineligible receiver, such as an offensive lineman, wants to declare himself eligible, he would have to wear a pinnie over his jersey. … The NFL used St. Patrick's Day as a way to sell more jerseys from teams that already wear green "" odd, because the Seahawks only wore lime green for one game in 2009, meaning Russell Wilson never wore it (from Wyatt Beltz and Jon Gaudelli). … The NFL Draft caps haven't been officially unveiled yet, but this image has been circulating. It's not clear whether it's legit.

Hockey News: As is their annual custom, the Devils wore their green-trimmed throwbacks for St. Patrick's Day. And since they were playing the Wild, the game featured an NHL rarity: two teams wearing green pants. … Teams wearing green jerseys for preame warm-ups included the Penguins, Blue Jackets, and Predators. … The Penguins wore a Pittsburgh bicentennial patch last night. Pittsburgh mayor Bill Peduto wore a Pens jersey for the occasion, with an "M" where the captain's "C" would usually go (from Andrew S). … The Penguins and Devils had tasty St. Patrick's Day-themed avatars (from Phil). … The Kalamazoo Wings held their 35th annual Green Ice game. A few more shots of the ice can be seen here. The Wings also wore these St. Paddy's Day jerseys; here's a front view (from John Chapman). … Caps G Braden Holtby is in favor of shrinking goaltenders' pads (from Tommy Turner). … The Wichita Thunder will wear these yellow jerseys for Fight Cancer Night on Saturday. Here's another look.

NBA News: The Suns and Jazz went orange-vs.-green last night. After the Thunder and Celtics did the same Wednesday night, a bunch of people commented or emailed, basically saying this: orange vs. green can be viewed as a tad insensitive because with the Irish flag, green represents Irish Catholics and orange represents Northern Irish Protestants, and the two sides have clashed throughout history. … The Bulls wore St. Patrick's Day unis last night, complete with special socks. The Nets wore white on the road. … The Jazz's Trevor Booker wore green shoes. … Spurs fans got green shirts. … The Hornets and Heat went teal-vs.-red in Miami, with Miami wearing the "El Heat" jerseys. … New uniforms for Team USA. Here's a closer look at the women's unis (from Brinke). … New renderings for the Bucks' arena have been released. … New uniforms for the Philippines' national team.

College Hoops News: The NCAA has a corporate partnership with Coca-Cola and Powerade, so Florida's women's team has to drink its Gatorade from Powerade bottles (from Alex Hider). … Even better than that, some NCAA tourney games are being played at a Denver arena named the Pepsi Center. Evidently, the Pepsi logos on the seats' cupholders had to be taped over (from Patrick Runge). … Arizona coach Sean Miller completely sweat through his shirt last night. Here's another look, if you want. … Yale's coaches wear matching suits, shirts, and ties. … Some USC players yesterday wore the PAC-12 patch and some didn't. … Seton Hall normally has an American flag patch on the back, but yesterday it was covered up (from Michael Romeo).

Soccer News: Lots of new national team soccer kits were unveiled yesterday: USA home and away, France home and away, Brazil home and away (here's a slideshow), Portugal home and away, Turkey home and away, Greece, Chile, England, Ireland, and Poland (thanks to Saurel Jean, Patrick Thomas and many people on Twitter). … Also, here's a closer look at England's new kit (from Yellow Away Kit). … Sports Illustrated compiled the best and worst USA jerseys from over the years (from Phil). … Bethlehem Steel FC unveiled its kits. The USL team begins play this year (from Mike Diodati).

Grab Bag: Nike revealed new Olympic athletics uniforms for Team USA, along with Kenya and Brazil (from Phil). … Under Armour is holding off from unveiling all of its new USA gymnastics uniforms in an effort to maintain surprise at the Olympics. Gymnasts are judged on performance, and design factors into that (from Phil). … A traffic light in Syracuse has the green light on top and red on the bottom (from Tony DiRubbo). … David Keel took a trip to the Alabama Sports Hall of Fame and he took a bunch of photos of the uniforms on display. … New logos for the University of Tampa (from Eric Cowen). … Wright State will scrap its new logo and go back to its old one. … Nike has released its self-lacing Back to the Future sneakers.