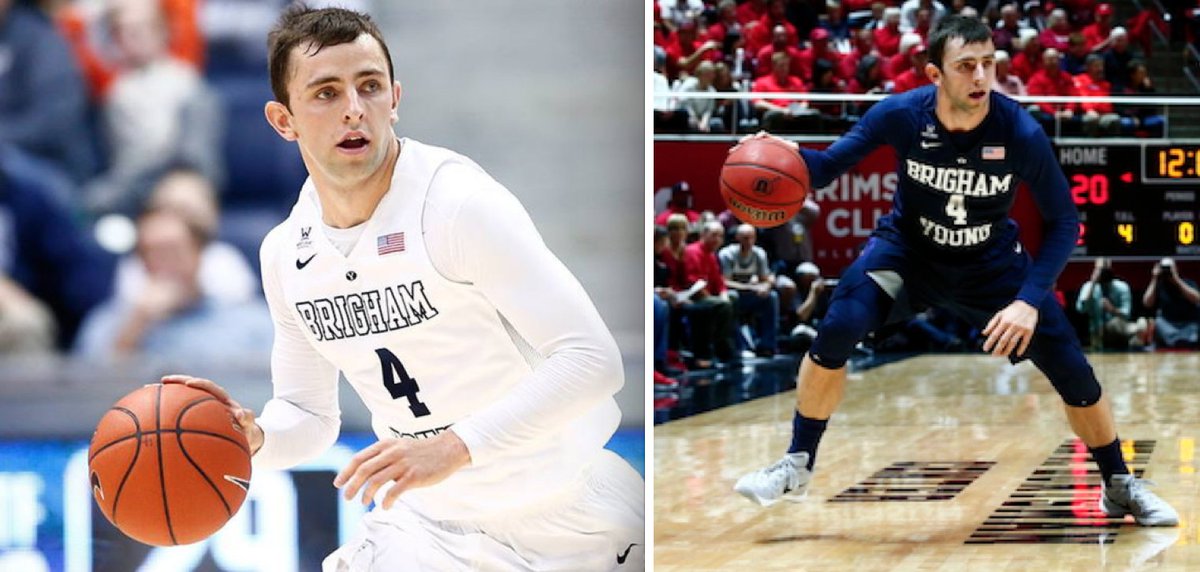 Click to enlarge
The guy shown above is Nick Emery, a freshman guard who plays for BYU. As you can see, he goes with a long-sleeve base-layer shirt under his jersey, which he wears due to circulatory issues in his arms.
Emery isn't alone. The long-sleeved look, which dates back at least to Oklahoma guard Tony Crocker around 2009, is spreading — and not just in the men's game. Check out this shot from a recent Auburn/Alabama women's game:
The legality of these long-sleeved shirts seems to be somewhat nebulous. Some players have apparently been told not to wear them:
@UniWatch Damion Lee of Louisville was asked to remove his long sleeve shirt just before tipoff of a game this year. Can't find an image

— DJ (@DJinLOU) March 8, 2016
@UniWatch Jamuni McNeace from Oklahoma has a few times. Refs at TCU game on Sat wouldn't let him check in until he took it off.

— Sooner Uni Tracker (@SoonerTracker) March 8, 2016
The trend isn't limited to the NCAA. I'm told that the long-sleeved look is increasingly common at the high school level. And in the NBA, Chris Paul has gone long-sleeved, and Kobe Bryant did likewise for at least one game this season, back in November: The Bryant example is particularly interesting, because he was also one of the first NBA players to wear long tights. That was about 10 years ago (I wrote an ESPN column about it at the time). Back then the tights looked weird, but now it's common to watch an NBA game and see at least half the players on the court wearing tights. Meanwhile, it's also common to see players wearing short-sleeved base layers and/or compression sleeves. And of course there are the NBA's sleeved jerseys.
All of which raises some interesting questions: Is basketball — a sport whose look has traditionally featured a lot of exposed skin — undergoing a slow transformation that will ultimately leave the sport with little if any exposed skin? Will tights become the norm? Will a team begin offering tights with stripes or logos? Could tights replace shorts? What about base layer tops with stripes or logos? Now that we have teams with short-sleeved jerseys, will a team begin offering a long-sleeved jersey option?
This isn't the first time these types of questions have come up. When Nike introduced its System of Dress in 2007, some of the early promotional images showed players wearing long-sleeved base layers with team-themed stripes and patterns: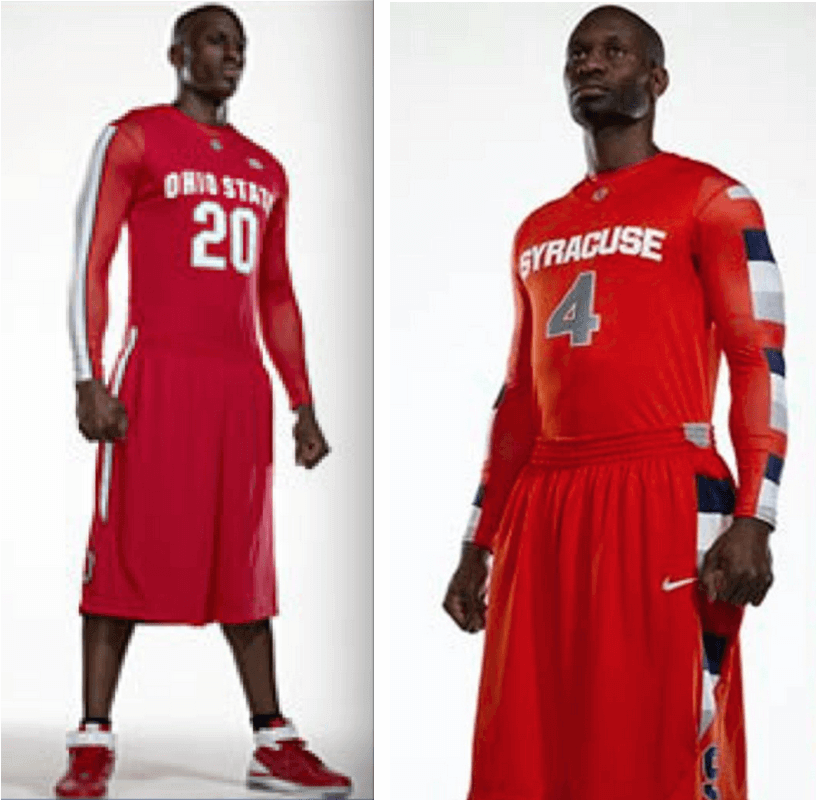 To my knowledge, none of those long-sleeved base layers ever made it onto the court. But I liked them at the time, and I still like them now. Much better than the plain base-layer sleeves. Something like that could have a major impact on basketball uniform design.
Where is this all leading? Is it a good thing or a bad thing? Discuss.
•  •  •  •  •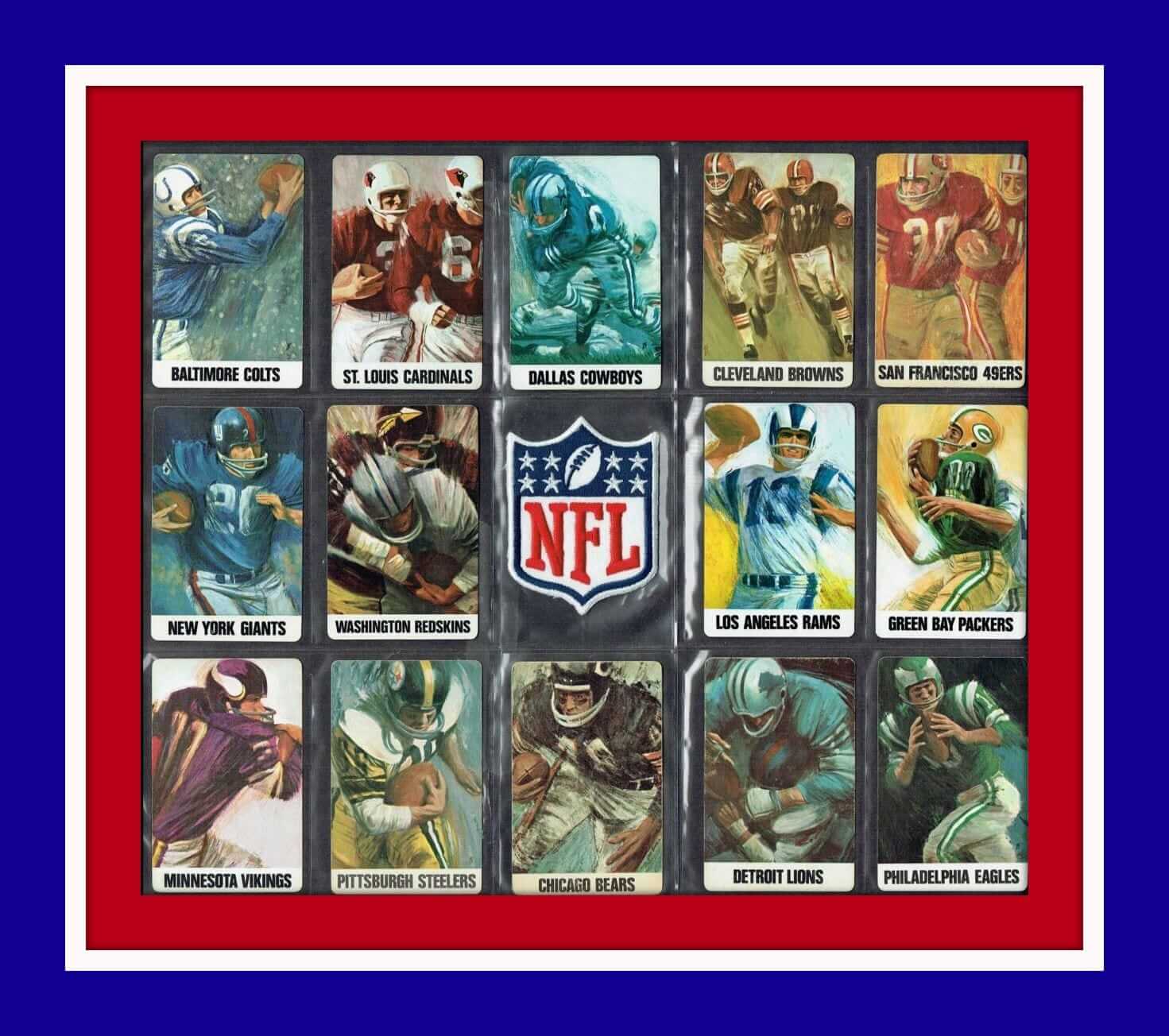 Click to enlarge
Collector's Corner
By Brinke Guthrie
We begin this week with one from The Master, Dave Boss. Or, really, more than one, because this guy is selling sets of these Boss-drawn cards, along with NFL patches. The idea is to get the entire thing framed, and the seller also includes a helpful link on how to frame your trading cards — nice!
Now on to the rest of this week's picks:
• Take a look at the artwork on this 1970s Yankees T-shirt, sponsored by Enkalon (with Built-In Scotchguard!). Looks like Billy, Joe D., Yogi, and Whitey to me.
• You have to hand it to the seller of this 1970s Steelers Stahl-Urban sweater. They're going all-out with their sales copy: "It even smells good" and "During game time, people will say 'Where did you get that?'" and my favorite, "You have a better chance of being struck by lightning than finding any more of these in the near future."
• Initially you might think this Peyton Manning image is a LeRoy Neiman. But if you check the auction out on Etsy, this is a print of an original painting by "Winford, the Elite Artist to the Stars." He must be elite if he goes by just one name, right? Winford's Etsy store is here, with a lot more images for sale.
•  The listing for this "Pete's Back" T-shirt says 1970s, but it should be more like 1984.
• Nice vintage 1970s MLB logos on this looks-like-canvas tote bag. It says "Betty Brown" on it — maybe that was the sponsor?
• Perfect for doing your taxes: this 1980s Philadephia Eagles calculator and case.
• Cliff Engle alert! Here's a 1980s Astros sweater with an MLB logo on the sleeve that's hard to miss.
• Wow, take at look at this 1960s St. Louis (baseball) Cardinals bobblehead. A beauty!
• Going back further than that, this 1940s Brooklyn ("Dem Bums") Dodgers pennant has a lot of vintage charm to it.
• Staying in the 1940s, take a look at the cover art on this set of Sporting News Baseball Guides, including "Mister Shortstop, Martin Marion."
Follow Brinke on Twitter: @brinkeguthrie
• • • • •
New sponsor shout-out: As you may have noticed in the right-hand sidebar, we recently gained a new advertiser: SportsTemplates.net, which should be of interest to those of you who work on uniform concepts and/or enter our redesign contests.
The site is the work of Ali Rahmoun and can produce very realistic-looking results. With Peyton Manning's recent retirement, here's a graphic Ali prepared with his site's interface (click to enlarge):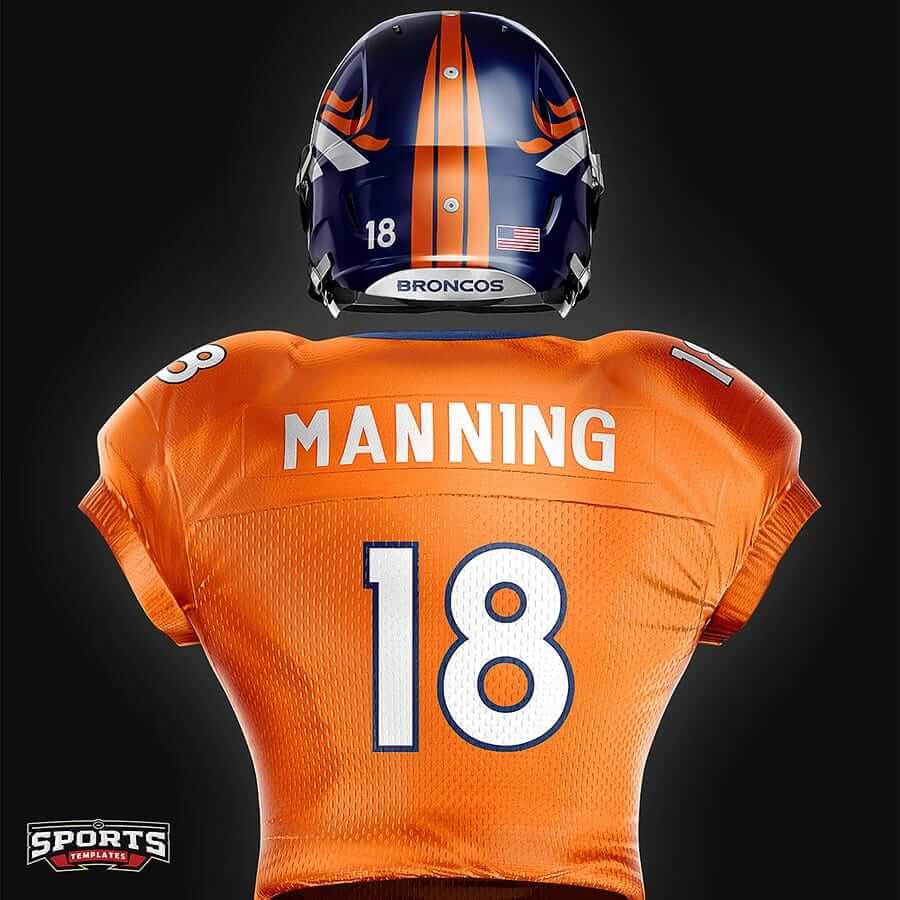 He's also prepared a video tutorial on how to use his site, although he didn't use the Broncos' proprietary number font for this one:
Hope you concept designers out there find this useful. Thanks for your consideration.
• • • • •
The Ticker
By Mike Chamernik

Baseball News: Nats P Max Scherzer says that the team will not continue its chocolate syrup celebrations. … The Angels and Reds went red-vs.-red yesterday (from Alvin Burk). … The Birmingham Barons will wear cream Jackie Robinson jerseys in April. … Also, the Frisco RoughRiders will wear Ghostbusters jerseys in July and 8-bit video game jerseys in August (from OT Sports). … Texas A&M-Kingsville wears some very dark grey pants, similar to the D-Backs' new road set (from Daniel Gracia). … The Mariners once again had some players wearing navy and others wearing teal yesterday. Additoinal pics here and here. … Without any context, the Blue Jays St. Patrick's Day caps look like something else. … Phillies RP Andrew Bailey did a photo shoot while wearing a wedding band on his glove hand (from @ajs0889). … There's some dispute over whether Pete Rose endorsed Republican presidential candidate Donald Trump by giving him a signed baseball.


NFL & College Football News: The 'Skins revealed a glimpse of their new stadium design. The stadium comes with a moat around it, which is absurd. … We've seen a hint of this a little while back, but here's another peek at Tulane's new powder blue jerseys (from Phil). … The American football team for the UK's Liverpool John Moores University has some wacky helmets (from @synoptico). … Navy linemen must quickly shed an incredible amount of weight in order to pass the Physical Readiness Test after their final football game. Midshipmen must pass the test to graduate (from Tommy Turner). … Apostrophe catastrophe: New Texans QB Brock Osweiler has a tattoo that reads "Live life to it's fullest." … For the first time, an NFL executive has acknowledged a link between football and the brain disease CTE.

Hockey News: The Islanders wore St. Patrick's Day warm-ups last night. Fans at the game even got a green-clad Anders Lee bobblehead. … The Capitals will wear their own St. Paddy's Day warm-ups tonight (from Phil), and the Blackhawks will wear theirs tomorrow. … No photos, but during the playoffs, the NHL will install cameras in the boards to help with offsides calls. … A dispute over a Devils cap being worn by a man in a Philadelphia park turned deadly when the man stabbed another man to death (thanks, Phil).

Basketball News: Each NCAA tournament venue will have different paint schemes around the perimeter of the court. … Dakota Wesleyan University in Mitchell, S.D., will wear these "The City"-inspired cream unis next year. Mitchell is home to the Corn Palace; the Warriors used to play in the Cow Palace (from Jason Holzwarth). … A Nike March Madness ad shows NBA stars (and Kelly Olynyk) in their college uniforms. Olynyk didn't get his own glamour portrait like the others did. … The Heat and Nuggets went red-vs.-blue last night (from @zjl00).

Soccer News: The USL's new San Antonio FC debuted its uniforms (from Phil). … Here are the uniforms for Japan's Nadeshiko League, which begins play in two weeks (from @holycalamity). … Spain has a BFBS anthem jacket that's worn just for the walk-in from the tunnel and for the national anthem.

Grab Bag: USA Today is running a 64-team cross-sport best uniform bracket. First round voting is being held now. No big surprises in the seedings, other than that the Bears are an 11th seed (from Randy Williams). … Roger Federer has a line of emoji shirts (from Phil). … New jersey sponsor for the Jacksonville Cannons of the American Ultimate Disc League. … The Batman logo has evolved over 75 years. … UMBC lacrosse has paw prints inside its numbers. The school's nickname is the Retrievers (from Griffin Smith). … Luke Brooks, who normally wears No. 7 for Wests Tigers in Australia's National Rugby League, changed his number to 007 for a James Bond promo last night (from Brent Bollmeier).