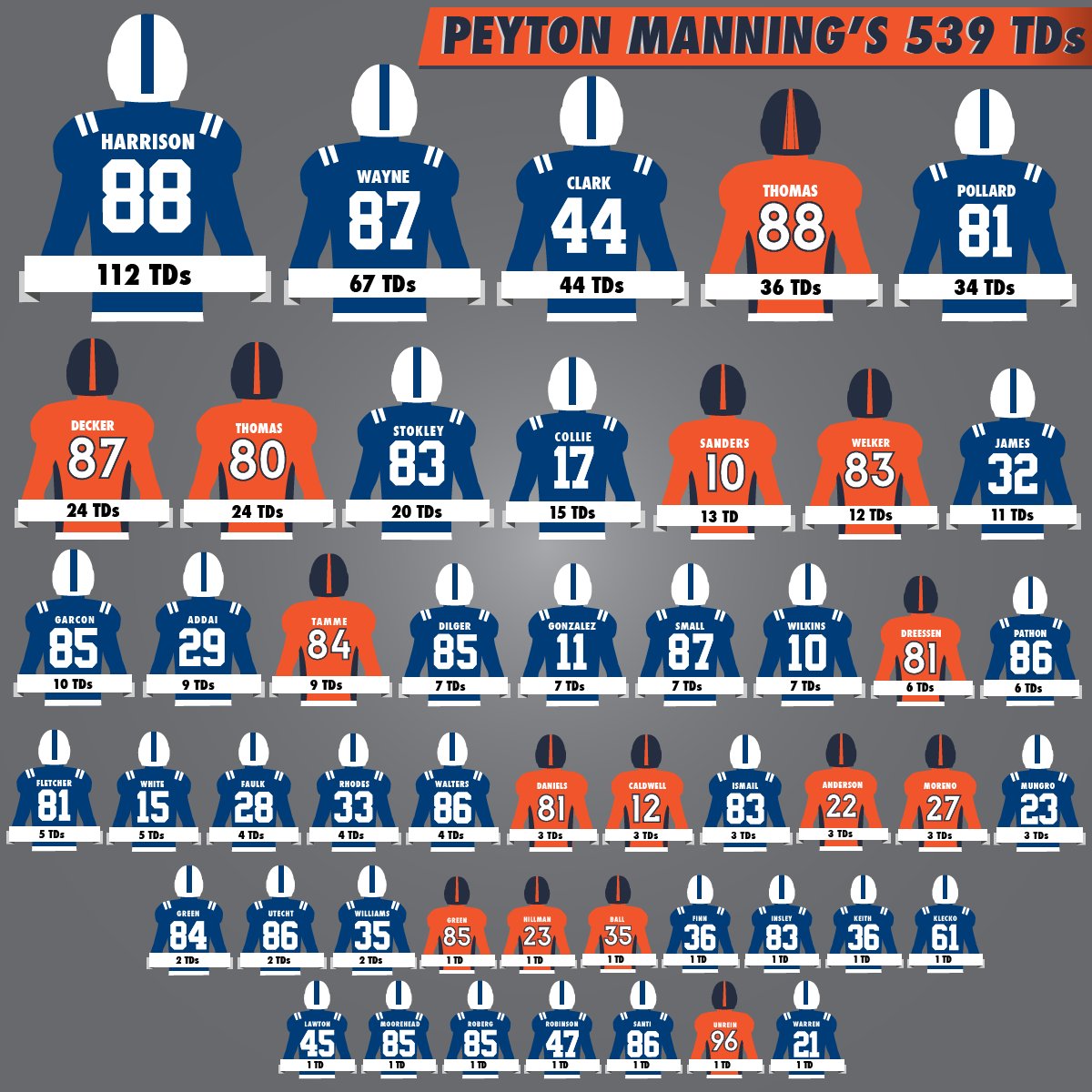 For all graphics, click to enlarge
As you're no doubt aware, Peyton Manning will be announcing his retirement today. The graphic shown above, which was posted on the NFL's Twitter feed, is one of several uni-related responses to the news. As you can see, they cut some corners on the graphic, most notably with the NOB font, which doesn't match what the Colts or Broncos use. (Looks more like the Steelers' NOB font.) I'd say that's forgivable, since this is a stylized graphic that wasn't meant to be photorealistic.
The same can't be said, however, for this next graphic, which the NFL also posted yesterday: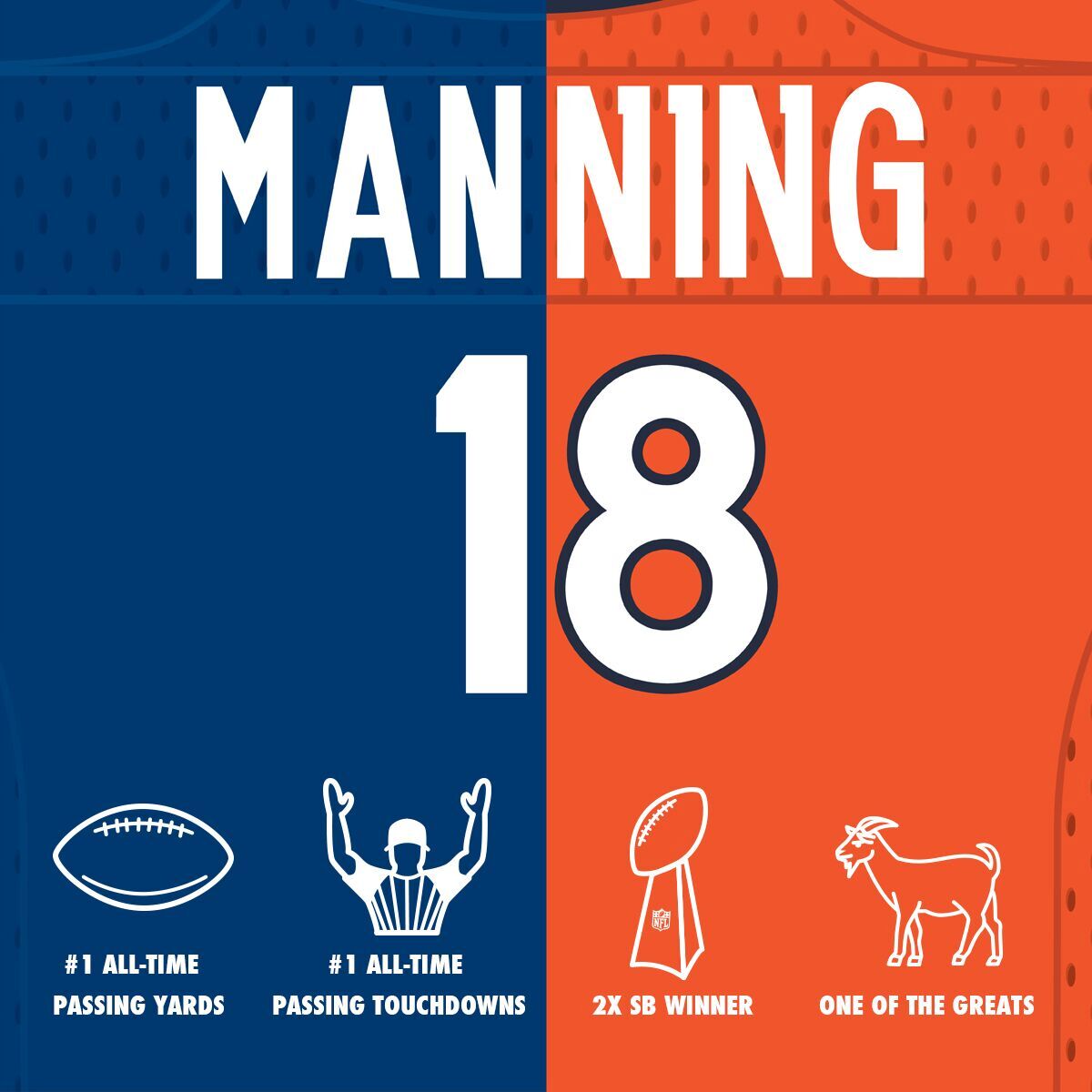 This time they got the NOB lettering right, but they botched the "1," which should have serifs at the bottom. This one definitely was meant to be photorealistic, so this mistake is a lot less forgivable, especially for something as simple as a block numeral for a team that hasn't changed its jersey design in decades.
Then there's this graphic, which was tweeted yesterday by the Broncos: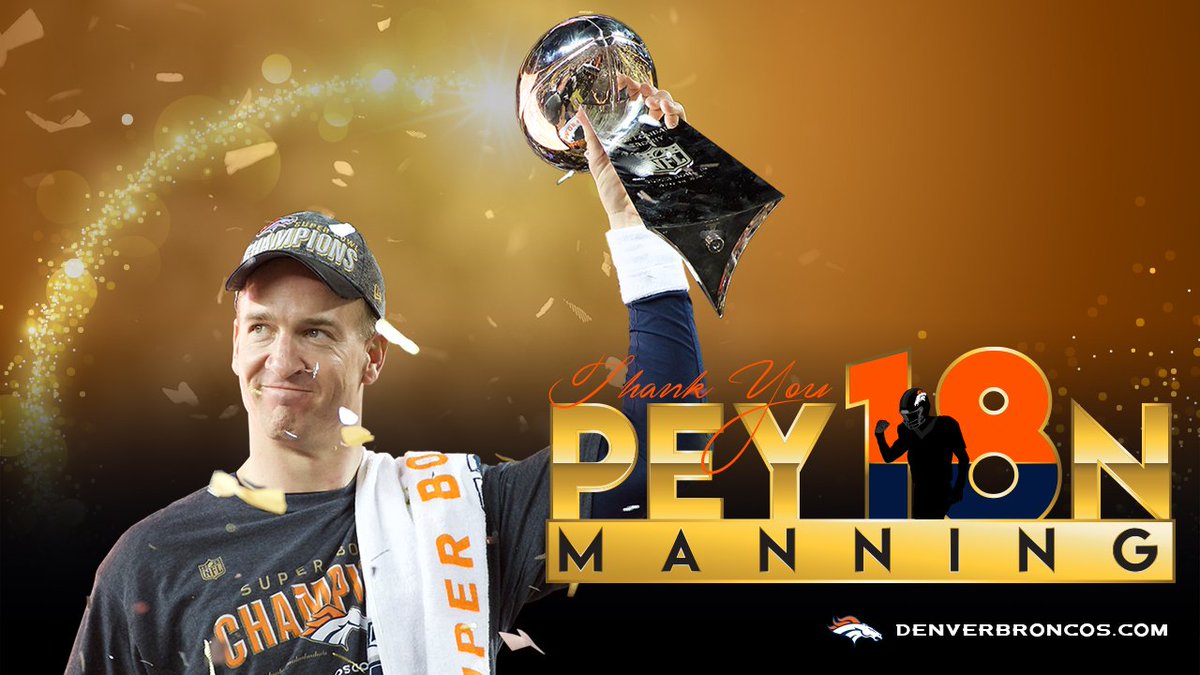 This one's a real puzzler, because the Broncos got their own number font wrong. The serif on the one should be a horizontal nub, not pointing down diagonally. How could a team mess up something so simple regarding its own uniform?
Meanwhile, here's a good look at the helmet models Manning wore during his college and pro career:
With Peyton Manning's retirement, we look at the helmets he wore during his long career. VSR4, Revo, then SpeedFlex. pic.twitter.com/A2dA2ezM3N

— Helmet Stalker (@HelmetStalker) March 7, 2016
It's also worth noting that Manning spent the first part of his career playing for the team with arguably the NFL's most conservative uniform design, and then moved to the team with arguably the least traditional uniform. Ah, but let's not forget that he also wore this throwback in 2010 — probably the most unusual uniform (or at least the most unusual helmet) of his career:
• • • • •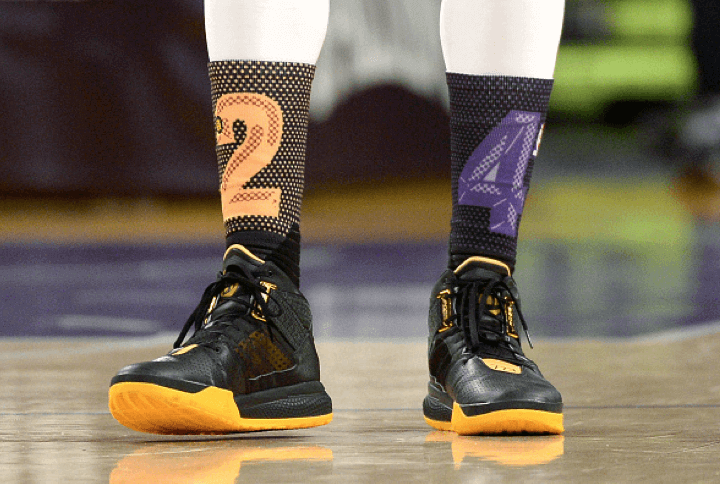 Good thing he changed to a two-digit number: The Lakers honored Kobe Bryant yesterday by wearing socks featuring his uniform number, marking the first time an NBA team had ever worn a piece of equipment to honor an active player.
I'm usually not a fan of glorifying someone who's still playing (I say wait until after he's retired), whether it's Derek Jeter, Mariano Rivera, Tony Gwynn, Cal Ripken Jr., or Mike Singletary. But those situations all involved patches — numbered socks seem a lot more acceptable. And hey, it could've been worse: Look at the two other sock designs they were considering.
• • • • •
Click to enlarge
Gromm•It update: Who doesn't love butter? Additional photos and info over on Gromm•It.
• • • • •
Click to enlarge
Like riding a bike: That's Phil at far-left, along with his curling teammates Catherine and Omoy on the right. Their fourth player was unavailable last night, so a certain uniform columnist subbed. I hadn't curled since last year (was unable to participate this winter due to a series of circumstances not worth explaining here), so I was worried about being rusty, but most of the muscle memory was still there. Felt really good to be back on the ice.
We ended up with a tie. Here are our some additional shots courtesy of the Tugboat Captain, who came down to watch (if you can't see the slideshow below, click here):
•  •  •  •  •
The Ticker
By Paul

Baseball News: Penn State and UMass had a white vs. white softball game yesterday (from Travis Wells). … Check out this old Pirates spring training visor. Now we just have to find a photo of someone wearing it back in the day (from Adrian Bischoff). … Cards and Nats went red vs. red yesterday (from Evan Knode). … Fresno State and San Diego State played each other with both teams wearing black jerseys and red caps (from Jared Buccola).

NFL News: Hey, did the Vikings paint a white outline on their helmets' earholes in 1970? Sure looks like it in this photo. Also, always nice to see the visiting team's name on the goalpost (from Peter Fredrickson).

Hockey News: You've heard of a hat trick, but how about a boot trick? After Dartmouth player Brad Schierhorn scored his third goal in a recent victory, injured teammate Ryan Bullock threw his protective boot onto the ice (from Tris Wykes). … The latest project by DIY genius Wafflebored is — well, see for yourself. … Check it out: an NHL jersey in space! (From Brian Rak.)

Basketball News: Bucks and Thunder went black vs. orange yesterday in Milwaukee. … Storming the court after an upset victory might be banned. … "In South Carolina, Abbeville faced Timberland for the 2-A State High School Championship yesterday," says Ronnie Poore. "It seems Timberland was unaware that they were the visiting team and had to don dark pinnies over their white jerseys." … Evansville and Northern Iowa went orange vs. purple yesterday (from Joe Ringham). … Throwbacks yesterday — with a crazy stripe on the shorts — for Purdue.

Soccer News: The two biggest teams in the Argentina Primera Division have the same sponsor, which leads to an odd-looking situation when they play each other (from @EsWookieGrande).

Grab Bag: For those of you who live here in NYC, the Fashion Institute of Technology will soon be launching a big exhibit devoted to uniforms, which I'm pretty excited about. … A series of payments from Nike, including one that has been characterized as a half-million dollar bribe, has led to a scandal in Kenya. Further info here. … Ohio State's lacrosse undershirts have a slogan — "Burn the Boats" — printed on the shirttail. "It's fairly common to see words on the tails of undershirts in lacrosse, although it's usually player name or team name, not a slogan," says Kevin Mueller. … Several of the curling skips at this year's Tim Horton's Brier are wearing baseball caps as part of their uniforms. "This practice is becoming more common than I can remember in the past," says Wade Heidt. … The U.S. Navy is considering larger uniform sizes to accommodate fatter sailors. … "Nike has reduced the branding on pro golfers' caps this year," writes Brendan Hickey. "Last year's caps included the logos for Nike's RZN golf balls and Vapor clubs on the side, but this year's caps are blank on the sides." … Here's your chance to vote for the latest NASCAR paint scheme of the week. … Snowboarding's popularity is fading. … New wrestling singlets for Missouri. … Thanks to global climate change, organizers of the Iditarod have had to bring in snow via train.