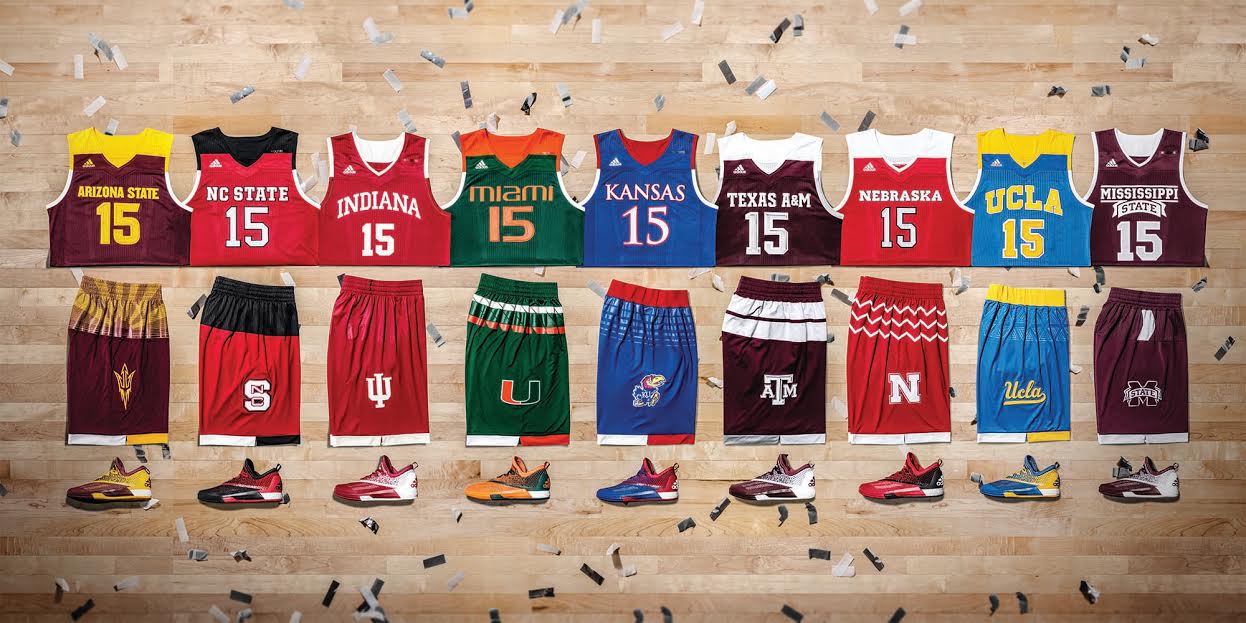 Click to enlarge
March Madness will soon be upon us, which means it's time for schools manufacturers to start releasing crummy new uni designs for the postseason. Adidas got the ball rolling yesterday with the designs shown above. I'm not sure which is worse — the shoulder harnesses or the cummerbunds. And what the hell is that Nebraska design? On the other hand, Indiana seems to have gotten off easy. What, is their check the only one that didn't bounce?
In addition to the road unis shown above, there are also new home whites, along with a BFBS for Miami and a GFGS for NC State. You can see all of those here (if you can't see the slideshow below, click here):
And here's a closer look at some of the details, primarily from the shorts (if you can't see this slideshow, click here):
And there's a press release with details on the various designs here.
As usual, the biggest problem with these uniforms isn't the designs themselves (although most of them are poor) — it's that most of the designs follow the same template, making the schools feel like they're all members of Team Adidas instead of having their own identities. There's nothing new about this, of course, and it's a point I've mostly stopped making because I figure it's pretty much received wisdom by now, but it's worth repeating every so often.
Finally, it's interesting to note that Wisconsin wasn't included in this program, presumably because they're switching to Under Armour after the end of this school year.
Also not included: Louisville, which has a self-imposed postseason ban. But they got pretty much the same design treatment yesterday, just for a different reason:
Cards will wear special @adidasHoops uniforms for tonight's annual "Wear Red for the Seniors" game tonight #L1C4 pic.twitter.com/hODUgDk8nZ

— Kenny Klein (@KKcards) March 1, 2016
(My thanks to Phil for his assistance with this entry.)
• • • • •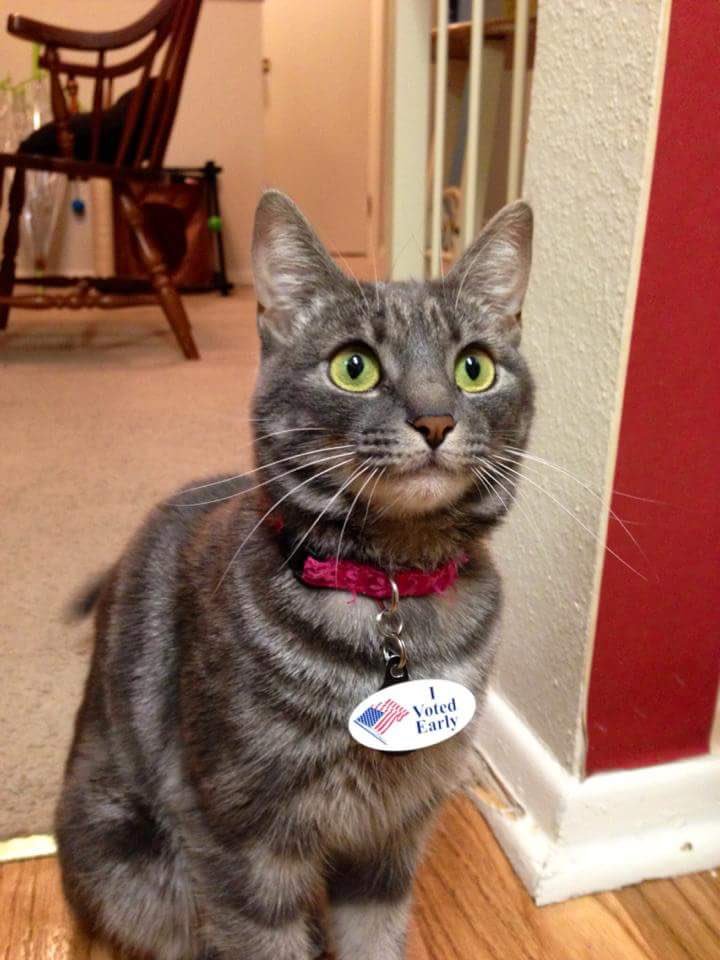 Photo by Jeff Callahan; click to enlarge
A look at "I Voted" sticker design: With 13 states holding Super Tuesday primaries or caucuses yesterday, reader Chris Howell came up with the excellent suggestion that I take a look at the various "I Voted" sticker designs that were circulating. So yesterday I put out the call through various channels and got several dozen responses. I eliminated the duplicates and gathered the distinct designs into the following slideshow (if you can't see the slideshow, click here):
Personally, I much prefer the ones with some sort of state-based iconography, instead of the just the one-size-fits-all approach.
I don't recall "I Voted" stickers showing up at my polling place until 2004-ish, but they date back a lot further than that. One company that produces them — National Campaign Supply, which is based in Florida — says it began selling the stickers in 1986 and calls its stickers "The Original." But the Phoenix Board of Realtors claims to have invented the stickers a year earlier, in 1985. That's the earliest reference to them I've been able to find.
What you do think of these stickers? I have mixed feelings about them. On the one hand, I value voting as an important civic exercise and am generally in favor of anything that's pro-voting; on the other hand, there's a certain "You must wear the ribbon" aspect to the stickers that I find a little off-putting. Still, if they're available when I vote, I'll usually wear one.
SportsLogos.net founder Chris Creamer, who lives outside of Toronto, tells me there are no comparable stickers in Canada. What about in other countries — anyone know?
(My thanks to everyone who shared photos of their stickers.)
• • • • •
Design contest reminder: In case you missed it earlier this week, I'm running an ESPN design contest to redesign the Detroit Lions. Full details here.
• • • • •
The Ticker
By Paul

Baseball News: Here's a 1932 article about a minor league team's uniforms going missing because the team's baggage was pushed out of a train by a hobo who needed more space to sleep (great find by Bob Gassel). … Here's a look at what MLB teams will be wearing for St. Paddy's Day. … The middle section of this page says that so far no Reds pitchers have tried out the new protective headgear. … Lots of mix-and-match uni options for Penn State-Abington (from Joe Pavlow). … Camouflage jerseys last night for Citadel. … Reds beat reporter and Uni Watch pal C. Trent Rosecrans is reporting that the Cincy will have a memorial patch this season for former clubhouse manager Bernie Stowe, who died last month after working for the team for more than 65 years. … As you may have heard, Mets OF Yoenis Cespedes and P Noah Syndergaard arrived in camp yesterday on horseback. Interestingly, Syndergaard wore a batting helmet. P Steven Matz and C Kevin Plawecki later saddled up while in uniform. … Reprinted from last night's comments: The Rays will play an exhibition game in Cuba on March 22 against the Cuban national team. Here's the logo for that game. But if you compare the Cuban flag in that logo to the actual Cuban flag, you'll see that the star in the logo is inaccurate. … Several readers have noted that the Yankees' Photo Day jerseys don't have the Flex Base mesh panels. I'd been told that all teams, including the Yanks, would be wearing the mesh. More power to the Bombers if they've resisted this development.


Pro and College Football News: Reader Eric Wright notes that the number font Under Armour is using for the NFL Combine jerseys looks a lot like Bellotti Bold, the font Nike designed for Oregon. … Nike takes over as Michigan's outfitter in July, but players are already wearing Nike cleats for spring practice (from Bennett Hart). … The Ivy League has decided to eliminate tackling from practices. Dartmouth has already had this policy since 2010.

Hockey News: Anyone else surprised that the Oilers waited until this late in the season to add a "Farewell to Rexall Place" patch? Stadium or arena final-season patches are usually worn for the entire season. I'm not saying the Oilers' approach here is wrong, just that it seems to be bucking the usual trend (from Steven Schapansky).

Basketball News: Here's good info — but no visuals — on this year's Hispanic jerseys. The participating teams will also have new socks for the occasion. … Cool to see Steph Curry and his teammates wearing "The City" throwbacks on the cover of the latest issue of SI. … The Hornets held a "Nick Night" promotion yesterday (thanks, Mike). … As previously reported, the Mavs are holding a design contest for next season's court design. Longtime design/architecture critic Mark Lamster, writing in The Dallas Morning News, says that's a bad idea. … A guy on the Lakers' bench last night was wearing a jersey from Kobe Bryant's high school (from @DavidInAlief). … Texas A&M went BFBS with sleeves last night.

Soccer News: New jersey advertiser for AFC Leopards. … New kits for Nigeria (thanks, Phil). … New kits for Toronto FC. Further info here. … New away shirt for Bahrain (from Tim Cross). … Pink-striped "Women's Week" jerseys for Real Betis Balompié (from Derek Szewczyk). … FC Dallas's new kit may have leaked (thanks, Phil). … FC Barcelona showcased the plans for their new arena (from Saurel Jean Jr.).

Grab Bag: In a move that was widely expected, boxers in the upcoming Rio Olympics will not wear headguards. … The Minneapolis Police Department's SWAT team is getting new uniforms after people expressed concerns that the old design looked "too militarized." … The Center for Land Use Interpretation, an organization of which I've been a proud member for about 20 years now, recently had an exhibit on "golfscape" design. … A group of college students took on Monster Energy drink in a trademark case and won. … USA Curling will no longer allow hair brushes for sweeping (from Tony Andela). … The artist Anish Kapoor has purchased the exclusive rights to Vantablack, the blackest pigment ever created. … A Wisconsin court has ruled that Hormel workers are owed pay for the time they spent putting on their uniforms. … Fox's election coverage now has a new "You Decide" logo. … Good story on Ohio highway signs getting new lettering (from Brad Francis). … "Sunny D will be sponsoring Ricky Stenhouse for five races this year," says Bryan Moore. "To my knowledge, this is their first NASCAR sponsorship since 1990, and the car is certainly one of the more colorful designs in recent memory." … The SI Vault, which is full of tremendous old photography, is back and better than ever (thanks, Mike). … Amana, the appliance company, has a new logo. … Sports Authority appears to be headed for bankruptcy and may end up being shut down altogether. … New logo for Michigan Tech. … This is pretty good: edible Pantone swatches! (From our own Mike Chamernik.)