Shaw, Carrasco, Otero, Soto and Thatcher working through mound sessions this morning: pic.twitter.com/QEJGvfWZoe

— Jordan Bastian (@MLBastian) February 23, 2016
Yesterday's Ticker had a shot of Indians pitcher Corey Kluber going high-cuffed with striped socks during a spring training workout. As you can see in the video above, his teammate Bryan Shaw has also been wearing the striped hose, and so have several other Cleveland players.
A lot of people apparently inquired about this, because the team issued the following tweet early this morning:
We've heard a lot from you about these socks (modeled here by @Lindor12BC). Good news: they'll be around all season! pic.twitter.com/WcFX6W4JNE

— Cleveland Indians (@Indians) February 24, 2016
As you all know, I love striped socks (not as much as I love striped stirrups, but still), so I'm happy about the team adding the striped hose to its wardrobe. But you can see the problem in the photo the team used for that tweet: They're still allowing non-striped socks and letting the players choose whichever ones they prefer, which will lead to a visual hodgepodge. Sigh.
This is the latest example of a phenomenon we've seen before: Baseball hosiery is now treated more like equipment (like wristbands, batting gloves, etc.) than like a part of the uniform. It's a disappointing trend for those of us who care about lower-leg aesthetics, and a bad development for a sport that has teams called the Red Sox and White Sox.
Meanwhile, here's a question: When and how did "His/their sock game is strong" become a catchphrase — not just in sports, but seemingly everywhere? I'm assuming this is some pop-cultural reference that I totally missed because I don't watch the right TV shows or some such, so fill me in. Thanks.
•  •  •  •  •
Confederate flag follow-ups: A few follow-ups to yesterday's look at football teams that have worn the Confederate battle flag on their helmets or jerseys (some of which appeared in yesterday's comments, so my apologies for those who already saw some of this):
• I asked if the late-'60s football team at the University of Texas at Arlington, which wore Confederate flag sleeve patches, included any black players. There was at least one in 1967: wide receiver Jimmy Thomas. Here are two shots of him wearing the flag patch (click to enlarge):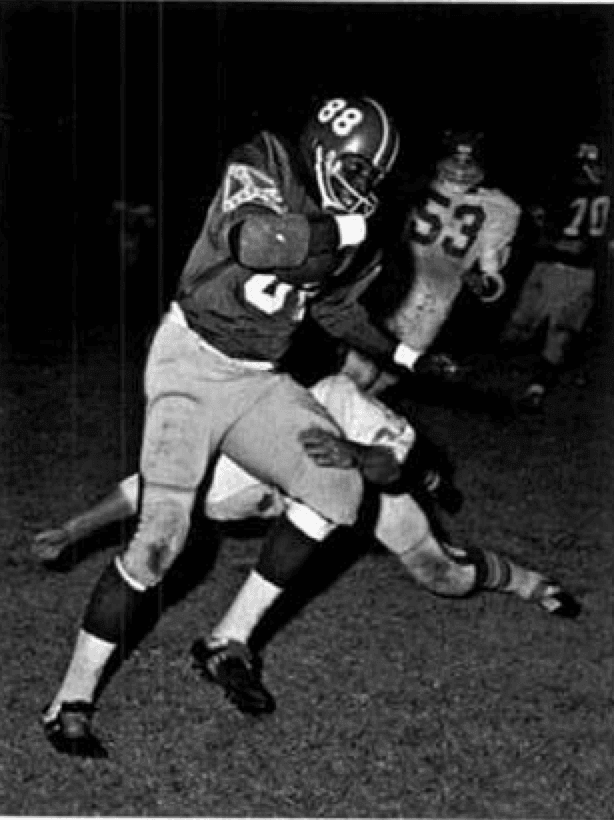 • There's a high school in Austin, Minnesota, of all places, whose teams are called the Rebels. They currently have a cartoon rebel logo, but for a long time they wore the Confederate flag:
• Hurley High School in Virginia also has the Confederate flag on its football helmets — and just about everywhere else (further info here; click to enlarge):
(Big thanks to Christopher Jones, Zach Gouge, and Justin for their contributions.)
•  •  •  •  •
Click to enlarge
PermaRec update: So here's a question: Do the illustrations of factories commonly found on old letterhead designs actually show the factories of the companies in question, or are they just stock illustrations? Find out the answer, at least for the example shown above, in this Permanent Record investigation.
• • • • •
The Ticker
By Paul

Baseball News: Old habits die hard: Dusty Baker, now skippering the Nationals, still likes to have a toothpick in his mouth. Turns out he does it instead of dip (from William Yurasko). "¦ Speaking of the Nats: Washington DC mayor Muriel Bowser, traveling in Cuba to explore economic and cultural opportunities, presented a Cuban official with a "Castro" Nats jersey. That's presumably for Raul or Fidel, because there's no Castro on the Nats' roster (from John Muir). "¦ Oooh, gotta love this old shot of a ballclub from Lake Minnehaha, Minnesota. Now we just need to get one of those jerseys for Nelson Muntz (from Jeff Barak). "¦ Marlins skipper Don Mattingly's facial hair ban is earning him some formidable enemies. "¦ The Cubs are once again awarding gold cap stars during spring training to the outstanding player of the day. "¦ The Mets are the latest team to schedule a Pride Night promotion to support the LGBT community and combat bullying. To my knowledge, they are not planning rainbow-accented uniforms. "¦ The Fresno Grizzlies will be reprising their Fresno Taco alternate look for Tuesday home games this season (from Harrison Huntley). "¦ For reasons that aren't clear, at least to me, Arkansas wore grey at home yesterday. Also, note the batter's pitcture-perfect stirrups (from Matt Snyder). "¦ The Great Lakes Loons are selling some pretty wacky socks (from Alex Dewitt). "¦ A mother lode of early baseball memorabilia has been found in a Vancouver attic. Use the "Photos" link below the headline to see more pics (from Mitch Hendriks). "¦ Davis Jaye spotted someone wearing this Tigers/Michigan mash-up T-shirt. It's available here. "¦ Very nice Northwestern-striped stirrups for Eastern Michigan (from Cory Fisher).

NFL News: Ooh, check out this set of embossed NFL team logo medallions (from Jim Dornberger). "¦ I had already reported that the Lions might have a uniform change in the offing for 2017. Here's more info on that, including the word that they definitely won't have a throwback in 2016. "¦ Todd Radom has written a good piece on how TV and Roy Rogers paved the way for NFL helmet logos.

Hockey News: The guy who came up with the idea of putting a "Stop" sign on the back of youth hockey players' jerseys, as a way of cutting down on hits from behind, has died (from John Muir). "¦ Pink in the rink promotion fort the South Carolina Stingrays (thanks, Phil). "¦ Toledo Walleye staff members wore Kalamazoo Wings shirts and jerseys when the two teams faced off last Sunday night, as a gesture of support in the wake of the latest mass shooting (from Phil). "¦ As if the Hartford Whalers didn't already have enough going for them, here's something I didn't know: They had history's coolest gift shop entrance! "¦ This article about the Bruins' poor record at home begins like so: "They resist radical notions, like staying in a hotel the night before a home game, or wearing road uniforms at TD Garden." "¦ Popular prank in the NHL: hiding a rookie's helmet and making him go helmetless during pregame warm-ups. "¦ The World Cup of Hockey uniforms, due to be released a week from today, will apparently include Adidas stripes (thanks, Phil).

NBA News: Big, big article on Stance Socks (thanks, Phil). "¦ The Lakers have created a pretty cool interactive page that breaks down ever jersey Kobe Bryant has worn in his NBA career, including All-Star designs, throwbacks, Noche Latina, Olympics, and more. I'll leave it to others to figure out if they got anything wrong or missed anything, but the overall page design is really good.

College and High School Hoops News: Quite a study in contrasts last night in Waco, as Kansas wore throwbacks and Baylor wore neon yellow. "¦ Westview High School in Indiana has a long tradition of vertically striped socks!

Soccer News: The leading French soccer magazine, France Football, is currently running a poll to choose the most "mythical" kit in the history of Ligue 1 (from Bernd Wilms). "¦ The Tacoma Stars will be wearing special jerseys this Friday to raise funds for a cancer-stricken local fan (from David Eaton). "¦ Juventus midfielder Paul Pogba has the Batman logo shaved into his head (from Tim Cross). "¦ Clint Dempsey of the Seattle Sounders ripped off his CONCACAF patch in protest after a teammate was issued a yellow card (from Michael Orr).

Grab Bag: Buried within this article about NOLA Brewing in New Orleans: "Besides a devotion to putting this city on the map as a craft beer destination, the team at NOLA Brewing are deeply passionate about music, and it's not uncommon to catch them at a funk show still wearing their brewery uniforms." "¦ There's been a settlement in a trademark case about the Red Wing Pottery logo. "¦ Many of Michigan's sports teams borrow the football team's winged helmet design — even the swimming team (from Tony Bruno). "¦ Female midshipmen (which sounds like a contradiction in terms, but that's the proper lingo) will now wear trousers, instead of skirts, for their graduation from the Naval Academy. "¦ The Ohio State gymnastics team is letting fans vote on which leotard the team should wear for this Saturday's meet (from @rdubs007). "¦ Students at Australian high school can now wear uniforms designed either for boys or for girls, regardless of their gender. "¦ Kudos to Nike founder Phil Knight (bet you never thought I'd be writing those words), who's donating $400 million to Stanford. The money is earmarked to attract graduate students to fight issues like poverty and climate change. Good for him.