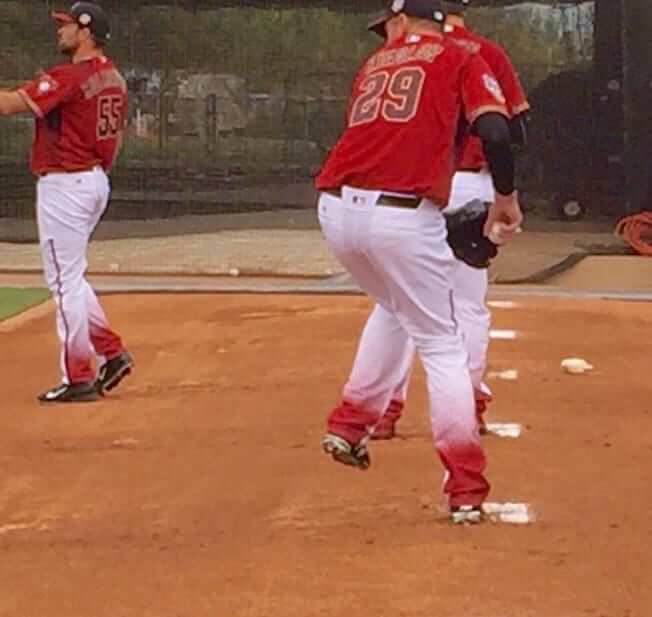 When the Diamondbacks revealed their new uniforms in December, my basic take was, "All signs point to disaster, but first let's see how it looks on the field."
With pitchers and catchers now reporting, the disaster forecast appears to have been accurate, at least in terms of the color gradation on the pant cuffs. When the photo shown above began circulating on Twitter yesterday, people totally lost their shit. Many of them, I'm sure, hadn't seen the new uniforms when they were unveiled a few months ago, but whatever — the response was overwhelming, and literally 100% negative. The most common responses:
•  "It's their tribute to Curt Schilling's bloody sock."
•  "Looks like they were stomping grapes to make wine."
• "Did they walk through a meat locker on their way to the ballpark?"
And here's the thing: It could be (and probably will be) worse. If you look again at the photo, you'll see that the players were wearing black shoes at the D-Backs' spring training facility. But the mock-ups for the new uniforms all show the red-gradated pants being worn with red shoes, which will make the bloody effect even worse (click to enlarge):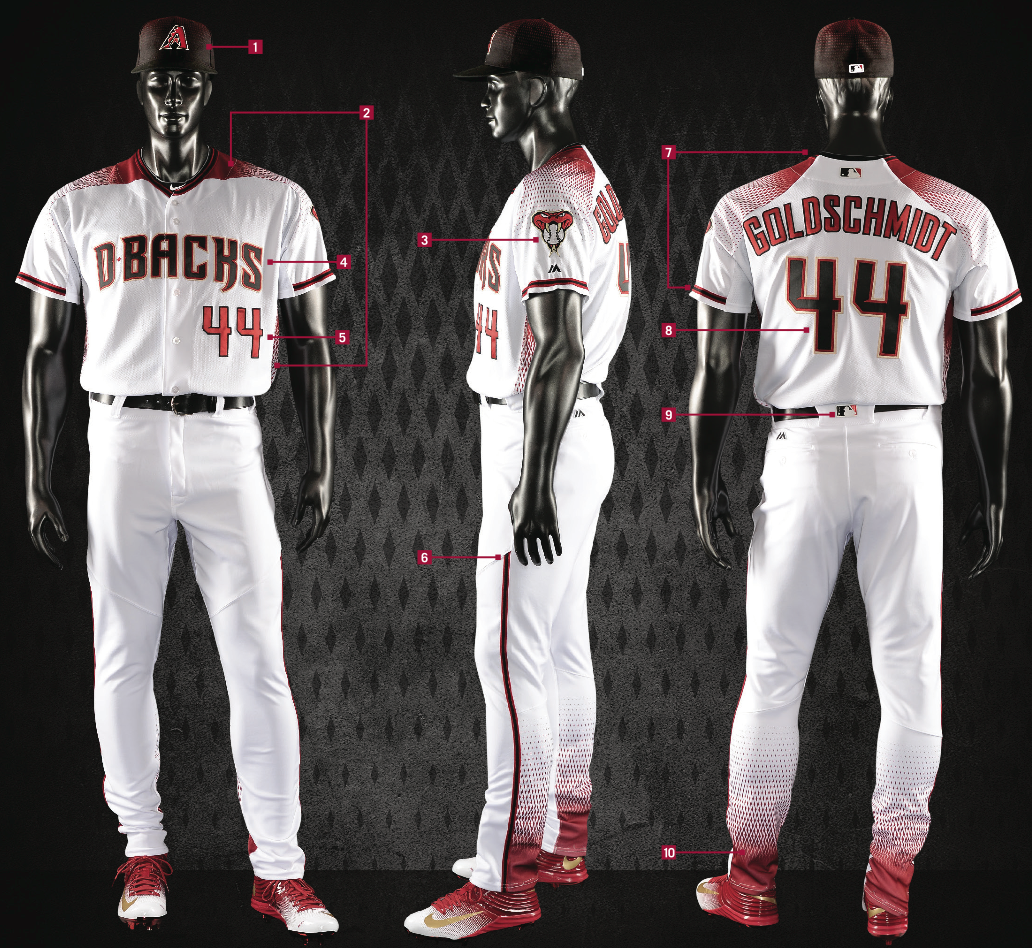 Similarly, the grey-trimmed pants are slated to be worn with grey shoes and the black-trimmed pants are supposed to go with black shoes. The idea is to create a seamless transition from the pant color to the footwear color. Players just showing up for early workouts don't yet have their game shoes, but expect to see the full bloody effect when the season starts.
Or, alternately, expect to see clusterfuck of mix-and-match shoe colors on the field, because a team with three different shoe colors, depending on the pants du jour, is definitely asking for trouble.
Speaking of the D-Backs, tonight they're airing a half-hour show about how their new uni set was created, including looks at some designs that didn't make the cut. Further info and a teaser video here.
Meanwhile: The Pirates' long-expected 1979 Sunday throwback (which is replacing the early-'70s throwback they've worn in recent years) was finally revealed, via this video:
There's additional info here. As you can see, they're going with pillbox caps, which initially seems very cool. But these caps don't seem as, well, pillboxy as the originals — they don't appear to be rigid at the top, so the top panel ends being form-fitting instead of flat-topped — disappointing. Also, the stripes on this cap intersect the top and bottom of the "P" logo, which isn't how it was on the original. Also-also, the black pants will look brutal when worn pajama-style. Here's hoping a few players take the opportunity to go high-cuffed.
Meanwhile, the Brewers also announced a throwback, although they'll only be wearing it for one day:
ICYMI: July 30 is '90s Night & we'll be sporting these. Ticket pkgs on sale tomorrow at https://t.co/62p922s3QH #TBT pic.twitter.com/Ij3LrJfgV6

— Milwaukee Brewers (@Brewers) February 18, 2016
That uniform, incidentally, was designed by longtime Uni Watch pal Todd Radom, who I'm sure if happy to see his handiwork back in circulation, even if only for a day.
• • • • •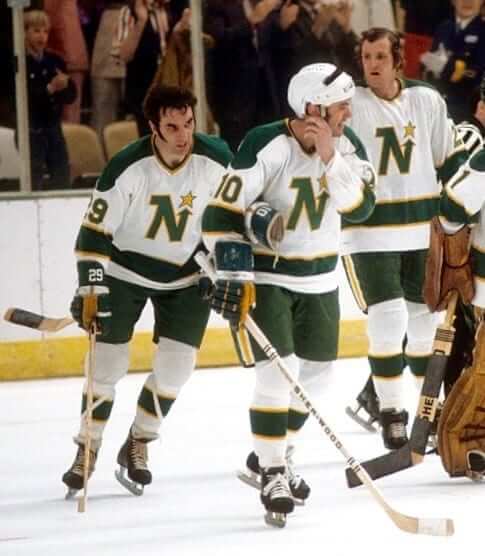 Friday Flashback: It's probably not a surprise to hear that I really miss the old Minnesota North Stars uniforms. With their green/gold color scheme, how could I not? But it's more than just the colors — I also love the logo. Always did, even when I was a kid.
With the North Stars' unis set to be revived for tomorrow's Minnesota/Chicago Alumni Game (part of the festivities for Sunday's outdoor game between the Wild and Blackhawks), my latest Friday Flashback piece on ESPN focuses on the North Stars' look. Check it out here.
• • • • •
The Ticker
By Paul

Baseball News: Oklahoma is switching to AstroTurf. "¦ While looking for something else, I stumbled upon this December 1999 photo of Sammy Sosa conducting an instructional clinic in Japan while wearing an AM/PM uniform. That's particularly interesting because the Cubs and Mets played MLB's first-ever season-opening series in Japan about three months later, and that same AM/PM logo was worn as a helmet ad (plus both teams wore AIU sleeve-patch ads. "¦ The Yankees, continuing to mistake themselves for a monarchy, have announced that will no longer accept print-at-home tickets. Then they compounded matters by putting an exec on the radio to give a remarkably tone-deaf defense of the new policy. Just another example of the remarkable things that are possible when a person's shame gland has been surgically removed. "¦ The Blue Jays' 40th-season logo, which the team will be wearing as a sleeve patch this season, will also be appearing on their baseballs (from @BigLeagueBBalls). "¦ With the Mets adding an '86 throwback to this year's uni rotation, they now have a throwback cap with period-appropriate squatchee and underbrim colors (from Steven Hom). "¦ Oh, man, check out this previously unpublished photo of Roy Campanella saying goodbye to Ebbets Field. Wow (from our old friend/intern Garrett McGrath). "¦ Here's a Padres change that hadn't been previously announced: They're switching to matte-finish batting helmets. I'm afraid it'll take more than that to save this franchise's visual program (from Brady Phelps). "¦ Love this shot of a young Babe Ruth in a gorgeous Red Sox sweater (from @BSmile). "¦ Arkansas baseball has a new logo marking the 20th season at Baum Stadium (from Matt Snyder). "¦ The Frederick Keys will be giving away a double-bobblehead this year. Double-bobble! (From Andrew Cosentino). "¦ Love this poster based on the cover of the 1889 Spalding Base Ball Guide (from David Firestone). "¦ Great shot of the 1975 N.L. All-Star team. Even with road unis, those are some great designs (from Brinke, via Jerry Reuss, who's included in the photo). "¦ Here's a tour of the Rangers' locker room (thanks, Phil).

NFL News: We just passed the 25th anniversary of the unveiling of the 49ers' infamous one-day logo. Here's a really good retrospective on the story. "¦ The Lions, who could definitely use a uniform redesign, might get one for 2017.

College Football News: Texas A&M and the Indianapolis Colts have reached a settlement in a lawsuit of the "12th Man" trademark (thanks, Brinke).

Hockey News: Here's your chance to behind the scenes with the Lake Erie Monsters' equipment manager (thanks, Phil). "¦ The WHL's Kamloops Blazers are going to wear 1980s throwbacks — complete with Cooperalls (from Josh C.). "¦ This season's NHL St. Paddy's Day pregame warm-up jerseys have plaid shoulders and sleeves (from @derpthrone). "¦ You've probably seen black-and-white photos of the Blues' original prototype jerseys, but Erik Spoonmore recently saw one of the originals in person and got this photo.

NBA News: Reader Conrad Burry has been the main source of NBA leaks lately, and he's scored again with next season's crop of throwbacks (including the Pacers' Hickory design, which, obviously, is a carryover from this season). Nice stuff, right? The Raptors' entry is a Toronto Huskies design. "¦ Conrad also has the new shooting shirts and warm-ups. "¦ Speaking of leaks, a little birdie tells me that the Mavs are about to announce a contest for next season's court design, similar to their recent alt-uni contest. The winner will get season tickets.

College Hoops News: Yet another new jersey for Ohio State. It'll apparently be paired with these shorts. I confess that I like the stripes (from Cole Bury and Andrew Lind, respectively). "¦ Love these old UNC, NC State, and Duke soda cans. "¦ UConn wore navy at home last night against SMU (from Mike D). "¦ Not too bright: Portland and St. Mary's went black vs. grey last night (from Seth Hunt). "¦ Washington wore black at home last night against Cal. "¦ Latest women's team to wear pink: Mississippi State.

Soccer News: DC United will continue to have Leidos as its jersey sponsor advertiser (from William Yurasko). "¦ Here's a podcast about the new MLS kit designs (from @svndrtywrds). "¦ New kit for Slovenia.

Grab Bag: Great article, including to spectacular graphics, about the tile colors used in the NYC subway system (from the Tugboat Captain). … This is pretty good: a website devoted to airline food (from Gil Neumann). "¦ Here's a fun piece about the evolution of Purdue's "Purdue Pete" mascot costume (good one from Kurt Esposito). "¦ Nebraska Athletics is reviving the "Huskers" script as a secondary logo. "¦ Check it out: a tequila sunrise drum kit! (From Jon Solomonson.) "¦ Red Bull Racing has unveiled its new livery for the 2016 F1 season (from Ryan Olanowicz). "¦ Iowa State is appealing a federal judge's ruling that they can't prevent students from making T-shirts that show the school's mascot with a marijuana leaf. "¦ The good people at Pop Chart Lab have come up with another great infographic/poster design, this time about typography. Excellent stuff (from Jason Hillyer). "¦ You don't say: Rio de Jaineiro's commitment to clean up its seriously polluted water in time for this summer's Olympics isn't much of a commitment after all. Shocker.
• • • • •
On a personal note, I had a medical procedure late yesterday afternoon (nothing serious, but necessary) and am likely to be somewhat loopy on painkillers today, so I won't have much presence, if any, on the site. Apologies in advance for queries not answered, typos not fixed, etc. Similarly, apologies to anyone whose Ticker submissions didn't make the cut today — I was a little out of it yesterday evening. But don't worry, I'm fine. See you all next week.