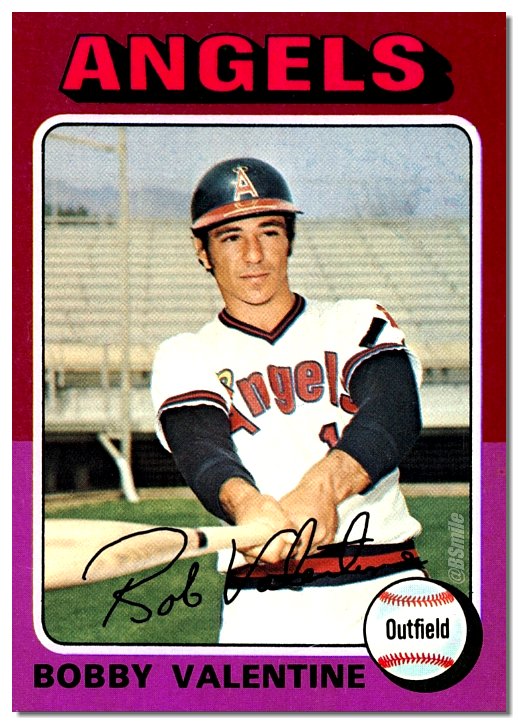 Yesterday was Valentine's Day, and longtime Uni Watch contributor/pal BSmile marked the occasion by tweeting some old baseball cards of players named Valentine, including the 1975 Bobby Valentine card shown above.
At first my eye was drawn to what appears to be a strip of tape across the helmet brim — presumably an NOB (name on brim). But then I noticed the black strip on Valentine's left sleeve.
I had no memory of the Angels wearing a memorial strip, so I went to Dressed to the Nines and looked up Hall of Fame curator Tom Shieber's list of uniform memorials. Sure enough, there it was (click to enlarge):

The black strip was worn during spring training of 1974 for Bruce Heinbechner, a minor league pitcher who was killed in a car crash that spring (further details here). I wondered if the photos for any other Angels cards in the 1975 Topps set had been taken during spring of '74 and might also show the black strip. I figured maybe two or three of them would, but the number turned out to be a lot higher than that (if you can't see the slideshow below, click here):
I found a dozen 1975 Angels cards that show the black strip, plus Valentine's card brings the total to 13. There's a decent chance that the photos for those cards were all shot on the same day in March of '74. Very efficient on Topps's part, if not particularly creative.
I happened to be collecting baseball cards in 1975 (I was 11 at the time), and I have no memory of seeing the black strips. I guess my uni radar wasn't very finely attuned at that age.
It's interesting that the strip was always positioned diagonally. Also interesting that they held to the then-sacrosanct protocol of putting the memorial on the left sleeve, even though they already had a team logo patch there. Would've been a lot more convenient to put it on the right sleeve, which was blank.
All this, just because BSmile posted that Bobby Valentine card! I love it when something random leads down a rabbit hole like that.
Finally, if you're wondering how I found all of those 1975 cards, I went to Check Out My Cards and searched on "Topps 1975 Angels." It's the best resource I know of for finding old sports cards.
• • • • •
T-Shirt Club reminder: In case you missed it last week, the first Uni Watch T-Shirt Club design of 2016 is now available for ordering. Here's the design, including a close-up of the jock tag graphic (for all of these, you can click to enlarge):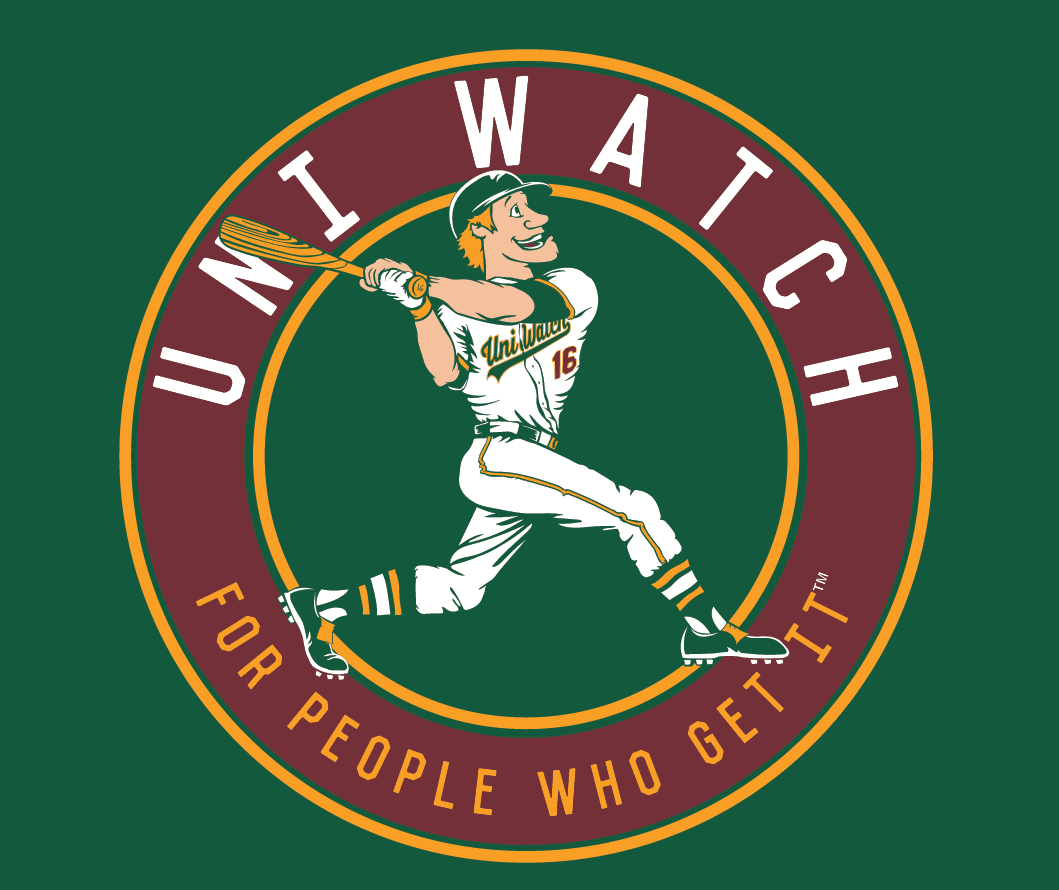 The Uni Watch ballplayer shown on the shirt is intended to evoke a time when sports graphics and mascots were built around fun, not ferocity. And as you can see, he totally Gets Itâ"¢ when it comes to wearing his uniform, with lots of old-school details like a flapless batting helmet, one batting glove, picture-perfect stirrups, and more.
The shirt is available here. For further info on how the T-Shirt Club will work this year, click here. Thanks for your consideration.
• • • • •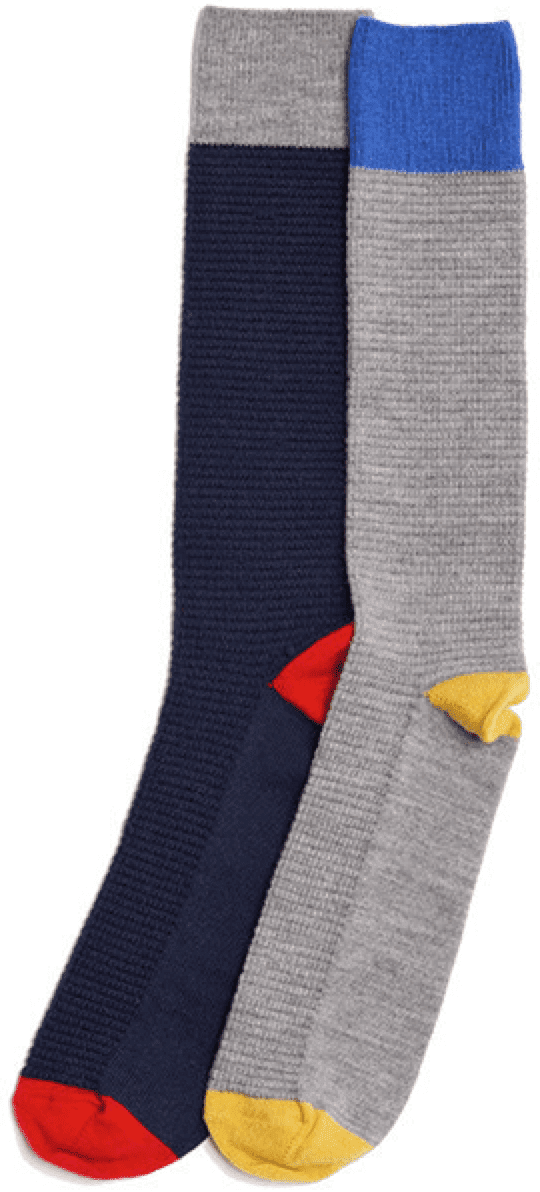 Special sock discount offers: Longtime Uni Watch advertiser American Trench (whose socks I'm wearing at this very moment!) is offering a series of special deals for Uni Watch readers:
• For the company's excellent marino wool waffle-knit socks (shown at right), get $8 off by using the discount code UNIWAFFLE.
• For these random plait socks, get $4 off with the code UNIRANDOM.
• And for these very nice (and very warm) rugby-striped socks, get $8 with the code UNIWOOLSILK.
As always, all American Trench product is made in the USA, and shipping is free. I'm a big believer in this product line and hope you'll give it your consideration. Thanks.
• • • • •
Click to enlarge
Gromm•It update: Almost from the first day of this project, there was one foodstuff that I knew I wanted to include. Now I've finally gotten around to it. Full details, including info you might not know about the holes in White Castle burgers, over on Gromm•It.
• • • • •
The Ticker
By Paul

Baseball News: You can hear our own Phil Hecken and Jim Vilk talking about Indians uniforms in the latest installment of Sully's Baseball Podcast. "¦ Oooh, dig this old Canadian team wearing McNeil tartan plaid! (Nice find by @TweedTweets, appropriately.) "¦ Tequila sunrise-ish alts for South Carolina softball (from Charley Beans). "¦ I love striped stirrups but hate two-in-ones, which means I'm conflicted abut Sul Ross State. "¦ Bill Murray wore Cubs pants at Pebble Beach yesterday (thanks, Brinke). "¦ Dan Cichalski found all of the uniform errors in a recent Sports Illustrated illustration.

Hockey News: 1990s throwbacks two nights ago for the Manitoba Moose (from Wade Heidt). "¦ Lots of gripes about the NHL's new website, even from former NHL players (thanks, Brinke). "¦ Further proof that Senators D Dion Phaneuf is still using his old Maple Leafs gloves: His old uni number, 3, is peeking through the spray paint job (from Mike Engle). "¦ Rangers D Dylan McIlrath ended up with a torn jersey after a fight last night. That game, incidentally, was at MSG — the Rangers wore white at home.

NBA News: I was busy yesterday and didn't see any of the NBA All-Star Game, but here are photos and highlights. What did everyone think of the Kia advertising patch? "¦ Meanwhile, here's the logo for next year's All-Star Game. "¦ Here's a columnist's thoughts about the possibility of NBA ad patches (from Rick, who didn't give his last name).

College Hoops News: Fascinating story about the guy who was the main "sneaker pimp" for Nike and Adidas (from Tommy Turner). "¦ Pink unis yesterday for several women's teams, including Notre Dame, Georgia Tech, Cal, and Auburn. "¦ "The Albany Times Union has a slideshow of excerpts of the Union College yearbook from 1916," says Benjamin Engle. "The basketball jerseys are especially interesting. I assume 'BBT' stands for 'Basket Ball Team.'"

Soccer News: New secondary jersey for the New York Red Bulls (thanks, Phil). "¦ New kit for Orlando City FC (from Andrew Nicol). "¦ "Designfootball.com is a site for soccer kit news and comments, and where users can upload fantasy kit designs," reports Denis Hurley. "They have recently launched a weekly podcast featuring a variety of contributors."

Grab Bag: The Church of England's new logo for Queen Elizabeth II's 90th birthday was designed by a 10-year-old. "¦ Here's a list of 10 companies that fell in love with their own logo changes. "¦ One observer's opinion: Box art on video games doesn't matter. "¦ The Coast Guard is going with some throwback paint schemes (from Jake Pataterson). "¦ NASCAR driver AJ Allmendinger will have a sticker on his on his car for Daytona week honoring longtime Reds clubhouse manager Bernie Stowe, who passed away last week (from Patrick O'Neill).