By Phil Hecken
In a story you may have seen yesterday on ESPN, William Weinbaum reported that MLB and the MLB Players Association have come together with a plan to introduce new protective headgear for pitchers, developed by "Boombang." Weinbaum has been reporting on this since 2014, when he noted "MLB and MLB Players Association officials told 'Outside the Lines' they have been engaged for months in an unannounced jointly funded initiative with Boombang, a California-based engineering, research and consulting company, in an effort to advance the development of protective headgear for pitchers."
Described by Patrick Houlihan (MLB Vice President) as "A hybrid of a cap and a helmet," the new protective device is expected to weigh between 10 and 12 ounces, and will be given to approximately 20 pitchers for (possible) use during Spring Training. They will "have a carbon fiber shell and roughly resemble sun visors with extended forehead and temple coverage and single earflaps like batting helmets," he adds. Boombang and MLB/MLBPA began the joint initiative in May of 2014 and have worked since then to come up with greater head protection for pitchers, and worked with them to get their input.
Here's some shots of the new headgear:
Obviously, when viewed atop a mannequin head, the new hybrid helmet/cap looks pretty unweildy — not unlike the previous protective wear worn most auspiciously by Alex Torres (with the Padres in 2014 and Mets in 2015) — which is known as "isoBLOX" and which will still be an option for pitchers should they choose to wear it this year. When Torres wore it with the Padres in 2014, the device was worn inside the cap, producing a comically oversized appearance:
When Torres pitched for the Mets in 2015, the "next generation" isoBLOX became more of a wrap, worn outside the cap:
A good comparison of 2014 vs. 2015 can be seen here:
The biggest problem with isoBLOX? It looks goofy as hell. If you're interested, Paul covered Alex Torres' headwear travails in 2014 and again last year on the mothership. That second article also contains a great history of headgear in baseball.
So, it appears the new capmet (we need a term for this hybrid cap/helmet, right?) is not only an attempt at protecting the noggins of pitchers, but also an attempt to make it less dopey looking. If you look at the splash photo, it looks pretty cool, but when you look at it atop a mannequin, I'm not so sure it will look any better (or worse) than the original isoBLOX. Still, anything that can protect pitchers from line drives is a good thing, and hopefully some of the 20 select pitchers will choose to wear one in Spring Training.
It's worth noting that this is (for once) a project designed specifically with player safety in mind, "This is a loss leader to address player safety, not a money-making venture," explained Houlihan. "It's an unprecedented collaboration between us and the union to design safety equipment from scratch, and Boombang had no restrictions on materials or design." Good thing they weren't planning on marketing these as fashion caps — although if they do somehow happen to catch on, it would be great if they were available to colleges/minor leaguers for their protection.
Another thing you may notice about the capmets — they have single side earflaps like batting helmets! Boombang actually designed the headwear to be specific to right-handed and left-handed pitchers "after research showed pitchers who got hit by liners typically were hit on their arm side." There's a full flap on one side and what appears to be half (or partial) flap covering the other ear:
Bravo to MLB and the Players Association for moving forward with this. I'm skeptical whether this will see any kind of widespread (or any?) use, but at least the option is now available, in addition to the isoBLOX. What will be more interesting to see is whether the capmets will need to be painted in various team colors and iterations, as was the case with the isoBLOX (remember Alex Torrez had at least three different wraps, including a tan wrap that didn't quite match the camo cap the Mets wore last season). Fortunately, they won't have that problem this season, as the camo caps & tops are gone (and Torres is on the Braves now — hopefully he secures a roster spot with them). For the sake of seeing the capmet in action though, I hope he does play in Spring Training and make a big league club (if not the Braves) in 2016. Of course, with 20 select pitchers (MLB didn't specify who will be getting them) chosen to try the capmets, there's a good chance at least someone will give it a shot this spring. And, unlike the isoBLOX, the new capmet offers at least some ear protection too.
So, what say you, readers? Obviously, from a uni watching perspective, it's a good thing — and from a safety one as well. But how do you think it will look and will anyone want to actually wear one? Should MLB encourage its use and work to provide these to minor leaguers and possibly other leagues and colleges as well? Fire away.
Breaking NBA Uni News
Thanks to UW friend Conrad Burry, we have some breaking NBA uni news for the 2016-17 season (the final season before Nike takes over the apparel deal):
EXCLUSIVE: According to an adidas catalog, a summary of the new NBA uniforms (designs TBD) for the 2016-17 season: pic.twitter.com/kYYyKQGJje

— Conrad Burry (@conradburry) February 12, 2016
and
EXCLUSIVE: It appears the Jazz, Kings and Pistons will be receiving new primary logos for the 2016-17 season: pic.twitter.com/hmL8WPltnC

— Conrad Burry (@conradburry) February 12, 2016
Judging from those stylesheets, it looks like the Piston, Kings and Jazz will get new logos/unis next season — and it looks like several teams (judging by the TBD demarcations) will be getting new uniforms (Pistons, Jazz & Kings) or alternates (Heat, Magic, Nets, Raptors, Wizards and Warriors). Stay tuned!
Finally — could this be the new Pistons primary logo?
If this inclination is true, maybe this mockup will be the new primary logo for the Pistons? https://t.co/T79XYMBP2m pic.twitter.com/3aPQ5YxyjB

— Conrad Burry (@conradburry) February 12, 2016
UW's Friday Flashback
In case you missed it, Paul's Friday Flashback on ESPN gave us a very in-depth look at the history of the NBA's All-Star game unis, which for many years didn't actually suck (although I happen to think this year's unis aren't terrible…Kia ad patch aside). Particularly awesome were the many years when the East and West would wear jerseys resembling those of the host team's uni (the mostest awesome of which was undoubtedly the Warriors'-based 1967 All Star game unis).
Great read, so be sure to check it out if you missed it!
Enjoy!
T-Shirt Club reminder: Paul here. In case you missed it earlier this week, the first Uni Watch T-Shirt Club design of 2016 is now available for ordering. Here's the design, including a close-up of the jock tag graphic (for all of these, you can click to enlarge):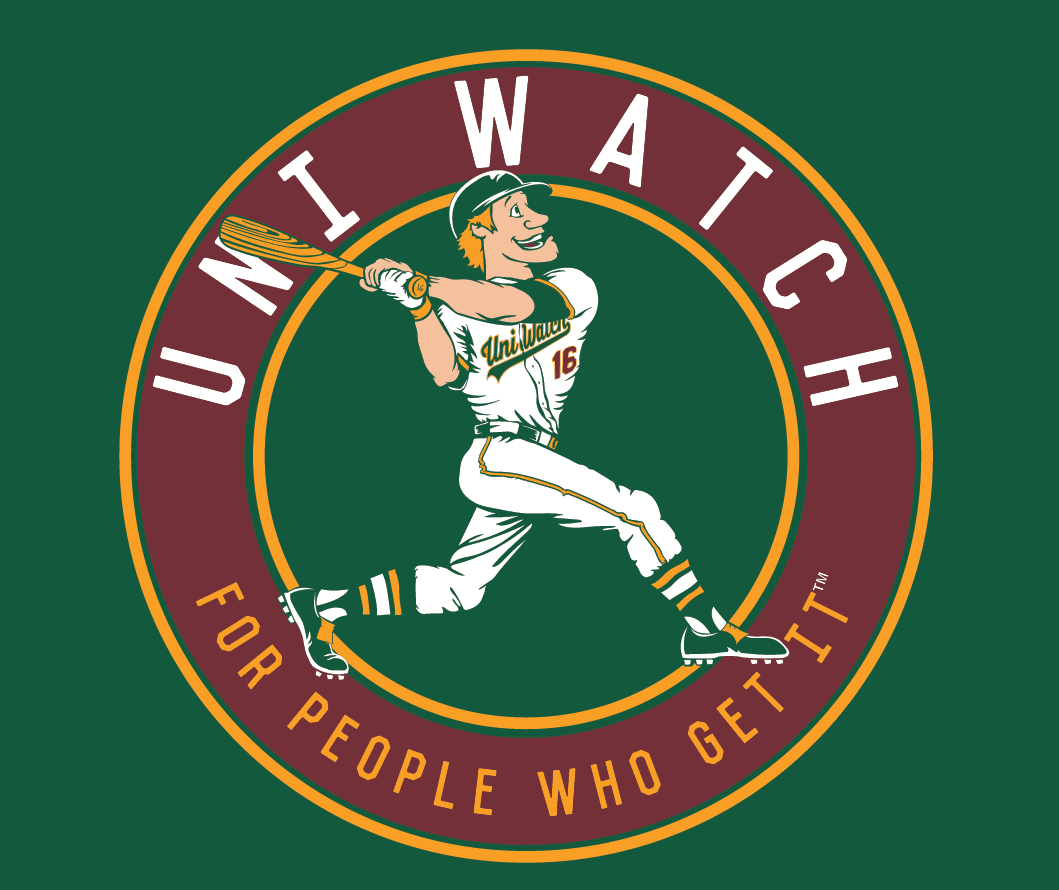 The Uni Watch ballplayer shown on the shirt is intended to evoke a time when sports graphics and mascots were built around fun, not ferocity. And as you can see, he totally Gets Itâ"¢ when it comes to wearing his uniform, with lots of old-school details like a flapless batting helmet, one batting glove, picture-perfect stirrups, and more.
The shirt is available here. For further info on how the T-Shirt Club will work this year, click here. Thanks for your consideration.
Uni Watch News Ticker

Baseball News: Tonight at 6:00 ET, making its TV debut on the MLB Network, is a special you won't want to miss, The First Boys of Spring, on which our pal Bruce Menard served as part of the research team! He also contributed several edited photos for the production, including this beauty. You can read more about it here. Congrats B! Be sure to check it out. … Yesterday's ticker featured a heretofore unseen photo of Reggie Jackson wearing a Mariners uniform for the 1979 All-Star game photo shoot. Reader Keith Clowers zoomed in on that and found another nugget: a Texas Rangers player wearing a Cubs cap! Great spot. … "Check out this picture of Bowdoin College Baseball's hats," writes Chris Cameron. "Our embroiderer often makes mistakes where the back logo is too high or off-centered, but this egregious error on every hat makes it appear to be an entirely different (almost yamaka-esque) take on the rear logo of a baseball cap. Such is life in D3 New England baseball, I suppose." … Creighton Baseball has new baseball jerseys for this season, including a "throwback" to 1991 (from Creighton Baseball). … EMU Baseball has now released their new home and road unis, and will be unveiling their alternate on March 1st (from EMU Baseball). … Shippensburg University is showing off a new look for the 2016 season (from SHIP Sports Info). … The New Zealand Kiwis are wearing a "37" patch in memory of Lincoln Holdzkom at the World Baseball Classic. Looks like NEWZ EALAND also has some kerning (or spacing) issues (h/t Scott MacLean).

NFL/Pro Football News: Here's a look a the countdown clock and mascot for Super Bowl LI (h/t Kyle). … SNL alumna Kristen Wiig appeared on the Tonight Show in full Peyton Manning uni the other evening (thanks to Eric Wright). … Here's another story about the feds cracking down on bootleg NFL merchandise, this time at the Denver Broncos' Super Bowl victory parade earlier this week (thanks to Kary Klismet). … The Salina Liberty are an indoor football team. What are the odds their unis will suck? 'Murica! (from The Bearded Blog).

College/CFL Football News: New Oregon Ducks Defensive Coordinator Brady Hoke was speaking at his introductory presser, and was seen wearing this shirt with a "33" patch (you can read more about that here. The "33" refers to Oregon's status as the 33rd state admitted to the Union and the UO/OSU Civil War (from Ted Chastain). … "Love how the @GeorgiaStateFB practice field has the sights and sounds of downtown ATL," says Josh Sánchez. … That prompted Johnny Canucklehead to reply, Just like the #BCLions of the #CFL. … Not much of a surprise here: Penn State is among the NCAA schools regulating the football jersey numbers it will make available for officially licensed stores.

Hockey News: I'm pretty sure this logo has been floating around for years (like, since 2007), but this "Culturally Appropriate Blackhawks logo" created by Ojibway artist Mike Ivall, recently went viral (thanks to Megan Brown). … The Vancouver Canucks are going retro tomorrow night, wearing their old black, yellow, and red "flying skate" jerseys, and this article asks, "What's your favourite Canucks jersey of all-time?". … The Estonia Olympic team sported a familiar design last night (from Laszlo Sandor). … I'm not entirely sure who or what @RRHockey is, but they'll be doing a pink-in-the-rink thingy this weekend (via Thom Pucks). … Check out these pretty cool masks 'cuse puck will wear. … The Minnesota Wilderness will certainly love 'murica when they wear these military jerseys March 18 & 19 (via OT Sports). … This article talks about the different equipment related items that had to be done when Dion Phaneuf was traded from Toronto to Ottawa, along with some of the behind the scenes media preparation (from Mike O'Connor). Mike adds, "The ticker a day or two ago mentioned Phaneuf's odd gloves, and this article reveals that Phaneuf wears custom gloves, and this is why he couldn't just get a new pair of gloves in Sens colours. Apparently he wears custom hockey pants as well, so the pants he wore for the last 2 games were also cobbled together." … Dartmouth hockey will wear the following patch for the rest of the year, to honor the late Jack Riley (Class of '44). From Cassian Wykes). … "Is this new?" asks Jim Brunetti. "Some sort of strap to hold the Gatorade bottle securely to the net?"

NBA/College/Basketball News: "Here are a few more pics from the Oklahoma Historical Society," says Dan Bewley. "They're both from a small town called Stonewall and the boys pic is from 1927. It doesn't say when the girls pic was taken." … College players, including players at Wisconsin, are not fans of the Under Armour basketballs that Maryland uses (from Mike Chamernik). He adds, "Wisconsin's Nigel Hayes had a good take: 'Maybe we should have a universal ball like the NBA. You don't go to the Clippers' stadium and play with a Nike and then go to Golden State and play with a Rawlings. But in this amateur sport of college, where money isn't the goal""it's the student education and experience that you get""we play with a million different basketballs'." … In a related story, Mark Turgeon says"You're not going to hear any excuses from me about balls" (from TommyTheCPA). … After recently retiring the jerseys of Ben Wallace and Chanucey Billups, the Pistons will also also give the treatment to Richard Hamilton. … Paul is quoted/referenced in this article on ads on NBA uniforms. … Oops — spotted in a T.J. Maxx (from Robert Hayes). … KU's new cream alternate is now showing up at the KU Bookstore (from Fried. … Well, this has gotta suck — drinking with a straw through the holes in your mask (that's a URI player, pic via Mike5_5_5). … With the NBA All Star Game tomorrow, Jimmer Vilk writes, "Remember how last year's NBA All Star Game jerseys had the first name above the numbers and the last name below them? Not the first time that's happened–sort of. I was looking for the 1984 game when I came across the Old Timers Game from the same year. Yes, that's a young Dick Vitale doing commentary. Also notice the ad under the front number. Adam Silver's probably thinking 'THAT's how this year's uniforms should have looked'!" … LBJ and other hoops all stars weighed in on possible jersey ads. Sounds like most of they are simply resigned to it happening, much like sleeves on the jerseys. #NoUniAds! … The Purcell Marian Cavaliers (a High School team) have some Atlanta Hawks-esque uniforms (several tweeters pointed this out). … Man those World vs. USA unis were brutal at last night's BBVA Rising Stars Challenge (part of the NBA's All Star Weekend festivities).

Soccer News: We've had lots of leaks and looks at the new MLS kits, but so far, nothing for the Seattle Sounders. That's all about to change on February 19th as the Sounders will reveal the team's new primary and third kit (assuming, of course, they're not leaked prior to then). … Speaking of reveals, the Montreal Impact have released their new primary kit for 2016. … "Have you seen the jerseys in the China Super League?" asks Mikey Traynor. Damn Near Every Jersey In The Chinese Super League Is A Football Hipster's Dream. … You know how poorly received the new Columbus Crew kits are? Well, five players read some sassy slams from Twitter aloud in a "Mean Tweets" video styled after Jimmy Kimmel's popular series. Also sent in by Kevin Mueller here.

Grab Bag: There are pink outs, and then there are pink outs, like this cricket match between England and South Africa, who were sporting the pink (via The Lupine One). Even the correspondents were wearing pink! (from Griffin Smith). … "Adidas assures its athletes that it won't fire them if they come out as gay," reads an article in yesterday's Washington Post (from Tommy Turner). Isn't that magnanimous of them (/sarcasm). … Former Secretary of State Condoleezza Rice was sporting Stanford gear at Pebble Beach (nice spot by Chris Howell). … I've never rated driver jumpsuits, but Mike Cable gives it a 12 out of 10. … The National Museum of Australia has acquired the singlet worn by Australian sprinter Peter Norman, when he finished 2nd in the 200 meters at the 1968 Mexico City Olympic Games. The race is famous for the protest by American athletes Tommie Smith and John Carlos at the medal presentation ceremony (from Graham Clayton).
And that will do it for today. Everyone enjoy your NBA All-Star festivities today (Skills Challenge, 3-Point Contest, Dunk Contest), but make sure to check out Bruce's work on "First Boys of Spring" at 6:00 Eastern, OK? I'll be back tomorrow with our old friend Matt Powers who'll bring you his annual ASG kicks preview and much more! So until then,
Follow me on Twitter @PhilHecken.
Peace.
.. … ..
"I bet the Chris Ward electric football player figures out a way to get called for holding after the electric Jets convert a key third down."
— Chris H.