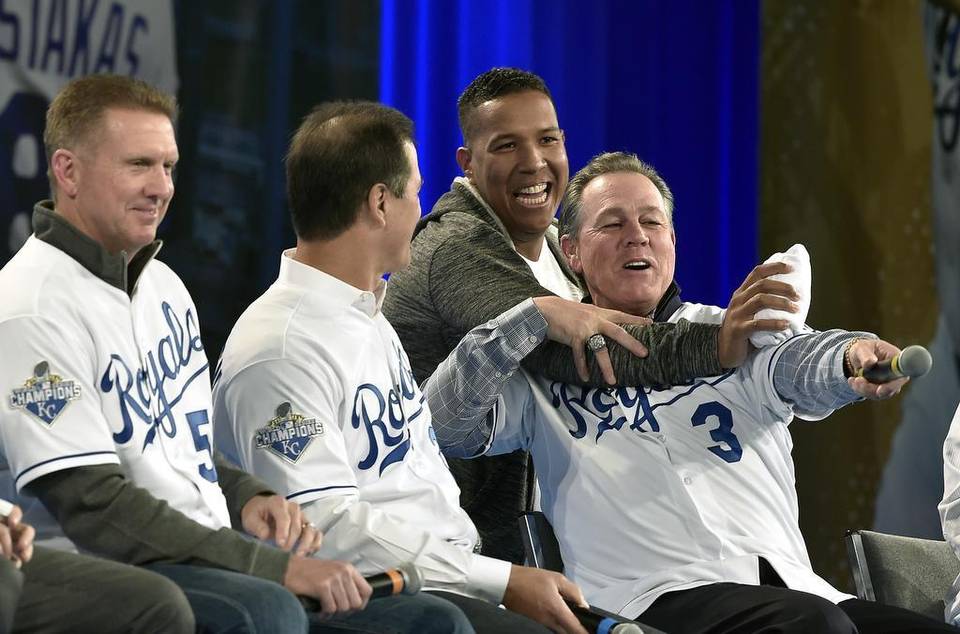 Click to enlarge
What was that on the Royals' sleeves at a recent fanfest event? It's their championship patch, which they'll be wearing this season.
This type of patch is pretty standard now for reigning World Series champs. What do you think of it? Is it a reasonable expression of pride, an unseemly expression of hubris, or just a way to get fans to buy another jersey? If your favorite team won the Series, would you want them to wear such a patch? If your team did recently win the Series, how did you feel about them wearing (or, if we go a few years further back, not wearing) such a patch?
It's worth noting that other sports take a more subdued approach:
•  In the NBA, the reigning champ usually wears an O'Brien Trophy patch on Opening Night, and then that's it.
•  In the NFL, the Patriots have followed up their last three Super Bowl wins by wearing a championship patch for their opening game of the following season, and the Saints did likewise for Week 1 in the season following their Super Bowl win. All of these patches were worn for only one game. No other Super Bowl champions have worn such a patch.
•  In the NHL, two teams — the Bruins and Kings — have worn Opening Night patches commemorating their championships. Again, these patches were worn for only one game.
I'm not necessarily opposed to an MLB team wearing a championship patch all season long, but I do think the differences between the leagues are interesting.
Discuss.
•  •  •  •  •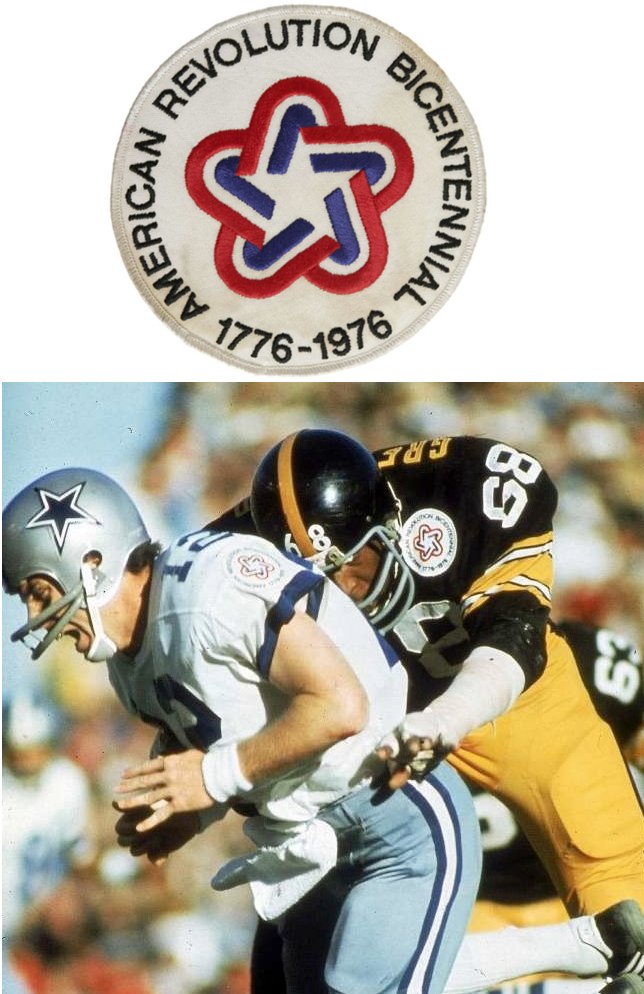 Friday Flashback: With the Super Bowl now upon us, my weekly Friday Flashback column on ESPN today takes a look at the history of patches worn in the big game (including the bicentennial patch worn by the Cowboys and Steelers in Super Bowl X, shown above). Check it out here.
•  •  •  •  •
The Ticker
By Paul

Baseball News: Always fun to see the uniform of the Aberdeen Black Cats. "¦ The Hartford Yard Goats have a new jingle. "¦ It turns out that the person wearing a Padres uniform on the 2008 Topps baseball card for Callix Crabbe was actually a guy named Carlos Guevara (from Chris Cruz). "¦ Hall of Famer Rod Carew has been having heart troubles, so the Twins have launched a "Heart of 29" campaign to raise funds for the American Heart Association. Twins players and coaches were wearing a sleeve patch for the campaign at a fanfest event over the weekend (from Rob Bindeman).

NFL News: A jeweler who's also a Panthers fan has created a ring to commemorate the team's Super Bowl run. "¦ A Colorado school won't let kids wear Peyton Manning's jersey number, along with several other numbers, because of gang connections. Cam Newton jerseys are fine, though. "¦ In a vaguely related item, there's a town called Denver in North Carolina (from James Gilbert). "¦ You know how non-NFL businesses aren't allowed to use the term "Super Bowl"? That apparently isn't actually true (thanks, Brinke). "¦ The Ravens are replacing their field turf with natural grass and are selling off the old turf (from Andrew Cosentino). "¦ Hall of Famer Tony Dorsett is auctioning off some of his personal memorabilia. "¦ Check out the odd Eagles logo on this 1978 ticket stub. Never seen that one before. Almost looks better suited to Wise potato chips (from Russ Havens). "¦ Here are some renderings of the Rams' new stadium (from @dpnation). "¦ Ah, finally: It wouldn't be Super Bowl week without a story about a big bust of counterfeit merch (thanks, Brinke). "¦ Now I've seen everything: a corporate advertising patch on a Pro Football Hall of Fame induction jacket. Kay Jewelers make the rings presented to Hall inductees. Douchebags (thanks, Phil). "¦ Former NFL WR Terrell Owens has an endorsement deal with Butterfinger — the candy bar — and showed up on Radio Row yesterday in a Butterfinger jersey. "Ironic, since T.O. had plenty of drops early in his career," says Eric Wright. "¦ Here's another new helmet designed to reduce concussions (thanks, Phil). "¦ Here's an article on the curse of the Broncos wearing orange in the Super Bowl. "¦ And here's an article — although not a new one — about how the Broncos' current identity was developed (from Kary Klismet). "¦ Man, was Mike Ditka wearing a toy helmet or what? "¦ Levi's is expanding its NFL apparel collection (from Tommy Turner). "¦ Former Packers S Willie Wood, whose interception of a Len Dawson pass was a key turning point in Super Bowl I, now has dementia and doesn't even recall having played in the NFL. Very sad. "¦ The Rams' mascot, Rampage, was spotted wearing the team's old L.A. colors. "¦ Here's a look at the evolution of the Panthers' jersey (which, of course, hasn't actually evolved that much over the years). "¦ Ryan Lindemann wrote a piece about Bud Light's partnership with the NFL, including the current Super Bowl-themed cans and Bud Light's upcoming redesign this spring.

College and High School Football News: Kentucky will be unveiling new football and basketball uniforms today at 10:30am Eastern, to go along with the new logo. You can watch a live stream here. "¦ "On the TV show Lip Sync Battle, actress Nina Dobrev competed against Tim Tebow and came out in a Florida-style No. 15 jersey with her name on the back and a blank orange helmet," says Chris Flinn.

Hockey News: NHL players being interviewed between periods for Hockey Night in Canada wear a HNiC towel, which has has become a highly coveted item. Key quote: "One year, Shannon recalls, the broadcast received pushback from the NHL, which wanted a Gatorade logo on the towel. The answer was a flat no." Not only that, but the towels aren't available for sale and aren't used as giveaways. They bring two per game — one for each intermission — and that's it. Good for them (from Rob Yasinsac). "¦ American Cancer Society jerseys for the Ogden Mustangs (from Brice Wallace). "¦ The Cancuks will wear their "flying skate" throwbacks next Saturday (thanks, Phil). "¦ The Islanders had a container of Isles-branded baby powder on the bench for last night's game in Washington (good spot by John Muir). "¦ American Heart Association jerseys tonight for the Wichita Thunder.

NBA News: The Warriors gave President Obama a home jersey and a "The City" throwback during their White House visit yesterday. Here's the president posing with the home design (thanks, Brinke). "¦ Former NBA star Spencer Haywood says he turned down a 10% stake in Nike more than 30 years ago, opting for $100,000 instead. "I don't know, man," says our own Mike Chamernik. "Between this and the famous story where a coke-addicted Haywood hired a hitman to kill Lakers coach Paul Westhead during the 1980 NBA Finals, Haywood is either the most fascinating person ever, or he's a world-class BS-er." "¦ The Pelicans wore their purple Mardi Gras uniforms last night, forcing the Lakers to wear their gold home uniforms on the road (from @HitTheGlass). "¦ Rockets and Suns went color vs. color last night. "¦ Here's NBA 2K16's rendition of the NBA All-Star Game court design (from Conrad Burry).

College and High School Hoops News: It's pretty weird when a team called the Blue Devils wears pink. "¦ Nebraska wore white NOB lettering on white jerseys two nights ago. "¦ Kentucky will be unveiling new football and basketball uniforms today at 10:30am Eastern, to go along with the new logo. You can watch a live stream here (from @caliparty8). "¦ Solid-red Black History Month throwbacks last night for Wisconsin. Further details here. "¦ Two Minnesota high schools had a battle of the Indiana-style warm-up pants last night. "¦ Northwestern wore purple at home last night. "¦ "Throwback Thursday" logo last night for Stetson University.

Soccer News: The Columbus Crew will unveil new jerseys next Wednesday, Feb. 10, and 2:30pm Eastern. The event will stream live on their website. "¦ New primary jersey for the L.A. Galaxy, and their championship stars are changing (thanks, Phil). "¦ There's a new USL team in San Antonio. "¦ More details on the Philadelphia Union's new jerseys. "¦ The Scottish club Rangers has severed its ties to the sports apparel retailer Sports Direct (from Saurel Jean, Jr.). "¦ New home kit for DC United. "¦ "Bayer Leverkusen of the German Bundesliga today announced JAKO as their new shirt supplier," writes Bernd Wilms. "To announce the deal, they used a huge replica of their new shirt."

Grab Bag: New alternate rugby shirt for France. "¦ New athletics logo for Bishop Kearney High School in western New York. "¦ Uber drivers don't like the company's new logo. "¦ Great piece on the "S" that was mounted on the Spectrum's exterior in Philadelphia. The guy who currently owns it is trying to get all the players and musicians who played in the Spectrum to sign it (from Art Savokinas). "¦ Keuka College is changing its team name from the Wolfpack to the Wolves, due to legal pressure from N.C. State. "¦ Yale's new deal with Under Armour won't result in a lot of camouflage or other bullshit. Key quote, from a Yale equipment guy: "You can expect to see the standard navy with white trim or vice versa. Nothing on that end is going to change." See, it's not that hard — the client runs the show, not the vendor (thanks, Phil).