For all photos, click to enlarge
[Editor's Note: Today we're fortunate enough to have a guest entry by the DIY genius known as Wafflebored. Enjoy. "" PL]
By Wafflebored
I've always liked jerseys that incorporate padding or other functional details. Stuff like the built-in padding in soccer goalkeeper jerseys and the double-reinforced elbows on hockey jerseys appeals to me.
I decided to make a jersey based on the classic waffleboard goalie blocker. I made this jersey a while ago — before I adopted the Wafflebored moniker, in fact. But it goes to show how much the look of those old leather blockers appealed to me — a great design detail from hockey's past.
The jersey's main body is made from brown melton wool fabric with a white polyester felt backing. On the old blockers, the leather face had the holes punched out with a translucent white plastic backing. The two materials are only joined at the edges of the blocker, so I replicated this on the jersey by omitting any stitching around the holes.
Some of my favorite old blockers were the ones used in Detroit in the 1950s and '60s, made by a local company that went by various trade names, including Lippman's, Tool Shop, and Olympia. I really like how the manufacturer's tag was sewn onto the face of the blocker, so I made a similar tag with the name Coopman's — a blend of Lippman's and Cooper (the most recognizable name in waffle board blockers):
I maintained the Detroit theme for the rest of the jersey, including using red cotton twill for the back and sleeves:
I like the idea of modular jerseys, especially since many of the old hockey sweaters didn't hold up too well over time. In this case, I designed a heavy lace-in canvas fore-sleeve that could easily be replaced as it wore out. I used jute twine to tie it all together, plus I used it for the lace-up collar [with grommets! "" PL].
If you look at old photos from the 1930s and '40s, you'll see that a lot of goalies wore padding on the outside of their jerseys to protect their inner-elbow area. This exterior padding makes sense, because the sweaters of the time weren't roomy enough to accommodate much padding underneath (and I can attest that this is a very painful part of the body to take a hard shot to, even with today's modern padding). So, I designed a mini blocker exterior pad as an extra detail for the left sleeve:
I used a cotton batting material for the cresting, as it adds to the vintage look. The team name is the Cephalopods, with a "C" logo on the right sleeve, as a nod to Detroit's octopus tradition. I picked the number 41 for the jersey simply because I always liked the look of this number when Eddie Mio wore it for the Wings. As an added bonus, 4 and 1 are two of the easier numbers to sew, due to their simplicity. I decided to make the numbers quite small, like on a vintage baseball jersey:
Due to the multiple layers of thick material used, sewing the front and back of the jerseys together would have been difficult, so instead I used twine loops and vintage-looking buttons to hold it all together:
Overall this was a fun project, although I wonder what the rest of the team would have worn?
•  •  •  •  •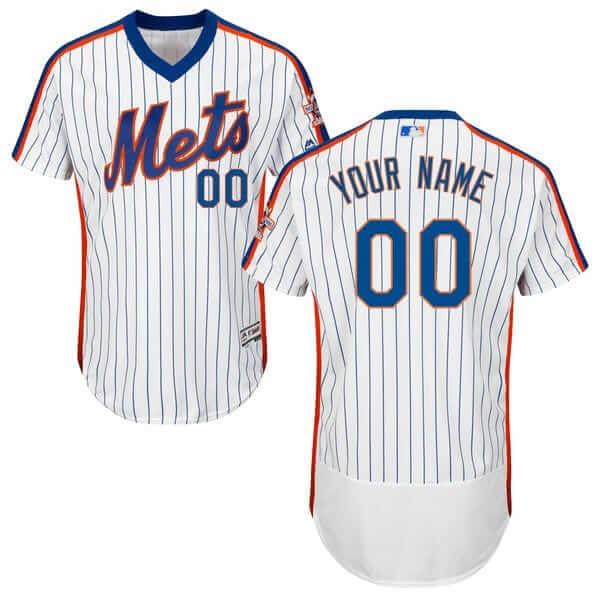 Sure enough: On Tuesday I noted that the Mets were selling an '86 throwback pullover jersey and mentioned that many fans were assuming that this meant they'd be wearing the throwback at some point this season to mark the '86 team's 30th anniversary.
Now it's official: The '86 throwback is being added as a new alternate.
Phil and I have known about this since last summer but weren't allowed to talk about it until the Mets broke the news (I was being coy when I mentioned the jersey on Tuesday). That announcement was supposed to happen on Feb. 22, but they apparently decided to accelerate the timetable once fans spotted the retail jersey.
But here's an exclusive detail not mentioned in the news story linked above: The mock-up of the throwback in the MLB Style Guide shows it being worn with high-cuffed pants and stirrups. (The stirrups are actually backwards, but I'm sure the intern in charge of the mock-up just doesn't know proper stirrup protocol.) No other uniform in the style guide — throwback or otherwise — has been depicted this way in many years, so the Mets apparently plan to go all the way with the '86 look.
Now, whether they can get all the players to go along with it — that's another matter. I'm betting we see lots of pajama pants out there. But it's nice to know the team is at least trying to do this the right way.
Meanwhile, as long as we're talking about the Mets, newly re-signed outfielder Yoenis Cespedes has had an accent added to his NOB:
@PhilHecken Yoenis said he asked for an accent on his name on the back pic.twitter.com/0eLTQtFwi9

— JameRock (@JameRockT7L) February 3, 2016
As many observers quickly noted, that's not one of the new Flex Base jerseys — woven MLB patch, no butt flap.
• • • • •
Click to enlarge
PermaRec update: The latest letters from the files of the Hoge Brush Company are from a manufacturer of curling brooms! Get the full story over on Permanent Record.
• • • • •
Gromm•It update: At first I didn't think it would be possible to install grommets into M&M's at all — too small, too hard, I figured. Then I tried heating the butt end of a drill bit over a flame and pressing the heated bit into the candies to create a cavity. That worked — twice. I went through two full bags of M&M's and came away with only two successful installations (which, as you can see above, happened to be in Mets colors — nice). Most of the time the candy shell shattered, or the chocolate melted too much, or I pressed too hard and the heated bit went all the way through the far side of the candy. Tricky business. Eating the rejects was a pleasant task, though.
You can see this and all my other explorations of grommeted foods over at Gromm•It.
Meanwhile, if you think Gromm•It is weird, trust me, I've got nothing on the guy who recently started posting videos under the name the Food Surgeon. Wanna see him perform a "Reese's Peanut-Butter-Ectomy with Oreo Cream Transplant"? Dig (further info here):
• • • • •
The Ticker
By Mike Chamernik

Baseball News: Kentucky wore its new jerseys during a training session yesterday (from Phil). … Mike Clary has been on a roll with finding cool old photos. Here are three more: In 1969, Babe Ruth's locker was placed in the stairwell of the National Baseball Hall of Fame; Charlie-O, the A's mule, was quite the sight in 1965; and Phil Rizzuto looked resplendent when broadcasting the Yankees. … The Binghamton Mets will wear the Declaration of Independence on their sleeves on July 3. … Here's a good breakdown of some of Los Angeles's bygone stadiums. I'll always remember the L.A. Wrigley Field from episodes of Home Run Derby (from @allen_y_). … An upcoming auction in Nashville has some neat World Series ticket stubs and scorecards up for bid (from reader KC).

NFL News: Dozens of corporate entities have plastered their names all over Levi's Stadium for the Super Bowl (from Brinke). … A shoe artist made a custom pair of Superman-themed Under Armour Curry Twos for Cam Newton. The Panthers QB wore them during the Super Bowl media event Monday night (from Brinke). … Packers WR and hoodie fanatic James Jones has a custom suit with a hood on it (from Eric Wright). … Here's a look at the Broncos' uni evolution over the years. … In 1993, NASCAR driver Dale Jarrett wore NFL-themed racing helmets. In addition to the Rams, he also wore a Bears helmet.

College Football News: Yesterday was National Signing Day, and a bunch of schools had their own logos for it, including Oklahoma, Oklahoma State, Michigan, Wisconsin, Miami, and UCF. … Also with Signing Day, it looks like Michigan coach Jim Harbaugh wasn't wearing socks with his suit (from P.K. Richardson). … Wichita State is teasing a possible return of its football program, which last played in 1986. … New helmets for the Colorado School of Mines. … "There appears to be a change in the helmet for the Florida Gators coming next year," Steve Skor writes. "All of the recent Tweets and other football graphics have used the white helmet with two separate logos that was worn a couple of times this past season instead of the traditional orange helmet." … New helmets for Charleston Southern.

Hockey News: A Canadian TV channel used the Florida Panthers' logo in a Super Bowl graphic. Wrong Panthers, guys (from several readers). … The AHL's Binghamton Senators will wear purple jerseys on Saturday for mental health awareness. … The Reading Royals wore Penn State THON jerseys. … Club hockey players at Oregon like their new uniforms. They definitely have a California Golden Seals vibe (from Kenny Ocker). … The Wu-Tang Clan is selling a hockey sweater in its online shop (from Anthony Miranda). … University of Wisconsin-Stevens Point wore pink for a breast cancer awareness night against Lake Forest College on Saturday. The referees wore pink as well (from Michael Bialas). … A man in a Flyers winter cap robbed a bank in Hamilton, Ontario. "¦ A pair of fans sat right next to the Sabres bench while dressed up in full Sabres uniforms — including pads, helmets, and Gatorade towels — and then proceeded to drink beers (from Aaron Husul):

NBA News: Even though it was a road game, the Heat debuted their new white 1990s throwbacks in Dallas last night, while the Mavs wore their standard road blues at home. Miami will wear the throwback set throughout February. … The Warriors and Wizards went blue-vs.-red last night as Washington wore its Chinese New Year jerseys. … JP Josetti was at last night's Hornets game and noticed the font on the baseline is different for the letters O and E in "Charlotte" and "Hornets". "What is interesting is the O in 'Charlotte' has similar font as the E in 'Hornets,'" he said. "Also, the H and T's are the same font in both words." … Speaking of courts, Sports Illustrated ranked the 30 NBA court designs. The Nets were first, the Bucks' two-court combo was second, the Celtics were third, and the Clippers were 30th. Consider this a mini-QOTW: What's your favorite NBA court design, and least favorite court design? Historical examples are good too, and if you need a refresher on what every court has ever looked like, you can consult this extensive archive.

College Hoops News: Maryland wore black with yellow shoes and socks last night. … Also from yesterday, Kansas women's juco hoops had a grey-vs.-red matchup, and Crowleys Ridge College and Morthland College went neon yellow vs. green (second item from Reid Cure). "¦ A Mississippi player was missing his NOB last night.

Soccer News: It appears that Adidas screwed up Washington's slogan on D.C. United's new jerseys (from several readers). … The NWSL's Houston Dash have new home uniforms based on the U.S. Soccer template (from Saurel Jean, Jr.). … Also from Saurel: FIFA unveiled its logo for the Confederations Cup. … New jerseys for the Philadelphia Union.

Grab Bag: IndyCar's Scott Dixon has brought back the lightning bolt livery (from Tim Dunn). … A book on renowned graphic designer Aaron James Draplin, who designed lots of well-known logos, is coming out in the spring (from Coleman Mullins). … NASCAR Camping World Truck Series driver John Hunter Nemechek has a helmet with WWE legend Ric Flair painted on it (from David Firestone). … Also from David: "This might be the first picture of Robert Hight's all Camaro funny car body. The one raced in 2015 was a Ford Mustang body with a Chevy Camaro nose. It takes a full year for a manufacturer to design and build a funny car body. Since John Force lost Ford as a manufacturer in the middle of 2014, and the deal with Chevy was not announced until late in the 2014 season, there was no time for Chevy to make their own body. As such, John Force went to Ford, and asked if they could amalgamate the body, and Ford agreed." … IndyCar racer Tony Kanaan teamed with a Japanese tech company to design a shirt that monitors heart rate and muscle performance during athletic activity (from Brinke). … New logo for the City of San Diego. … I believe we've seen this before, but a wool products company makes some pretty neat logo history banners for teams in the four major sports and the NCAA. I have a Brewers one and a Heat one (from Dean D.). … A shin-high Nike shoe from Belgian fashion designer Raf Simons has not been well-received. "¦ New uniforms for USA Rugby.