Happy Groundhog Day! The MLB news just keeps-a-comin'. Okay, one thing at a time:
1. I mentioned last week that Majestic appeared to be adding a mesh panel on the rear shirttail of the new Flex Base jerseys. I hadn't thought about how this might look on a pinstriped jersey, but now we know: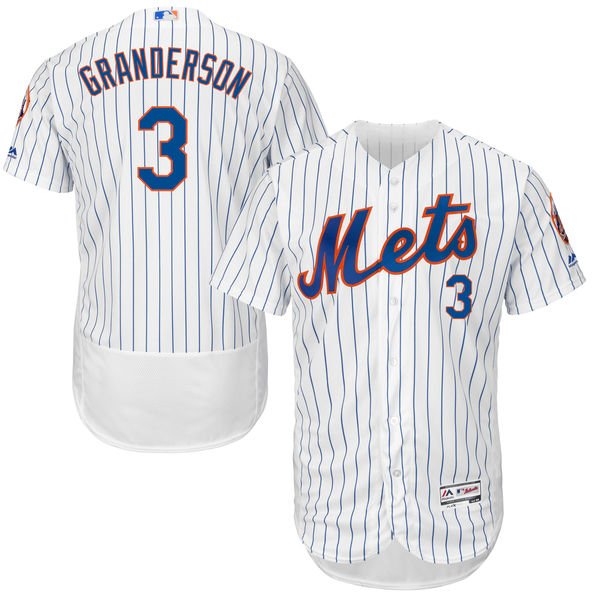 Yes, that's a legit image — it's from this sales listing. Weird, right? Here's how it looks on pinstriped Phillies, Brewers, and Rockies jerseys:
The pinstriped Flex Bases for several other teams (Yankees, Cubs, White Sox, etc.) aren't yet available, but you can use your imagination.
And wait — the shirttail panel doesn't look so hot on G.I. Joke jerseys either:
The shirttail panel won't be visible on the field, of course, because the players will tuck in their jerseys, so it makes no difference to me. But it'll look like a diaper on fans wearing untucked retail jerseys and therefore certainly won't help sales (which, as you can imagine, has me so upset that I can't stop laughing about it). Seriously, people who love buying authentic jerseys were having absolute conniptions about this on Twitter last night.
I feel bad for those people — honestly, I do — but let's give Majestic and MLB some credit: They've actually done something for their on-field program that might work against their retail program. Good for them.
2. Speaking of pinstriped Mets jerseys, look what else the Mets are selling: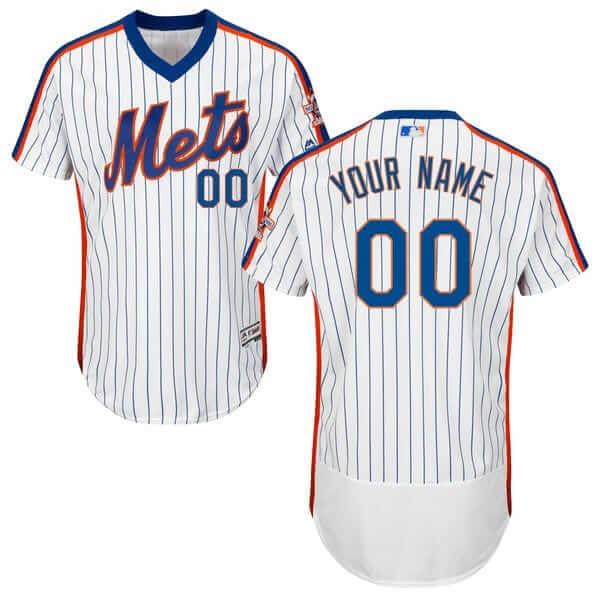 That's a 1986 throwback, complete with the 25th-anniversary patch on the left sleeve (which was a misnomer, because '86 marked the Mets' 25th season, not their 25th anniversary). Are the Mets going to be adding that throwback to their on-field rotation this year? That would certainly make sense, because 2016 is the 30th anniversary of the '86 championship team, and the team's promo schedule for the coming season features tributes to the '86 team — including a 1986 replica jersey giveaway — on May 27, 28, and 29. Draw your own conclusions.
3. I also mentioned last week that the MLB logo patch on jerseys would be changing from embroidered to plastic this season. And new we can see what that's going to look like: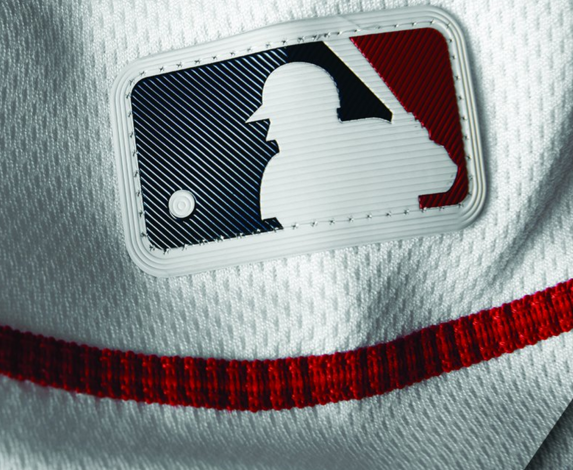 Majestic actually tweeted that image late last week, but I didn't see it until yesterday morning. Here's how the new patch format looks when rendered in Brewers, Royals, and Twins colors. And here's how it looks in its new location on the back belt tunnel (click to enlarge):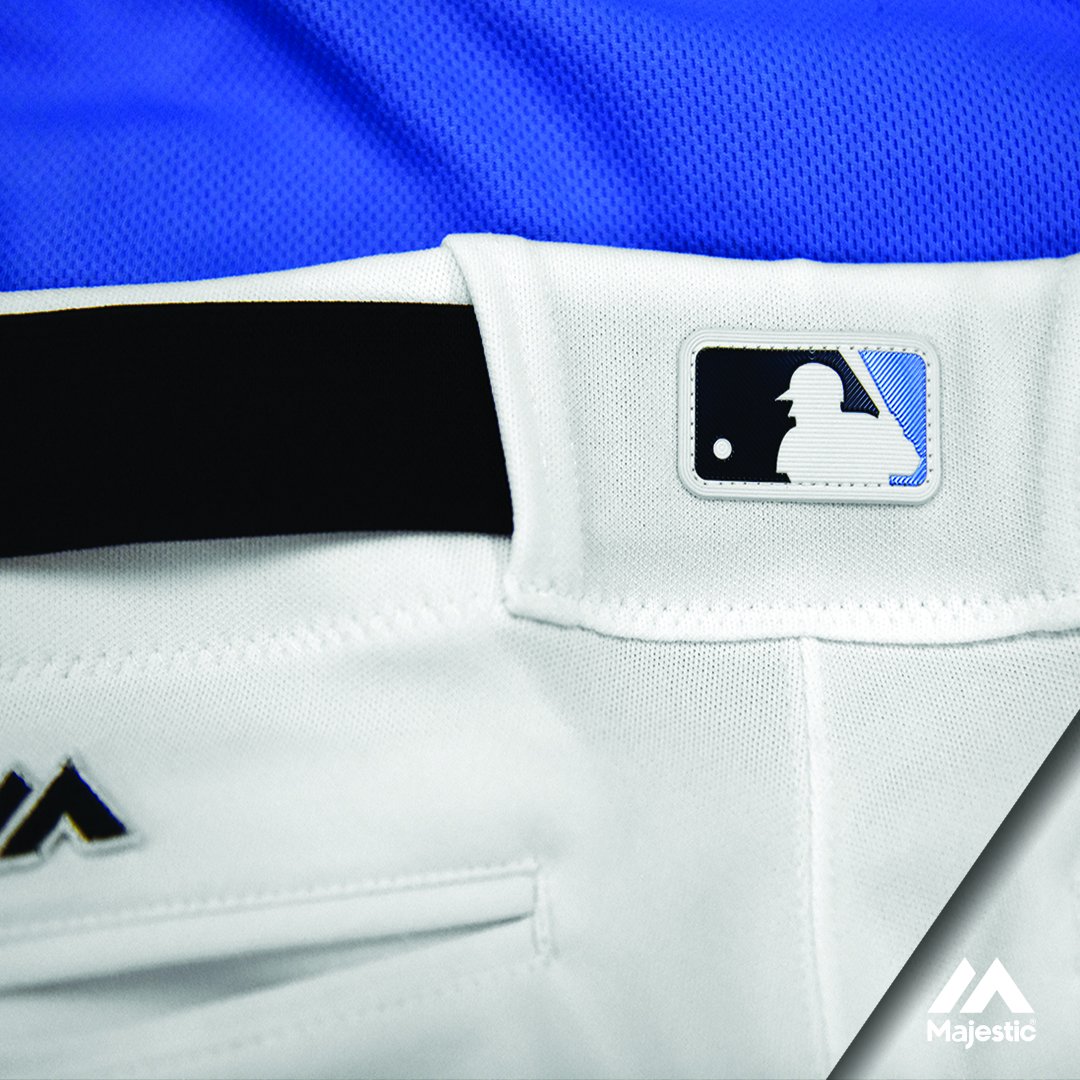 When assessed in a vacuum, I think it looks pretty cool. I like the multi-directional ridges and the concentric circles on the ball. If Jerry Dior were still alive, I bet he'd be pleased. But as a uniform patch, it just feels too plastic, too synthetic — I'll take embroidery over this any day.
4. This article provides some the simplest, most straightforward info we've yet seen about Majestic's new Flex Base uniforms. Among the new details (or at least they're new to me):
• The mesh panels on the sides are called "Air Belt" panels. Using the word "belt" to refer to part of a shirt seems odd to me, but whatever. I'm just gonna call them side panels or mesh panels anyway.
• The Flex Base jerseys use a lighter version of the Cool Base fabric.
• The pants' waistbands now have "silicone motion grippers" to keep the jerseys tucked into place. This is the same thing the NBA has been doing for more than five years now.
That last item could have an effect on a uni-related ritual: the recent habit of some players to untuck their jerseys at the completion of a game:
Might those players now find their shirttails anchored a bit more securely in place when they try to pull them out? We shall see.
5. The latest team to unveil a new alternate jersey is the Phillies, who'll be wearing this red jersey for weekday-afternoon home games (further info here; click to enlarge):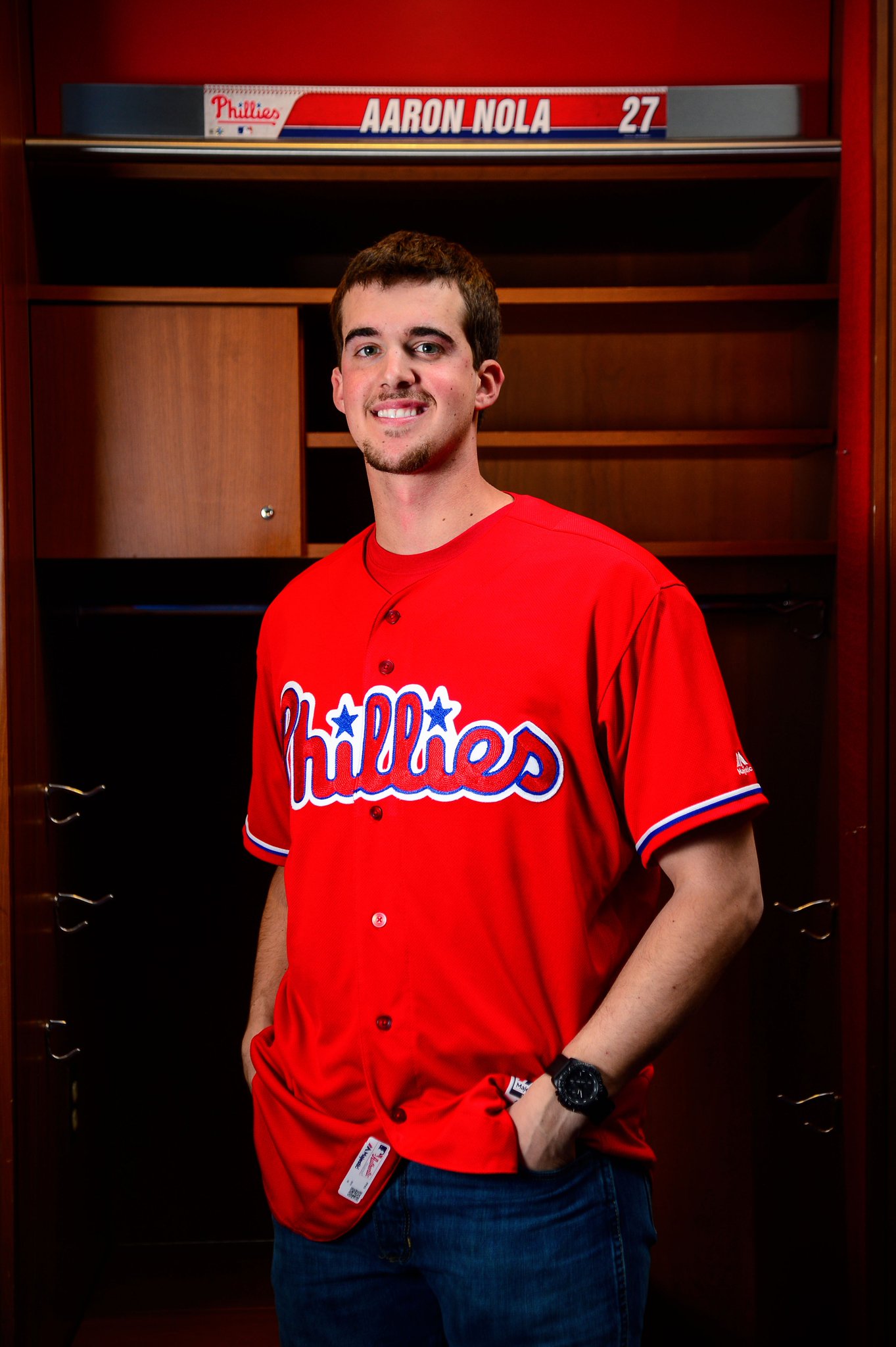 This will be worn with the team's pinstriped pants and primary cap. I'm not nuts about it, as it waters down what was one of the best uni sets in the game, plus the MLB uni scene doesn't exactly need another red alternate. Meanwhile, I was puzzled by the plan to wear these for weekday day games — don't they wear the cream alt for day games? So I asked the Phillies and was told that the creams will now be worn for weekend afternoon games.
As long as we're talking Phillies: Everyone knows the Phils wore the infamous maroon "Saturday Night Special" uniform for one game in 1979. But I hadn't realized that they also wore their red BP tops for one game against the Padres in 1992:
And no, that's not a spring training game, because the Padres train in Arizona while the Phils are in Florida. I'm told it was a one-day slumpbuster move. Good find by Twitter user Boo Hurlock on that one.
(My thanks to Brian Erni, Steve Dodell, Joe LoVerde, and Phil for their contributions to this section.)
• • • • •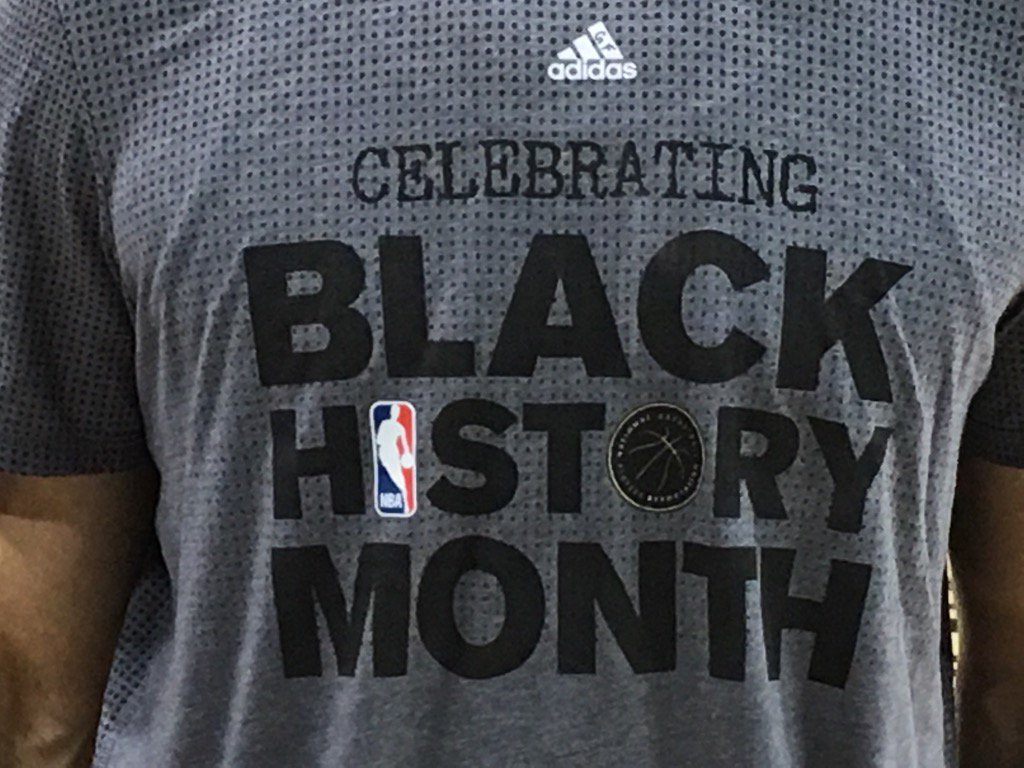 Click to enlarge
Culture clash: Yesterday was the first day of Black History Month, so NBA players wore the shooting shirt shown above. There was also an uncomfortable moment in Sacramento, where the Kings were giving out T-shirts for Chinese New Year, which happens to be the year of the monkey (click to enlarge):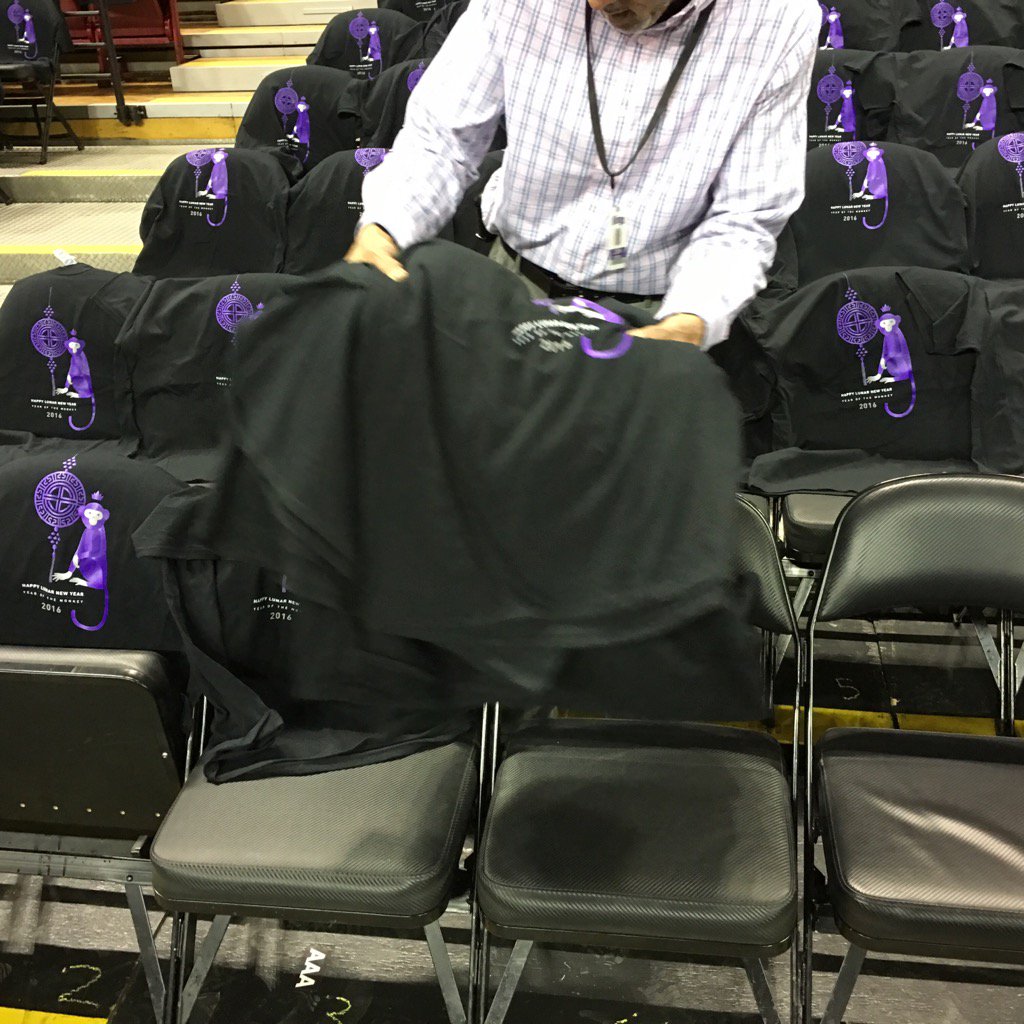 Kings center DeMarcus Cousins didn't think a monkey-themed promotion was a good fit for the start of Black History Month, so he apparently complained to the team's management, which then decided to remove the shirts.
•  •  •  •  •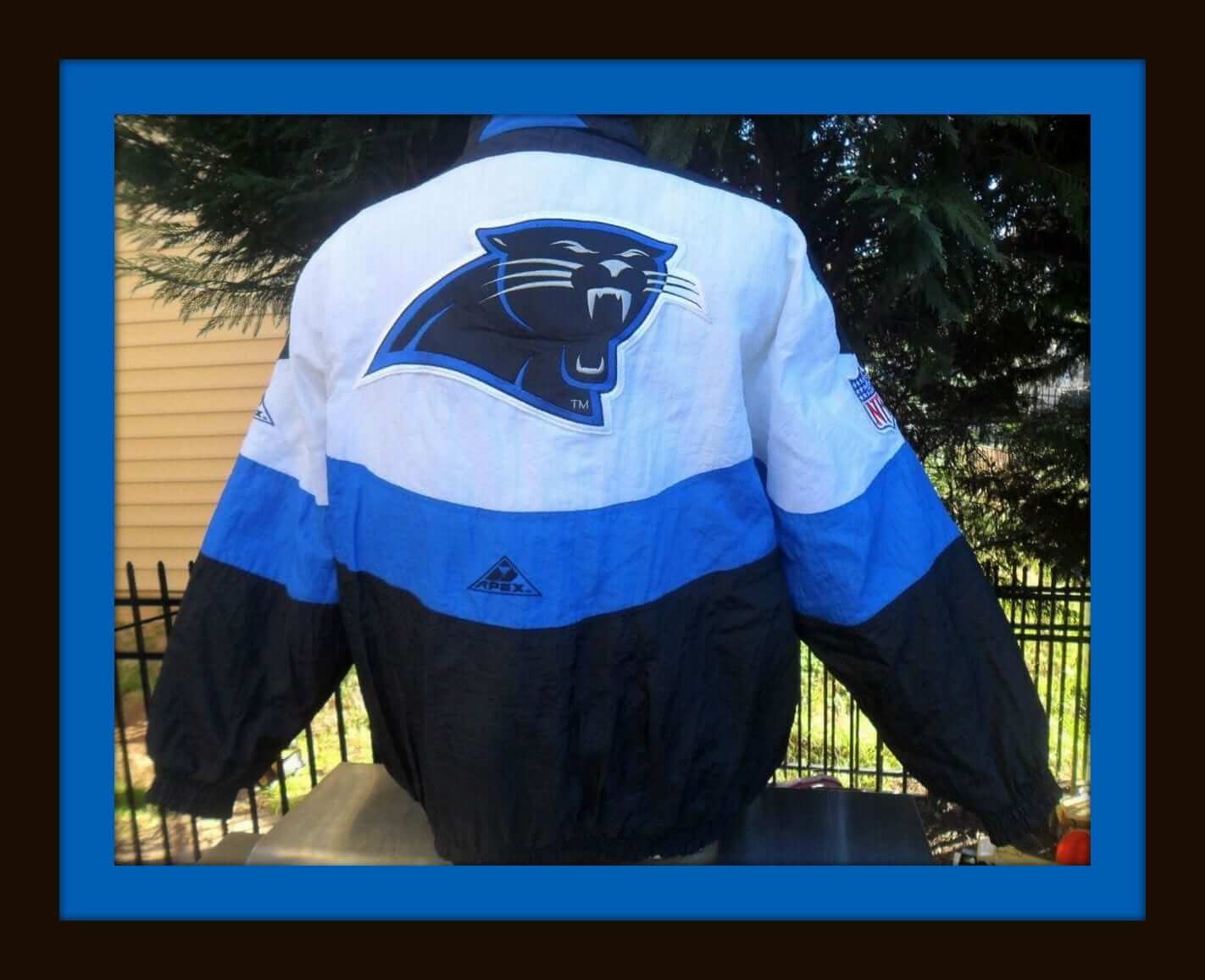 Click to enlarge
Collector's Corner: Super Bowl Edition
By Paul Lukas
San Francisco/Santa Clara plays host to The Big Gameâ"¢ this Sunday (not going anywhere near it, pure insanity). Let's start off with this
NFL Pro Line Panthers "Swirl" design parka by Apex. Along with Russell Athletic, Apex set the standard for fan apparel in the 1990s. Nike wasn't there yet, and Reebok would soon come along with fine stuff — but as the 1990s hit their midpoint, Apex and Russell were gettin' it done.
A few more items to sort through for the Supe50 teams:
• This vintage Broncos helmet plaque is in excellent shape. This one's made by Placo and features the classic retro Broncos look. The seller has many different plaques available; just click here. (And they missed the mark with this Chargers one, did they not?)
• This 1970s Broncos spiral notebook features some nice bold graphics.
• This Panthers NFL Pro Line sweatshirt by Russell is top quality. Always were.
• One more Panthers/Russell Pro Line item for you: an authentic game jersey from 1995 for quarterback Kerry Collins. Now there's a name from the past!
• Broncos high-top basketball shoes? Sure thing, from "Eastport by Starter."
• Really nice-looking 1980s Broncos sweater by Cliff Engle. Screams Dan Reeves.
• Nice graphics on this set of 1970s NFL helmet drink coasters (but they feel more like the 1980s to me).
• Moving beyond this Sunday's game: If plain is your style, and you happen to be a fan of the old St. Louis (Football) Cardinals, you'll love this red jacket.
• Montreal Expos fishing bait? Well, of course.
• Great-looking artwork on this vintage Cleveland Cavaliers poster.
• And from reader Jim Ransdell: An eBay seller called "nascatman" has all sorts of cool stuff, including gumball helmets, a Pete Rose bobblehead, soda bottles and cans with college basketball team logos, and more. Check out his stuff here.
Follow Brinke on Twitter: @brinkeguthrie
• • • • •
Click to enlarge
PermaRec update: The latest letter from the Hoge Brush Company files was typed on stationery that's suitable for 'Skins Watch. Get the full scoop over on Permanent Record.
• • • • •
The Ticker
By Mike Chamernik

Baseball News: New White Sox-themed uniforms for Northern Illinois (from Phil). … The Royals have a really neat 3D billboard. The team has used some other innovative billboards in past years. … Conor McCarthy spotted a spelling error on a Dustin Pedroia jersey for sale on MLB.com (from Phil). … Mike Clary found two interesting photos: A 1963 spring training shot of Ted Williams in backwards stirrups, and a 1961 pic showing an L.A. Angels batboy in the background with "Visitors" on his chest. … The Binghamton Mets will wear giraffe-themed jerseys in July (from Tony Arnoldine). … Tennessee altered its new home jerseys.

NFL News: Cam Newton wore NBA socks at media night. Not just any NBA socks, though: They'll be the same ones players will wear in the Rising Stars Game during All-Star Weekend (from Todd Krevanchi). … San Franciscans have been cleverly defacing Super Bowl 50 sculptures around the city. … A writer called out Cam Newton's, and some other Panthers', lack of off-field style (from Phil). … A White Castle ad shows generic, yet recognizable, NFL jerseys (from Jason Hillyer).

Hockey News: Here's a really cool piece on the mysterious skybox that hangs above the ice at the Cincinnati Gardens (from Tris Wykes). … The AHL will extend its licensing deal with CCM/Reebok for five more years. "This will overlap with the NHL and Adidas' supplier contract beginning in 2017," says Daniel Lavender.

NBA News: Here's a throwback that we'll never see: The Pacers wore uniforms with blank jerseys and mismatched shorts for the ABA's first preseason game in 1967 (great find by Jeff Flynn). … On Sunday, the Staples Center hosted a Clippers game in the afternoon and a Lakers game at night. Here's how the crews changed courts. … The Spurs have a few cool George Gervin-era warm-ups hanging up at their arena (from Steve Stevenson).

College & High School Hoops News: Martinsvile (IN) High School wore throwback uniforms last week. The school honored the 1927 state championship team that was captained by John Wooden (from Derek Linn). … Houston Baptist University wore pretty wild throwbacks the other night against Sam Houston State (from Josh Jones).

Soccer News: Manchester City's new crest looks a little like the seal of the U.S. Department of Commerce (from JohnMark Fisher). … New jersey for IFK Göteborg. … New jersey for the Vancouver Whitecaps. The fading blues are meant to look like the sky blending into the ocean on the horizon (from Conrad Burry). … The English club Milton Keynes Dons F.C. went with a double-decker NOB for newcomer Jay Emmanuel-Thomas (from Tim Cross).

Grab Bag: Tennessee women's teams other than basketball will drop the Lady Vols nickname but will wear a Lady Vols jersey patch (from Phil). … Trademark law is already difficult to understand, and the internet has made it even more flummoxing (from Brinke). … An online study examined the fashion sense of the presidential candidates (from Tommy Turner). … More politics: The logo for the Iowa Barnstormers — that's an arena football team that plays in Des Moines — has apparently been adapted by Bernie Sanders supporters.