Click to enlarge
As you know, there are lots of rule changes for the Pro Bowl: no blitzing, no kickoffs, no rushing the punter or kicker, intentional grounding is legal, and so on. Another change, as you can see above on Giants wide receiver Odell Beckham Jr.'s helmet, is that tinted visors are legal. But wait, did Beckham actually wear the tinted shield in the game? Maybe not. But he definitely wore one last year. (As you can also see, Beckham was one of Team Rice's captains and wore the league's standard captaincy patch, with one star.)
Sorry about the "Did he or didn't he?" bit — I was traveling all weekend, got stuck in very bad traffic getting home last night, and only caught a very small glimpse of the fourth quarter. From what I could see, it wasn't so bad by Pro Bowl standards (although that's obviously a pretty low bar), and definitely better than the last two years (ditto). Here's a look (click to enlarge; additional photos here):
As for the NHL All-Star Game: See above — I was traveling, got home late, and missed the whole thing. Really sorry about that, people — I know those were the two big uni stories from yesterday. What did I miss? Did the NHL unis reflect, or glow in the dark, or whatever? Fill me in!
One thing I do know, because readers Gabe Billig and Patrick Walsh told me: ESPN's mobile gamecast featured the old Atlanta Thrashers logo instead of the Atlantic Conference logo. Most likely they used an "ATL" code that was still pegged to Atlanta (click to enlarge):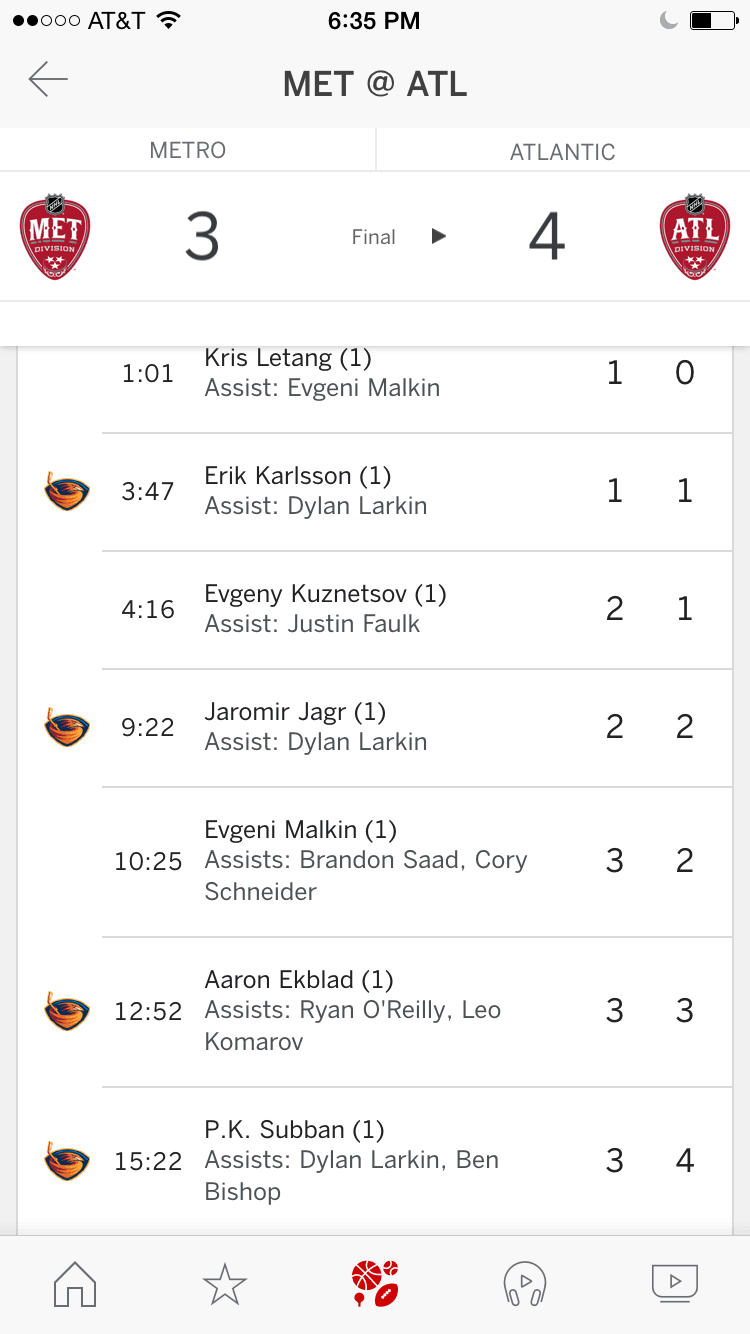 • • • • •
Nine-pin bowling from Czechoslovakia around 1950's. Re-rack? Anyone?

Posted by Frank Selvag on Tuesday, December 29, 2015
Too Good for the Ticker: I love love LOVE this very short video of Czechoslovakian nine-pin bowling from the 1950s. Note that one team is wearing shorts, and even the pinboys have uniforms! Great stuff, and a very entertaining way to spend 34 seconds, trust me.
(Major thanks to Patrick O'Neill for this one.)
•  •  •  •  •
The Ticker
By Paul

Baseball News: Newly acquired White Sox C Alex Avila, who always wore No. 13 with the Tigers, will wear No. 31 with the Sox (from Clint Wrede). "¦ Here's more about the similarities between the Dodgers' new spring training cap and the Chunichi Dragons' cap, along with other visual similarities between the two teams (from Chris Bisbee). "¦ X Games skier Nick Goepper wore a Reds jersey while competing yesterday. He's a Cincy-area native who threw out the first pitch at a Reds game in 2014 (from T.J. Leibowitz).

NFL News: Anything Worth Doing Is Worth Overdoing Dept.: I liked Packers WR James Jones's hoodie on the field, but he's taking it too far when he wears it in a TV studio (screen shot by @TRKG12). "¦ Panthers QB Cam Newton wore some very flashy pants as the team departed for Supe50 (from @bryanwdc). … After the Steelers/Colts playoff game in Baltimore in 1976, a plane crashed into Memorial Stadium in Baltimore. "I'd heard this story but had never seen a photo before!" says Jeff Flynn. … Can't recall if we've seen this before, but once more won't hurt: Very nice color footage of a 1943 Lions/Washington game. It includes Washington QB Slingin' Sammy Baugh playing QB, DB, and placekick holder (from Gene Sanny).

Hockey News: Two local newscasters wore the Indy Fuel's Garfield-themed jerseys the other day (from Barry Brite). "¦ I'm briefly quoted in this Toronto Star article about jersey numbers. It's mostly about hockey but also touches on other sports.

NBA News: This is an old story, from April of 2014, but I don't recall having seen it before, so there's no harm in running it now: The NBA Live 09 and NBA Live 10 video games featured a very odd Warriors uni that never made it onto the court (from Murddock Vorhees).

College and Youth League Hoops News: We've heard of the Oregon Mighty Ducks, but I think this the first time I've seen them refer to themselves as "Mighty Oregon.". "¦ NOB typo alert! That's Notre Dame G Rex Pflueger, from last night's game against Wake Forest (from Warren Junium). … Joeseph Bailey's daughter plays CYO basketball and recently found herself in a color on color game. "Her team is in red and they are visitors," he says. "Funny thing is that her team's unis are reversible, so they could have gone white with red accents, but they chose to stay red. Additionally, my kid (No. 3) chose to wear purple/orange socks despite the fact I got her white/red and red/white socks. At least her sneaks match her uni — most of the girls' sneakers don't match their unis (drives me nuts)."

Soccer News: Here's a shot of the USMNT's jerseys being numbered and lettered (from Tim Cross). "¦ New home unis for Juventus. "Well done," says Patrick Thomas.

Grab Bag: "On Bruce Springsteen's current The River tour, he is selling a replica of the plaid flannel shirt he wore on the album cover," says Jimmy Lonetti. "Makes me think of a good question: What shirt, jacket, etc. from a classic album cover or favorite album would you want to own?" … New helmets for NASCAR driver Kevin Harvick. … As you can see on the middle helmet, Busch Beer is returning as a NASCAR sponsor. … Fusion Fight Gear — a martial arts apparel manufacturer — has bought the rights to Star Trek attire (from J Fletcher).