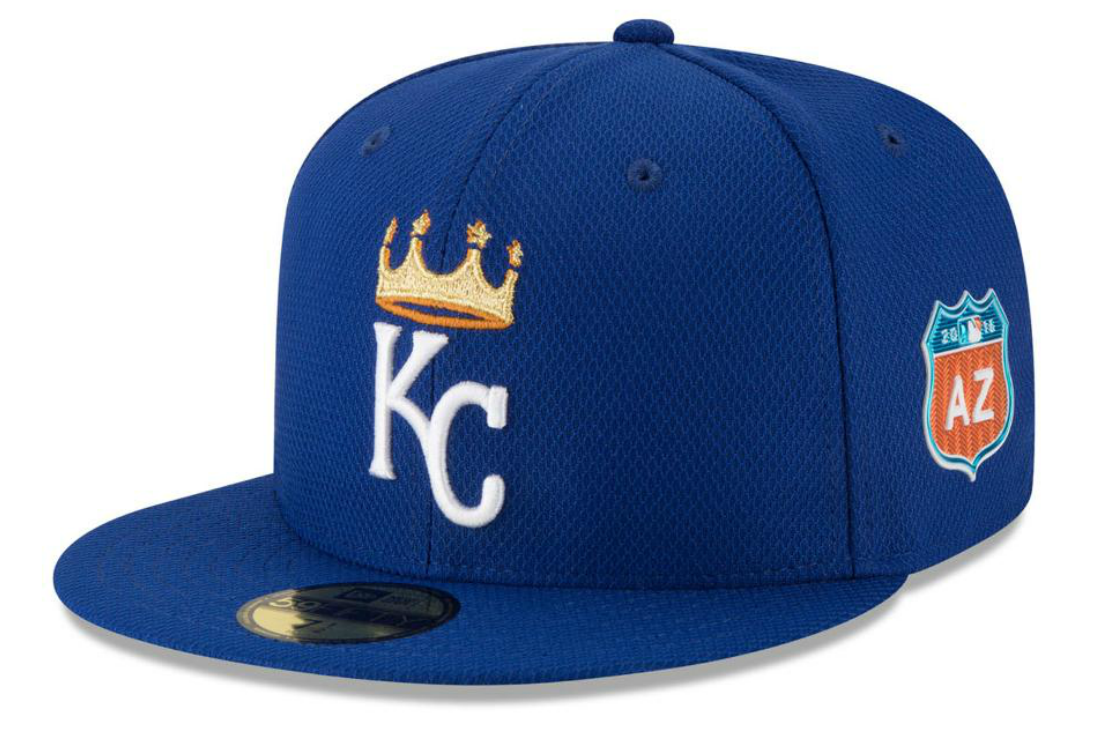 Busy day yesterday in MLB, with all sorts of stuff coming down the chute. One thing at a time:
1. A new set of spring training caps and jerseys was released (including the awesome new Royals cap shown at right, which you can click to enlarge). You can see all of the caps here and all of the jerseys here.
There are new cap patches and sleeve patches, some ridiculous sublimated confetti in the jersey letters and numbers, and more. I covered the basics and singled out some of the most notable new designs in this ESPN piece, which was posted yesterday afternoon. Better coverage, frankly, came from Yahoo's Mike Oz and, especially, SportsLogos.net's Chris Creamer, both of whom apparently had prior access to all the images and info (whereas I had to write my piece on the fly once everything was revealed). Chris's piece is particularly thorough — recommended reading.
I find it hard to care too much about any of this stuff, at least as it pertains to spring training. Don't get me wrong — I love spring training, because it means baseball season is right around the corner. I love reading about who might make the team, who might get sent down, the whole bit. But the games don't count, half the players are minor leaguers with numbers in the 70s and 80s, guys are running wind sprints on the warning track during the eighth inning, and so on, so I really don't care what anyone's wearing. It's all just a glorified workout.
Meanwhile, this launch raises some questions. Such as:
Do the spring training caps/jerseys replace the BP caps/jerseys? Is it basically just a new name for the same thing?
No, and no. According to Chris Creamer's article (and I confirmed this with him yesterday), the old BP gear will come back and be used for pregame warm-ups once the regular season starts. So this spring training stuff is an entirely new product line in addition to the BP product line. We already know the Astros aren't bothering with BP jerseys this season, though — they're going to use their new alternate jersey instead, which happens to be the same design as their new spring training jersey. Are you following that? Basically, expect a lot of commingling here.
Speaking of commingling, isn't there some overlap between the spring training gear and some teams' new alternates?
Yes. The Twins released a new red alternate jersey yesterday (more on that in a minute), and it's basically the same thing as their new spring training jersey. Ditto for the Brewers' new spring training jerseys and their new Sunday alternates. Conversely, some of the spring training jerseys are modeled on pre-existing alternates. In short, there's a lot of cross-pollination in these spring training designs, and I think the ones that aren't already functioning as (or modeled on) alternate jerseys will likely end up being worn in regular season games anyway (but without the spring training patches, obviously). I think what we're seeing here is an intentional blurring of the lines about which uniform should be worn in which circumstance, and I suspect there's a good chance that those lines may be erased altogether in a few years.
What's the deal with all this "Flex Base" talk?
The new spring training jerseys are all being made in Majestic's new Flex Base template, which among other things includes mesh side panels. I had thought (and hoped) that this template would just be one option among several — like, a player could choose a regular jersey, a Cool Base, or a Flex Base, depending on the weather or his preferences. But Chris Creamer tells me that's not the case. "Regular season will be all Flex Base for all teams," he said in an email to me yesterday. "I don't believe players will have the option anymore. And yes, Yankees included."
This isn't necessarily so bad for teams with solid-colored jerseys, but Flex Base is a disaster for pinstripes, as we saw earlier this week in this Rockies photo. Chris's article yesterday linked to another photo that confirms the sad state of affairs: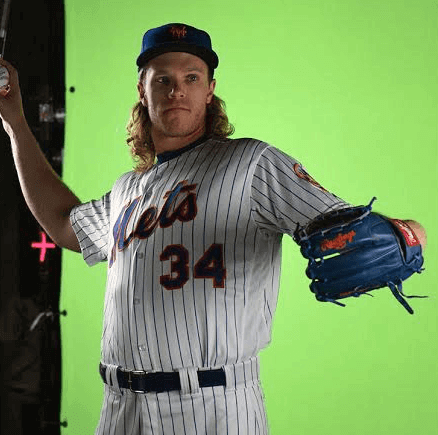 Woof! Here's the thing I don't get: If they can sublimate a pattern onto those side panels, as the D-backs are doing, why can't they put sublimated pinstripes there? Maybe the side-panel pins wouldn't match the look and feel of the regular pins, but it's hard to imagine it looking worse than what they've got in that Mets photo.
2. As I just mentioned, the Twins unveiled their new red alternate jersey, whose existence has been one of the worst-kept secrets of the off-season. It's not awful, and certainly better than the old Dairy Queen design from years ago. Here's an infographic with all the particulars (click to enlarge):
3. In the "whoops!" department, the Pirates' equipment manager tweeted a shot of the team's new alternate jersey, which hasn't yet been officially unveiled. He quickly deleted the tweet, but not quickly enough — someone had already made a screen shot, which soon began making the rounds:
@UniWatch @PhilHecken @sportslogosnet Pirates equipment manager leaks the new alts. Deletes tweet immediately. pic.twitter.com/3D4Xe3u4MW

— Zack D'Ulisse (@740JZD) January 28, 2016
Most people are assuming that the gold jersey shown in the photo is a 1979 "fam-i-lee" throwback, which seems plausible. Whatever the design is, my understanding is that the team is planning to unveil it on Feb. 16, although I wonder if they'll move up the date now that the design (or at least a glimpse of it) has leaked.
•  •  •  •  •
Friday Flashback: Don't look now (no, really, don't look), but the Pro Bowl is this Sunday, so my weekly Friday Flashback piece on ESPN takes a look at the history of Pro Bowl uniforms (including the bizarre mid-1990s design shown above). Check it out here.
• • • • •
The Ticker
By Paul

'Skins Watch: The 'Skins are slated to play a game in London next season, which is sparking a debate in the UK over the team's name (from Brian Mazmanian). … A Massachusetts community is debating whether the local high school should change its "Redmen" team name (from Jordan Mayblum). … Three firms have made the cut to present new logo designs for the University of North Dakota, which is replacing its Fighting Sioux design (from John Muir).

Baseball News: New cleats for Florida State. … New uniforms for Sam Houston State. "¦ New uniforms for Pittsburg State (from Ryan Atkinson). "¦ Hmmm, maybe the Rays won't wear their new spring training cap after all (from Joel Mendelson). … New caps for Lamar.

NFL News: Reprinted from yesterday's comments: Yesterday's Ticker had an article about the Pontiac Silverdome, and Michael Bochum noted that it included a shot of Joe Montana wearing No. 19 at a 49ers practice. Getty's caption says the photo is from 1981, but their date is "Jan. 1, 1981," which is Getty-speak for "We have no idea." Bob Gassel points out that Montana's Wikipedia entry says that Montana wore No. 19 "briefly in training camp of the 1979 season with San Francisco," which makes more sense, because that was his rookie year. When I posted the photo on Twitter, Rich DeMarco noted that Upper Deck actually put out a card showing Montana wearing No. 19. According to football-reference.com, Montana never wore 19 in a game for the 49ers, however. … A Louisiana high school has a uniform that's sort of a Steelers/Bengals hybrid. "¦ We had previously seen the Broncos' Supe50 end zone, and now here's our first look at the Panthers' end zone.

Hockey News: A pond hockey team in Minnesota has very cool retro-styled jerseys. … An NYC cop wore a John Tavares Islanders jersey during a drug bust (from John Muir). … This is pretty cool: Red Wings G Jimmy Howard's Stadium Series mask has a Detroit baseball theme (from Michael Hersch). "¦ The NHL's all-star jerseys sure are shiny (thanks, Phil). "¦ Captials teammates Evgeny Kuznetsov and Justin Williams switched jerseys at a season ticket-holder event (from @russianmachine). "¦ Here's something you don't often see: a marching band on ice! (From Chris Flinn.)

NBA News: The Lakers are adding a statue of Shaq. "¦ Color on Color last night in DC, as the Wizards wore their sleeved Baltimore Bullets throwbacks last night against the Nuggets, and the Nuggets' TV station even listed them as "BAL" in their score bug (from Phil and John Ternest, respectively).

College and High School Hoops News: Color vs. color game two nights ago, featuring Hope College in orange and Calvin College in maroon (from John Waller). … The McDonald's High School All-American dunk contest and skills challenge will be held at the Chicago Theater. Check out the setup — not your usual setting for an athletic event (thanks, Mike). "¦ Syracuse wore very nice Pearl Washington warm-ups last night. "¦ Syracuse also held a "Dress like Jim Boeheim" contest (thanks, Mike).

Soccer News: Special carnival kit for Mainz 05 (thanks, Phil). "¦ The Portland Timbers have a new set of Rose City alts (from Matthew Gibson). … New jerseys for Burlingame Dragons FC (from Robert Jonas). "¦ New jerseys for the Yokohama F-Marinos.

Grab Bag: Way back in June of 2006, when this website was less than a month old, I included a little book review of an amazing book about stray shopping carts (yes, really — you can see my original write-up in the middle of this entry). The book is now 10 years old, and someone has written a 10th-anniversary tribute to it, full of great info and graphics (thanks, Brinke). … Does wearing a uniform affect the way people perceive you? Of course it does — and here's an art project that explores that phenomenon (from Jason Hillyer). … This is pretty cool: an exhibition of fake books that are actually flasks, table lamps, cigarette holders, etc. … Here are the cycling jerseys for the 2016 Giro d'Italia. … It seems a little late for this, but here's an assessment of GOP presidential candidate Ben Carson's campaign logo. … Those of you who like to colorize old b&w pics may be interested in this new book of painstakingly colorized photos (from Matt Fedorka). … Here are BMW's car liveries for the 24 Hours of Daytona. "¦ Here's the latest on the massive corporate HQ that Under Armour plans to build in Baltimore (from Andrew Cosentino). "¦ New jerseys for USA Rugby 7s (from Josh Gardner). "¦ GOP presidential candidates just love that casual Friday look (from Tommy Turner). "¦ Novak Djokovic wears sneakers with his face stitched onto the tongue (from Nike Jones).