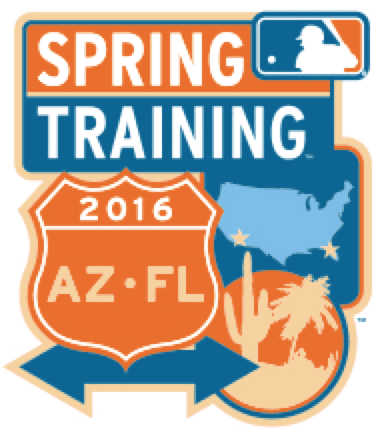 With spring training just around the corner, I want to take a break from Supe50 coverage and address a bunch of MLB developments that have been brewing. One thing at a time:
1. While discussing the Astros' new alternate jersey in Sunday's post, Phil noted that the new jersey looks a lot like the team's BP jersey and then added the following:
I'm under the impression the Astros will still wear their current BP jersey, but according to this article, the new alternate jersey "will be worn for regular season games and Spring Training games." Now, it's not unusual for teams to wear their regular (primary) jerseys for a few ST games, but I'm wondering if this one will simply replace the BP jersey, and also be worn on home Sundays. It seems kind of pointless to have two very similar tops.
Turns out Phil was on the right track. Astros Talk blogger Mike Acosta, who also serves as the team's authentication manager, has confirmed that the 'Stros are scrapping the BP jersey:
@positive_24 @PhilHecken No more BP jersey. Players usually wear pullovers and fleece. This new game jersey will be the go to for players.

— Mike Acosta (@AstrosTalk) January 24, 2016
2. In Sunday's Ticker, Phil linked to a photo showing new Rockies jerseys with mesh side panels. A few follow-ups on that:
• Mike Acosta, that same Astros guy, says this panel will be included on all MLB jerseys in 2016, plus a small panel is also being added to the crotch of the pants:
@chriskder @PhilHecken All teams now have a side panel. The construction of jerseys has changed in '16. We simply use the original rainbow.

— Mike Acosta (@AstrosTalk) January 24, 2016
@sportslogosnet The panel is just a larger gusset on the new Flex Base game jerseys. There's a small one on the crotch of the pants as well.

— Mike Acosta (@AstrosTalk) January 24, 2016
• These side panels presumably help explain why the Diamondbacks were able to extend their snakeskin pattern down the sides of their new jerseys (click to enlarge):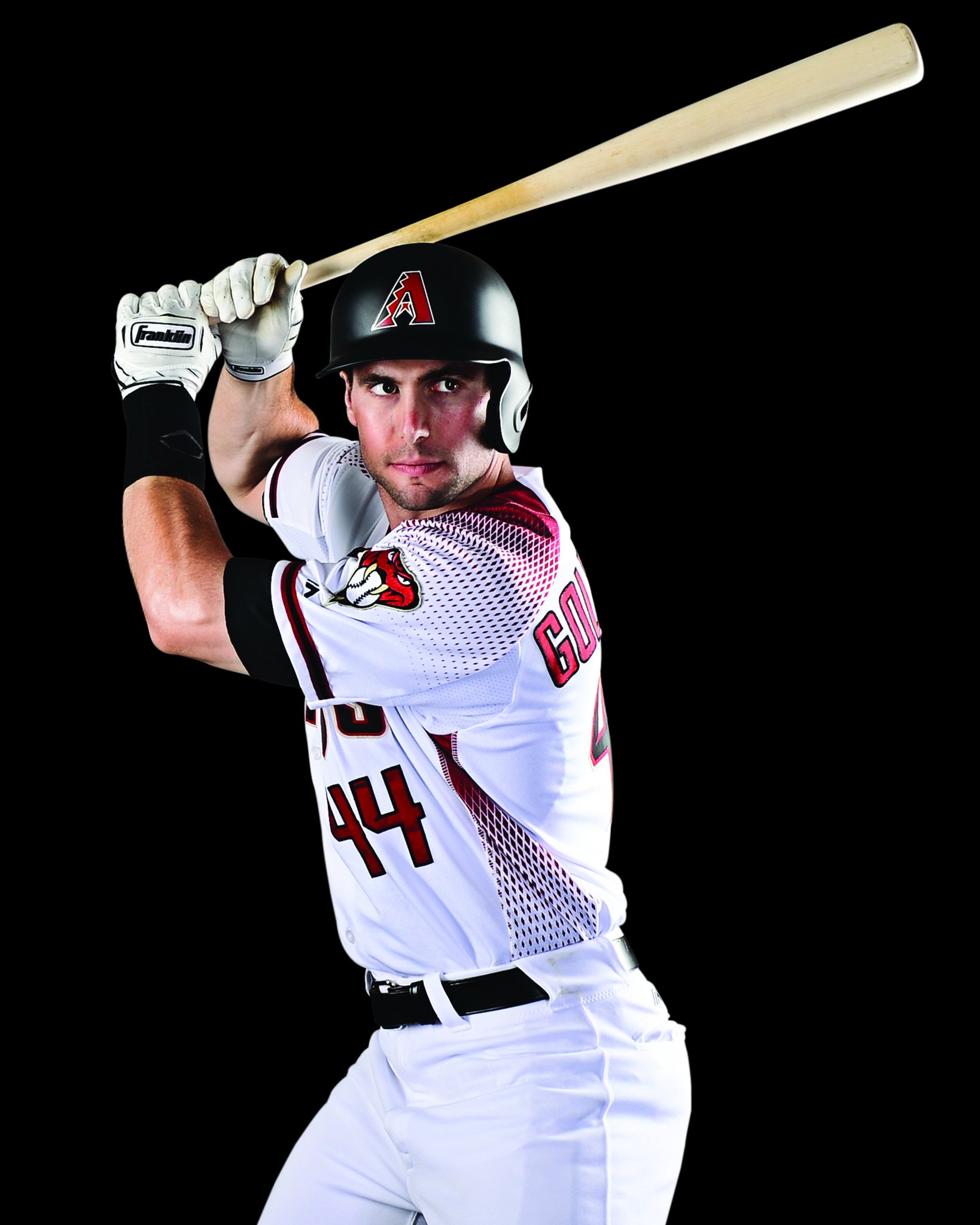 • If you look closely, you can kinda-sorta see the side panels on the sides of the Padres' new jerseys as well (click to enlarge):
•  You can also see the side panels in a few shots in this A's fanfest slideshow.
• Interestingly, these side panels do not appear in the mock-ups shown in the MLB Style Guide (well, except when the panels have a contrasting color or pattern, as in the case of the Astros and D-backs).
So what does this all mean? Although the Astros' panels are kinda cool, contrasting side panels almost always look like shit. It's one of those "Just because you can, that doesn't mean you should" things. Let's hope teams don't start going that route. Also, as that Rockies photo shows, the plain mesh panels on pinstriped jerseys look like shit as well, so that's a major problem in the making for teams like the Mets, Cubs, and everyone else with pinstripes (except the Yankees, who'll likely be smart enough to resist this change). It's bad enough when a pinstriped team has that non-pinstriped underarm gusset. Having a full-length non-pinstriped side panel will really be the bee's gall bladder.
3. One of those earlier tweets mentioned the term "Flex Base." What the hell is Flex Base? New to me. But we're apparently going to be hearing more about it:
Coming soon. #SneakPeek #FlexBase #MajesticAthletic pic.twitter.com/9fwbDrmPum

— Majestic Athletic (@MajesticOnField) January 25, 2016
Maybe the side panels will only appear on these new Flex Base jerseys, but not on Cool Base or "regular" jerseys.
4. It looks like Majestic is also experimenting with a new seam on the rear shirttail:
@vdemske Thought about buying that. Prototype new style jersey. New mesh panel on the bottom @UniWatch @PhilHecken pic.twitter.com/8cnwZwfOAV

— Brandon Davis (@mrtauntaun) January 24, 2016
This new element, much like the side panels, appears in some of the A's fanfest photos, like this one.
I've tried to find out more about this, but so far no dice. I'm figuring this is another thing that will be limited to the new Flex Base line.
5. It also sounds like the MLB logo on the jerseys maybe be changing from embroidered to Chromaflex:
@UniWatch The MLB logo on the jersey also appears to be similar in production to the 2015 All-Star Game and Postseason sleeve patches.

— Mike Acosta (@AstrosTalk) January 24, 2016
@UniWatch Our sample features an MLB logo made just like the postseason sleeve patches. It's not embroidered.

— Mike Acosta (@AstrosTalk) January 25, 2016
For those who don't recall, the Chromaflex postseason sleeve patches looked like this.
6. Lots of you have been asking me if there will be new BP caps and/or jerseys this season. Answer: I honestly have no idea, but it looks like they may be adding palm tree icons to the numbers of the spring training jerseys: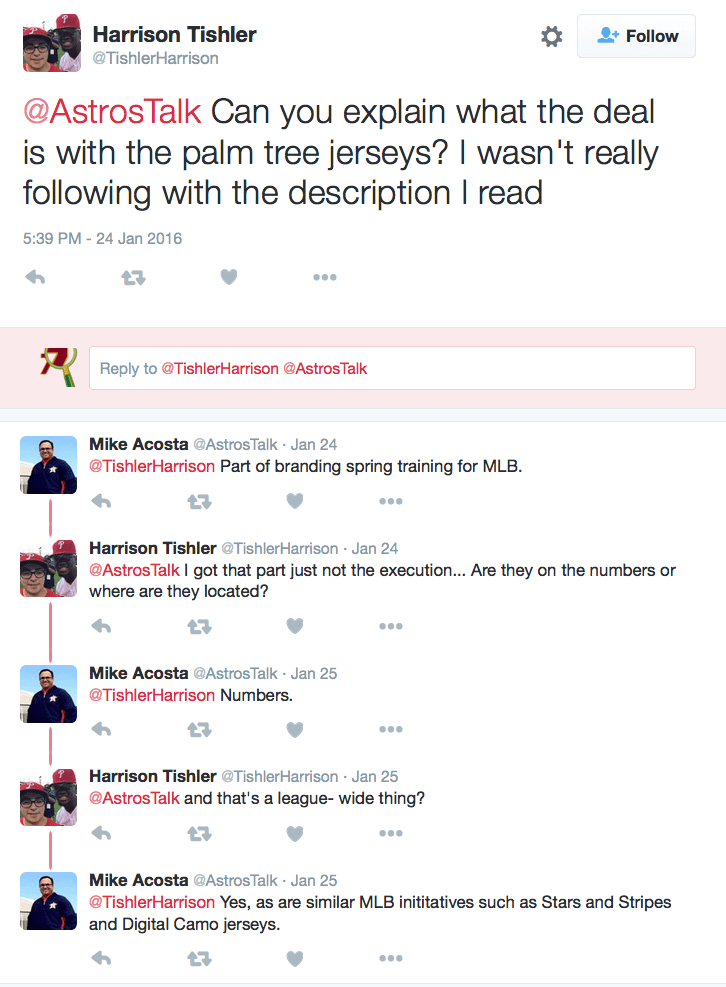 @UniWatch I have yet to see the physical product.

— Mike Acosta (@AstrosTalk) January 25, 2016
If they're using a palm tree for teams that train in Florida, there'll presumably be a cactus for teams in Arizona.
So, to summarize: Most of this is either unconfirmed or somewhat nebulous, at least for now. But it looks like we'll have lots to talk about in the weeks and months to come.
(Big thanks to Brandon Davis, Harrison Tishler, and Phil for their contributions to this entry.)
• • • • •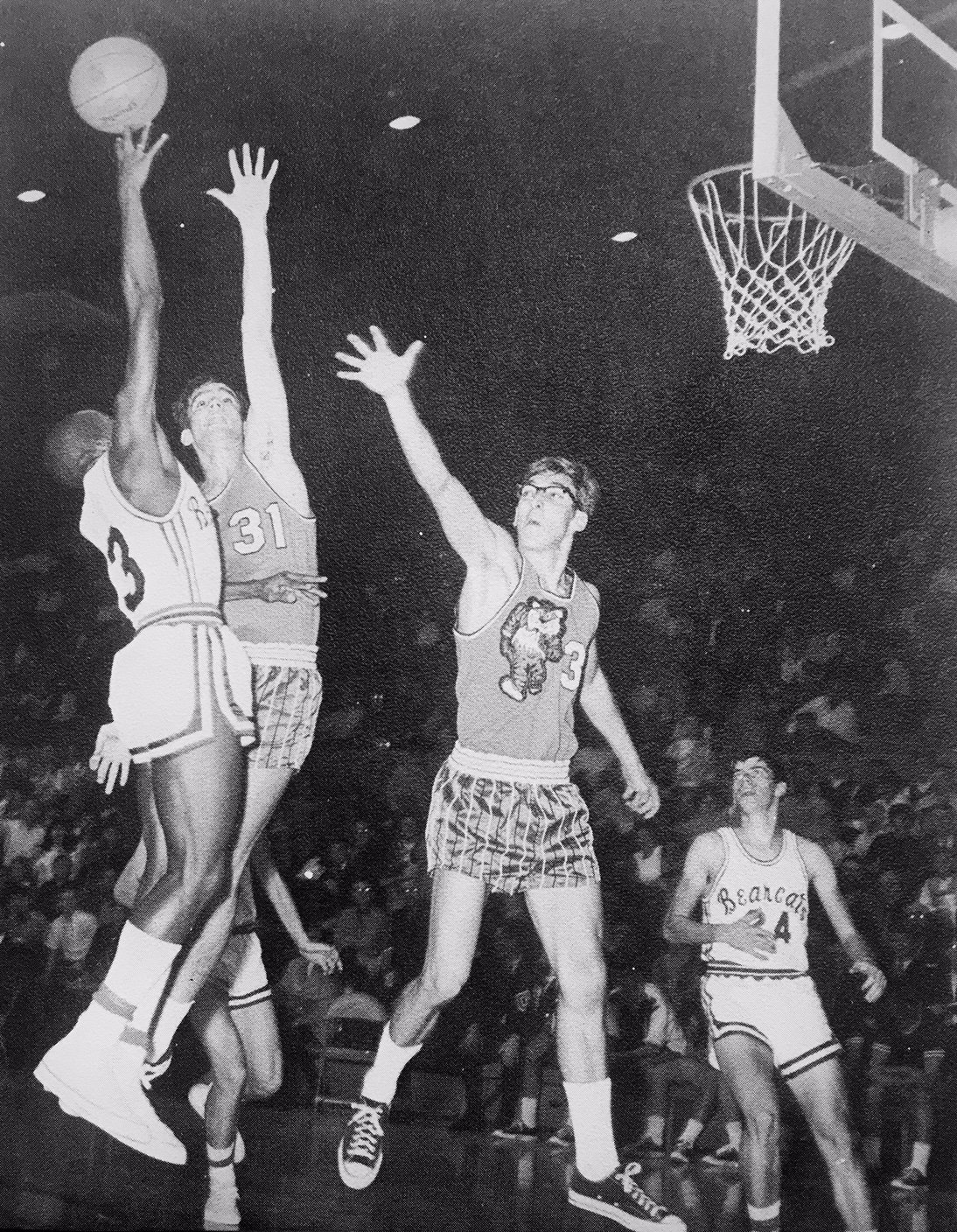 Click to enlarge
Too Good for the Ticker: The photo shown above appears in the 1968 yearbook for Muncie Central High School in Indiana. Muncie is the school in white — the Bearcats. The other team's identity isn't clear, although I'm told that it may be the Yorktown Tigers. Whoever they are, they sure had an all-time doozy of a uniform! The striped satin shorts, the cartoon tiger, the off-center number, and bonus points for the eyeglasses on the guy in the center of the shot. Can anyone confirm which school this was?
Somewhat incredibly, video footage of these two teams — apparently from the exact same game! — is available on the web. The media player is small and can't be embedded (or at least I couldn't figure out how to embed it), but it's worth seeing just for so you watch those tiger uniforms in action. Check it out here.
(Doubleplusthanks to Marc Viquez for the photo and @doctorsheckles for the video.)
•  •  •  •  •
The Ticker
By Paul

Baseball News: New alternate jersey/cap combo for the Brewers. It'll be worn for most Sunday games, both at home and on the road. Meanwhile, they're scrapping two of their other jerseys. … Little League has extended its partnership with Russell Athletic for another five years (thanks, Phil). … The Rangers will give away an Adrian Beltre bobblehead this year that has a removable helmet. "Beltre is known for his strong hatred of when people touch his head," notes Mike. … Ageless character actor Abe Vigoda died yesterday. Here he is wearing a Yankees uniform. … Lots of good quotes and info from Mike Acosta — the Astros authentication guy mentioned several times in today's lede — in this piece about the Astros new alternates (Phil again). … New home pinstripes for Texas A&M (Phil yet again). … New logo for SABR. … The Louisville Bats' mascot, Buddy Bat, has a new look (from Troy Guthrie). … Here's some video from the Mariners' original Turn Ahead the Clock game in 1998. The success of that game was the basis for the MLB-wide TATC promotion in 1999 (from Curtis Rogers).

NFL News: The Panthers will not be going mono-black in the Super Bowl, and Jason Felicio might know why: "If everyone is going by superstitions for the Super Bowl unis, it's worth noting that the first time the Panthers ever wore the black-on-black combo was against the Broncos, on Nov. 11 2012, and they were blown out, 36-14." … Here's a close-up look at the Supe50 logo patch, and here's how it looks . Additional photos here (from Rob Montoya, Scott Adams, and @VanillaTwist11, respectively). … Here's a guy who has a Cardinals jersey based on the fictional punter from the David Foster Wallace novel Infinite Jest (from Alex Sinclair). … Man, the Supe50 trophy is seriously ugly (thanks, Phil). … A Denver TV station ran a poll — not a particularly scientific one, I'm guessing — about the Broncos wearing white in Supe50. Fans were in favor of the white, but not by much (from Barry Brite). … Yesterday I wrote that the Broncos had worn white at home only 10 times in their history. That is incorrect — the actual number is 13, not 10. My source — this Gridiron Uniform Database page — has it right, but I somehow miscounted. Sloppy and inexcusable on my part. My error was pointed out by Broncos reporter Andrew Mason, who's written an excellent history of the team's history of wearing white at home. Recommended reading. … Rich Fuller was watching a 1992 Cowboys/Eagles game and spotted Eagles S Andre Waters with an odd "Eagles" decal on the back of his helmet. I have no memory of seeing anything like this. Anyone..? … Yesterday was the 13th anniversary of the Pirate Bowl (from Brian Sanford). … Here's an early peek at one of the Supe50 end zones. It's apparently the first Supe end zone not to have a conference logo in more than 20 years. … Concussion discussion: Another former NFL player has been found to have had C.T.E. … Always great to see this old Packers letterhead. Interestingly, the letter is nearly 50 years old but its two themes haven't changed much: There's still concern about players using their helmets as weapons, and people still reflexively pass the buck by blaming the media (from @MetsFanVI).

College Football News: While looking for something else, I noticed that Liberty University prexy Jerry Falwell Jr. had given No. 71 football jerseys to presidential candidates Bernie Sanders and Donald Trump. 71 seems like an odd number to fixate on, so I poked around and discovered that it refers to the university's founding in 1971.

Hockey News: The Indy Fuel will be wearing Garfield jerseys this Saturday. Not sure I've seen that one before (from Russ Yurk). … Cubs-themed jerseys on Friday for the Peoria Rivermen. … This is weird: Brad Marchand of the Bruins appears to have the palm of his right glove cut out (screen shot by Tony Caliguiri). … A pair of Maple Leafs fans are selling oodles of socks featuring Leafs coach Mike Babcock's face. They're called, of course, Babsocks (from Matt Diguer). … With one Avalanche goalie dealing with legal issues and another feeling sick, coach Patrick Roy dressed for the morning skate, in case he had to be the team's emergency goalie. Unfortunately, he said he wouldn't suit up for last night's game against the Sharks. Too bad (thanks, Mike).

NBA News: Clippers F Blake Griffin injured his hand during an argument with an equipment staffer (from Rubens Borges). … Good interview with the guy who designed the Nike Kyrie 2 sneaker (from Kenny Loo). … The Pacers wore their Hickory throwbacks at home last night, with the Clippers wearing white on the road. Lots of additional photos here. … Several players on the Wizards don't like the NBA's new socks (from Jason Mott).

College and High School Hoops News: Michigan State has decided not to dress like fucking clowns again after all (thanks, Phil). … Latest cancer-awareness move: Wisconsin is wearing gold shoelaces (from John Okray). … Today is the 15th anniversary of the Oklahoma State basketball team plane crash, which claimed 10 lives. The team will mark the anniversary by wearing these throwbacks. The (from Katie McInerny). … Not sure what was going on last night at Grafton High School in Wisconsin, but the players wore seriously retro uniforms and the coaches wore jumpsuits (from Ryan Wozniak and Stevie Weeks, respectively). … "In Sunday's UNC/VaTech game, , Buzz Williams started a game in a suit (that's him at far left)," says Andrew Cosentino. "But at halftime he changed into his signature maroon and orange sweater."

Soccer News: A St. Louis TV station used the old MLS logo during a story about a stadium proposal. … New away jersey for the San Jose Earthquakes (thanks, Phil). … When undefeated world middleweight boxing champion Gennady Golovkin visited West Ham United, they gave him a jersey with his record on the back (from Mike Donovan). … After a Sunderland player signed a contract extension, the club pictured him wearing a shirt with No. 2020 on the back, because the contract runs through that year. "I wonder if this idea has been done before," says Alex Cohen. "I also wonder if the numbers are smaller than normal or if the shirt is extra-wide." … Real Salt Lake's new look is very Spain-like.

Grab Bag: Here's more on Alaska Airlines' brand redesign (from Matt Busch). … Interesting story on the wardrobe for that new O.J. Simpson TV series. … New city flag for Sault Ste. Marie, Ontario. … New athletics logo for Dallas Baptist University (from Matthew Spencer). … Here's an article on Susquehanna University's process for coming up with a new mascot name and logo. … New logo for — get this — the 2016 National Christmas Tree. … Bronson Messer likes these 6 Nations Rugby logos. "Best I can tell, they're only on the rugbystore.co.uk site," he says. "Nevertheless, I sit and scream at the screen, 'Print shirts with these and take my money!'" … Amherst College will stop using its controversial Lord Jeff mascot, which was based on Lord Jeffery Amherst, who gave smallpox-infected blankets to Native Americans in the 18th century (from Tim Cross).