In case you haven't heard, the Broncos announced last night that they'll be wearing white jerseys in the Super Bowl.
As the designated home team, the Broncos had their choice of orange or white. Yesterday I said I found it "highly unlikely" that they'd choose to wear white, so I'm very surprised they've chosen to go this route. For one thing, according to the Gridiron Uniform Database, the Broncos have worn white at home only 10 times in their history (and seven of those were in 1971, when they wore white at home for the entire season). Granted, a Super Bowl isn't a normal home game — you're not in your regular city or your regular stadium, and you don't have your usual home crowd — but there's also this to consider: If you include the playoffs, the Broncos have gone 7-1 wearing orange this season.
But the Broncos are famously 0-4 wearing orange jerseys in Super Bowls (they're 1-1 in white), so maybe the team — or, more likely, owner Pat Bowlen — decided to go with the superstition. And speaking of superstitions, teams wearing white have won 10 of the past 11 Super Bowls, so there's that. (Denver wearing white also has the bonus effect of preventing the Panthers from wearing white, which had been their preferred color throughout the postseason, if you believe in that kind of thing. But according to this Q&A item by a Panthers beat writer, the Panthers are only partial toward white when they get to choose to wear it, and they had no choice in this game because they're the road team. Are you following all of this?)
I know Denver fans love their orange, but I also know they're haunted by those Super Bowl losses. So for any Broncos fans out there, speak up: What do you think of this move? Do you wish they'd stuck with the orange, or are you relieved they're going with white? (For the purposes of this discussion, please do not say, "I'd prefer that they went with the navy alternates." Thanks.)
According to Super Bowl minutiae specialist Jay Braiman, this marks the fifth time a designated Super Bowl home team has chosen to wear white. The previous four were:
Cowboys, SB XIII (lost to Steelers)
Washington, SB XVII (defeated Dolphins)
Cowboys, SB XXVII (defeated Bills)
Steelers, SB XL (defeated Seahawks)
Dallas and Washington routinely wore white at home during those periods (and Dallas still does, of course), so there was nothing unusual about them opting to wear white in the Supe. The Steelers entry is more interesting: They had worn white on the road throughout their postseason run and decided to stick with it in the Supe. So we could say that they were the first team to choose to wear their usual white road jersey in a Super Bowl, and now the Broncos are the second.
One asterisk to all of this: The Cowboys were the designated home team for Super Bowl V and wanted to wear white, but Super Bowl home teams were required to wear colored jerseys in those days, so Dallas wore blue and lost to the Colts. This was a key building block in the legend of the Cowboys' blue-jersey curse.
And a quasi-asterisk: The Patriots wore white at home throughout the 1985 regular season, but then they were forced to wear red on the road in two of their three playoff games (the Jets chose to wear white at home in the wild card round and the Dolphins did likewise in the conference championship), so they chose to stick with red in Super Bowl XX, which they lost to the Bears. So the Pats would be another example of a team that chose to wear its usual road jersey in the big game — but in their case the usual road jersey was colored, not white.
Meanwhile: The Panthers will wear black jerseys. That news was about five nanoseconds old before people started asking me, "Could they wear the black jersey with the black pants?" Yeah, I guess they could — there's no rule against it. I wouldn't even put it past them. Hell, it's the greatest uniform in NFL history, after all. Nope — they're wearing the silver pants.
Finally, it's worth noting that Lindsay Jones, who's been covering the Broncos for nearly a decade (first for The Denver Post and now for USA Today) is just amazed — amazed, I tells ya — that people care about this crazy uniform shit:
Did not realize so many folks would be interested in this, but Broncos will wear their white jerseys in Super Bowl 50. #fashiontweet

— Lindsay Jones (@bylindsayhjones) January 26, 2016
Ah, the lonely cry of the benighted souls who Don't Get Itâ"¢ — sort of quaint, no?
• • • • •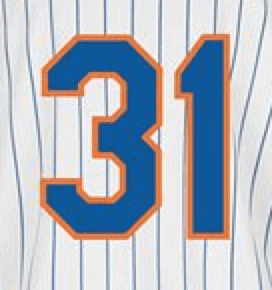 Numbers game: The Mets announced yesterday that they will retire Mike Piazza's No. 31 on July 30. Piazza will become the fourth Met to have his number retired (the other three are Tom Seaver, Casey Stengel, and Gil Hodges), and only the second player.
Retiring Piazza's number was a no-brainer once he gained Hall of Fame status earlier this month, but I was hoping the Mets would do something a bit more creative. Here's the deal: 31 is a tricky number in Mets history, because John Franco also wore it. In fact, he wore 31 longer than Piazza did, and he willingly gave up 31 so Piazza could wear it when he joined the team. Franco then switched to No. 45 — a number also strongly associated with Tug McGraw. Obviously, Franco and McGraw weren't Hall of Famers, but they were important parts of Mets history, and Franco was the team's captain, complete with a big honking "C" on his jersey, for several years. I was hoping the Mets would retire both numbers (31 and 45) in honor of all three players (Piazza, Franco, McGraw). I understand why they're not doing it that way, but I think it's a missed opportunity to spread the love around a bit more.
•  •  •  •  •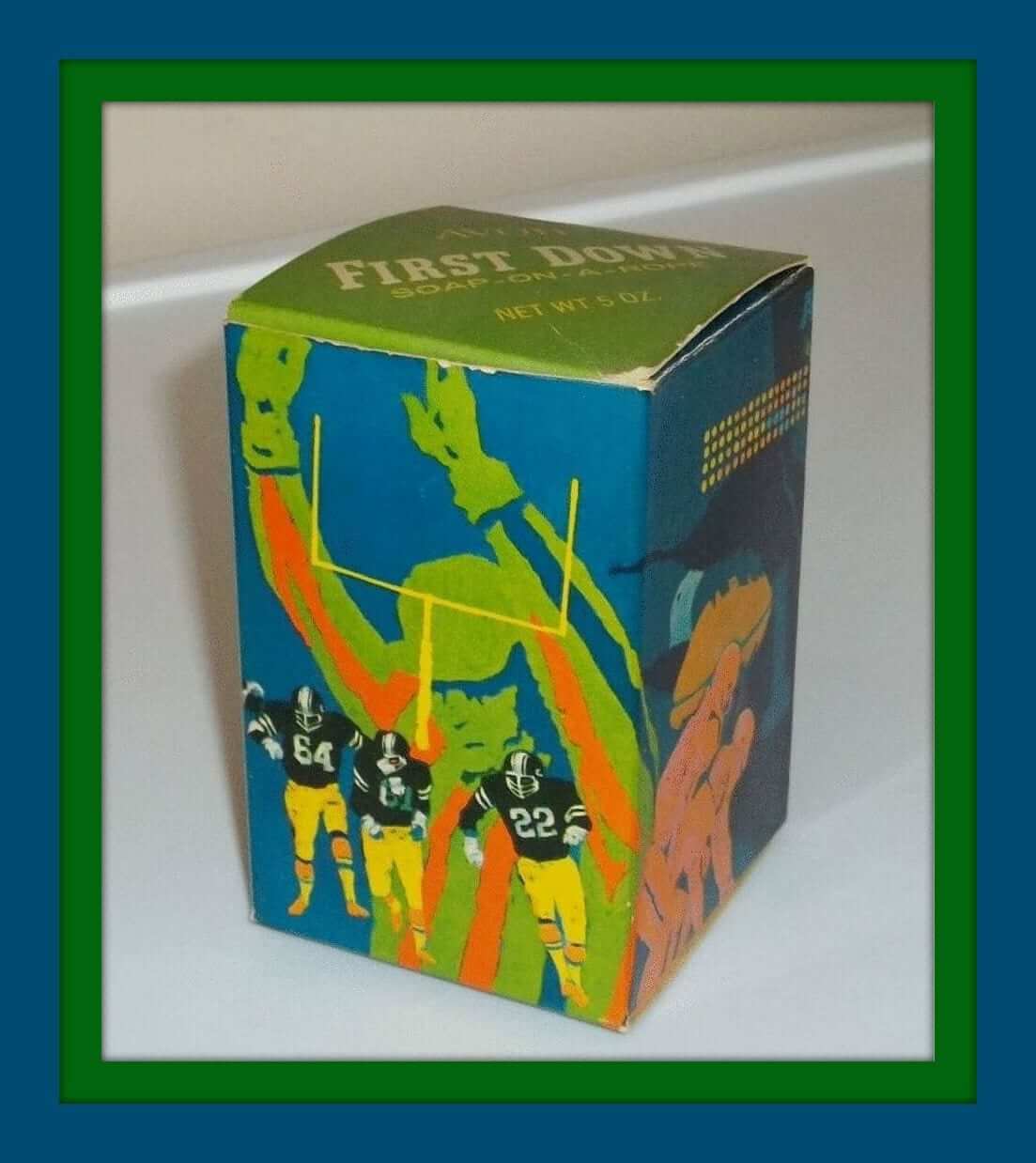 Click to enlarge
Collector's Corner
By Brinke Guthrie
Many of us had the classic soap-on-a-rope back in the day. In my case, it was a microphone soap, which led me to "broadcast" the Reds games in the shower, which in turn led me to a career in radio. This one from Avon (never used, of course) might very well have been the impetus for someone's football career, who knows?
Now for the rest of the week's picks:
• Nice logos on this set of 1970s MLB belt buckles. I would guess these are for kids, given their sizes.
• Miss the old Broncos logo? You'll find it on this 1970s duffle bag.
• Doubtful the L.A. Rams will go back to the vintage logo shown on this decal, but we can dream, right? Always liked the "Rams" with "L.A." on top, too.
• You just can't beat the art from this early-1970s Chargers poster.
• NHL fans will want to take this 1960s-1970s beach towel with 'em when they hit the pool.
• The listing says this Kansas City Chiefs helmet might have been game-worn, with a No. 37 written inside. Gotta like the single-bar facemask, and that is one huge KC decal on the side, too.
• "Pete Rose of the Cincinnati Reds" recommends this Wiffle Ball! New, unused, still in box!
• Nice St. Louis Cardinals art on this 1969 Rawlings football ad. Minor quibble with the art direction, though: Linemen don't wear single digits, ever.
• This 1960s Packers bobble is in great shape — not a mark on it, just a bit of the stripe missing. Usually when they are this old, the back edge of the helmet above the shoulders has lots of wear and tear from years of bobbling.
• These last two are from reader Jim Ransdell, beginning with a very cool 1970s NFL school binder.
• You know about the Reggie bar, but did you know NFL quarterback Boomer Esiason also had his own candy bar back in the 1990s? Might be best not to eat it now, though.
Follow Brinke on Twitter: @brinkeguthrie
• • • • •
PermaRec update: A letter from a company that makes chicken coops to a company that makes brooms and brushes is the basis for the latest entry on Permanent Record.
• • • • •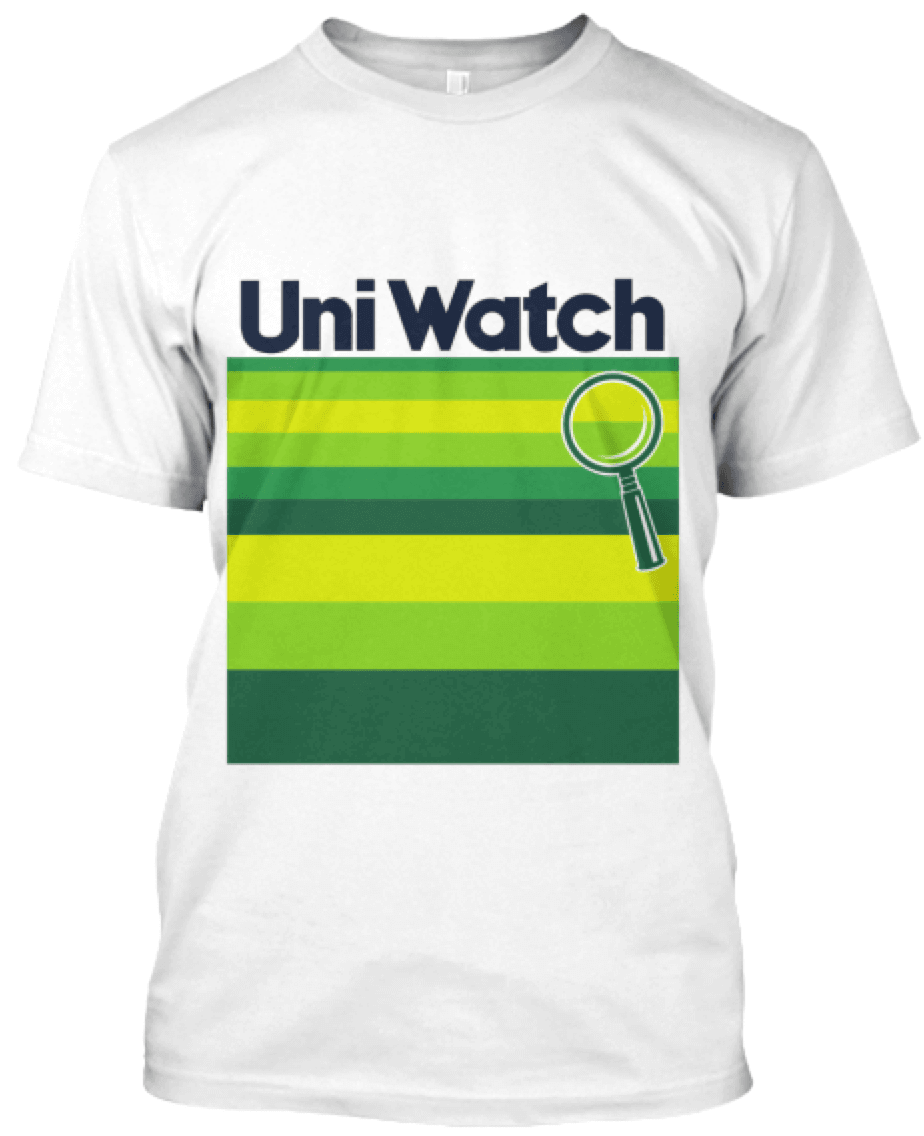 LAST CALL for the Second Chance Shop: Today is the final day of operation for our Second Chance Shop, where we're offering all of the 2015 Uni Watch T-Shirt Club designs (including a modified version of the tequila sunrise shirt, shown at right). There will be no third chance, so if you want any of these shirts, get them now.
• • • • •
The Ticker
By Mike Chamernik

Baseball News: The Red Sox's Brock Holt gave up his No. 26 so the team can retire it for Wade Boggs. Surprising that Boston kept the number in circulation instead of unofficially retiring it (from Brinke). … The Diamondbacks announced the dates when they'll wear their throwbacks this season (from Phil). … Bryce Harper has an "MVP" pattern in his suit jacket lining (from Tommy Turner). … Todd Radom designed a new league champions logo for the Mets (from Phil). … The 1941 Anaheim Aces' hats were pretty darn cool (from Phil). … If the Brewers had moved from Seattle a bit sooner, instead of days before the start of the 1970 season, their colors might have been navy blue and red. … Tacoma Rainiers broadcaster Mike Curto stumbled upon a PCL mini-museum in Oakland (from Kenny Ocker). … The Frisco RoughRiders have plans for a lazy river just beyond their right field fence at their ballpark. … New uniforms for Edgewood College. … New 25th-season red jersey for the Chiba Lotte Marines (from Jeremy Brahm). … A documentary about the Expos will air tonight on the MLB Network (thanks, Brinke).

NFL News: Looks like the Lions will have an alternate jersey next year (from Phil). … Panthers TE Greg Olsen is selling a cartoony retro-inspired Super Bowl T-shirt. The money raised will go to charity (from Brinke). … Panthers RB Mike Tolbert has slices in the hem of his jersey in order to accommodate his girth. … I think we've seen many (all?) of these before, but here's a gallery of NFL-NBA logo mashups (from Robert Novo). … This old photo collection contains shots of Bills cheerleaders and a Bills helmet cart. It's always delighted me that the cheer squad is known as the Jills (from Bill Kellick). … Scott Lederer noticed that something is a little bit off about Peyton Manning's jersey. "The 1 seems to have a noticeably bolder blue outline than the 8," he says. "At first I thought it was just my eyes playing tricks on me, but every picture and video I see from every angle seems to show the same thing. And now that I've seen it, I can't unsee it." … Reprinted from last night's comments: Here's former Eagles coach Dick Vermeil talking about how he had the Eagles wear white in the 1980 NFC championship game in order to make the Cowboys wear blue (from riblet).

Hockey News: The Canucks will wear these throwbacks on Feb. 13. Here's another look, plus a few shots of Ryan Miller's throwback goalie gear. … Hamilton College, Phil's alma mater, hosted a Pink the Rink game. … During the KHL all-star festivities, a player attempted a trick shot with a flaming stick.

Basketball News: The score bug on TNT NBA telecasts has changed quite a bit over the years. … For those hoop-heads who skip over the NFL section on Uni Watch: Here's a gallery of NFL-NBA logo mashups (from Robert Novo). … Kansas and Iowa State went blue vs. gold last night. … This is odd: Bucknell is known as the Bison (singular), but the team had "Bisons" (plural) on its jerseys last night. … The girls' team at Classen High School in Oklahoma wears jerseys with just a number on the front — no team name or school name.

Soccer News: New primary jersey for the Chicago Fire (from Phillip Foose). … The Portland Timbers, the defending MLS Cup winners, will have a championship star above their crests on their uniforms (from Phil). … Columbia, the sportswear company, will make outdoor apparel for Manchester United (from Tommy Turner). … Aston Villa is inking a new deal with Under Armour (from Patrick Thomas). … New kits for the L.A. Galaxy, NYCFC, the Urawa Red Diamonds, the Kashima Antlers, and Ethiopia (a real doozy).

Grab Bag: New uniforms for Jamestown football (from Steve Linzmeier). … Here's a look at how the Australian Open is handling the players' laundry. … JD Director found a picture of a very dapper curling team from the 1890s. … Bruce Strang found a 1941 photo of his father's rugby team at the Goodacres School, Glenalmond College, in Perth, Scotland. What's notable is that a few players have the Star of David on their chests, and a few are also wearing hats. Bruce has been trying to find out more, but to no avail. … New livery in the works for Alaska Airlines (from @thA_Pandabear).