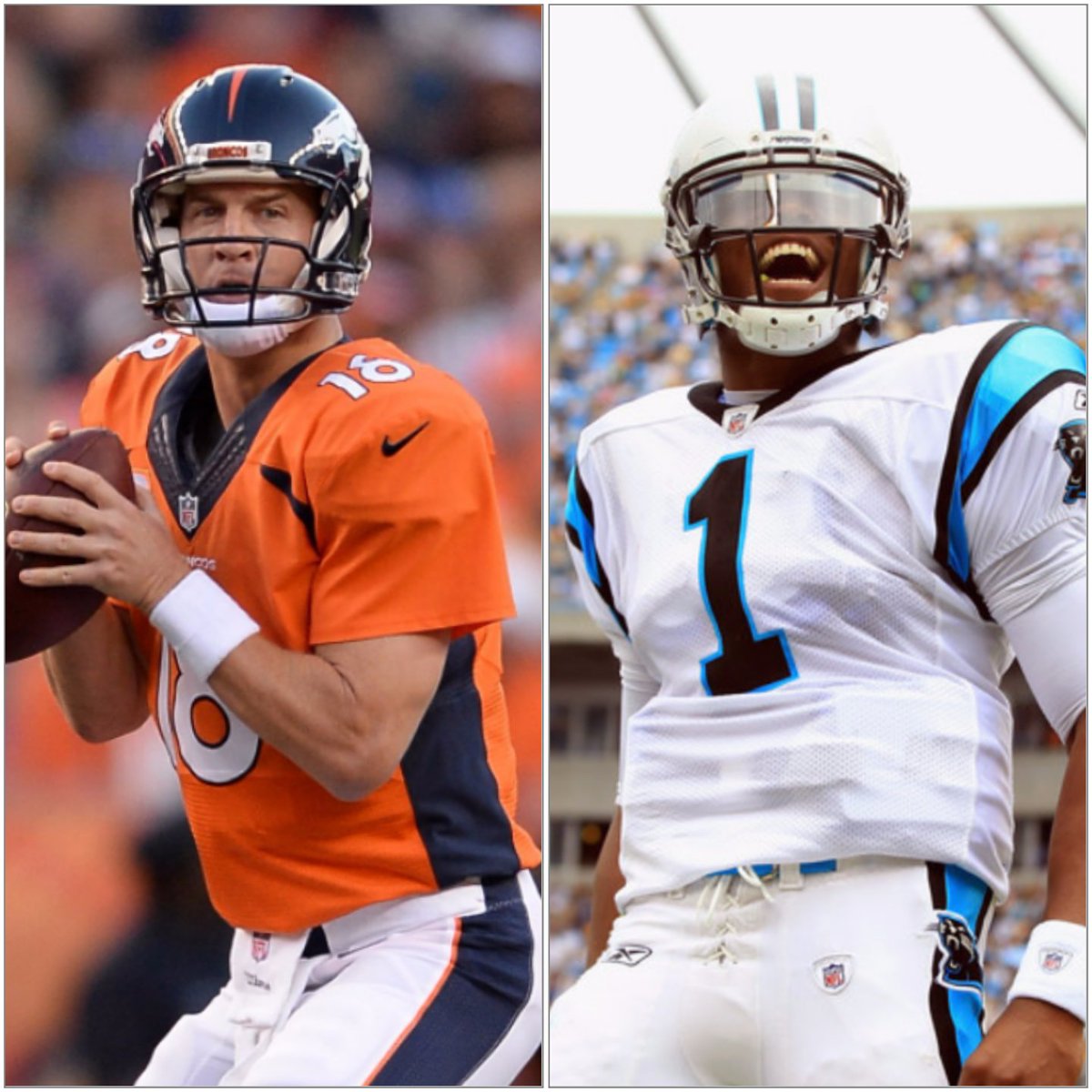 So our Super Bowl match-up is set: Panthers vs. Broncos. Lots of folks have been peppering me with uni-related questions about the game, so here's a quick FAQ-style primer on Supe50's uniforms:
Who's the designated home team?
The AFC is the home conference this year, so the Broncos are the home team.
Can the Broncos choose to wear white if they want?
Yes, but that seems highly unlikely. Aside from 1971, when they wore white at home for the entire season, the Broncos have worn white at home for only a handful of games in their history.
Can the Broncos choose to wear their blue alternate jerseys if they want?
Good question! Only one team has ever worn an alternate or throwback uniform in the Super Bowl: the 49ers, who requested and received permission to continue wearing their league-anniversary throwbacks throughout the 1994-95 postseason, including in Super Bowl XXIX. (This also made them the only Super Bowl team not to wear TV numbers, but I digress.) That one instance notwithstanding, NFL teams do not wear alternates or throwbacks in the postseason.
But everyone knows the Broncos are 0-4 while wearing orange in the Super Bowl! Can't you see how important it is for them not to wear orange?
I think you're relying a bit too much on superstition. Here's another way to look at it: The Broncos have gone 7-1 wearing orange this season. Can't you see how important it is for them to wear orange?
Is there any chance that the NFL pulls a color-vs.-color Super Bowl on us?
No.
I know this sounds crazy, but is there any chance that the NFL pulls a Color Rush Super Bowl on us?
No. But I congratulate you on your very active imagination.
Are there any special uniform elements we can expect to see?
The NFL logo decal on the back of the helmets turned gold for the postseason. It wouldn't surprise me if the same thing happened to the logo on the pants and jerseys for the Supe. To be clear, though, I have no inside knowledge about that happening, and I'm not trying to drop hints or anything like that. I'm just saying that it's possible, and it seems like the kind of thing the NFL might do as part of the big Supe50 hoopla.
Where does this game rank in terms of Super Bowl uniform aesthetics?
This will definitely be one of the less visually appealing Supes, but whaddaya gonna do.
Meanwhile, reader Jay Braiman has checked in with his annual list of Super Bowl uniform trivia. Take it away, Jay:
This is Denver's 4th trip to the Super Bowl wearing its current uniform design, matching its four trips in the "orange crush" uniforms of the '70s and '80s, and the second since the primary color of the home jersey was changed from navy blue to orange. Denver went 0-4 in the "orange crush" uniforms (0-3 in orange, 0-1 in white) and is 2-1 in the current design, one win each in navy and white and one loss in orange.

Carolina, which wore white over white in its only previous Super Bowl appearance, is the second post-merger expansion team (not counting the Ravens, who are treated as an expansion team for historical/statistical purposes) to reach a second Super Bowl. The Panthers are the only post-merger expansion team to reach a Super Bowl, let alone a second, without having thoroughly overhauled its uniform design at least once since its inception. In addition, the Panthers are the only Super Bowl team with UCLA-style "shoulder loops" on their jersey, that have the TV numbers on the shoulder and the logo on the sleeve. (The others ""- Colts, Vikings, Bengals and Chargers ""- all had numbers on the sleeves when they played in Super Bowls.)

This is the first Super Bowl between two teams whose center helmet striping is "irregular," — not straight lines or of uniform width from front to back. (This does not count the Seahawks, who have a unique broad pattern decal in the center of their helmets worn against Denver in Super Bowl XLVIII that blends with the shell color and can't really be called "striping.") It's also the first Super Bowl between two teams whose pants striping is irregular in like fashion — not straight lines or of uniform width from hip to cuff.

This will be the second Super Bowl in which both teams' nicknames/mascots are mammals (not including humans), the other being Colts vs. Bears in Super Bowl XLI. Overall, teams named for mammals are 8-19 in Super Bowls (not counting the 0-4 Buffalo Bills, who wear a mammal on their helmet but are not actually named for that mammal, or the 0-1 San Diego Chargers, whose nickname and secondary-logo history does refer to and include a horse but are primarily associated with lightning or electricity). None of the mammal teams has a winning record and none will after this game; the Broncos are 2-5 and the Panthers are 0-1.

This is the 15th Super Bowl in which neither team's primary home jersey color is blue, and of those, the first in which both teams use blue as a trim color (and the second in which either team uses blue as a trim color).

This is the 12th Super Bowl -"" and the third in a row, second time that's happened ""- in which neither team's helmet logo/decal contains any letter(s) of the alphabet. It's also the 13th Super Bowl — and the third in a row for the first time — in which both teams' left- and right-side helmet decals are mirror images of each other (counting the Seahawks and Chiefs; the Bengals and Ravens would also count but were not involved in any such games).

This is the 14th Super Bowl matching one team whose jerseys have generic varsity or block numerals against one with a custom numeral font (the Patriots' current design is counted in the latter category). Teams with custom numeral fonts are 7-6 in these games. Note: Of the first 30 Super Bowls, only one involved a custom numeral font: Super Bowl XX between the Bears and Patriots. Only two of the last 19 Super Bowls -"" XXXVII (Bucs/Raiders) and XLIV (Saints/Colts) -"" have not involved a custom font.

This is the 25th Super Bowl between a team with a "metallic" helmet shell finish and one with a non-metallic helmet shell. Teams with metallic helmets are 16-8 in these games, including the Broncos' loss to the Seahawks in Super Bowl XLVII.

Can Newton will be the first quarterback to wear No. 1 in the Super Bowl, and it will be, obviously, the lowest number worn by a Super Bowl quarterback .The numerical disparity of 17 between Peyton Manning's No. 18 and Newton's No. 1 represents a new record for the largest disparity between the two starting quaterbacks' uniform numbers in a Super Bowl. The previous record was 15, set two years ago in Super Bowl XLVIII (Manning's 18 and Russell Wilson's 3). Manning is the only Super Bowl QB to have worn No. 18, which is the second-highest quarterback number after Johnny Unitas's 19.
Please join me in thanking Jay for his heroic work — great stuff, as always.
Okay, then — let the two weeks of tiresome hype begin!
• • • • •
Design contest reminder: Today is the LAST DAY to submit entries for my ESPN contest to redesign the Rams. Full details here.
T-Shirt Club reminder: All of the Uni Watch T-Shirt Club's 2015 designs are available FOR ONE MORE DAY at our Second Chance Shop. Further details here.
• • • • •
Gromm•It update: Two new Gromm•It entries went up over the weekend (one of which includes the first-ever Gromm•It video clip!). You can get a sense of the two foodstuffs above, but there are lots of additional photos for each entry. Get the full treatment over on Gromm•It.
•  •  •  •  •
The Ticker
By Paul

Baseball News: SABR will unveil a new logo — the first logo revision since the organization's founding in the 1970s — tomorrow (thanks, Phil). … Frank McGuigan's daughter wore an awesome League of Their Own uniform for Halloween last fall.

NFL News: Panthers QB Cam Newton's pregame cleats featured the name of his teammates yesterday (thanks, Brinke). … Also from Brinke: Pats coach Bill Belichick changed outfits during halftime of yesterday's game. … Julie Streeter is the latest Uni Watch reader to travel in Mexico and find NFL logos appearing on lucha libre masks and Day of the Dead skulls.

College Football News: You can see a hint of Wisconsin's new Under Armour uniforms in the background of this photo (from Drew Gabbert). … New yellow helmets for Missouri (from Dave Singleton).

Hockey News: The Oilers have become the first NHL team to use rainbow "pride" tape, which promotes inclusiveness in sports. Good for them (from Aaron Husul). … Lots of college hockey teams use helmets that mimic the designs of their schools' football teams, as seen in these shots of Ohio State and Penn State and Ohio State and Michigan (from Steve Ceruolo). … The OHL's Mississauga Steelheads went pink in the rink yesterday. … Cross-sport promotion: With former KC Chiefs player Will Shields being inducted into the Pro Football Hall of Fame, the Missouri Mavericks are honoring him with a jersey patch (from @hfnewsjunkie). … Blackhawks winger Artemi Panarin has been wearing red palms on his gloves.

College Hoops News: Michigan State's clown suits were a hit with the youth, so they'll probably wear them again (thanks, Phil). … Savon Goodman of Arizona State was wearing NBA socks two nights ago. And yes, they were doing that idiotic black-on-black NOB thing too (from Michael Marconi).

Soccer News: New crest for Sheffield Wednesday (from Tom G). … César Azpilicueta of Chelsea has been wearing a mask with his uni number (from Charlie Eldred). … Confusing game to watch, as Betis and Madrid wore similar color schemes (from Albert Royo).

Grab Bag: Pro golfer Rickey Fowler won a tourney in Abu Dhabi while wearing high-top Pumas, so he's gonna be sticking with them (thanks, Phil). … The new look for Oregon's women's tennis team features — surprise! — a lot of neon (from @calebteaches). … "I found a website with pictures of the teams of the Puerto Rican volleyball league," says Jeremy Brahm. "Some go back into the 1950s, with sponsors like Zenith televisions on the uniforms, through the current day. The first photo on the page scrolls through the team photo for each individual edition of that team). You'll need to click on 'los equipos' to see the other teams."