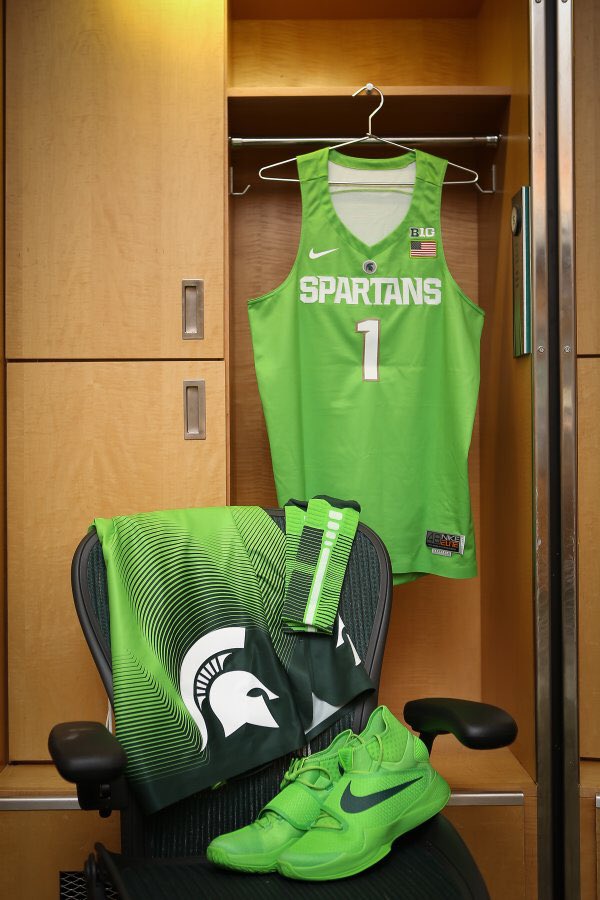 If someone wants to dress like a fucking clown — I mean, really, really wants to dress like a total fucking clown — then by God they should go ahead and do it. That's what America's all about, the freedom to make an utter fool of yourself and surrender whatever slim sense of dignity you might once have had.
The Michigan State basketball team apparently really wants to dress like fucking clowns. They'll be wearing the ensemble you see above for today's game against Maryland. Maryland, of course, is a school that knows a thing or two about dressing like fucking clowns, so everyone involved should be able to have fun comparing notes about what it's like to dress like fucking clowns. It's nice to have things in common with one's opponent, just to humanize them, no?
Here's the full uniform as shown on a mannequin (presumably because they couldn't find a live human willing to wear it):
When this design began ciruclating a few days ago, my initial reaction was, "Until I know for sure that they're wearing it on the court, I'm assuming it's just retail slop." The implicit subtext of that reaction was, "Nobody wants to look like a fucking clown that much."
But hey, I was wrong.
(Oh, by the way: Paul here, pinch-hitting today for Phil. He'll be back tomorrow.)
•  •  •  •  •
ESPN reminder: In case you missed it yesterday, my Friday Flashback on ESPN was about the Hartford Whalers' awesome logo and uniforms, including an exclusive interview with the logo's designer, Peter Good — a Hartford native who'd never done a sports-related design before tackling the Whalers assignment and has never done one since. Check it out here.
The piece inspired some fun responses on Twitter, especially from people who've adapted the Whalers' logo for their own teams. Here are a couple of examples:
@UniWatch Our beer league team uses a variation. We're the Pilot House Hookers. pic.twitter.com/NNYmFsI9rI

— Mike (@mdcmjn) January 22, 2016
@UniWatch Newport (RI) Whalers Youth Hockey. pic.twitter.com/udhrimJjge

— Matt Bessette (@MattBsette22) January 22, 2016
@UniWatch My beer league team in Rochester, NY since jersey company can't legally use original logo we updated pic.twitter.com/LB9VV3HwAk

— Paul Mertz (@PmertzPaul) January 22, 2016
@UniWatch my friends men's league jersey. Alaska Whalers. pic.twitter.com/VjQulhFpsq

— Shaun Sullivan (@shaunwsullivan) January 22, 2016
• • • • •
Design context reminder: I'm currently accepting entries for an ESPN contest to redesign the Rams. Full details here.
T-Shirt Club reminder: In case you missed it last week, all of the Uni Watch T-Shirt Club's 2015 designs are available from now through the middle of next week at our Second Chance Shop. Further details here.
• • • • •
The Ticker
By Paul

Baseball News: The Astros will unveil a new jersey today. SportsLogos.net has some details on what it will supposedly look like, and I can confirm that their description is basically accurate. … The Yankees are running out of uniform numbers (thanks, Phil). … Judging by this promo video, it looks like the Padres will be wearing 1998 throwbacks on Aug. 6 (from @RJsFro). … The latest team in the Prospect League — that's a summer collegiate league — is the DuPage Drones (from Kevin Eckhoff).


Pro and College Football News: NFL team logos reimagined as pro wrestlers? Sure, why not (from Josh Claywell). … The Falcons will no longer accept funds from the military for jingoistic rah-rah displays. It's not yet clear if they'll continue to run their own jingoistic rah-rah displays without the benefit of military underwriting (from Douglas Ford). … Fans attending the NFC championship game will receive a rally bandana (from Alex Sinclair). … Reprinted from last night's comments In advance of tomorrow's AFC championship game in Denver, workers at Denver International Airport added a "1" to runway 8. "I'm surprised the FAA allows that," says commenter Michael. Me too. … Ravens QB Joe Flacco says he's happy he didn't have to wear the team's gold pants a few weeks back (from Andrew Cosentino). … New uniforms for Wyoming (thanks, Phil). … Why the hell would a Pepsi-sponsored Super Bowl display feature a Bills uniform that hasn't been worn since 2010?

Hockey News: New jerseys for Louisiana Tech (from @ManieltheDaniel). … The Hamilton Bulldogs are running a jersey design contest (from Kristopher Young). … You may have heard that Oilers C Matt Hendricks took a shot to the nuts on Thursday night. Here's what was left of his cup (from Laurence Holland). … Oh man, check out Indiana's striped alts. Not nuts about the black pants, though — red would be better, and red/white striped would be best! … The Lake Erie Monsters will be wearing Cleveland Barons jerseys on Feb. 20 and Lego jerseys on Feb. 27 (thanks, Phil). … Nice touch on the Blues' inner collars.

Soccer News: New logo for Bay Area Pro Soccer, which is the new NASL team (from Gilbert Lee). … Here's a review of FC Barcelona's three new jerseys (thanks, Phil).

Grab Bag: Western Carolina has inked a new deal with Adidas. … New white lacrosse helmets for Towson (from Brad Collins). .. The crews of the U.S. Navy Pacific Fleet's best submarines have been given new ribbons for their uniforms. … Kenneth Cole has donated the uniforms for the volunteers at the Sundance Film Festival. … The upstate New York town whose residents recently held a non-biding vote to keep their town logo, which appears to show a white man strangling a Native American, will get a new logo after all.