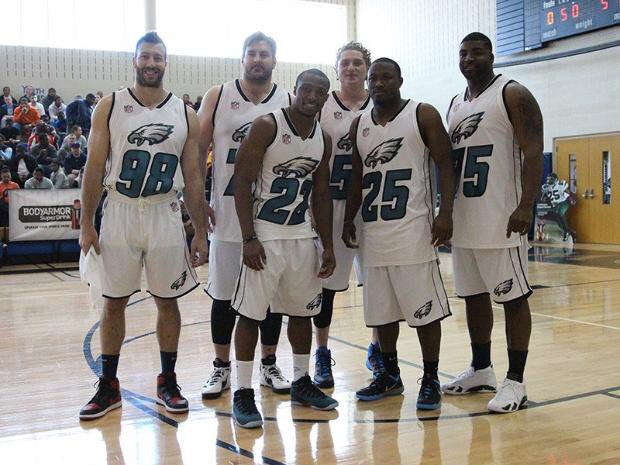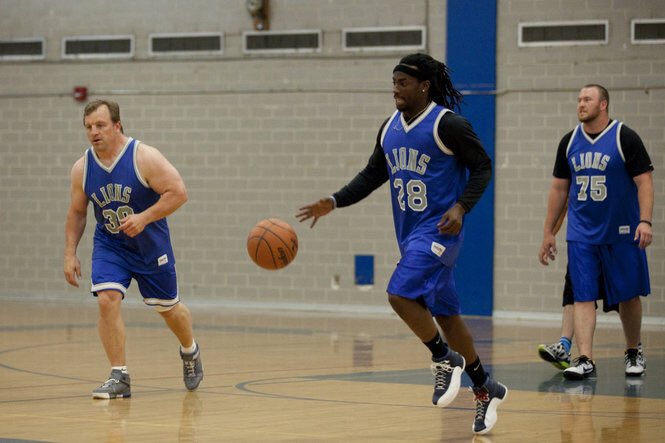 Yesterday's Ticker included a shot of the 1981 Browns playing basketball. That prompted the submission of additional photos (some of which we may have seen before, not sure) showing NFL players suiting up in basketball uniforms for charity events. Good stuff.
(My thanks to Jonathon Hancin and Eric Szczesny for these photos.)
• • • • •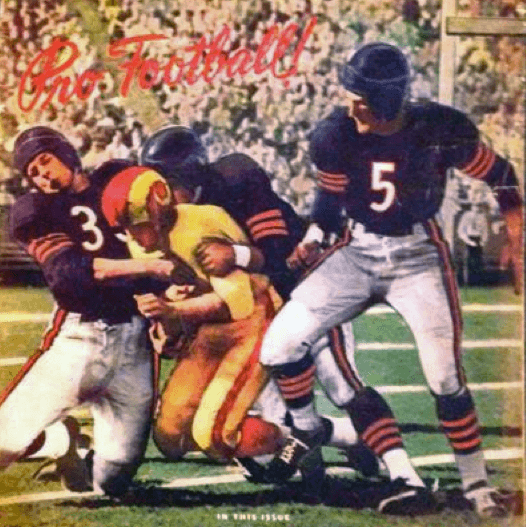 Friday Flashback: With the Rams moving back to Los Angeles, my weekly Friday Flashback piece takes a look at what they wore during their first stint in L.A. (including their brief experiment wearing red in 1949, shown above). Check it out here.
• • • • •
Reminder No. 1: I'm currently accepting entries for a "Redesign the Rams!" contest over on ESPN. Full details here.
Reminder No. 2: In case you missed it yesterday, all of the Uni Watch T-Shirt Club's 2015 designs are available from now through Jan. 27 at our Second Chance Shop. Further details here.
• • • • •
Click to enlarge
Gromm•It update: Grommeted marshmallows — the ultimate contrast between squishy and solid. Lots of additional pics, including a toasted marshmallow, here.
Also, I can't recall if I posted the link to my grommeted Dunkin Munchkins — donut holes with holes!
• • • • •
The Ticker
By Paul

'Skins Watch: The teams at Parkersburg High in West Virginia are called the Big Reds, and they have a teepee sitting on their gymnasium floor. Classy (from @cDubya242). "¦ Remember the upstate New York town of Whitesboro, which voted earlier this week to keep its town logo, which appears to show a white man strangling a Native American? Their local high school's hockey team wears a jersey featuring an Indian's head (from Justin Howland). "¦ The directors of the South Dakota High School Activities Association — the ruling body of the state's high school sports — has advanced a resolution recommending that schools drop Native American team names and mascots (from Denny Majeske).

Baseball News: Oh baby, check this out: a box of unused striped stirrups in Uni Watch colors. The same seller also has another box of stirrups in navy/gold, along with some green/gold striped tube socks and some royal/gold NFL-style socks (although both of those sets seem absurdly overpriced). You know what to do. "¦ In a vaguely related item, the A's are using Sonny Gray's striped socks to promote their sock giveaway on April 17. Plus they also have an elephant sock giveaway on their promo calendar (from Zach Stone). "¦ Great shot of the Orioles' costumed mascot in 1983 (from Andrew Cosentino). "¦ New uniforms for Lander.

NFL News: The Dolphins had six different end zone designs this past season. "They share Sun Life Stadium, with the University of Miami, so that explains some of the additional paint schemes," says Cris Routh. "¦ Key passage from this article about Panthers QB Cam Newton: "There is a Panthers staffer who occasionally comes to the sideline between drives and takes off Newton's skullcap, replacing it with a towel. Cam sits on the bench, paying no attention as the guy goes about his business like a waiter refilling a glass. Hall of Fame quarterback Warren Moon, a friend and mentor of Newton's, says, 'When people get upset about the towel, I tell them, "Relax, he's only wearing it because it says Gatorade on it"'" (from Stu Taylor). "¦ Hmmm, Jethro Pugh was wearing a mystery patch. Anyone..? "¦ Good story on the photographer who took the famous shot of "The Catch" (from Ben Fortney). "¦ Marky Rypien's first Super Bowl ring is up for auction (from Tommy Turner). "¦ With Chip Kelly now coaching the 49ers, Colin Kaepernick merch has been taken off clearance, perhaps an indication that Kelly plans to move Kaepernick off of the bench and back into the starting QB role (thanks, Mike).

Hockey News: "Selfie Jersey Night" (somehow the quote marks seem necessary in this case) upcoming for the Flint Firebirds. "¦ Claude Giroux's All-Star gloves feature a mix of Flyers and All-Star colors. "¦ The Ducks award an Anaheim firefighter's helmet to their player of the game (from Chris Cruz). "¦ New Royal Newfoundland Regiment commemorative jersey for the St. John's Icecaps (from Jeff Pollock). "¦ Pink-themed jerseys tonight for Northeastern (from Matt Houde). "¦ Completely awesome all-star jerseys for the AHL (from Steven Schapansky). "¦ A 1980s mail-order company sold T-shirt with hilariously bad puns on NHL team names (blame Mike). "¦ Seattle Thunderbirds goalie Logan Flodell has a new Starbucks-themed mask (from Ryan Wetstein). "¦ Someone created a set of WCHA uniform rankings (from Jerry Nitzh). "¦ At last night's Blues game in St. Louis, the puck was dropped by Cardinals prexy Bill DeWitt III in a Blues jacket and Blues owner Tom Stillman in a Cardinals jacket. "Crowd chanting 'Kroenke sucks!' the whole time," says Marty Hick. "¦ The Wild held an alumni practice session ahead of the old-timer's match connected to next month's Stadium Series weekend, and Neal Broten was wearing an interesting jersey with an upside-down NHL-ish crest, only the letters read "WNH." Anyone know what that's about? (From R. Scott Rogers.)

NBA News: Here's a cool gallery of cartoons for each NBA franchise that has won an NBA title (thanks, Mike). "¦ Raptors and Magic went color on color yesterday — or maybe that should be colour on colour, since the game was in London. "¦ The 76ers made a FNOB jersey for singer Montell Jordan (Mike again). "¦ Someone has posted a very in-depth rebrand redesign for the Thunder (from Dylan Hays). "¦ Love this old shot of the SuperSonics posing in a Seattle streetcar (from Nathan Brian).

College and High School Hoops News: Basketball sneaker maker Ektio is shutting down. "¦ "UC Irvine has an 'official spirit group' called the Antourage," says Chris Cruz. "UCI students who attend 15 basketball games are awarded membership in Club 15 and a UCI basketball jersey featuring the number 15 and 'Antourage' as the NOB." "¦ New Andrew Smith memorial patch for Butler (from Charles Weiss). "¦ The Wisconsin High School Interscholastic Athletic Association is trying to cut down on unsportsmanlike taunting chants by fans, but the move has become controversial among those with their mouths taped shut.

Soccer News: Real Madrid's new pre-match shirt has leaked (from David Haberman). "¦ Here's something to be proud of: Kettering Town is marking the 40th anniversary of being the first UK club with jersey advertising (from Vassilis Dalakas). "¦ New Carly Lloyd cleats (from Tim Cross). "¦ New uniforms for Hiroshima Sanfrecce (from Jeremy Brahm).

Grab Bag: Ohio State has inked a huge new deal with Nike. "Interesting that they included club sports," says Kevin Mueller. "I rowed at OSU (men's team is club) and it was anything goes, apparel-wise. Then a couple years ago they started cracking down on all the clubs with mandatory logos (and very boring ones), but no funding. Teams who used apparel as a fundraiser took big hits. It will be interesting to see if the inclusion of club sports in the new deal counteracts that at all." "¦ Adidas's next big thing is space gear for Virgin Atlantic (from Tommy Turner). "¦ Tennis player Jack Sock lived up to his name by tossing one of his socks into the crowd after a recent match (thanks, Mike). "¦ New logo for Bing. … The Air Jordan XXX will be released on Feb. 12 (Mike again). "¦ Interesting blue/red necktie divide at last night's GOP presidential candidate debate.