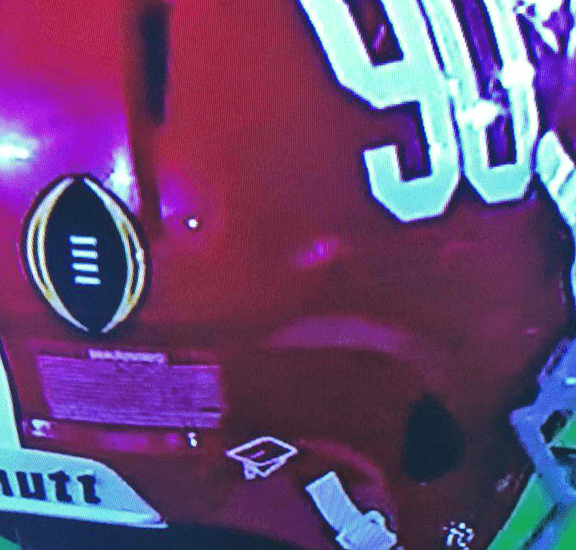 Nice little uni-related detail in last night's college football title game, as Alabama's graduating seniors wore little mortarboard helmet decals. I'm told that Clemson's graduating seniors wore a similar decal, but I couldn't find visual evidence of that. (Yes, there's a really obvious joke to be made there, but let's not bother with it because it's, you know, really obvious. Thanks.)
A few other notes from last night's game:
• Clemson's "2016" patch used a black football and looked fine, but Alabama's patch used a white football that basically disappeared against the jersey's white background. It often looked like the patch just said "2 16" (or maybe Bible verse 2:16). Not good.
• The "2" decal on the right side of Alabama running back Derrick Henry's helmet took a beating.
• I noticed that Alabama defensive back Geno Matias-Smith was wearing a compression sleeve, or tights, or something, on his left leg. I was curious to know if he always does this, so I did a quick search and learned that he'd worn the tights/sleeve on his right leg two months ago against LSU. And he had the long tights on both legs the week before that against Auburn. The consensus, after a check of Google, Twitter, and Phil, is that this appears to be just a style thing.
• I didn't see this myself, but reader Scott (who didn't give his last name) offers this: "I noticed that Ryan Kelly, No. 70 for Alabama, had a flashing green light that appeared to be under the back of his jersey." Looks more like a laser pointer or something like that, but like I said, I didn't see it myself. Anyone..?
• The Alabama helmet on ESPN's set prior to the game had No. 15, to represent the school's 15 championships. For the postgame show, the number was updated to 16:
Helmet number updated for 16th championship on downstairs desk @ESPNCFB @UniWatch @PhilHecken #RollTide pic.twitter.com/M53jF2EJhy

— ACC Tracker (@ACC_Tracker) January 12, 2016
• Both schools' marching bands wore CFP logo patches:
@80mins Yessir pic.twitter.com/iFCMxWFtxd

— Tiger Band (@CUTigerBand) January 11, 2016
The Million Dollar Band is ready to go. #RollTide #NationalChampionship @CollegeMarching pic.twitter.com/R9lbOQN0Ql

— Erin Toland (@erintoland97) January 11, 2016
(My thanks to @80mins, Zach Fisher, Justin Kerr, and Phil for their contributions.)
•  •  •  •  •
Oh my: Yesterday's Ticker mentioned that the Cardinals were poised to sign Korean pitcher Seung-Hwan Oh, whose two-letter surname would tie the record for the shortest NOB in MLB history. The Cards did indeed sign him yesterday, and they even had a press conference featuring his new jersey with the super-short NOB — but there's an extra uni-related twist. Turns out Cards fans stuck with an overpriced polyester Kyle Lohse shirt in their closets will likely be very pleased with the uniform number that's been issued to Oh: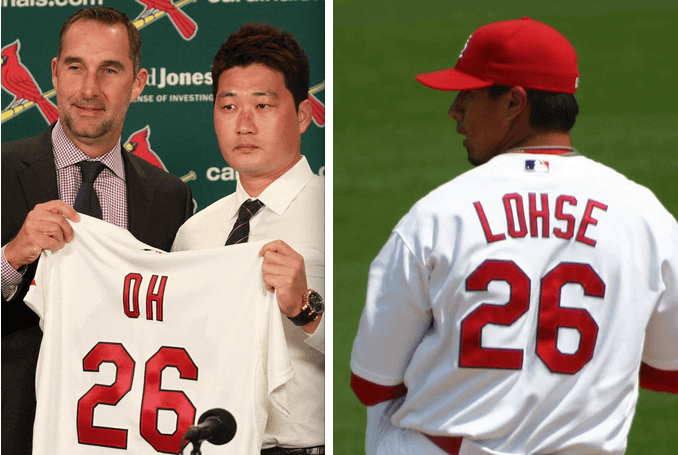 (Big thanks to Kirk Kendall for pointing out this one.)
•  •  •  •  •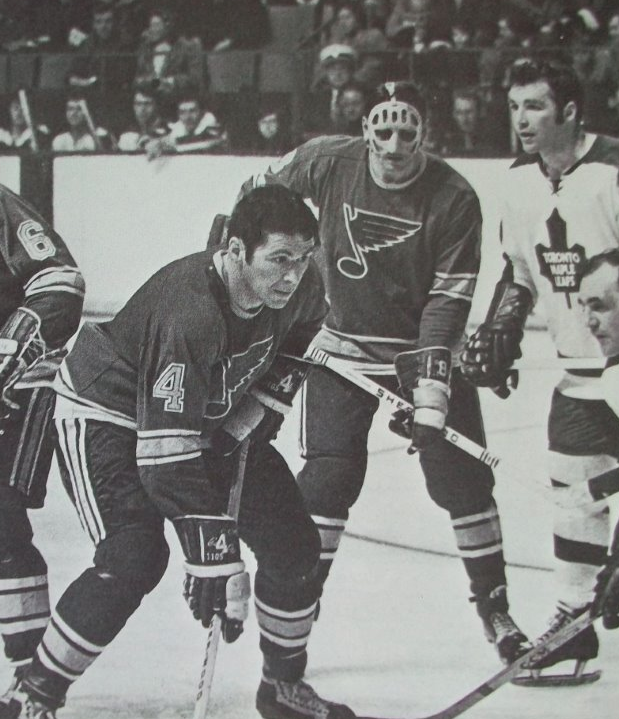 Too good for the Ticker: Whoa, check out this 1970s shot of a Blues position player wearing a goalie-style mask! "I do not remember this at all, and I went to just about every home game in the '60s and '70s," says reader Mikey Brethauer, who recently stumbled upon the photo. Anyone know more?
Update: Twitter user @_2244 reports that the player in question is Barclay Plager, who wore the mark in 1970-71 to protect a broken nose. Here's another shot (click to enlarge):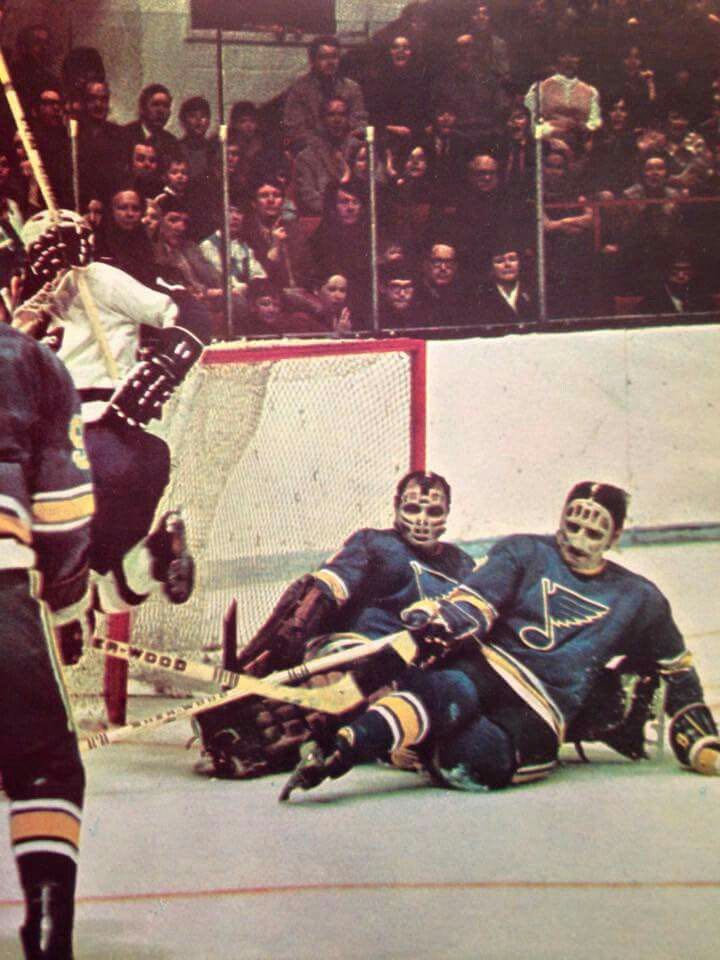 • • • • •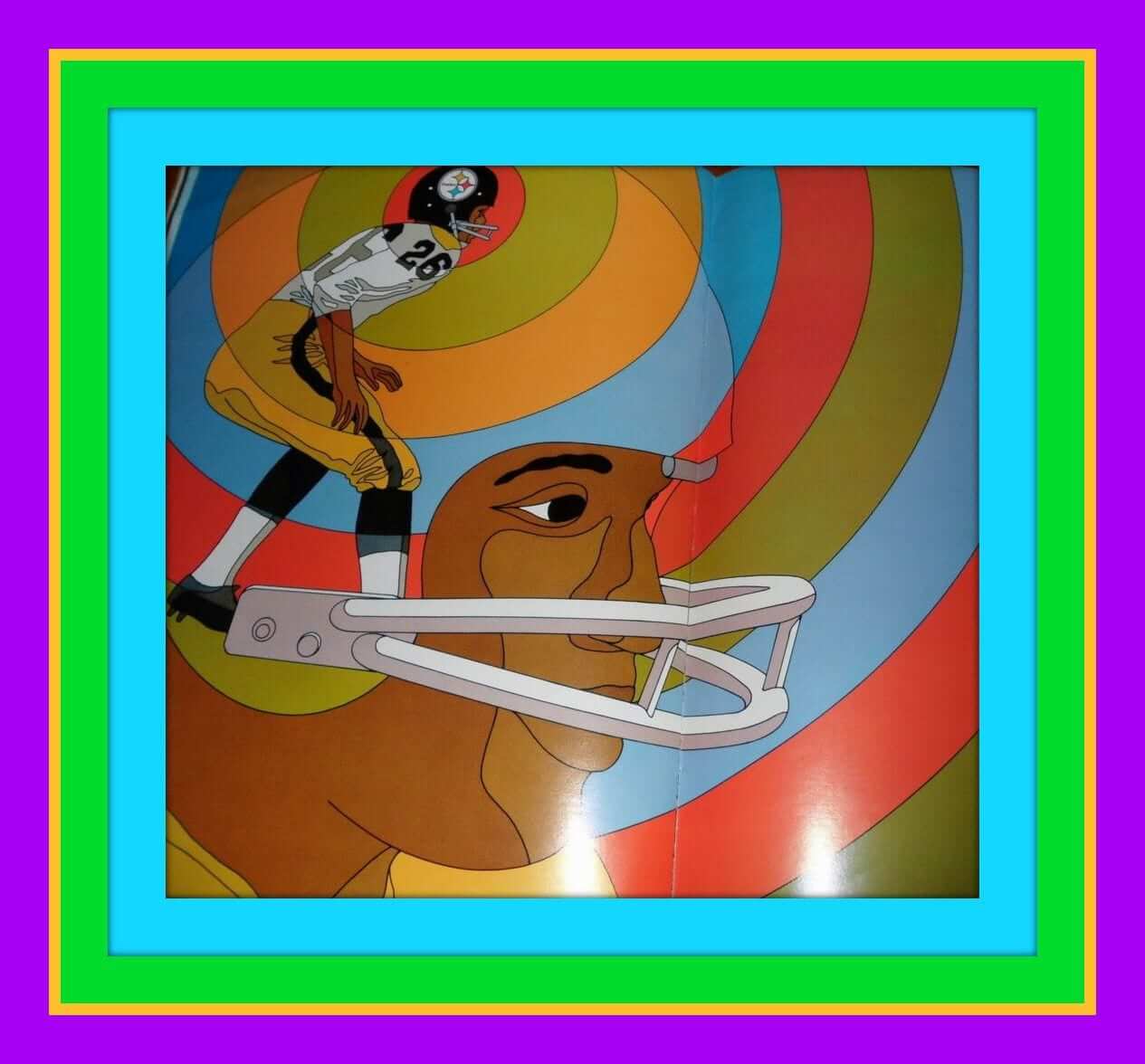 Collector's Corner
By Brinke Guthrie
Here's a terrific mod-looking brochure from 1967 called "The Professionals Look at Pro Football." Produced by NFL Properties, it features 16 different players and their various outlooks about the game. Check it out here.
That's a tough one to top, but here are the rest of this week's picks:
• Staying with 1967, how about this nice-looking "This Is The NFL" booklet with Dan Reeves on the cover, signed by legendary New York G-Men Bobby Crespo and Bookie Bolin.
• Two days ago, 88-year-old former Vikings coach Bud Grant decided to head out for the coin toss in sub-zero temperatures in short sleeves. That alone qualifies him for immortality here at Uni Watch. In honor of his effort, we present this 1963 "British American Oil Football Guide" by "Bud" Grant. Thirty-two pages of the Best of Bud (including, we imagine, how to get into the head of your opponent during cold weather).
• You know about electric football, but did you know Tudor also used to make Electric Major League Baseball? I'm sure all the players ended up in the left or right field corner.
• This 1950s MLB waste can by Harvell has seen better days, but the simple graphics and lack of corporate logos recalls a simpler time when the game was more like "¦ a game.
• Check out this 1970s Bengals throwback kids' helmet from Rawlings. Wouldn't it be great to go back to this look? Oh, yes. And here's a Bengals pennant from their first season or two.
• This great-looking 1971 Eagles throwback helmet reminds me of my first-ever game at Texas Stadium, November of 1972.
• This 1970s San Francisco Giants helmet bank is still in its original packaging.
• Rebound with the New York Nets with this set of ten bumper stickers.
• Here we have a pair of John Havlicek-endorsed sneakers from the 1970s. Not quite as tech-y as the latest Air Jordan, eh?
• If you've ever thought, "I'd love to have a vintage New Orleans Saints ceramic tray, and have it be from an estate sale from their GM from 1968-1972," I have just the thing.
Follow Brinke on Twitter: @brinkeguthrie
•  •  •  •  •
The Ticker
By Mike Chamernik

Baseball News: A reader named Justice C has three cool retro Starter jackets. … Chris Flinn saw this photo of a Cuban baseball player (or perhaps bat boy or manager/coach) with "CB" on his back. He's unsure what the letters stand for, but Chris did notice that the B is larger than the C, and it appears to be upside-down. … The Dodgers' Kike Hernandez wrote his name and uni number in the foam of his morning latte. Jeez, when does baseball start again? Can't come soon enough.

NFL News: Six people were arrested at Saturday's Steelers/Bengals game. Two of them were wearing Steelers apparel in their mugshots. … The Vikings and Seahawks both wore special cold weather underwear during their game on Sunday, when temps were in the negatives (from Tim Dunn). … The Panthers will wear all-white on Sunday. I always thought it was a sharp look for them, and it's what they wore during their last three rounds of their 2003-04 Super Bowl run. … The official poster of Super Bowl 50 was released yesterday. It's more of a pop art concept than a realistic depiction of the city, according to Dave Newlands. … Washington OLB Junior Galette has a team logo tattoo. Galette has actually yet to play a snap for the team, because he missed the entire season with a torn Achilles. … This brief Marketplace radio clip breaks down some features that are coming to NFL stadiums, including lounges and expanded WiFi (from Andrew Cosentino). … I've been collecting mini NFL helmets from a machine at my local grocery store. They're technically pencil-toppers, not gumball helmets, because they come in one piece. To display them, I decided to assort them all in a glass cylinder in front of a mirror in my dining room. Not bad!

Hockey News: Some NHL enforcers liked to coat their jerseys in Vaseline so that they would be hard to hold during a fight. Former ref Paul Stewart says he disallowed that (from Phil). … Rangers goaltender Henrik Lundqvist has a new mask. … The ECHL's Orlando Solar Bears ran a promotion where fans were able to sign the ice for tonight's game (From @Dave Doop.)

NBA News: The Sixers will retire Dolph Schayes's No. 4 on Jan. 23, but Nerlens Noel will get to keep wearing No. 4. … It's always funny when today's athletes receive free a car when they win an award. What's a guy who makes $15 million a year going to do with an common-man Buick? Some players now simply donate the cars to charity. Anyway, Cincinnati Royal Adrian Smith was awarded a 1966 Ford Galaxie for winning the MVP of the 1966 NBA All-Star Game. Smith still has the car, and he still drives it (thanks, Patrick O'Neill). … The WNBA's Seattle Storm have updated their colors. The green-and-yellow scheme matches what the Supersonics used to use. The Storm's previous colors were more similar to what the Sonics had in the late 1990s (from Jimmy Wong). … This job posting indicates that the Clippers are getting a mascot. Move over, Clipper Darrell.

College Hoops News: Purdue backers are selling shirts that poke fun at Indiana. The "Say No To Clown Pants" shirts will help fund a cycling trek that will raise money for charity (from Kurt Esposito). … A Missouri women's player has a Last Name-Comma-First Initial NOB (from Joel Mathwig).

Soccer News: The Premier League's lion-based logo is going to be replaced (from Matthew Bonnett). … I don't know much about soccer, but I do know that Mario Balotelli has a fascinating story and is one of the sport's wackiest figures. What he used to do with teammates' boots at Inter Milan adds to his legend (from Tim Cross). … Paris Saint-Germain is threatening legal action against rapper M.I.A after she wore a version of the club's jersey in the video of her song "Borders." Her shirt read Fly Pirates, while the club's sponsor is Fly Emirates (from Tim Cross).

Grab Bag: Here's what tennis player Genie Bouchard will wear at the Australian Open (from Jime Haron). … Pennsylvania's Edinboro University's sports teams are known as the Fighting Scots, and the backdrop for their press conferences matches that (from Kyle Martinek). "¦ The upstate New York town of Whitesboro has voted to keep its town logo, which appears to show a white man strangling a Native American. "¦ As reader David Firestone predicted a week or two ago, the new Mello Yello package design has resulted in a new NHRA Mello Yellow Drag Racing Series logo (from Alan Feller).