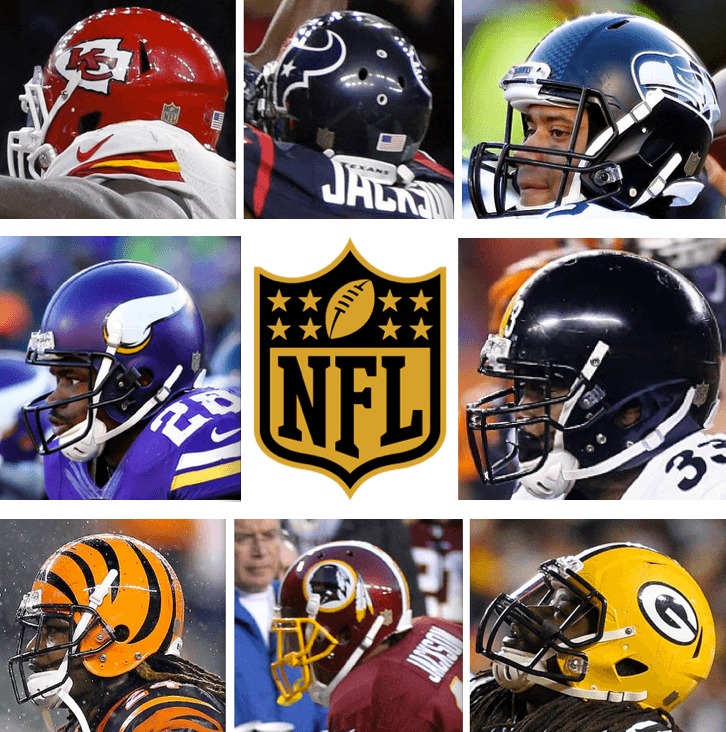 Click to enlarge
As we all know, the NFL has been building up to Super Bowl 50 with all sorts of gold-themed promotions — the gold 50-yard-line markers, the gold version of the league's logo, gold-accented sideline apparel, and so on. But the players' uniforms had been unaffected by this — until now. As you can see above, the NFL logo decal on the back of the players' helmet turned gold this past weekend for each of the eight teams in the Wild Card round of the playoffs, a move that hadn't previously been announced (at least not to my knowledge).
Does anyone else think this was a downgrade? Obviously, it's a very small element, so it's not a big deal either way. Still, I don't care for the tone of gold they used — it looks drab, not flashy.
The NFL logo on the jerseys and pants retained its usual red-white-blue color scheme, at least for now. But will those logos change to gold for the Supe? It wouldn't surprise me.
A few other notes from the Wild Card games:
• Washington tight end Jordan Reed tore a piece of equipment — a waistband towel, I'm pretty sure — resulting in a shower of very long loose threads.
•  How cold was it yesterday in Minnesota? So cold that the Vikings' gjallarhorn broke into pieces.
• How warm was it yesterday in Minnesota? So warm that former Vikings coach Bud Grant, who's 88 years old, came out for the game-opening coin toss in short sleeves!
• During the Chiefs/Texans game on Saturday, some asshole showed up in redface and a headdress.
•  I'm sure I've seen it before, but I was really struck by Texans coach Bill O'Brien's chin dimple. It's so deep! (Plus it seemed to get deeper each time the Texans gave up more points.) How does a fella shave something like that?
• I watched the Seahawks/Vikings game with a reporter from Vice Sports, who's writing a story about me (more on that later). As the game was starting, I told him, "Lots of people will be watching this game who don't normally see the Vikings play very often, and I bet a bunch of them will be asking me about the Vikings' weird uniform number fonts." Sure enough, I got a bunch of tweets about this during the game (you can see three of them here, here, and here), along with several emails. Keep in mind that the Vikings have now been wearing this uniform design for three full seasons, and the numbers still confuse people. Attention Nike: That's the measure of a failed design right there.
(My thanks to @ynnhoJ and Phil for their contributions.)
•  •  •  •  •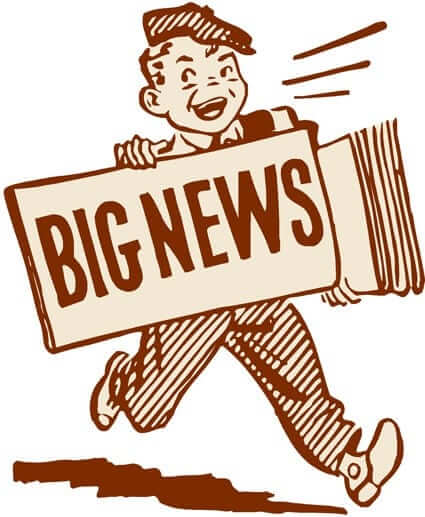 ITEM! T-Shirt Club plans for 2016: The Uni Watch T-Shirt Club has been quiet lately, but I've been having intense discussions with my Teespring designer, Bryan Molloy, and we now have a plan for 2016, along with some news about the 2015 designs. One thing at a time:
1. For those of you who missed out on some of the 2015 designs, we're going to create a "Second Chance Store" that will feature all of the 2015 shirts except the tequila sunrise design. It will launch very soon (probably this week) and will be open for two weeks. The designs will be exactly the same as the ones that were originally available (the white "Home" shirt, the green St. Paddy's Day shirt, etc.), with one exception: They will not have the sleeve patches with the T-Shirt Club logo. These patch-free shirts will not count toward eligibility for last year's year-end "Collect 'Em All" prize — only people who purchased all 12 shirts with the patches are eligible for that prize.
2. For 2016, we plan to have a bi-monthly program of six shirts — one each for February, April, June, August, October, and December. Each one will feature an illustration themed around a given sport, showing an athlete on the "Uni Watch team," wearing a Uni Watch uniform for that particular sport. The sports will be baseball (for the February shirt), hockey (April), basketball (June), football (August), and soccer (October); the sixth one, for December, will be a surprise. Yes, we know there are other sequences that might make more sense in terms of when certain sports are being played, but we have our reasons for wanting to do it this way.
The 2016 shirts will be blank on the back. Also, we're thinking that we won't have a sleeve patch, because (a) the patch added a surprising amount to the cost of each shirt last year, (b) the patch is a pain in the ass for Teespring to produce, and (c) the patch made sense for last year's shirts, because those shirts were supposed to mimic jerseys, but this year's shirts are just T-shirts — they're not meant to mimic a jersey, so I'm thinking that the patch wouldn't make as much sense.
Then again, the sleeve patch was a fun element last year, and it provided a sense of continuity and collectability throughout the course of the program. So we could include a sleeve patch on this year's shirts if you folks want us to. Or, instead of a sleeve patch, we're tinkering with the idea of including a jock tag, which is the official-looking tag that appears near the lower-left hemline of most jerseys. We could create a Uni Watch T-Shirt Club jock tag graphic and include it there on the 2016 shirts. It would include the month of each shirt's release, just like the patch did for last year's shirts. I can imagine some of you really loving this and other really hating it. But instead of imagining what you think, I'm going to let you tell me. Here:
Thanks for your input. I'll have more info on this year's shirts soon.
•  •  •  •  •
The Ticker
By Paul

Baseball News: The Cardinals are reportedly on the verge of signing Korean pitcher Oh Seung Hwan. Oh is his surname, so he would tie the record for the shortest NOB in MLB history (tying Chin-lung Hu, and maybe others who I'm forgetting). But when he played in Korea, he wore "Shoh," which is apparently his surname plus his first and middle initials, but without periods or spaces. If he signs with the Cards and just uses "Oh," St. Louis would become the first team to have a pitching staff that includes a two-letter NOB and a single-digit uni number (all this from Jeff Scott). "¦ Lots of great stuff in this home movie footage from what appears to be the 1950s, including a visit to an Indians game at Cleveland Municipal Stadium. The most interesting bit is at the 10:42 mark, when a station wagon delivers the starting pitcher from the bullpen! Never seen that before. Right after that is a marching band led by — ugh — a drum majorette wearing a Native American headdress (from Steven Stern).

NFL News: Here's the program cover design for Supe 50. As several people have pointed out, the Chiefs helmet is wrong, because the arrowhead should be facing forward. "¦ Micahel Lipinski found this old Birmingham Bolts XFL T-Shirt in his mom's attic. "¦ A friend of Joe Biskey's found this cool NFL fight song LP at a vintage record shop. "¦ Whoa, check out this old photo from the 1972 Divisional Playoffs — Packers vs. Washington — which shows that Washington had colored yard markers! I probably watched that game at the time, but I have no memory of the colored markers (thanks, Phil). "¦ Presidential candidate Donald Trump thinks trying to protect players from concussions caused by helmet-to-helmet hits is what's wrong with football, and with America, not necessarily in that order.

College and High School Football News: Clemson will be going mono-orange tonight. "¦ Speaking of tonight's game, check this old Clemson/'Bama program cover from 1969 (from James Gilbert). "¦ And here's the ticket design for tonight's game (from Dan Medina). "¦ Good article on college football championship rings.

Hockey News: Oooh, check out this very nice V-stripe jersey worn in the 1960s by Penn (from Jeff Flynn). "¦ Avs C Matt Duchene has the title of a Thomas Rhett song written on his stick tape (from Jay the AHP).

NBA News: Weird to see Knicks apparel with a Jumpman logo. That's Kristaps Porzingis at a recent charity event (from Julien Simonin). "¦ Interesting-looking game in Sacramento on Saturday night, as the Kings wore black at home and Warriors wore "The City" throwbacks on the road (thanks, Mike). "¦ The Nuggets wore their sleeved alternates last night. "¦ More about the Nuggets: With Emmanuel Mudiay back from a month-long injury absence, Denver was once again able to have zero and double-zero on the court at the same time. That's Mudiay wearing No. 0 and teammate Darrell Arthur wearing No. 00 (screen shot by Sandy Dover). "¦ The Lakers gave away Kobe Bryant No. 8 jerseys last night (from Robert Hayes). "¦ The Trail Blazers and Thunder went color on color last night (from Anton Bossio).

College and High School Hoops News: You don't often a see a city's nickname on a high school basketball uni. But here's a shot of the 1950-51 team from New Castle High Schoo in Indiana, showing the team wearing "Rose City" jerseys (from Marc Viquez). "¦ "LSU associate coach Brendan Suhr worked in the NBA from 1979 through 2007 with the Hawks, Pistons, Nets, Raptors, Magic, and Knicks, so it's understandable he might still have some leftover NBA-branded gear," says Douglas Ford. "During Saturday's game vs. Florida, he broke out this NBA-branded portfolio folder." "¦ Robert Carter Jr. of Maryland has JROB, but with a twist: the "R" is a small cap (good spot by Michael Guffy). "¦ Hmmm anyone know why these two teams both have bullseye-ish uni number designs on the backs of their jerseys? (From Eric Juregens.) "¦ Bill Brimm, the high school coach who dressed his team in that bizarre polka dot uniform back in 1960 (and who I interviewed three years ago as part of my reporting for this article), has passed away (thanks, Phil). "¦ East Tennessee State debuted a new gold alternate last night (from Jake Young).

Soccer News: Interesting sponsor for Scunthorpe United (from Kirsten Fleming). "¦ New sesquicentennial third kit for Nottingham Forest (from Tim Cross).

Grab Bag: A town in upstate New York is voting today on whether to change its town logo, which appears to show a white man choking a Native American (from Louis Griffel). "¦ Yale has inked a big-money deal with Under Armour (from Tris Wykes). "¦ The USA and Denver played a color-on-color lacrosse exhibition match yesterday. "¦ Apostrophe catastrophe on a recent episode of Fargo, which showed a Reagan campaign bus with an open-quote instead of an apostrophe (good spot by Joe Baka). "¦ Here's more on golfer Ricky Fowler and his high-top shoes (from Tremaine Eto). "¦ Golfer Jordan Spieth wore the same shirt yesterday that he wore while winning the U.S. Open last summer. … Amazing Rainbow Warriors throwbacks for Hawaii volleyball.