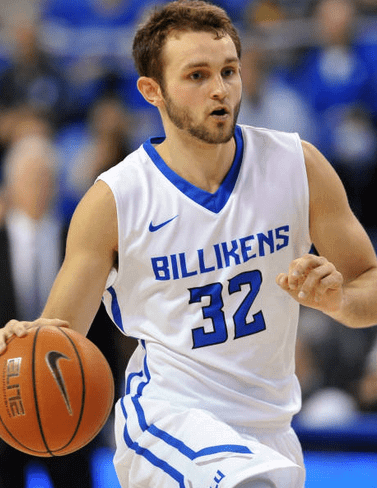 There are sooooo many Division I college hoops teams — 32 conferences, 351 schools — and I don't even pretend to know much about all of them, or even most of them. I'm usually proud of myself if I remember a certain detail, like which conference a school plays in, or which state it's located in, or the story behind the school's mascot. In the case of Saint Louis, I learned a long time ago that the school name always gets spelled out ("Saint Louis," not "St. Louis"), so I always style it correctly. Whenever I do so, a few alums usually email me and thank me for getting their alma mater's name right.
But what I didn't know until yesterday is that Saint Louis's teams are called the Billikens. And one reason I didn't know that is that they hadn't worn "Billikens" on their jerseys in more than 30 years — until two nights ago, when they finally did so for a game against George Washington (additional photos here).
Of course, that raises a new question: What the hell is a Billiken? According to the school's website, "The Billiken is a mythical good-luck figure who represents 'things as they ought to be'" (although it was apparently created by a Missouri art teacher in 1908, so I'm not sure how "mythical" that makes it). There's lots of additional information here.
I'm sure many of you (maybe most of you?) already knew this, but I didn't. So this is a case of a uniform teaching me something — nice!
(My thanks to Brian Kunderman for bringing this one to my attention.)
• • • • •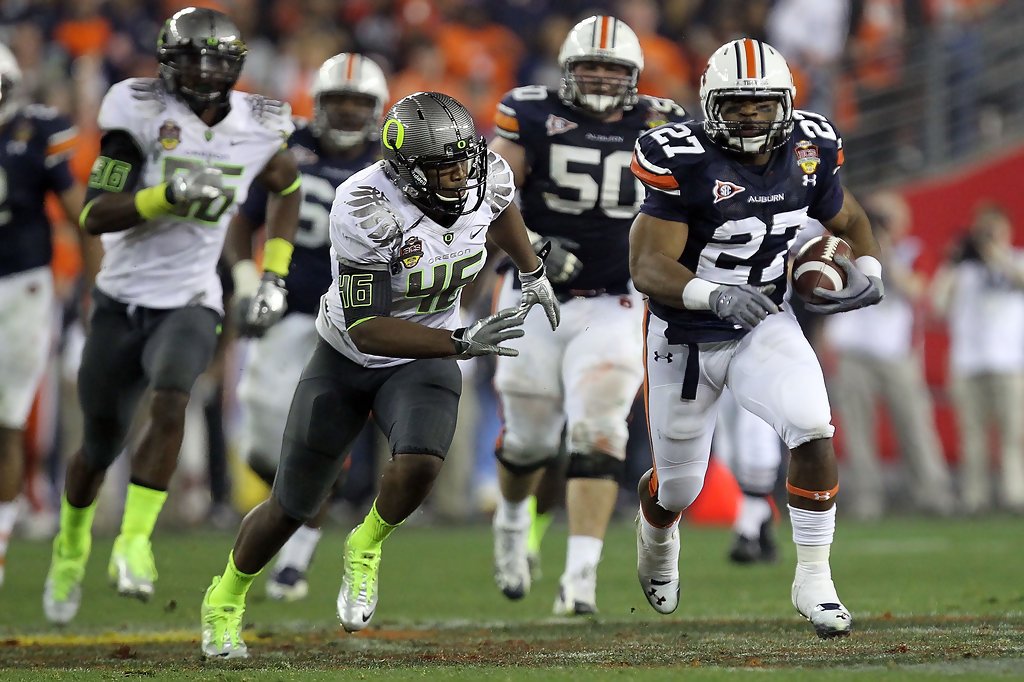 Click to enlarge
Friday Flashback: With Clemson and Alabama set to play for college football's championship on Monday night, my weekly Friday Flashback piece on ESPN looks back at the 2011 BCS title game between Oregon and Auburn, which had some interesting uni-centric subtexts: old-school vs. new-school, Nike vs. Under Armour, and so on. Check it out here.
• • • • •
Click to enlarge
PermaRec update: My series on old letters from the files of the Hoge Brush Company continues with a look at the letter shown above. Get the full story over on Permanent Record.
• • • • •
Gromm•It update: Vice Media's "Creators Project" blog has written a nice piece about Gromm•It. Check it out here.
• • • • •
The Ticker
By Paul

'Skins Watch: An Indiana high school's plan to change its team name from Redskins to Legends could be delayed because no funds have been allocated for new uniforms (thanks, Phil). "¦ Speaking of Indiana, with the turn of the new year, Goshen High School has officially changed from the Redskins to the Red Hawks. "¦ Plenty Coups High School in Montana is located on the Crow Indian Reservation. The school's name refers to Chief Plenty Coups of the Crow Tribe, who was part of the Battle of Little Bighorn. The school's teams, which are called the Warriors, use the U. of Illinois's old Chief Illiniwek logo. "¦ A Native American group has asked CBS not to use the 'Skins name if the team makes it to the Super Bowl (from Andrew Cosentino).

Baseball News: Here's a slideshow of some of the uniforms worn by Ken Griffey Jr. during his career (from J. Daniel). "¦ Good recap of how the Hall of Fame took over the cap-selection process for inductees' plaques after Wade Boggs abused the privilege. "¦ We've gone over this before, but I can't believe the Hall keeps using these terrible induction jerseys. "¦ Odd to see Roger Clemens in a Red Sox uni without a belt (from John Pritchard). "¦ We've all seen pitchers wear dugout jackets while running the bases. But how about a pea coat?! (Great find by Larry Bodnovich.) "¦ I'm not sure if this is a new thing, but MLB has specific balls designated for Grapefruit League and Cactus League use. "¦ Remember the "Beartolo Colon" illustration? The guy who drew it turned into a T-shirt. And no, I don't know where or even if you can buy it (from John Dankosky).

NFL News: A pet rescue operation in New Zealand appears to have poached the NFL logo. "¦ Here's a short video of the Packers captaincy patches being sewn onto the jerseys for this Sunday's game against Washington (from John Okray). "¦ Here's an article on the Chiefs' uniform cops (thanks, Phil). "¦ Some Bay Area cops have the Super Bowl 50 logo on their badges (thanks, Phil). "¦ Speaking of the Supe, Levi's is offering a Supe 50 apparel collection (from Tommy Turner). "¦ This is odd: Why does the Steelers' practice field have a yard line marked double-zero? (Good question from Nick Burczyk.)

College and High School Football News: "Manvel High School (a powerhouse school south of Houston) has 'Hoka Hey' running down the side of their pants," says Bob Andrews. "Googling found that it's a school district 'thing'. Don't see many 'School Motto On Pants' examples."

Hockey News: G.I. Joke jerseys this Sunday for the Bridgeport Sound Tigers. "¦ The town of Windsor, Nova Scotia, wants to call itself the "Birthplace of Hockey," but there's some concern about that, because the slogan is already trademarked by the Hockey Heritage Society. "¦ I'm not sure why a Canadian would wear a Donald Trump hockey jersey, but that's what this guy did (thanks, Phil). "¦ Cool new throwback mask for Canucks G Ryan Miller (thanks, Phil). "¦ Brutal pink-themed jerseys upcoming next month for the Austin Bruins. "¦ CCM, in a nice throwback nod to Patrick Roy, is using the defunct Koho brand for Roy's alumni game gear. "¦ The Sharks wore their throwbacks last night.

NBA News: The Kings are building what's being described as "the NBA's techiest arena" (thanks, Brinke). "¦ Odd uni matchup last night in Sacramento, as the Kings wore purple at home and the Lakers wore gold on the road (thanks, Mike). "¦ Color on color last night in Houston, as the Rockets wore their brutal "Clutch City" alts and the Jazz wore green (thanks, Phil).

College and High School Hoops News: Check out the web-themed court design for the Concord (N.C.) High School Spiders (from Matt Campbell). "¦ Valparaiso University is having a Space Jam Night on Jan. 30 (from Andy Horne). "¦ The Virginia Tech women's team went BFBS last night (from Andrew Cosentino). "¦ UCLA gave away eyeglass frames yesterday for Russell Westbrook Night. Even the players got in on the fun (from Jared Buccola). "¦ NC State had a blackout game last night.

Soccer News: Here's the new LAFC crest, along with an explanation from the designer. My rough sense of things, based on reaction I got via email and on saw on social media, is that people seem to like it. "¦ Arsenal's new home jersey may have leaked.

Grab Bag: The UFC has fined three of its fighters for Reebok apparel violations (from Tyler K). "¦ Interesting story about intellectual property litigation between LucasFilm and the guy who designed the Stormtrooper helmets for the original Star Wars movie. "¦ The process to come up with a new logo for the 2020 Tokyo Olympics is moving along. The original logo was scrapped due to its similarity to the logo for a Belgian theater. "¦ "Under Armour CEO Kevin Plank has undertaken a huge project to not only build an entirely new UA campus, but also completely transform Baltimore's Port Covington." "¦ New packaging for McDonald's. "¦ Here's the logo for the 20th season of men's college club lacrosse. "¦ We've talked before about presidential candidate Ted Cruz selling a "Cruz" football jersey on his campaign website. He's apparently sold at least two of them (from Chris Schwartz). "¦ Good story on the history of Starter jackets and the Starter brand (from Aaron Parrish).
• • • • •
Click to enlarge

What Paul did last night: Went out last night to see the debut performance by the Editors, a local band comprised of, well, editors. From left to right, that's Ira Robbins, founding editor of the seminal music journal Trouser Press (who I've known for about 25 years); Brownstoner editor and Brooklyn Flea and Smorgasburg co-founder Jonathan Butler (who I don't know at all); Gawker Media executive editor John Cooke (who I'd never met before last night, but I'm a big fan of his work, so I introduced myself after the show and ended up yakking quite a bit with him and his wife — nice people); and New York Observer editor-in-chief Ken Kurson (who I've known for nearly 30 years, dating back to when he was the bassist in a wonderful indie band called Green; as you can barely see in that photo, he was wearing tzitzit onsteage!). They were surprisingly tight, and it was a really fun time. All they needed was an opening band called the Interns.