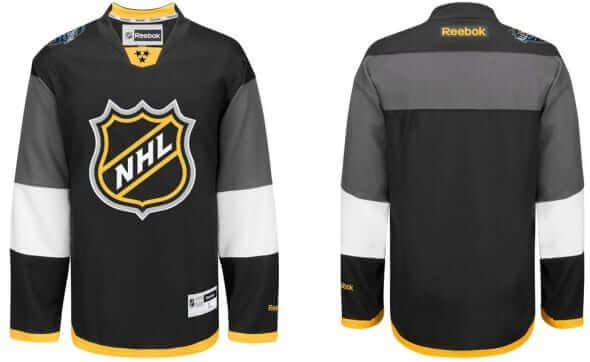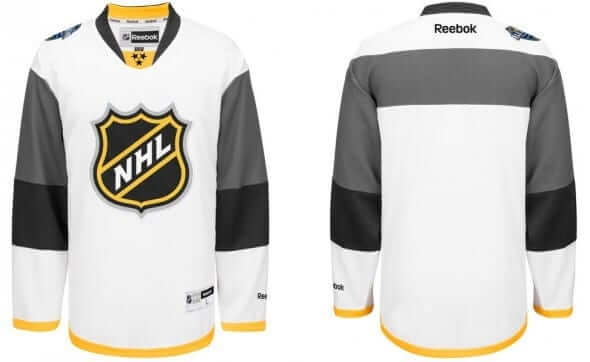 .
Well, at least it's a lot better than what what they came up with last year.
That's the most obvious observation regarding this season's NHL All-Star Game jerseys, which were released yesterday. It's a nice enough design, if a bit plain. I especially like the gold border along the hemline, which works quite nicely.
The rear views are a bit dicey, though, eh? Unfortunately, the NHL hasn't yet seen fit to show us the numbers and NOB lettering, which is a pity, because their press release says the jerseys "will feature numbers and letters designed as modern interpretations of traditional country music poster lettering, which has been a defining aesthetic of Nashville."
That could be pretty cool or really awful. Either way, why provide that description if you're not going to show it to us? The jerseys will supposedly become available today "at select local retailers," so I'm hoping we'll get to see the full rear-view treatment any moment now. I'll add it to this page if and when that happens.
Update: Here's a rear-view shot that was posted on the Blackhawks' Snapchat account yesterday (thanks to commenter Mike R. for the tip; additional photos here):
Of course, it would also be nice to see the pants, socks, and helmets, but there's no need to show any of that to us because none of that stuff is for sale, right? Right.
Also from the press release:
For the on-ice version of the All-Star jersey, the crest has been constructed with reflective material which glimmers in certain light as a salute to Nashville's vibrant night-life scene. The black and white color scheme in each jersey shares the colors of the keys on a piano to celebrate the city of Nashville's "Music City" nickname.
Okay, so the "storytelling" bits are bullshit, but the reflective thing (which will also apply to the numbers on the back, incidentally) is interesting. Again, could be cool, could be awful.
The game is on Jan. 31 — the same day as the NFL's Pro Bowl. So that'll be All-Star Sunday. Or, you know, Go to the Movies Sunday, or Go Bowling Sunday, or something along those lines.
• • • • •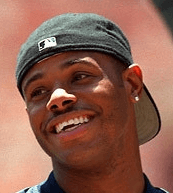 Buck Showalter could not be reached for comment: Yesterday I suggested that the debate over which team cap to depict on Mike Piazza's Hall of Fame plaque could be resolved by having him wear a logo-less backwards catching helmet.
That prompted commenter Sean to suggest that the new Hall inductee who really deserves to be depicted with backwards headwear is Junior Griffey, who made the backwards cap his signature style.
I thought that was a clever quip on Sean's part. But apparently it's more than a quip or a fun idea — it could become a reality:
Jeff Idleson,President of the National Baseball Hall of Fame left open the possibility of Ken Griffey Jr. hat being on backwards on plaque

— Jim Bowden (@JimBowden_ESPN) January 7, 2016
Someone over at MLB has even prepared a rendering of how such a plaque might look:
Today, we all wear our caps backward. #HOF pic.twitter.com/YAqwNJlPmA

— MLB (@MLB) January 6, 2016
Personally, I love this — here's hoping they do it. And I still think they should show Piazza in a backwards helmet. So there's your theme for this summer's Hall induction ceremony: Let's make 2016 the year of the backwards headwear!
•  •  •  •  •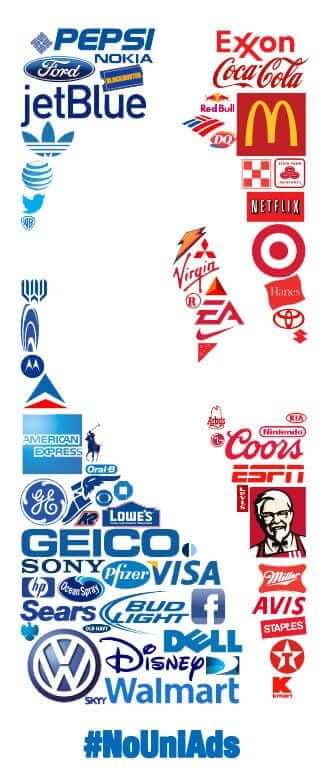 NBA uni ads continue still inevitable for fifth consecutive year: NBA commish Adam "Mr. Inevitable" Silver, whose grand scheme to bring ads to the league's jerseys continues to sputter, was asked about the ads on a podcast a few weeks ago, and now Dan Feldman of NBC Sports has done us a public service by transcribing the pertinent bits of Silver's response:
Part of the reason we haven't moved forward is complications over our revenue-sharing system, that if certain markets did exponentially better than other markets, then it gets complicated.

But the way our revenue-sharing system works, it would be a net reduction in revenue for other clubs. And your listeners could say: "Why does that matter?" And the issue is, end of the day, most importantly, we're trying to create parity in this league. And we don't want a system where some teams can afford much higher payrolls than other teams.

And that's the biggest concern, that there are a group of teams that feel they will somehow be left behind, that certain markets "" and presumably some of the larger markets "" will be much more successful in selling "" we're calling it a patch, a logo on a jersey, not the full-out control of the jerseys that you see in European soccer. But they'd be more successful in selling a patch. They would generate more revenue.

Those lower-revenue-generating teams would not get a substantial enough increase in revenue sharing, and therefore, they would not be able to spend as much on players, on practice facilities, on all the other enhancements necessary to compete for championship teams.

And that's going to be my biggest concern as we continue to address it, ensuring that it doesn't have any effect whatsoever on teams' ability to compete.
Although Silver is trying to put a parity-positive spin on this, it's actually consistent with something I reported way back in 2012, namely that the uni ad program was dead — DEAD! — because the owners couldn't agree on how to divide the loot. Serves them all right.
We already know that uni ads won't be happening for regular season jerseys next season either (because they're adding the Kia ad patch for this season's and next season's All-Star Games "as a test run"), so we can look forward to yet another year of inevitability, whee! Keep up with that self-fulfilling prophesizing, Adam — if you say it often enough, maybe one day it'll finally be true (but I hope not). #NoUniAds
(Thanks to Phil for letting me know about this one.)
• • • • •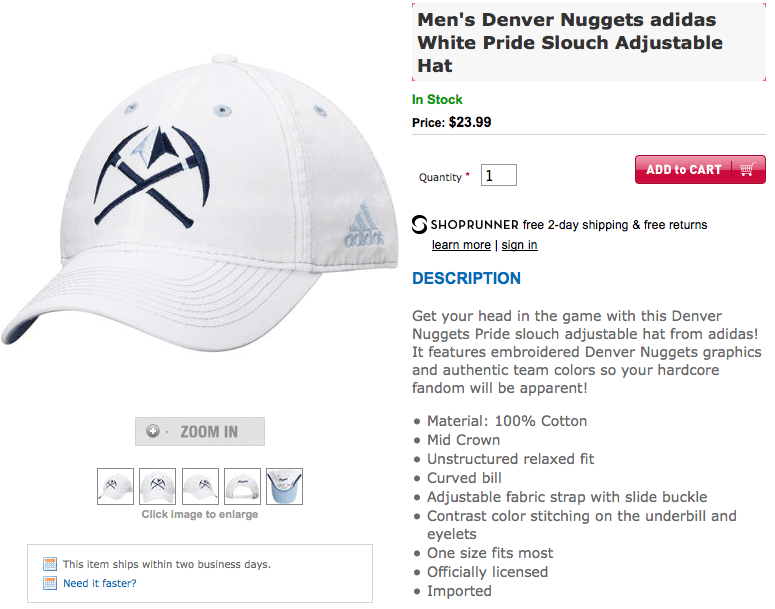 Great Moments in Merchandising, Part 783: It's possible — just possible — that someone at the NBA should have thought a bit harder about the official product name for the cap shown above. Click here to see when they eventually/inevitably change the name.
Rumors about the male pride and heterosexual pride caps being on backorder are almost completely untrue.
(Big ups to Tyler Johnson for alerting me to this one.)
• • • • •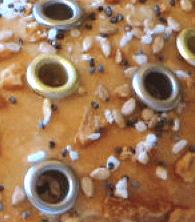 Gromm•It update: A sesame seed bagel should have sesame seeds, a poppy seed bagel should have poppy seeds, and an everything bagel should have, you know, everything. Today, finally, I bring you an everything bagel worthy of the name. Get the full scoop over on Gromm•It.
Meanwhile, in a related item, reader Tony Bruno has come up with an ingenious way to combine Uni Watch and Gromm•It. It's so perfect, I'm kicking myself for not having thought of it myself. Ladies and gents, behold the squatchet!: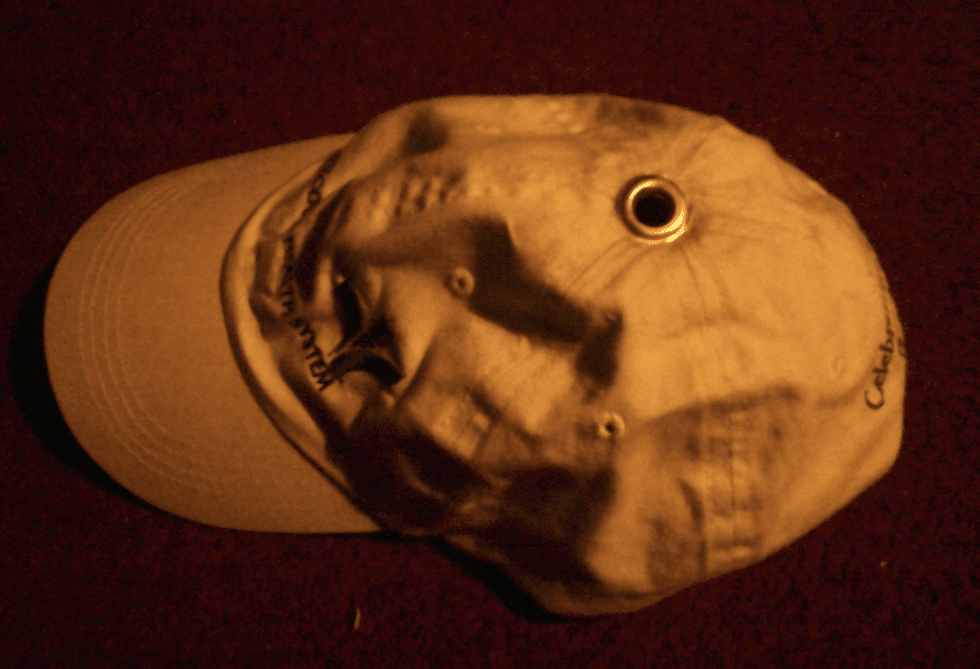 • • • • •
T-Shirt Club prize reminder: If there's anyone out there who collected all 12 Uni Watch T-Shirt Club designs but hasn't yet claimed the year-end prize (which is this custom-embroidered patch), please shoot me a note. Ditto if you claimed your prize but haven't yet received it in the mail. Thanks.
• • • • •
The Ticker
By Mike Chamernik

Baseball News: Sports Illustrated tweeted a photo of Ryan Howard yesterday, and Mike Engle noticed that the Phillies 1B was wearing neon accents and a Franklin batting glove. … New all-orange unis for Neosho County CC, a school in Kansas. "If the 1975 Indians had the blood clot unis, would these outfits be the Smashing Pumpkin?" asks Matt Newbery. … Chris Johnson found a few 1954 Orioles cards with players wearing different hats and jerseys than what the team was documented as wearing that year. Anyone know more? That was the O's first year in Baltimore, so maybe those were prototype jerseys or a trading card airbrush job. … The Taco Bell across from Wrigley Field has a Cubs hat on it. "¦ The ringer-laden Springfield Nuclear Power Plant team now has three Hall of Famers (from Chris Clayton). … Mets fans freaked out when it looked like P Noah Syndergaard was cutting his long, blonde hair. Turns out it was just a fake-out.

NFL News: The Packers will keep with their established protocol and add captaincy patches for the playoffs. … Kirk Cousins wore a vintage Washington starter jacket (from Mark Johnson). … Also, Washington is looking to build a new stadium (from Tommy Turner). … A 49ers fan turned his Patrick Willis jersey into a pillow (from Brett Hanauer, via Phil). … Jeff Flynn found some photos of a 1975 preseason Giants/Steelers game at the Yale Bowl. New York wore logo-less helmets, and H-shaped goalposts were still in use. … SI.com asked some of its staffers if they would wear a full uniform to an NFL game (from Brinke).

College Football News: A Walmart in Glendale, Arizona, the site of the College Football Championship, has Clemson and Alabama soda displays. … Toward the middle of this piece is a tidbit about Virginia Tech wearing alternates for the Battle at Bristol game against Tennessee next year. AD Whit Babcock said: "I think if you want a hint, I think you could say certainly, the oranges, the whites, the maroons, but something along the line of black or dark gray anthracite type stuff, that could be a possibility… Our standard, sharp, traditional VT logo will be on all helmets next season, same as this year" (from Andrew Cosentino). … Also from Andrew: A site ranked the best uniforms of the bowl season.

Hockey News: The Devils' new Martin Brodeur statue will be unveiled one month from now. … New York Jets lineman Nick Mangold wore a Rangers jersey to the game against the Stars on Tuesday night (from Alan Kreit). … The Allen Americans will wear Shriners jerseys on Jan. 16 (from OT Sports). … The Toledo Walleye will wear Don Cherry jerseys on Jan. 23 (from Chris Cruz). … The Louisiana IceGators will wear Mardi Gras jerseys that are sponsored by a local brewery. … Pete Woychick made an illustration of birdhouses painted in Original Six jersey themes. Now he, or someone, should go ahead and make those! … I dig this neat Patrick Roy pinball machine.

NBA News: A fan at the Warriors/Lakers game the other night was shown putting on a Warriors jersey over his Lakers jersey during the game. … LeBron James paired a blue arm sleeve with the blue Cavs alts last night. He usually wears a gold sleeve with that uni.

College Hoops News: Youth basketball players are wearing orange patches to spread the word on the ills of gun violence. … The cummerbund shorts look has spread to the high school level, as seen in this shot of Dubuque (Iowa) Senior (from Jesse Gavin).

Soccer News: The Los Angeles Football Club, a MLS expansion team for 2018, will unveil its logo and colors today. … New jerseys for Atlas of Mexico (from @QuakesFan84).

Grab Bag: Golfer Rickie Fowler has several pairs of Puma high-top spikes for a tournament this weekend (from Johnny O). … The Netherlands got hit by a snowstorm last week, so some Dutch guys curled with crates out on the city streets (from reader Timmy). … Here's a good history of every car number in Formula One (from Dane Drutis). … Many kids these days love to wear shorts year-round (from Phil). … CityLax donated 625 lacrosse helmets to New York City's Public School Athletic League. Each team received 25 custom-colored helmets (from Connor Wilson). … David Firestone found some interesting helmets on eBay: A sequined Red Sox helmet, a Kiss-themed NHRA funny car helmet, a Broncos helmet chair, and a mysterious wishbone-C football helmet. … Mmm, check out this refurbished 1931 Wonder Bread-painted Indy Car (from Andrew Hoenig). … Lots of chatter on the presidential campaign trail about Sen. Marco Rubio's high-heeled ankle boots. "¦ Brinke and I wish everyone a happy National Bobblehead Day today.