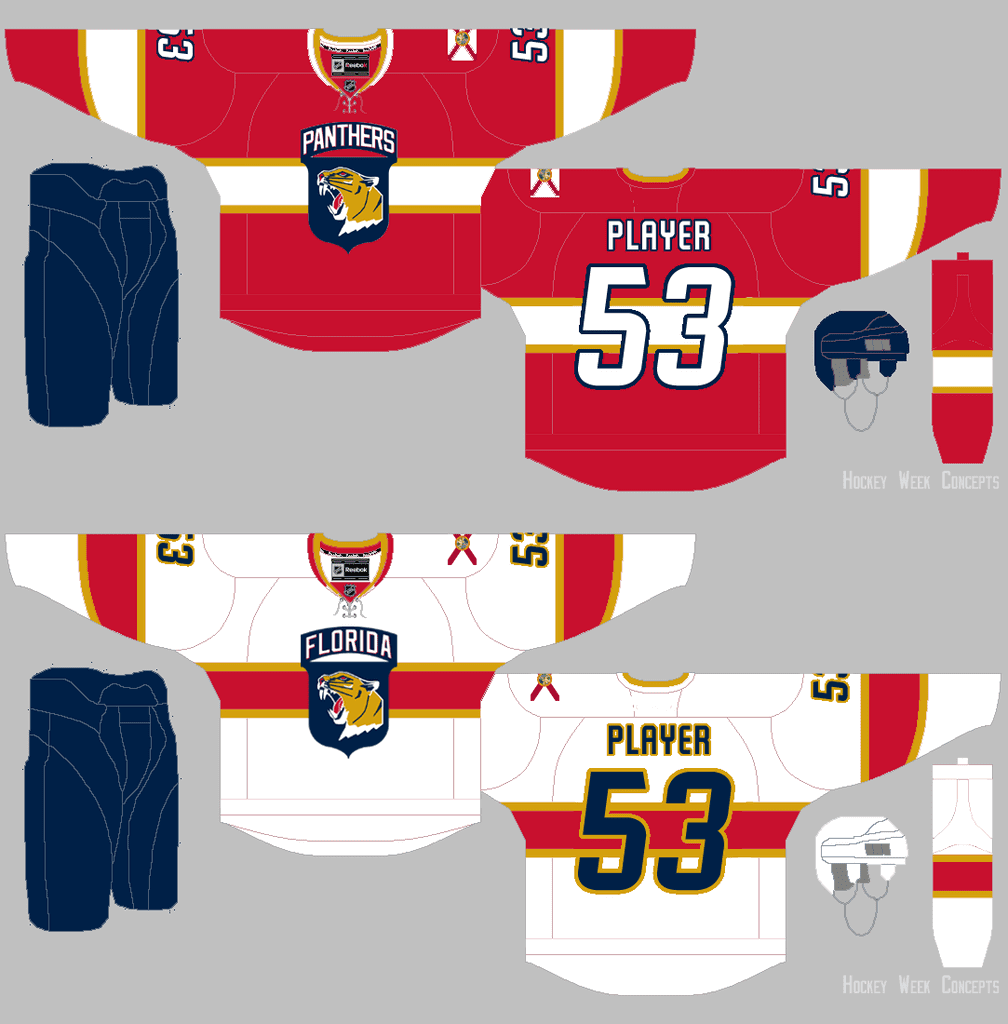 Originally posted on SportsLogos.net; click to enlarge
We've known for about a month now that the Florida Panthers would have new uniforms next season. Now we may have gotten a peek at what they'll look like — or at least a reasonable approximation thereof.
The mock-up shown above was prepared by a SportsLogos.net reader who goes by the name "Hockey Week." He based it on a series of descriptions that were tweeted on Jan. 1 by the Miami Herald's Panthers beat reporter, George Richards, who has apparently seen the new designs. When Richards was shown the mock-up and asked if it was close, he said, "Not bad." (All of this and a lot more was presented yesterday in a post by SportsLogos.net poobah Chris Creamer, which is definitely worth reading. Lots of good info there.)
It's worth repeating that this is just a speculative mock-up based on a verbal description delivered via Twitter, so certain aspects of it are almost certainly incorrect. Still, it's an intriguing design, so let's examine its two most prominent aspects:
1. The horizontal stripe. This is, obviously, a Canadiens-esque move. That seems to piss off some people, who see it as a copycat move, but I don't see why Montreal should have an exclusive on this particular design element, especially since the Habs don't even use it on their white jersey. It's a good-looking design feature (and not just in hockey), and I think it looks sharp in these mock-ups. I hope this aspect of the mock-ups is accurate.
2. The crest. Richards, the beat reporter, says the chest mark is based on the logo of the Army's 101st Airborne Division. Here's a comparison of that logo and the mock-up: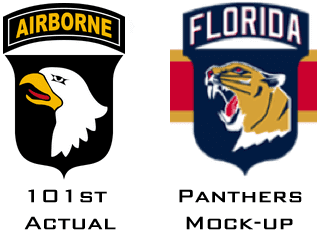 I'm not nuts about either one, frankly.
But hey, whatever you think of the logo, the 101st Airborne is located in South Florida, so it's part of the local culture, right? Wrong. The 101st Airborne is actually based in Kentucky. So why is it reportedly going to be the basis for the team's new logo? Because team owner Vincent Viola, who took over the team in 2013, served in the 101st. So this isn't just yet another gratuitous military tribute — it's also an self-indulgent move that has nothing to do with the local community. A lose-lose.
As for the rest of the design, we'll find out soon enough.
•  •  •  •  •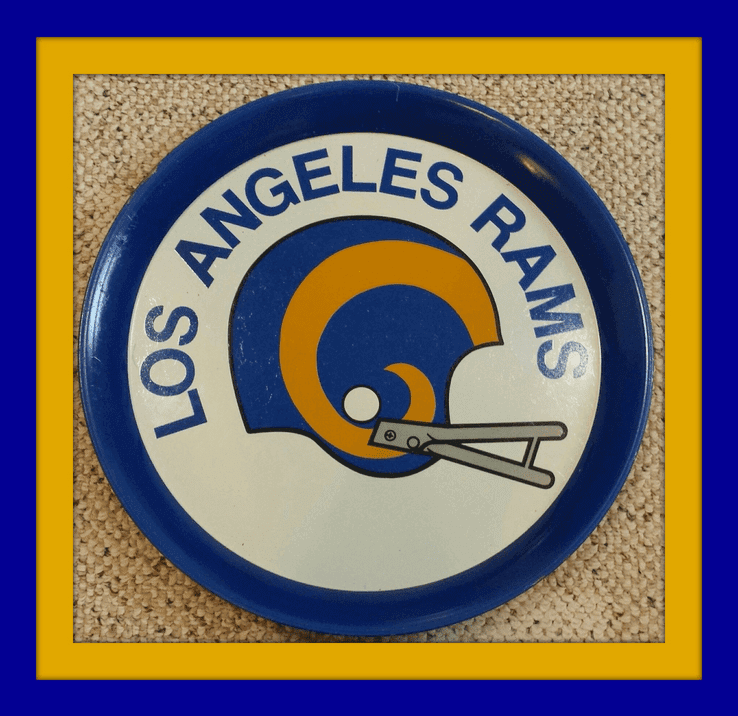 Collector's Corner
By Brinke Guthrie
Now that the NFL's regular season is over, one of the things on the league's agenda is resolving which team going to move to L.A. Will it be the Chargers (who started out there)? The Ray-duhz (who used to live there)? The Rams (who also used to live there)? If it turns out to be the Rams, the clean retro simplicity of this 1970s L.A Rams serving tray will once again be in vogue.
Here's the rest of our first Collector's Corner of 2016:
• Keep your skates razor sharp with this Bobby Hull Skate Sharpener!
• Snazzy-looking coaching staff and nice sweaters in this 1990 Bengals team picture poster, sponsored by 55KRC and others.
• Here's a 1970s Soapy Slider" Soap on a Rope from the Seattle Mariners Baseball Club. Only thing is, I don't see the rope. Good luck grabbing onto this in the shower!
• Sorry, no Chiquita NFL stickers included, with this 1970s Chiquita Nerf football.
• Dodgers fans, have you ever seen these? Here's a pair of 1970s Dodgers "Cheer Bears."
• Keeping with the Dodgers, take this 1970s-1980s inflatable seat cushion to your next game.
• Nice condition for this 1967 Philadelphia Eagles pennant, notable for two reasons; the Olde English font, and the fact the pennant says "The" at the front of the team name.
"Jordache" designer sneakers for Earl (The Pearl) Monroe? These really existed? (Looks that way!) He didn't wear these on the court, did he?
• Got to be 1960 or so for this Punt Pass & Kick Cowboys helmet from MacGregor.
• Terrific graphics on this 1979 Mattel "Intellivision" MLB game. Intelligent Television, folks. Is that Joe Torre on the left? And I'd swear I've seen the photo of that infielder over the baserunner before.
Follow Brinke on Twitter: @brinkeguthrie
• • • • •
The Ticker
By Mike Chamernik

Baseball News: New Yankee Starlin Castro still has his old Cubs helmet in tow (from Zack Pearson). … A Double-A ballpark in Little Rock, Ark., is being ravaged by sinkholes. I really think sinkholes are among the most underrated scariest things on earth.

NFL News: Yesterday Paul mentioned that Giants QB Eli Manning was wearing a jersey with the new Nike cut without the Flywire collar. Turns out Bears RB Matt Forte was also Flywire-free on Sunday. This is a new style of jersey that will be used as a template for the Pro Bowl jerseys (Forte part from Kevin C., Pro Bowl part from Rob Carabelli). … The Giants retired No. 14 for Y.A. Tittle, but here's a photo of him wearing No. 18 (from David Feigenbaum). … NFL teams wore some great home uniforms in 1967 (from Todd Radom).

College Football News: Amazon appears to be selling an Alabama cap with the Braves' "A" logo. Scroll down on the link for a logo comparison. "¦ North Dakota State will wear its "Harvest Helmet" in this weekends FCS championship game (from Chris Mycoskie). Further info on that helmet design here.

Hockey News: Good-looking game at the World Junior Championships, as Sweden and Finland went color-vs.-color (from Eric Griffin). … Oilers G Anders Nilsson's mask is a tribute to former Edmonton goaltender Grant Fuhr (from Chris Bisbee). … The Waterloo Black Hawks of the USHL will wear John Deere jerseys later this month. … The SPHL's Columbus Cottonmouths will wear snake-themed jerseys, including a "snake font" for the uniform numbers, this weekend. .. A team comprised of air traffic controllers from around the world has some bizarre hot pepper-themed uniforms (from Gil Neumann).

Basketball News: Due to a spat between the 76ers and their arena sponsor, the arena's name was nearly invisible on the court earlier this season. The wordmark is darker now (from Dan Ulrich). … Tennessee will wear grey jerseys on Wednesday (from Jason Yellin). "¦ Rockets C Dwight Howard had trouble with a contact lens during last night's game against the Jazz.

Soccer News: Perennial powerhouse Manchester United is struggling a little this year, and Adidas, which has a 10-year, $812 million sponsorship with the club, isn't pleased (from Zac Neubauer). … Tottenham midfielder Dele Alli had an unusual visual pattern printed onto his kinesiology tape (from Gulliver Hughes). … The Missouri Comets of the MASL will wear retro jerseys on Saturday (from @ZedMinor).

Grab Bag: Bring back the 1990s! The Pro Player sportswear line will be relaunched in 2017 (from Tommy Turner). … Several people have sent this in recently: There's a great site called Things Fitting Perfectly Into Other Things. When I look at the examples, everything just feels right in my world. … Maybe watch this on mute, but here's a glimpse of a self-ventilating body sportswear suit (from Brett Clark). … The state of North Carolina's new logo has been regarded as a flop. … New logo for BBC's teen channel, BBC Three. … Cumberland University will now be known as the Phoenix. … In English rugby, the Worcester Warriors apparently changed jerseys at halftime of their game on Sunday (from @Stumpy7780). … New logo for Formula One's Red Bull Racing. "¦ "We have some more looks at the 2016 NHRA Pro Stocks that have had their hood scoops removed," says David Firestone. "Here is the 2015 version with the hood scoop, for comparison." "¦ Brent Musberger apparently travels light.