[Editor's Note: Today we have a guest entry from Chris Spisak, who has some good stories about submitting uniform designs to pro teams when he was in high school. Enjoy. "" PL]
By Chris Spisak
I am currently 38 years old, I live and work in Akron, Ohio, and was born and raised in the east suburbs of Cleveland. Back in 1993 and '94, long before Instagram, Facebook, or the internet, I submitted uniform design ideas to my local teams — the Indians and Cavs. I was in high school at the time and didn't have access to Photoshop, so I used colored pencils. I didn't have any word-processing software, so I typed my cover letter and descriptions on a typewriter. I didn't have email, so I sent everything through the mail. What a difference 20-some years make, huh?
The best part of this story is that both teams wrote me back! I didn't expect that at all. Representatives from the Indians' and Cavs' front offices sent me very nice responses on official letterhead. I don't care if you're in high school or an adult — to get a response letter like that is pretty darn awesome. The Indians thanked me for my time and suggested that I contact them again with future ideas (unfortunately I never did). The Cavs thanked me for my time as well. They even sent me a hat and wanted me to give them comments on the new logo and uniforms (unfortunately, I didn't).
Here's the submission that I sent to the Indians, followed by the response I received from them about two months later [for all of these, you can click to enlarge]: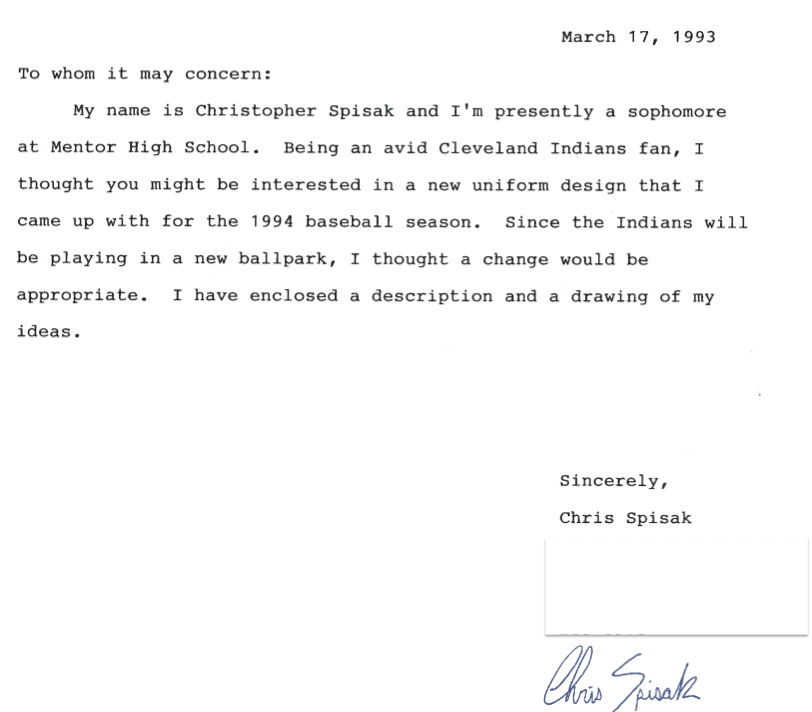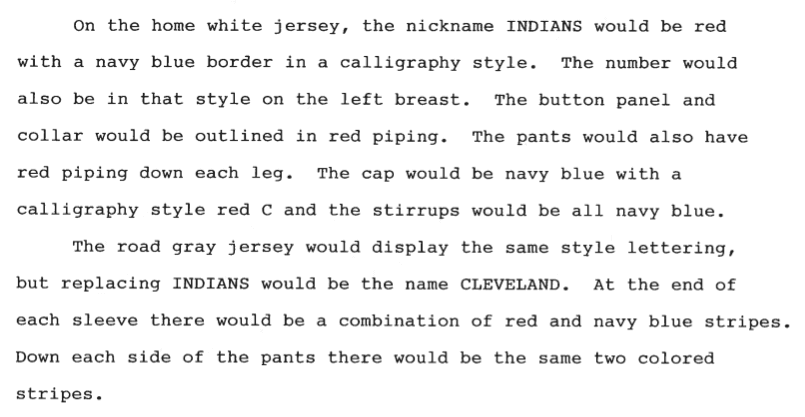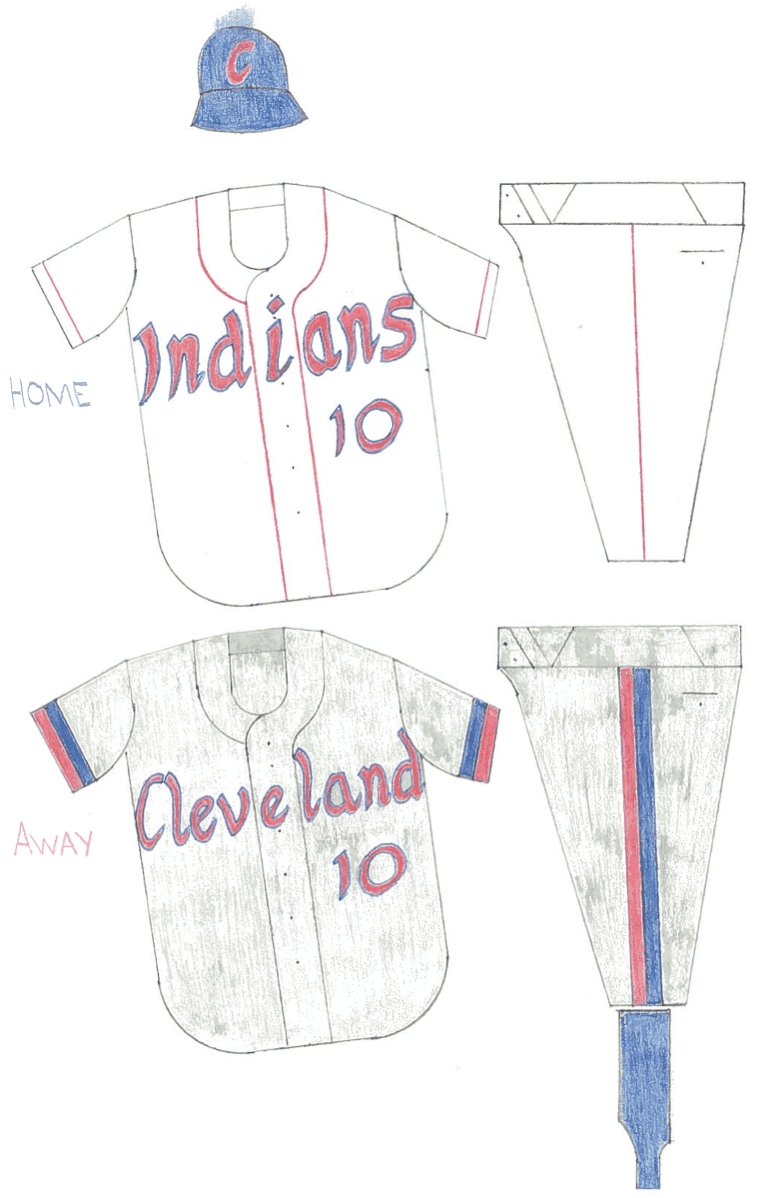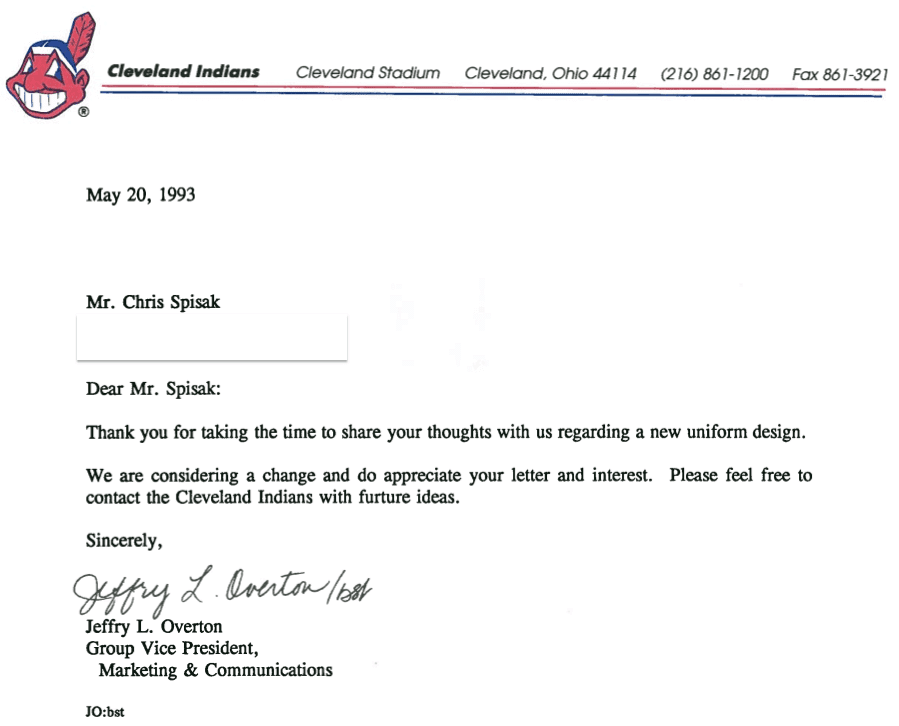 That was in 1993. The following year I sent a proposal to the Cavaliers — here's that submission, and the response they sent back: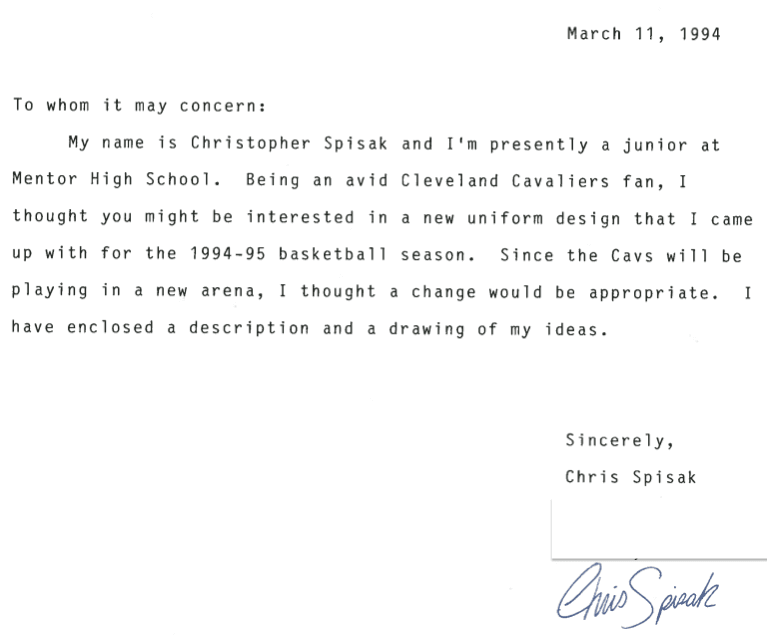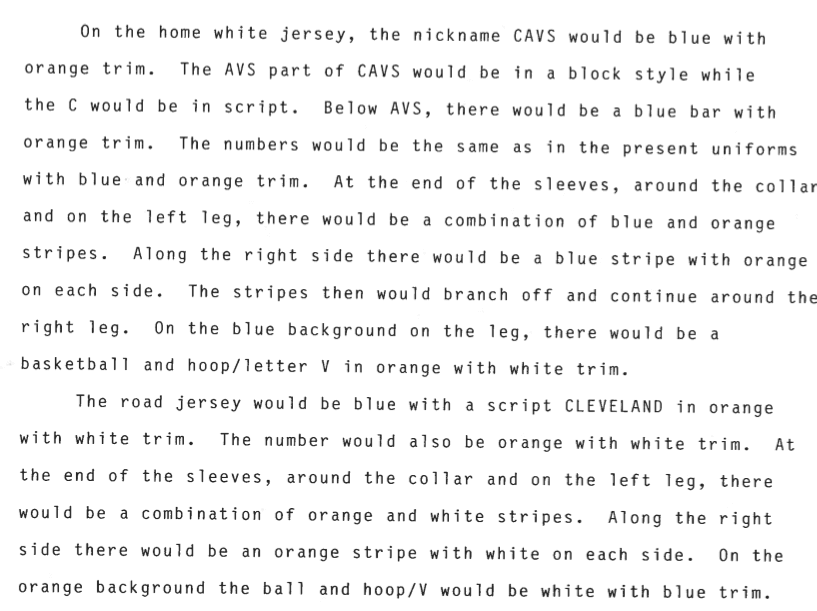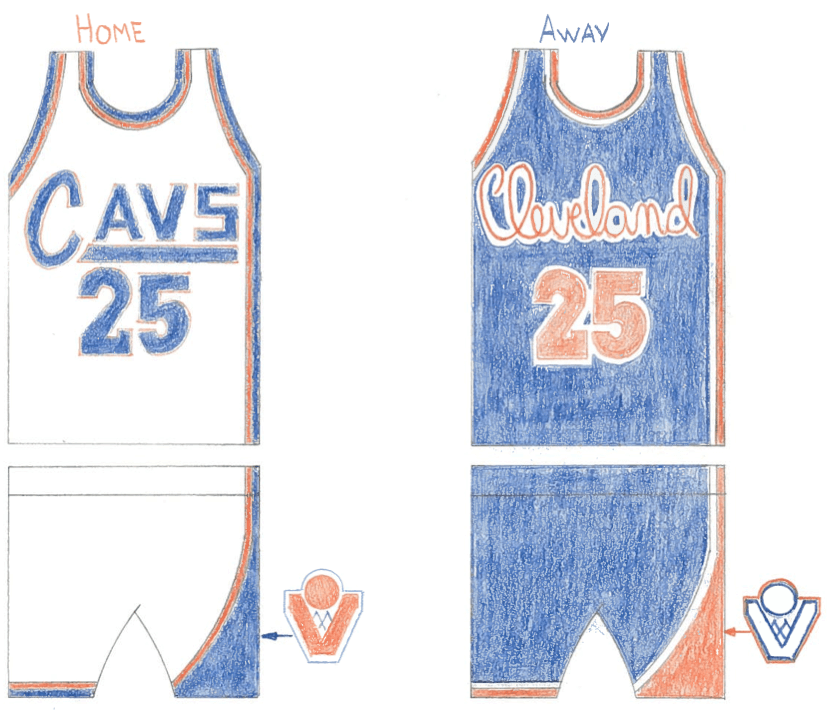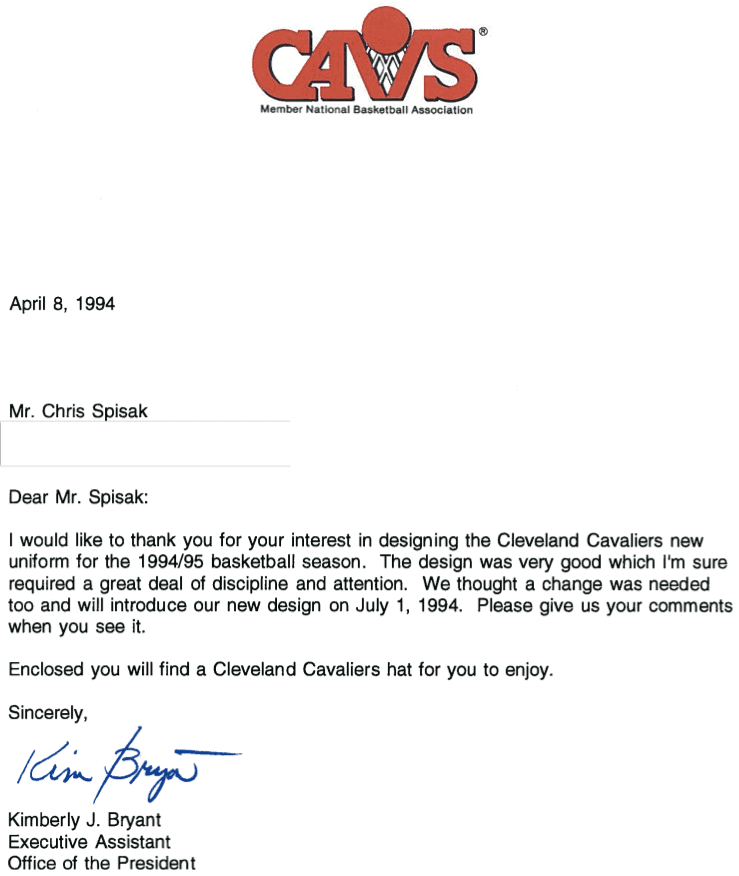 Fast-forward to today: Uniform design ideas are constantly being created, shared, and submitted in the blink of an eye. Last year, after I sent this submission to Uni Watch's Cavs redesign contest on ESPN, I also my designs to the Cavs via email and regular mail. Unfortunately, I didn't hear back from them either way.
It really shows how things have changed. The process of designing has become a lot easier and precise because of digital technology. But maybe because sports organizations can be so easily contacted, and in such heavy volumes, they no longer have the time to respond.
———
Great stuff, Chris — thanks for sharing.
That wraps things up for 2015, people. My thanks to everyone for a(nother) great year. Everyone have a happy and safe New Year's Eve, and I'll see you back here to kick off 2016.
•  •  •  •  •
The Ticker
By Paul

Baseball News: Our own Phil Hecken discusses baseball uniforms on this podcast. "¦ "I was at my mom's house for Christmas and found these 7-11 MLB Slurpee cups in the basement," says Rob Heubeck. "Not sure how old they are, but probably from 1973."

NFL News: This may be old news to some of you, but not to me: Levi's has an NFL apparel line. "¦ "On Sunday the injured Terrell Suggs made his first appearance back with the Ravens since Week One and was wearing a beanie with Haloti Ngata's No. 92 rather than his own No. 55," notes Jack Krabbe. "There have been many reports that Ngata was Suggs's closest teammate and he was disappointed with the Ravens trading him to Detroit. Suggs also did a tribute dance to Ngata last season while Ngata was on suspension." "¦ Interesting story about the 49ers and their cleats, plus there's an accompanying video (from Brinke Guthrie and Gilbert Lee).

College and High School Football News: A high school team in Samoa, of all places, uses Wisconsin's motion-W logo. "¦ Looks like Clemson will be going mono-orange for its CFP game. "¦ College programs are now spending millions of dollars on giant, Fathead-style sticker graphics (from Chris Flinn). "¦ Here are the helmets for the Semper Fi Bowl. "¦ Players on Adidas-outfitted teams have been wearing team logos on their tights, below the knee, including Texas A&M and Nebraska (thanks, Phil). "¦ A Louisville coach was wearing a Texas Longhorns cap during the Music City Bowl, apparently because Louisville was playing Texas A&M (from Joey Breeland). "¦ Get this: Tennessee and Georgia went color vs. color way back in 1969, and it totally didn't work, because red vs. orange doesn't provide enough contrast. "I remember that a year earlier, Tennessee had to get white uniforms at the last moment prior to playing Texas in the Cotton Bowl because Texas wore burnt orange," says Kenny Kaplan. "I believe Tennessee wore orange for every game that year, and I'm sure that was also the case in 1969 when they visited Georgia." "¦ Wisconsin coach Paul Chryst wore a Holiday Bowl sweatshirt on the sidelines last night.

Hockey News: The Hurricanes give out a WWE-style championship belt to deserving players. Meanwhile, the Panthers award their game MVP a Kevin Spacey space shirt
(both from John Muir). "¦ Finland has retired Teemu Selanne's No. 8 from international competition. Selanne showed up at the number-retirement ceremony in full uniform and gear (from Mike Styczen). "¦ Here's our best look yet at Canadiens G Mike Condon's Winter Classic mask (from J. Walker). "¦ 20th-anniversary logo and uniforms for the Pensacola Ice Flyers (thanks, Phil). "¦ Ugly sweater jerseys for the Muskegon Lumberjacks. "¦ Oooh, check out the gorgeous Blues/Red Wings stained glass display at the City Museum in St. Louis (from Greg Stamps).

Grab Bag: After a judge in Florida wore a camouflage robe (insert eye-roll here), the state is adopting a new rule requiring judges' robes to be black. "¦ For the first time ever in an Australian cricket match, an umpire wore a helmet. "¦ The article about the National Pigeon Association's Grand National — sort of like the Westminster Kennel Club tournament, but for pigeons instead of dogs — includes a slideshow that shows some interesting jackets being worn by pigeon owners and judges (from the Tugboat Captain). "¦ New logo for Mello Yello soda. "This will result in a new logo for the NHRA Mello Yello Drag Racing Series," notes David Firestone.