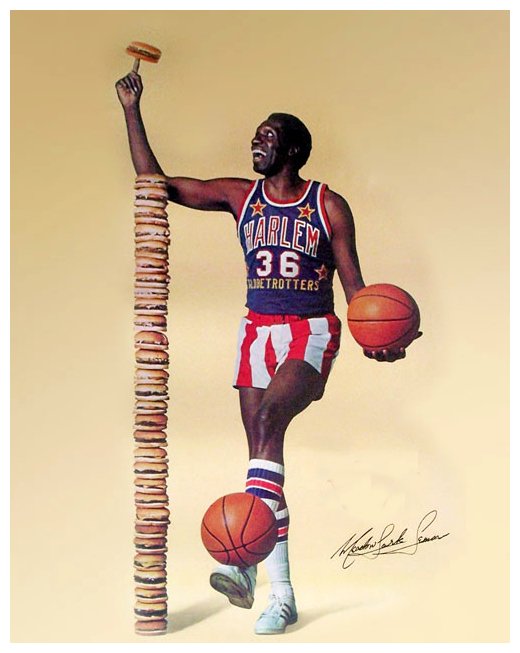 As I'm sure you all know by now, Meadowlark Lemon passed away earlier this week, which makes this a good time to look at the rich topic of Harlem Globetrotters uniforms.
I was growing up on Long Island in the 1970s, when the Globetrotters were particularly popular. They had a Saturday-morning cartoon show (yes, I watched) and were frequently shown on ABC's Wide World of Sports. I saw them twice during this period, both times at the Nassau Coliseum. Lemon and Curly Neal were the top 'Trotters in those days, and to many of us they will always represent the "real" 'Trotters, even though the team actually dates back to the 1920s.
Similarly, the uniforms from the Lemon/Neal period, as modeled above by Lemon in a Burger King ad, will always be what I think of as the "real" Globetrotters uniforms — the blue jersey with the vertically arched "Harlem" and the four stars, the candy-striped shorts, the striped tube socks.
But of course the 'Trotters have worn lots of other designs over the years. Back in the 1950s and '60s, for example, the jerseys had six stars, instead of four, with no number on the front (click to enlarge):
Here's a closer look at one of the six-star jerseys, complete with a globe on the back: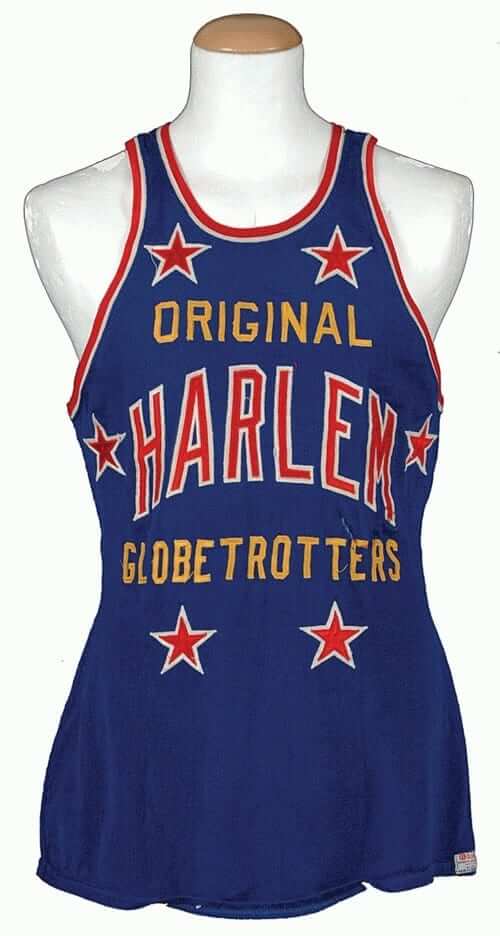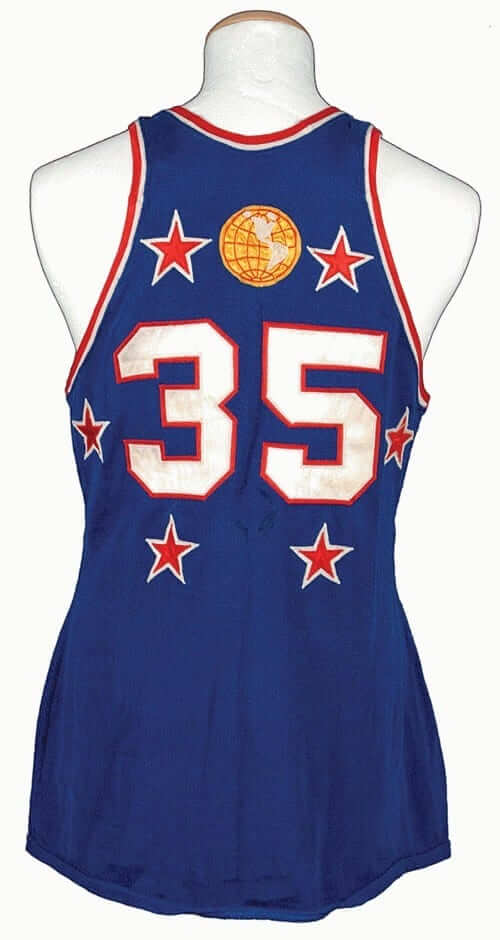 We tend to think of the Globetrotters wearing blue, but here's a white version of the six-star jersey (click to enlarge):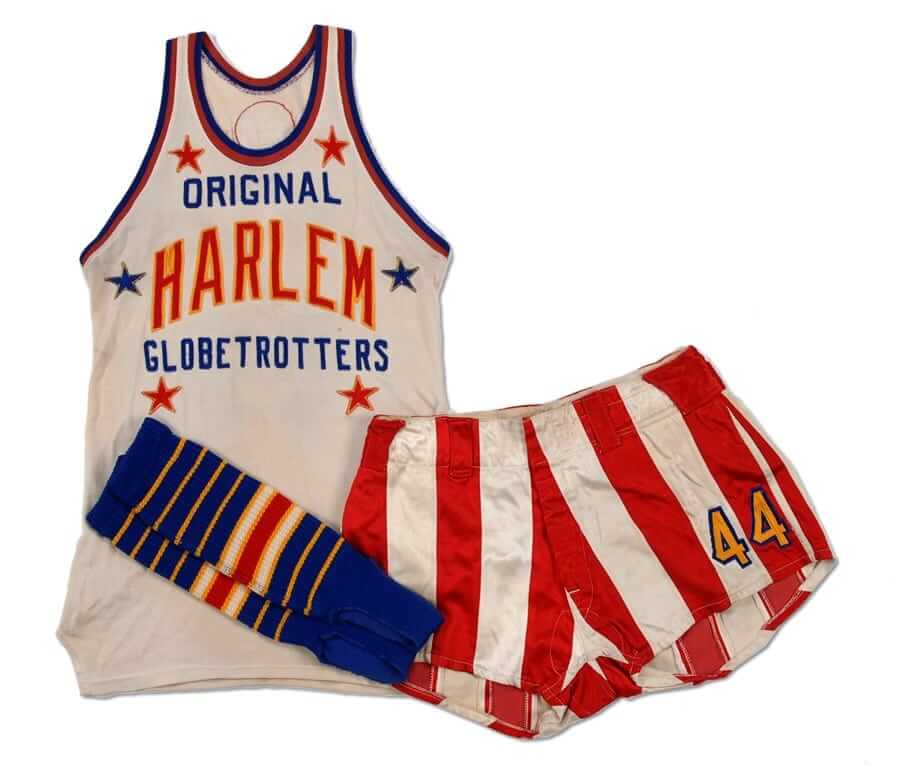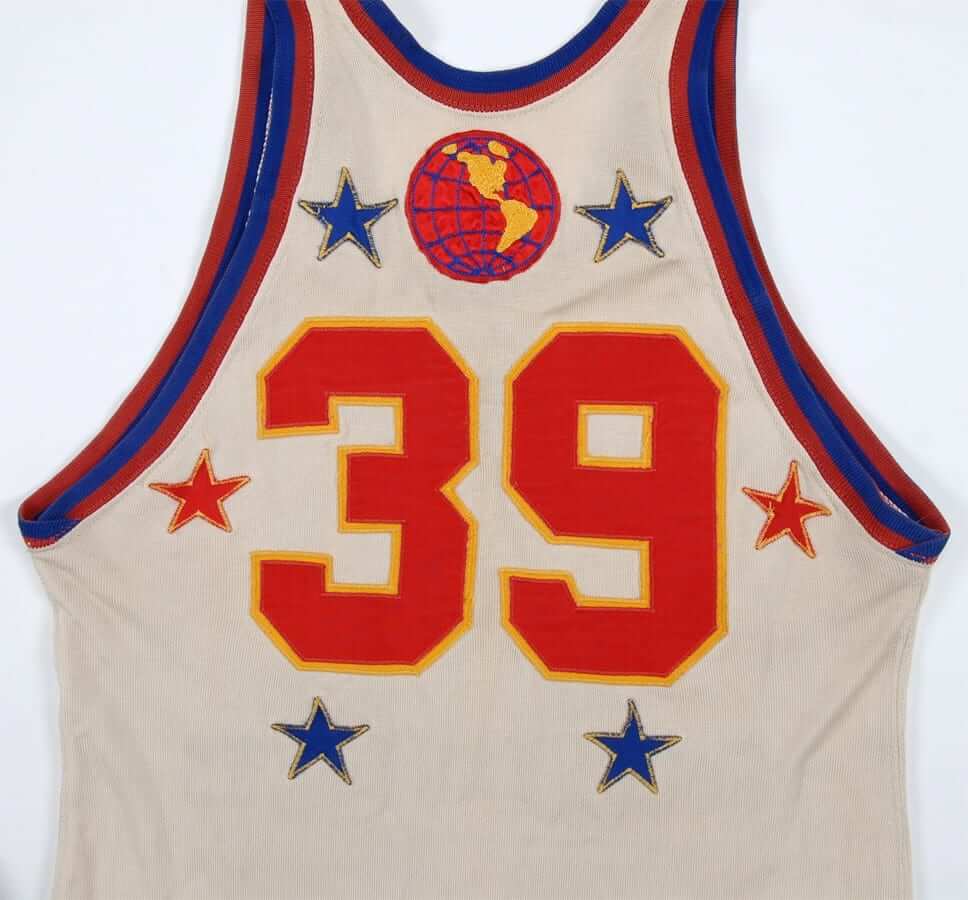 If we look back a bit more, we can see an earlier version that formed the genesis of the classic design: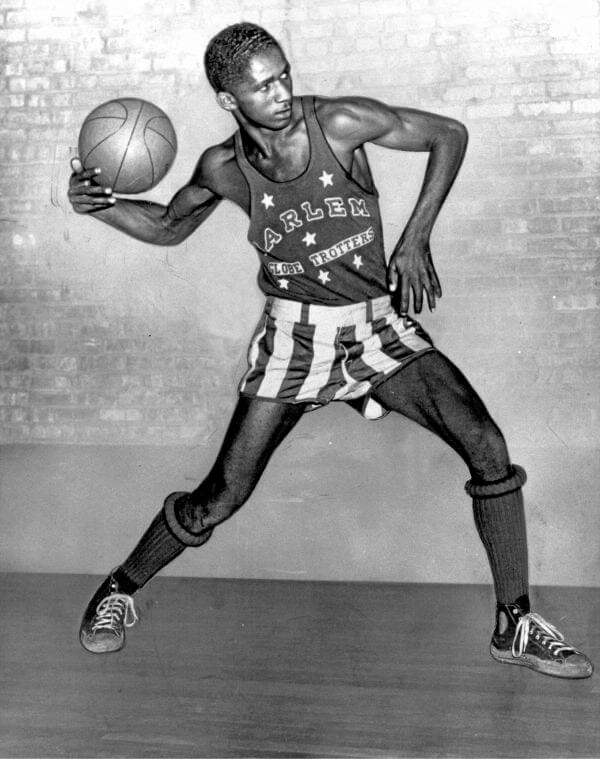 But the Globetrotters didn't always have vertically arched lettering. At one point they went with a script — and again, here we see white jerseys (click to enlarge):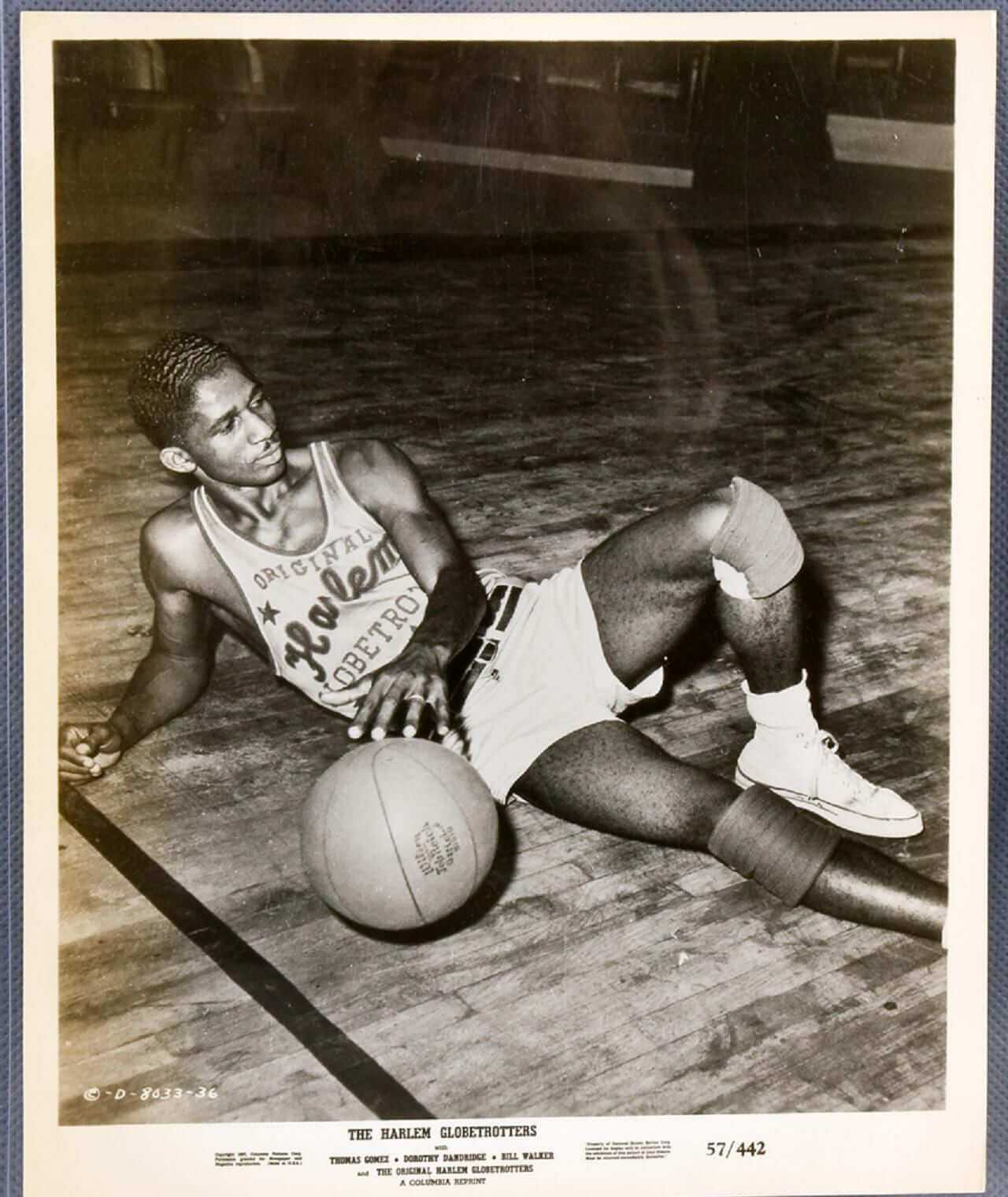 And here's yet another white jersey, with an even earlier design. I really like this one — wish we could see it in color (click to enlarge):
Now let's look at more recent designs. Unfortunately, these haven't been so hot. Here's what Lemon was wearing at the end of his Globetrotter career in 1993 — ugh: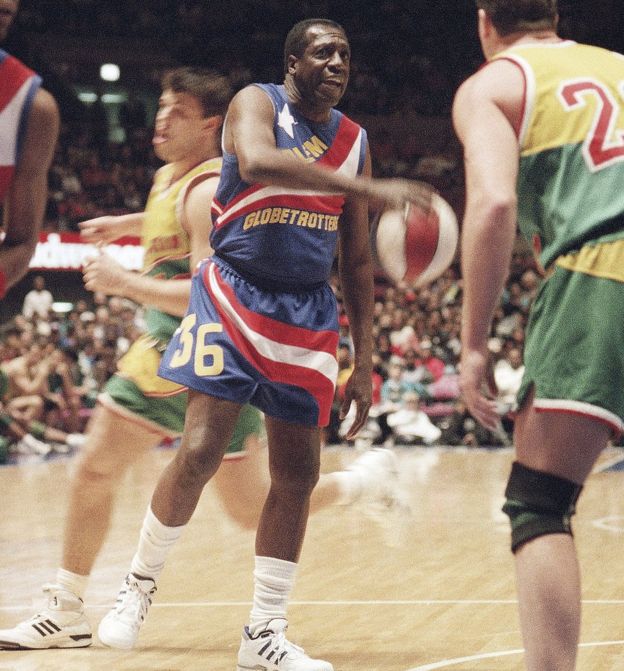 And I'm not sure which year this one is from, but let's hope it was only worn for a few months: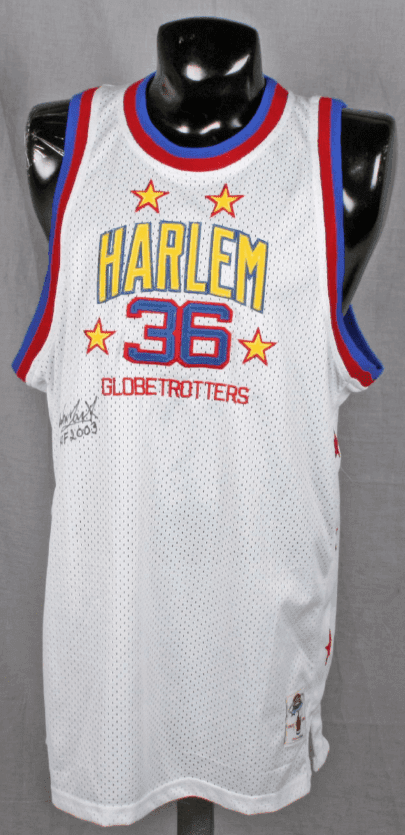 And what do the Globetrotters wear now? Something similar to the classic 1970s look (click to enlarge):
Finally, let's wrap up with a few pregame shooting shirts, all from the classic era: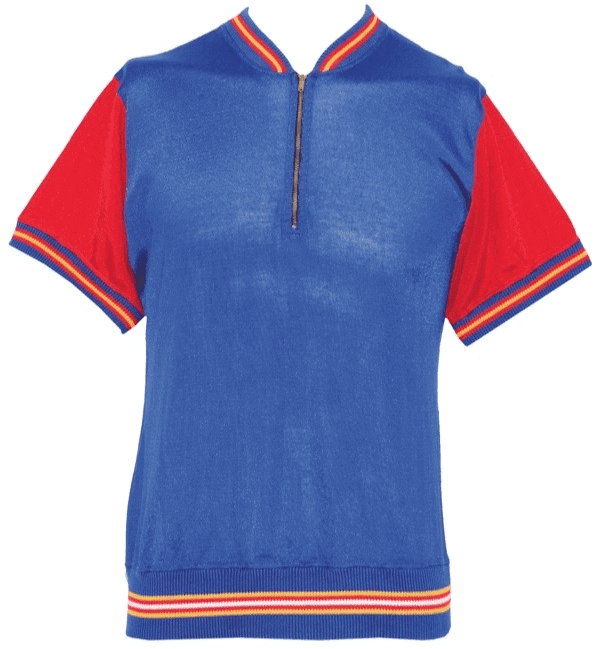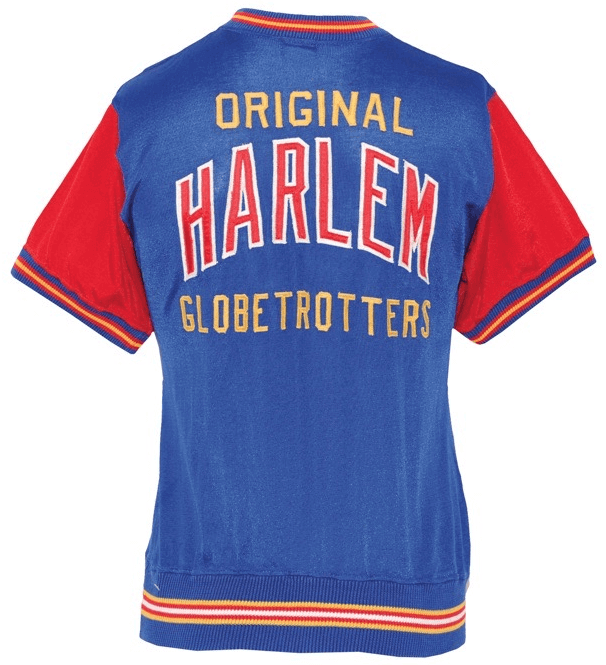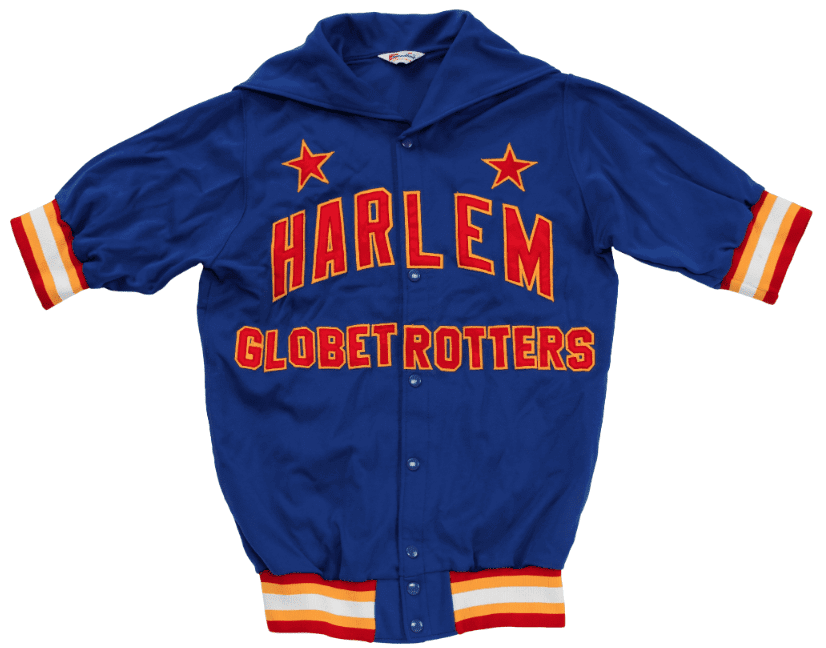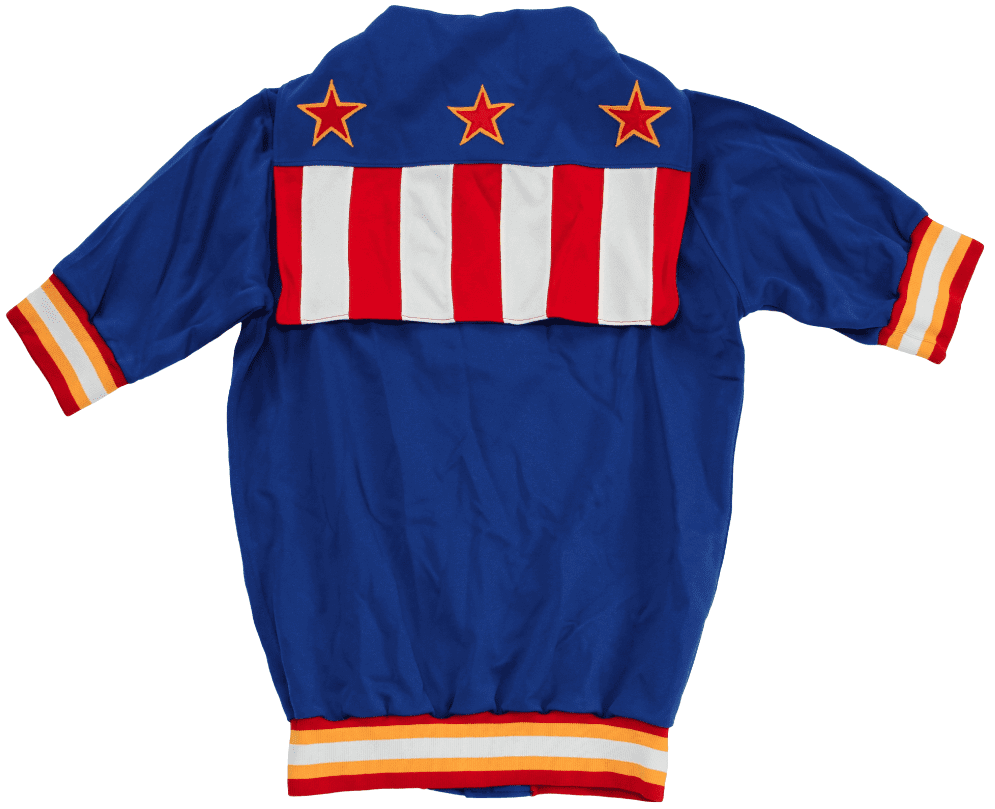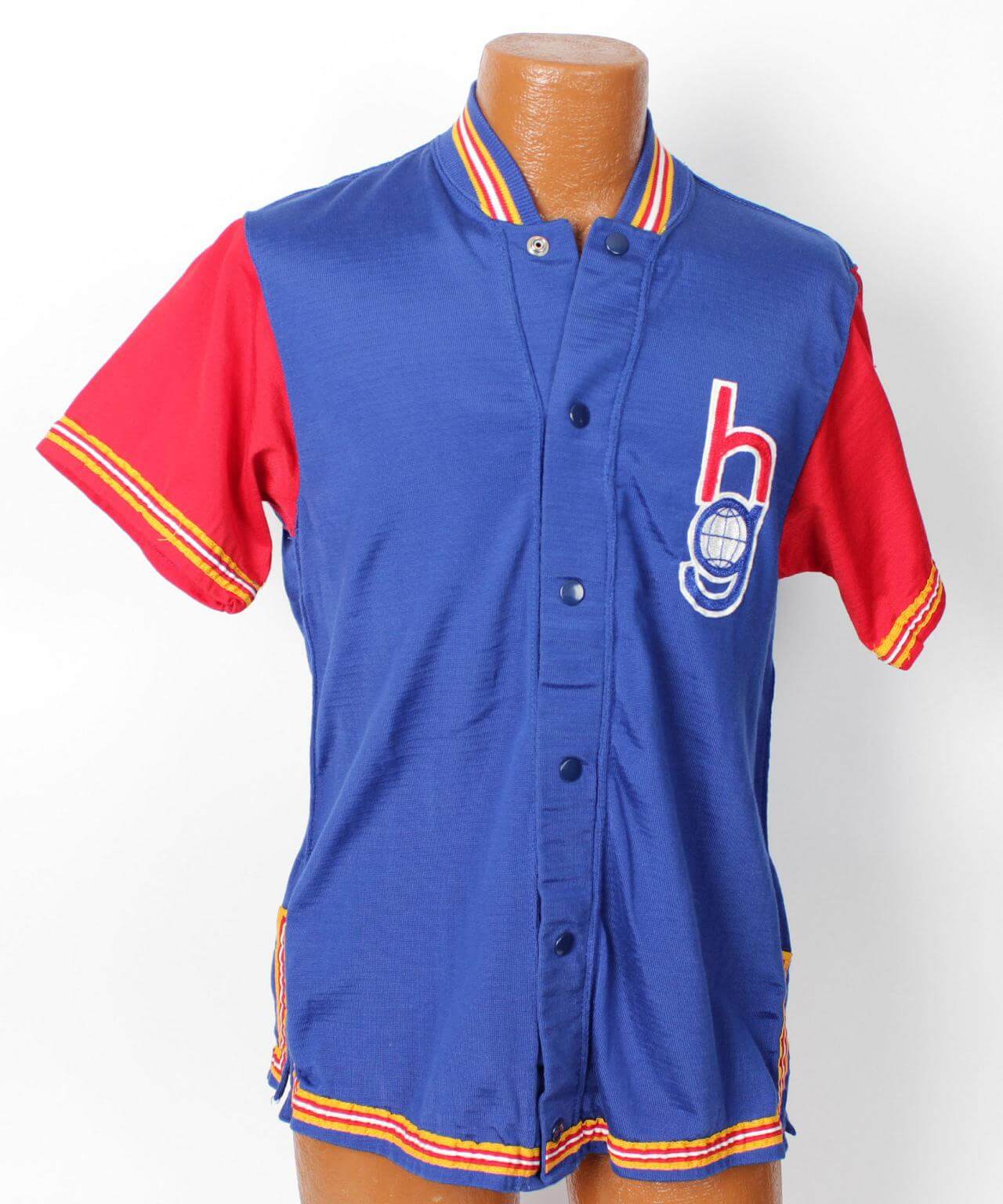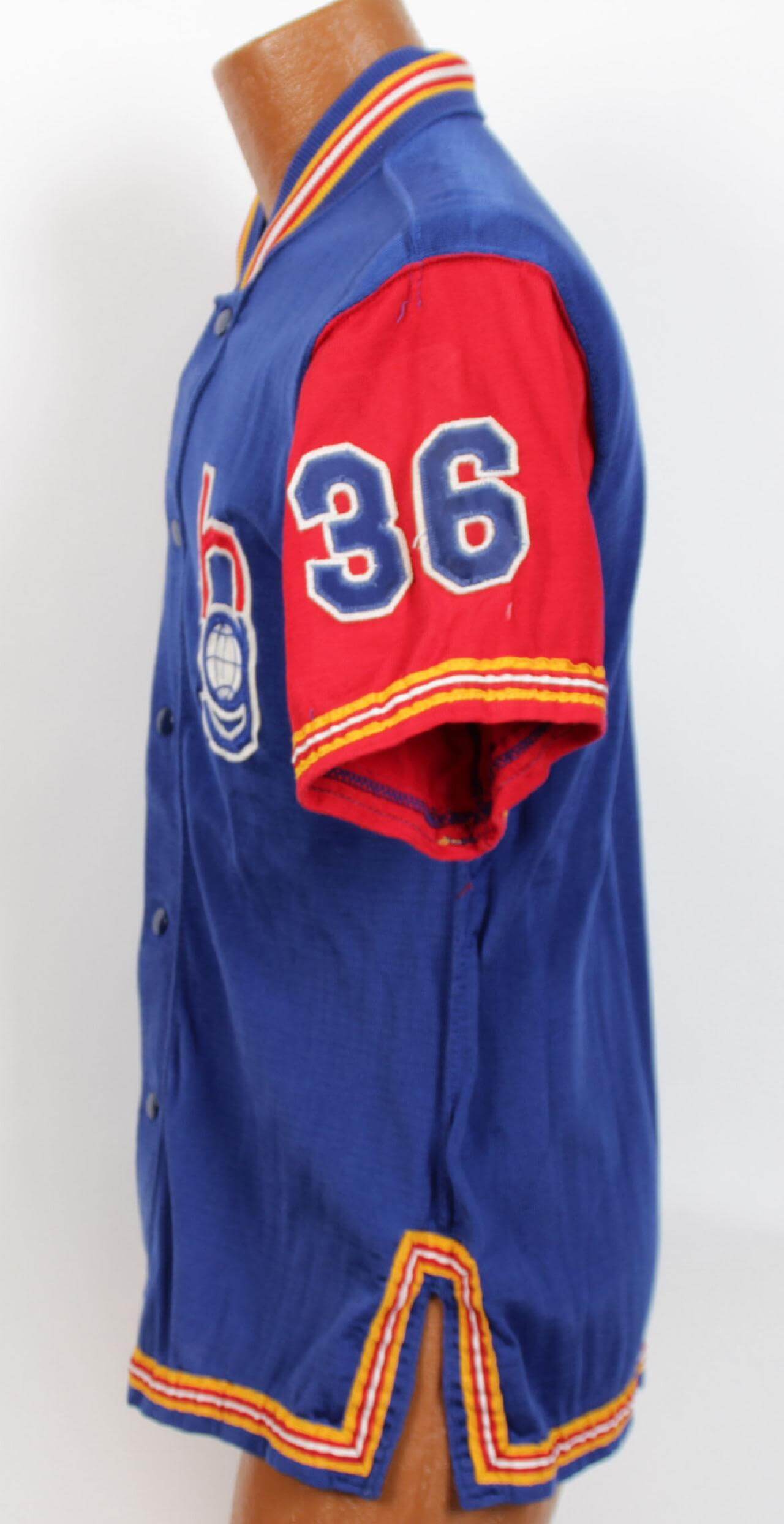 As it happens, reader Marc Swanson saw the Globetrotters play on Monday evening in Cleveland and reports that they wore throwbacks in the first half (click to enlarge):
That throwback was created to mark the Globetrotters' 90th anniversary. It will be worn for the first half of all their games in 2016, with the team switching to their regular uniforms for the second half. I'll have more info on this in an ESPN piece next week.
That's it. RIP, Meadowlark.
• • • • •
Leafs/ESPN reminder: In case you missed it yesterday, the results of my Maple Leafs redesign contest are in. Get the full scoop here.
• • • • •
Raffle update: All of the year-end raffle prizes have now shipped out. So if you were one of the winners, watch yer mailbox.
• • • • •
PermaRec update: The business card shown above was salvaged from a decades-old Rolodex used at Los Alamos National Laboratory, where the atomic bomb was developed. It's one of 150 very cool-looking old Rolodex cards featured in a sensational new book. Get the full story over on Permanent Record.
• • • • •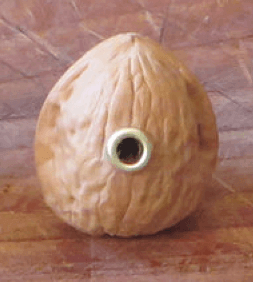 Gromm•It update: Grommets in nuts? That's nuts! More photos over on Gromm•It.
• • • • •
The Ticker
By Mike Chamernik

NFL News: Multiple readers sent this in, but Nolan Jones was first: Bengals QB AJ McCarron wore a Nike sleeve and an Under Armour glove on Monday Night. … Poorly maintained fields, and the new prevalence of fields using synthetic turf, may contribute to the rise in concussions. … An Eagles player in the late 1970s/early 1980s had a seriously rugged facemask. "¦ According to a new book by an anonymous NFL lineman, players routinely urinate in their pants during games as a macho gesture of commitment (from Tommy Turner).

College Football News: Here's a good view of Clemson's helmet with NCAA Playoff logo sticker on the back (from Phil). … Someone created a ridiculous Texas A&M uniform concept for the Music City Bowl (from Alex Kite). … Speaking of that bowl, Louisville will wear all-red against the Aggies. … The Alamo Bowl will feature some unique end zone patterns for Oregon and TCU. … An interesting penalty was called in the Independence Bowl on Saturday. No photos, but Andrew Cosentino explains: "Tulsa's long snapper Reymundo Higuera (No. 18) was hurt, so their back-up had to come in for a PAT attempt. The new snapper was Jesse Brubaker (No. 8). However, their holder, Joseph Calcagni, also wears No. 8. Tulsa was subsequently penalized for illegal participation since two players were simultaneously wearing No. 8. When they re-attempted the PAT, they broughy in Dalton Parks (No. 26) to be the temporary holder. On their next PAT attempt, Calcagni switched his jersey to No. 12 and resumed his normal holding duties."

Hockey News: In 1971, the Jersey Devils of the Eastern Hockey League (EHL) held a "Uniform Night" where spectators wearing a uniform of any sort were admitted for a discount. Very blue collar. … The Los Angeles Kings' online shop is mistakenly (I assume) selling a Sacramento Kings wristband (from Chris Bisbee). … Goalie Ben Scrivens was recently traded from Edmonton to Montreal. In his first game with the Canadiens last night, he apparently wore some of his Oilers equipment. "Looks like Scrivens did a decent job of changing the orange to red," says Mike Engle. "Going from Edmonton to Montreal, the blue is shared and the iconography is still there (oil drop), but not as much clashing as there could have been. Note that the stick still has orange though. Also, his pads are inscribed 'The Professor.'" … Good looks here at the Lake Erie Monsters Cavaliers-themed alts. … Wild RW Nino Niederreiter wore a hoodie underneath his jersey during an outdoor practice.

NBA News: The Knicks wore their 1950s throwbacks last night. … The other night against the Spurs, T-Wolves F Andrew Wiggins lost his shoe on defense, so teammate Karl-Anthony Towns picked it up and held it during the rest of the possession. … Wizards owner Ted Leonsis owns a cool Bullets bucket hat (from Andrew Hoenig). … Raptors G Kyle Lowry was on NBA analyst Zach Lowe's podcast yesterday, and he and Lowe talked about the Raptors' new uniforms (about 35 minutes in). Not sure if we knew this, but Lowry says that he and teammate DeMar DeRozan had input on the new colors and uniforms this offseason. The team's original plan was to switch to an entirely black-and-gold color scheme (not just for one of the alternates), but DeRozan convinced team officials to keep red and white. … The Hornets unveiled the name, colors, and logo of their new D-League team, the Greensboro Swarm (from Alan Filipczak). … This image comparing video game graphics between Kobe Bryant's rookie season (1996-97) and this season made the rounds on Reddit yesterday.

Grab Bag: The English soccer club Leicester has a Northwestern-striped mow pattern on its pitch (from Paul Kennedy). … A new anti-concussion collar draws inspiration from woodpeckers, an animal that can certainly withstand rapid and constant violent head movements (from Alex Sinclair). … New logo for the Verizon IndyCar Series. … David Firestone ranked all of the NASCAR Sprint Cup paint schemes. … Here's a breakdown of which athletic shoe brands were the most popular on Instagram this year (from Mike Weston). … More year-end logo round-ups, with rankings of the best and worst corporate logo changes of 2015.