Click to enlarge
My thanks to everyone who entered my recent "Redesign the Maple Leafs" contest. The results are up now on ESPN "" enjoy. One of the more interesting submissions, from Jim Brewster, is shown above.
• • • • •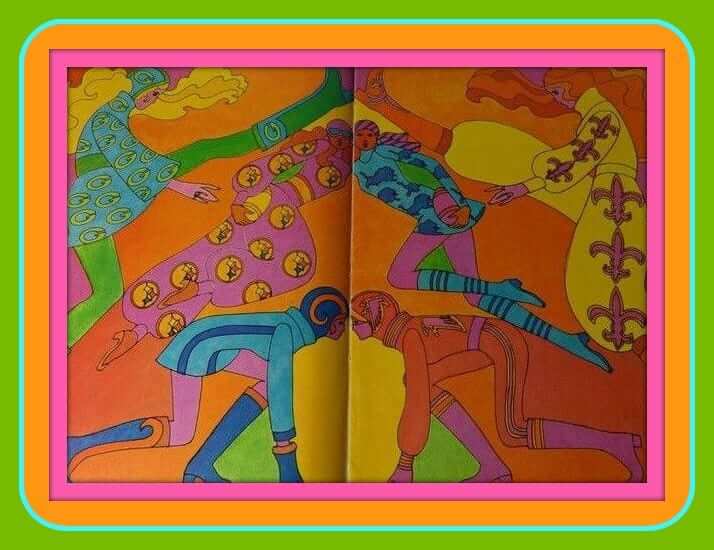 Collector's Corner
By Brinke Guthrie
I believe this one has run before, but the advertisements in here are just too good not to bring it up again: This is an NFL 50th-anniversary insert from Life Magazine in 1969. (Kids, ask your parents.) Age of Aquarius, baby.
Okay, now let's ring out 2015 with our final picks of the year:
• A 1970s ashtray featuring Bruins goalie Gerry Cheevers? Sure, why not.
• Look at the great detail in this Sears ad. You have a Johnny U. football, an "All-Sports Shoe," and a Rawlings ball for the NFL and Franklin for the AFL. They also snuck in a baseball glove for Bud Harrelson, "The Backhander." The eBay listing says it's from 1969, yet it features the two teams from Super Bowl I, so maybe the date is off.
• Great artwork on this 1960s L.A. Dodgers pennant.
• More nice artwork to be found on the cover of this 1976-77 Philadelphia Flyers calendar.
• There's How-ard Coh-sell enjoying a cold Bud in this 1970s Monday Night Football/Budweiser promo T-shirt.
• Nice vintage graphics on this 1970s Tudor NFL electric football game, with the Juice on the loose on the front.
Landry's Seafood House in New Orleans says "Go Saints!" on this 1970s bumper sticker. (Shouldn't that be "Geaux Saints?")
• This one has Sears written all over it: a vintage 1970s Vikes pom ski hat with the classic "Official Licensed Product" tag. The eBay seller has several other teams available, if you're interested.
• There was a big leaguer way back when named Owen Friend. He had a baseball camp at one time, and this is the T-shirt from that camp.. Read the interesting story on the auction!
• The 1970s Swingin' A's want to Make It Happen — says so on this button.
Follow Brinke on Twitter: @brinkeguthrie
•  •  •  •  •
Photo by the Tugboat Captain
Behind the scenes at Gromm•It: A reader who I won't embarrass by naming him here sent me a note the other day, as follows:
I've had it with all this grommet shit. I get that it's your website and you can do what you want with it, but stick to uniforms and stop shoving this crap down our throats. The whole thing is stupid and I'm sick of it! I'm don't know what's worse — that you waste your time on this crap or that you waste our time by posting it! Cut the crap!
I've received a few other anti-Gomm•It notes that have expressed similar sentiments. The interesting thing about these notes is that their general tone of anger and disdain is precisely — precisely — the same type of reaction that many people used to have when they encountered Uni Watch for the first time. And the underlying impulse is obviously the same as well: Some people get very uncomfortable when their hierarchy of priorities is challenged, and they lash out as a result. A guy who spends his time putting grommets in food is apparently as upsetting to some people as a guy who spends his time writing about uniforms, because it represents a world where the normal rules of what is and isn't important don't apply.
Uni Watch wasn't the first project of mine to have prompted this type of reaction, and Gromm•It probably won't be the last. For better or worse (probably a bit of both), my sensibility has always been a bit off-center, so my work — dating back to the 1990s, when I wrote about excruciatingly small details of consumer culture "" has often resulted in a sizable number of people who Don't Get Itâ"¢. Most of those people just scratch their heads for a few minutes and then resume going about their business, but there are always a few who get angry, because for some reason they think my work represents a fissure in the Way Things Ought to Be.
I'm used to this by now. But I'm a little surprised — and, okay, a little disappointed — to hear this type of response coming from Uni Watch readers, who really should know better. Many of you, or maybe even most of you, know all about what it's like to pursue a niche interest that can result in mockery or scorn from others. I realize that most of you don't care about Gromm•It (just like most of you don't care about Permanent Record, or Show & Tell, or the Candela Structures, or most of my other side projects), and that's fine — like I said, I realize my sensibility isn't for everyone. But for a Uni Watch reader of all people to lash out against something just because you don't understand it, especially when you're free to just scroll past it? Come on, people — look in the mirror.
Anyway: Possibly the best Gromm•It entry yet went up yesterday afternoon, whoo-hoo! And I'm continuing to add more each day. Check it out here — unless, you know, you don't want to. Thanks.
• • • • •
The Ticker
By Mike Chamernik

Baseball News: Here's a great article about Bonnie Erickson, a designer who created many notable mascots (and Muppets). In addition to the Phillie Phanatic, Youppi!, and the White Sox's Ribbie and Roobarb, Erickson created a mascot for the Yankees in the late 1970s. Dandy was scrapped a week before it was set to debut in 1979 (from Gordon Blau). … The baseball mascot in the kids' book Goodnight Baseball wears stirrups (from Chris Flinn).

NFL News: NBC Nightly News flashed a hybrid NFL logo during a segment on Peyton Manning last night. It looks to be a combo of the current logo and the pre-2007 logo. I think I know how it happened: The first result on Google for a search of "NFL logo" takes you to this page. Whoever selected the logo couldn't tell any differences (from Jack Spirit). … The Packers sell player-used laundry bags. Sweet! I love the old logo. I need to find one of those bags.

College Football News: Florida State will go all-garnet for the Peach Bowl on Thursday (from Phil). … A fan at the Navy-Pitt bowl game yesterday wore jersey with F. Paterno as the NOB (from Adam Fasullo). … Baylor is adding a gold chrome BU decal for its bowl game today. Baylor's opponent, UNC, will wear all-white (from Phil). … Matt Busch was at California Lutheran's hall of fame and saw this photo. "I've never seen a Northwestern stripe used on the shoulders and on the sleeves at the same time," he says. "¦ Minnesota's bowl game media guide includes a uniform tracker (thanks, Phil).

Hockey News: At the hockey World Juniors, Sweden wore CCM jerseys for pregame warm-ups and Nike jerseys for the actual games. Here's a possible explanation. … Whoever prepared this graphic really got his team logos mixed up (from Tony Tengwall).

Basketball News: The Lakers and Hornets each wore dark colors during their game last night "" purple vs. black. As you can see, Charlotte wore its Buzz City sleeved alts (from @LBoogie5). … The Clippers wore their black alternate uniforms last night. … One of Meadowlark Lemon's 1980s traveling teams had a fantastic warm-up suit theme. … An Alabama high school has some great striped warm-up pants. "¦ The Mavs wore their green throwbacks at home last night, leading the Bucks to wear white on the road.

Grab Bag: Check it out: Not one, but two compilations of the best logo changes of 2015. … Will Scheibler sends along two 1940s roller derby photos — and they're both really good. … Rapper Soulja Boy is getting his Gucci logo tattoo removed from his forehead. … The mascot for the 2018 Asian Games has been unveiled.
• • • • •

What Paul did last night two days ago: On Sunday afternoon I went to see the new Quentin Tarantino movie, an ensemble Western called The Hateful Eight. As you may have heard, it was shot in 70mm Panavision, and the studio actually bought up a bunch of old 70mm projectors on the collector's market and supplied them to theaters for movie's initial run in select cities. (When it moves to full nationwide release, it'll be screened more conventionally.) The initial run also includes an intermission — helpful, because the film is more than three hours long.
And it feels even longer. I'm a Tarantino fan (my top three: Basterds, Pulp Fiction, and Django), but this movie is a stinker. The plot, such as it is, is tedious, the characters are uninteresting, and wit is in desperately short supply. I'm not opposed to splatter per se, but I feel like Tarantino used it here mainly to distract from the film's other shortcomings. Similarly, I'm certainly not opposed to Samuel L. Jackson, but the film leans waaaaaay too heavily on him. (He's deployed much more effectively in Spike Lee's Chi-Raq, which is also a much better picture.) There's an intriguing subtext about the Civil War, but it's not enough to sustain the film.
The main character is played by Kurt Russell, who, by coincidence, recently starred in another ensemble Western that I absolutely loved: Bone Tomahawk. It's available on demand and is much, much better than The Hateful Eight — see it. Here's the trailer: