Click to enlarge
The hoodie thing is catching on. For the past month or so, Packers wideout James Jones has been wearing a hoodie on the field. Last night it was Giants defensive back Dominique Rodgers-Cromartie's turn, as he wore a hoodie for the Jints' game against the Vikings in Minnesota, where the temperature on the field was about 13 º (here's how it looked from the front). Much like Jones, his hoodie was rendered in a team color and was therefore perfectly legal.
Speaking of Jones, he continued to wear his hoodie yesterday — even though the Packers were playing the Cardinals indoors.
In other news from around the league yesterday:
• The Ravens wore their black alts. And hey, white pants!
• The Dolphins wore white at home.
• The Titans really need to stop with the mono-navy. Not a good look.
• I'm not a fan of the Lions' uniforms (too much black trim, ridiculous number font), but their basic color scheme meshed very nicely with the Niners' colors. Good-looking game.
• Speaking of good-looking games, the Cowboys and Bills were pretty easy on the eyes.
• At one point CBS listed the Bucs having a 1-0 lead over the Bears.
(My thanks to @RNs_Funhouse and Phil for their contributions.)
• • • • •
Raffle results reminder: In case you missed it on Friday, the results of the annual year-end raffle can be found here. All of the raffle items have been packed and addressed, and I'll start shipping them today. Should have them all mailed out by the end of the week.
• • • • •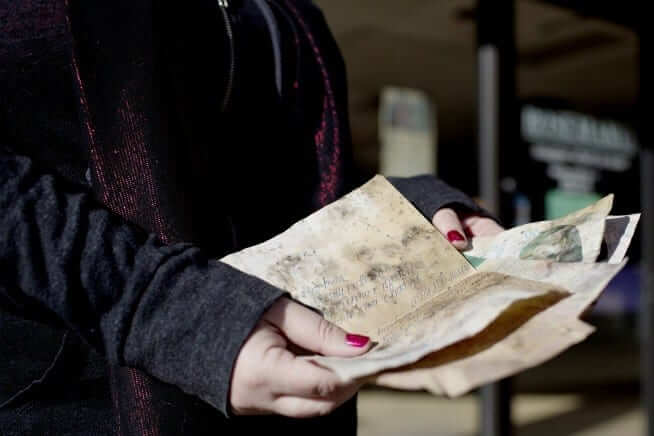 PermaRec update: The letters shown above were mistakenly dropped in a decommissioned bank night depository instead of a mailbox and stayed there for nearly 20 years until recently being liberated. Get the full scoop over on Permanent Record.
• • • • •
Gromm•It update: One of the best Christmas presents I received from the Tugboat Captain was this cool mini-grommet gun. I've already put it to good use, plus I've done a new normal-sized grommetization that's v-e-r-y satisfying from a conceptual standpoint. Get the full scoop over on Gromm•It (now with fewer hyphens and more colors!).
• • • • •
The Ticker
By Paul

Baseball News: Check out this early A's BP jersey. That design was worn from 1980-82 (thanks, Phil). "¦ Former A's pitcher Catfish Hunter was the American League's honorary captain at the 1987 All-Star Game and, for some reason, wore a gold snap-back cap.

College Football News: Here's Baylor's uni combo for the Second-Tier Uniform Outfitter Bowl. Rather absurd that both teams playing in that game are outfitted by a company other than the sponsor. "¦ Who's that in the mono-gold Golden Gophers uni? None other than Tony Dungy, wearing what appears to be a wristband in African American pride colors (from @RNs_Funhouse).

Hockey News: Here's a good article on the Bruins' and Canadiens' jerseys for the Winter Classic (from Phil and Richard Grossman). "¦ In a related item, looks like we've gotten our first look at a Winter Classic mask.

Grab Bag: DC United's new kit may have leaked (from John Muir). … Under Armour CEO Kevin Plank is building himself a McMansion, much to the annoyance of his neighbors (from Tommy Turner).