I received a note the other day from reader Derek Reese, who raised an interesting point about NHL pants:
I go down to the glass during pregame warm-ups at Florida Panthers games, and I've noticed that the pants/breezers are made by several different manufacturers. In this shot, for example, you have players wearing both Bauer and Eagle brand pants: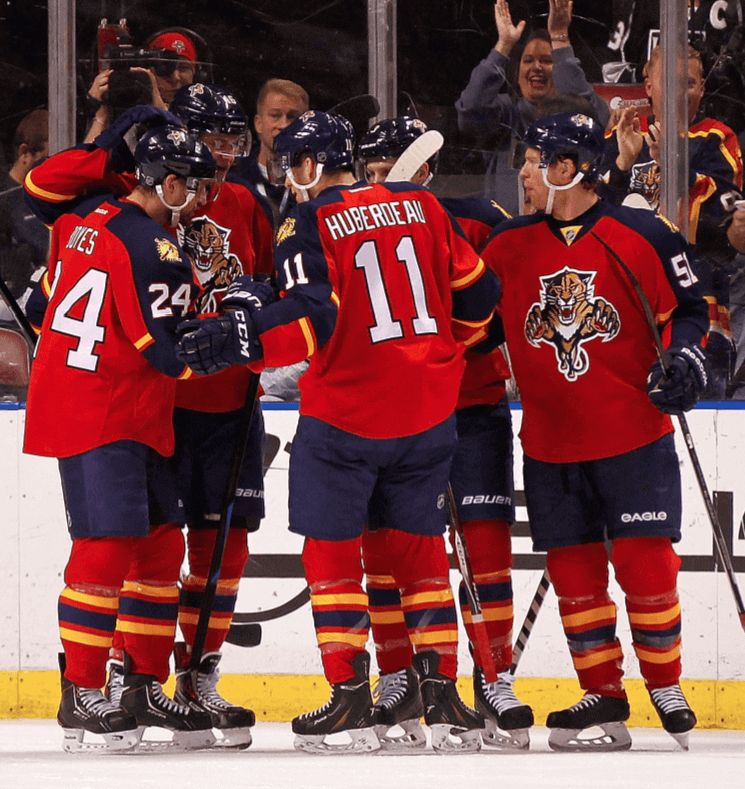 I've also seen Panthers players wearing CCM and Warrior pants. I found it odd (a) that Reebok makes all the sweaters but doesn't make the pants as well, and (b) that the league would allow so many different brand marks on the pants. I guess hockey pants kinda blur the line between equipment and uniform.

The Panthers' pants are solid-colored, with no design on them, so the pants basically look the same except for the brand marks. But one day I was on the visitors' side of the rink and noticed that the stripes on the Anaheim players' pants were thinner or thicker, depending on the manufacturer, as you can see on No. 7 and No. 46 in this photo: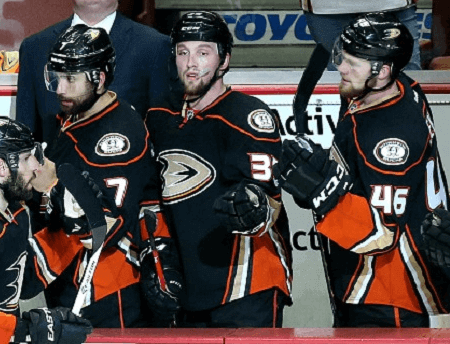 Obviously, this is something only eagle-eyed uni nerds such as ourselves would notice, but I'm curious if other teams also have variations in their pants, depending on the company producing them.
Good stuff, Derek. The distinction and occasional overlap between uniform and equipment is something we've explored before. A year and a half ago, in fact, I actually coined a new term, uniquipment, for elements that straddle the line. Hockey pants seem to have fallen into that category, although I find that to be very odd — they seem like they should be part of the uniform, period.
Meanwhile, Derek's parting question is a good one: Are there other NHL teams with slight manufacturer-based variations in their pant designs? Teebz, Mike Engle, Alan Kreit, and all the rest of you hockey obsessives, let's hear from you.
• • • • •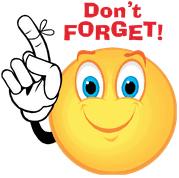 Reminder No. 1: Yesterday's post mistakenly stated that yesterday was the last day to get in on my "Let's Redesign the Maple Leafs" contest. That was incorrect — the deadline is actually today, 7pm. Full details here.
Reminder No. 2: In case you missed it on Sunday, longtime Uni Watch reader Jim Vilk is raffling off some very cool stuff from his personal collection. Full details here.
Reminder No. 3: The patches for those of you who collected all 12 Uni Watch T-shirt Club designs have arrived, and they look great. If you're eligible for the prize but haven't yet claimed it, you need to prove that you ordered all 12 shirts by either (a) taking a photo of the 12 shirts or (b) taking screen shots of your 12 order-confirmation emails from Teespring and putting the 12 shots into a folder. Then email the photo or the folder to TshirtClubProof@gmail.com, and be sure to include your mailing address so I know where to mail your patch.
Speaking of the patches, reader LH Griffel received his and has already found a good place for it (click to enlarge):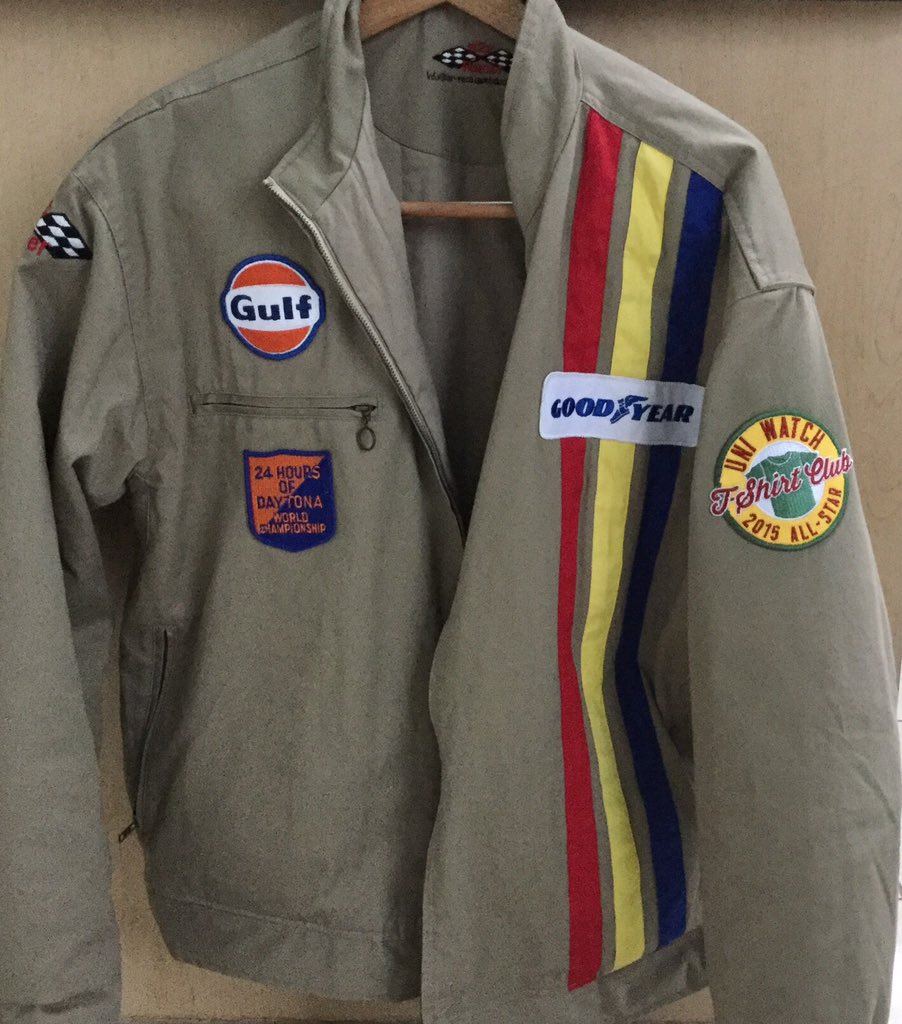 Nice, right? If you've made good use of your prize patch, feel free to send photos this-a-way. Thanks.
• • • • •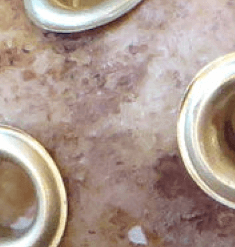 Gromm-It update: Potatoes already have eyes, so why shouldn't they have eyelets? You can see a hint of how that looks at right; see the full treatment over on Gromm-It.
• • • • •
The Ticker
By Paul

'Skins Watch: Big boost yesterday for the 'Skins, as a federal appeals court ruled that the section of the Lanham Act that allows the government to deny trademark protection to offensive or disparaging marks is unconstitutional. The government may appeal to the Supreme Court.

Baseball News: Single-digitized pitcher alert! That's newly signed Cardinals RHP Mike Leake. He says he's trying to break the mold. Further thoughts from him in this video clip"¦ Robert Brashear found a set of 2004 Yankees Christmas tree ornaments. "Only A-Rod is still with the team," he notes, although I wonder how many teams have even one player remaining from their 2004 rosters. Anyone wanna tackle that? "¦ DIY genius Wafflebored's latest triumph is a gorgeous art deco-style baseball jersey. "¦ Too bad newly signed Mets OF Alejandro De Aza's goes by "De Aza" rather than "de Aza," as it would've been fun for the Mets to have yet another NOB with a lowercase "d."

NFL News: Here's a short history of the Panthers' uniforms (from Joe Mustian). "¦ The Ravens hare having fans vote on various uniform combinations, including some with grey pants. "¦ Good article about how the NFL used to produce — and still sells! — "brain damage snuff films," which is admittedly a slightly hyperbolic term, but only slightly. "¦ And hey, speaking of concussions and such, check out this photo (from Val Sobrevilla). "¦ The Bears have posted a photo gallery of their players involved in postgame jersey swaps (from Austin Huette). "¦ Speaking of jersey swaps, here's another article about how that phenomenon is sweeping the league (from Tommy Turner). "¦ Also from Tommy: Washington players discussed the stories behind their uniform numbers.

College and High School Football News: This is weird: two different helmets on the same sideline. "Probably the JV team standing on the sideline for a varsity game," says Mark Miller. "¦ Utah State players had old sideline capes with out-of-date lettering at the Spud Bowl yesterday. "¦ Tulane is bringing back grey uniforms and will also have a matte grey helmet. "For a school whose colors are blue and green — hell, they're called the Green Wave — this is such shit," says Phil. "¦ Western Kentucky's locker room has display case featuring a helmet from every school WKU defeated in 2015 (from Josh Claywell).

Hockey News: The Rangers wore white at home last night. Like most NHL teams, they look better in white, but man, they really look better in white — such a great uni. "¦ From that same game, this report from Alan Kreit: "After a fight, Ryan Kesler removes his jersey in the penalty box. Teammate skates across the ice and throws it to the equipment guy leaving Kesler in just his pads. Equipment guy sprints into the locker room." "¦ The Kings had pretty cool Xmas-themed warm-up jerseys last night. "¦ Here's a website by a guy who's drawing every Hockey Hall of Famer (from Will Scheibler).

NBA News: Celtics F Evan Turner is selling T-shirts featuring an NBA logo-zied treatment of himself. "¦ The Chicago Tribune asked longtime uniform/logo designer Tom O'Grady to assess the state of NBA court design (from Jeff Cox). "¦ A Stephon Marbury museum is opening in China (thanks, Mike).

College Hoops News: Santa showed up at UNC's game the other night in a Carolina blue Santa suit. "It's a longtime UNC holiday tradition," explains James Gilbert. "¦ Syracuse F DaJuan Coleman was wearing two different-colored shoes last night (thanks, Phil). "¦ Throwbacks last night for Ohio State (from Brendan Fitzgerald and Robert Hayes).

Soccer News: Early Christmas present for soccer fans yesterday, as lots of new jerseys were released, including designs for Real Madrid, Juventus, Inter Milan, and England.

Grab Bag: "The Guardian has a great story on the history of the Australian cricket team's baggy green cap," says Craig Snyder. "The first part of the article is about the auction price. The history part starts at the 'Origin of the Species' subheading."