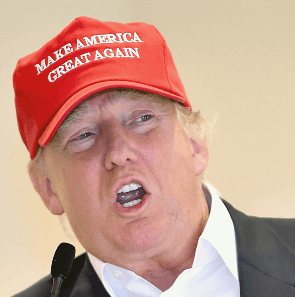 I've always thought that Donald Trump's obvious analog in the sports world was the New York Yankees. The overweening hubris masquerading as a commitment to excellence, the absurd insistence that anything less than 100%-gold-plated success is an abject failure, the garish flaunting of wealth, the undercurrent of jingoism — Trump and the Yanks were clearly cut from the same cloth. When George Steinbrenner died, I even thought (and kinda hoped) Trump would make a bid to purchase the team. They weren't just made for each other; they deserved each other.
But that was when Trump was just a real estate magnate. Now that he's an aspiring politician with a penchant for increasingly controversial statements, it's become apparent to me that a different comparison is in order: Trump is to politics what the Oregon Ducks are to uniforms.
Consider:
[table id=27 /]
And so on. I'd be the first to admit that there are limitations to this comparison (for example, Oregon's visual thrust is clearly futuristic and forward-looking, while Trump's appeal is almost entirely retrograde), but I think the overall parallel of two systems built upon the mechanism of outrageousness is still pretty striking.
I'm not interested in attacking or supporting Trump as a candidate, so please steer clear of any electioneering in today's comments (that goes for all candidates, not just Trump). I'm only interested in how Trump relates to the sports world in general and Oregon's uniforms in particular, so let's please stick to that. Thanks.
• • • • •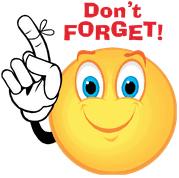 Reminder No. 1: Today's the last day to get in on my "Let's redesign the Maple Leafs" content. Full details here.
Reminder No. 2: In case you missed it on Sunday, longtime Uni Watch reader Jim Vilk is raffling off some very cool stuff from his personal collection. Full details here.
Reminder No. 3: The patches for those of you who collected all 12 Uni Watch T-shirt Club designs have arrived, and they look great. If you're eligible for the prize but haven't yet claimed it, you need to prove that you ordered all 12 shirts by either (a) taking a photo of the 12 shirts or (b) taking screen shots of your 12 order-confirmation emails from Teespring and putting the 12 shots into a folder. Then email the photo or the folder to TshirtClubProof@gmail.com, and be sure to include your mailing address so I know where to mail your patch.
Reminder No. 4: In case you missed it yesterday, the grommet project now has a name and its own website. Check it out here.
• • • • •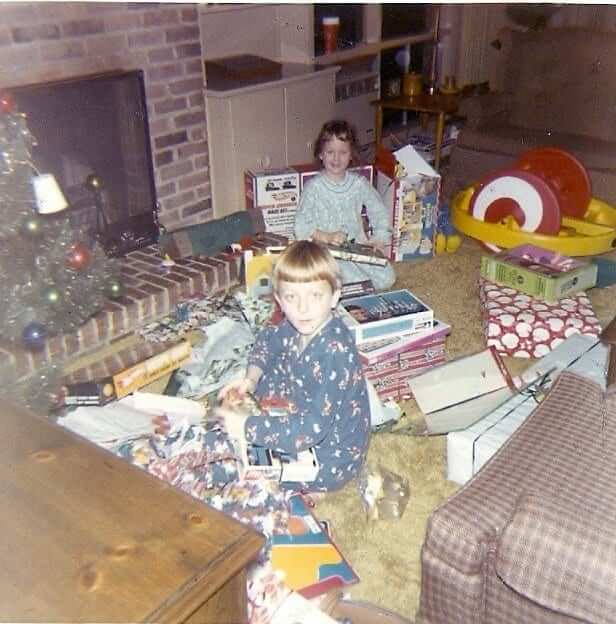 Collector's Corner
By Brinke Guthrie
Yes, that's me unwrapping my presents from Santa in 1969 — good memories. Now, Christmas is on Friday, so the items included in this week's Collector's Corner won't make it underneath the tree in time for the big day, but it's all cool stuff nonetheless. Here we go:
• We kick off with this 1970 Christmas greeting card from the Rayduhz. Peace on Earth, baby.
• Look at these team payroll checks from the early 1960s. From "The Cleveland Browns Football Company."
• This vintage 1970s Pro Football Prediction Kit by "Biorhythm" states, "On any given day, this revolutionary new kit helps you predict this year's professional football games before they're played." Take this to Vegas and you will clean up.
• Ever seen one of these? A 1970s "City Series" pennant for the White Sox and the Cubbies.
• This NBC Sports banner was supposedly hung in Foxboro during a 1970s Patriots game. (Bonus for PL: It has grommets!)
• Here's a 1970s Minnesota North Stars copper plaque made by Acrometal.
• We've got a set of 1971 ABA Indiana Pacers Volpe thermal cups for you.
• This Cowboys ticket envelope was from the season I lived in Dallas. Notice the Griese-style Dungard facemask on the helmet — never seen that before on a Cowboys promo item. For the record, Dallas beat the Cards, 31-12, to finish the year at 11-3 on the way to their first Super Bowl win.
• Terrific cover art on this 1969 NFL Pro Bowl program cover.
• Speaking of the Pro Bowl, reader David Firestone sent along the listing for this game-used 2012 Pro Bowl coin-toss coin. (Or would that be pregame-used?)
• This 1970s Saints helmet pencil sharpener is MOC (that's "mint on card," kids.)
• From reader Leo Strawn Jr., this Chiquita Banana NFL sticker set and display poster contains a uni-related oddity: the Saints uniform shows the black helmet worn in the 1969 preseason.
• And since Christmas is just three days away, let's work in a Rudolph reference, shall we? This Detroit Lions gumball helmet belongs on the Island of Misfit Toys, for obvious reasons.
Merry Christmas to all!
Follow Brinke on Twitter: @brinkeguthrie
•  •  •  •  •
The Ticker
By Mike Chamernik

Baseball News: The Red Sox will retire Wade Boggs's number. … New blue jerseys for Penn State baseball (from Rob Cooper). … Paul's new grommet obsession has really taken the site by storm. I decided to take it up a level: Introducing Jacob deGrommet! Maybe Paul and Phil will like this image more.

NFL News: Check out what's going on in the background of this video: Panthers CB Teddy Williams was struggling mightily to tie a tie. Maybe someone can give him and Matt Harvey a few tips. … Lions DE Devin Taylor wore a Christmas sweater suit to the Superdome last night. Is that a pattern of dinosaurs and handguns? (Thanks, Phil.) … Lions TE Eric Ebron wore Christmas-themed spikes before the game last night. … Ravens coach John Harbaugh talked about his team's gold pants. The pants were planned all the way back last season, and "I think if we had been doing a little bit better, you might have seen them a little bit sooner," Harbaugh said (from Phil). [Also: That piece says each NFL team is allowed to have up to three pants, which is news to me. Never heard of a limit on pants before. "" PL] … Jon Solomonson saw a weird Super Bowl XXXVII jacket at Disney World. The emblem on the guy's jacket looks nothing like the actual logo.

College Football News: Archie Manning picked out Ole Miss's Sugar Bowl uniforms, which will be red jerseys, gray pants and baby blue helmets. Here's another look (from Phil). … LSU will wear these cleats, gloves and jersey patches in the Texas Bowl (from Wesley Eustis). … NC State will wear this in the Belk Bowl. Note the wolf-themed cleats and gloves. … Duke will wear these helmets in the Pinstripe Bowl. … The Spirit of Detroit statue is wearing a Michigan State jersey in support of the Spartans, who heave reached the College Football Playoff. The statue has worn other jerseys before (from Jerry Kulig). "¦ A new Adidas catalog shows what might be a new look for Miami (from Adam Apatoff).

Hockey News: Players in the Wild's Stadium Series alumni game will wear these awesome North Stars jerseys (from Phil). … Speaking of the Wild (and the Stars, sorta), Minnesota wore white at home last night (from @rightside74).

Basketball News: Hawks G Dennis Schroder had a tooth knocked out during last night's game against the Blazers. He simply picked it up and tucked it into his sock. … Pacers G George Hill dyed his hair gold during the offseason. Hill's former coach, Gregg Popovich, noticed the new 'do last night. … Notre Dame wears some oddly tailored shorts. … The Hornets will reveal the name and logo of their new D-League team next Tuesday. … Inactive Bulls F Mike Dunleavy wore a Christmas sweater on the bench last night.

Soccer News: The Portuguese soccer club Uniao de Madeira is sponsored by Cristiano Ronaldo (from @mike3783). … "Soccer players are making their team socks into stirrups to wear the Trusox underneath," says Sam Waninger. … Fans have until Dec. 31 to vote on the new Queens Park Rangers crest (from Chris Cruz). "¦ Interesting national flag striping on these jerseys. "Not sure what charity/testimonial match that was from," says Tim Cross.

Grab Bag: A physical therapist has been customizing casts to make them look like athletic shoes (from David Firestone). … A Washington DC-area man has been robbing gas stations while wearing an oddly distinctive baseball cap. His blue hat reads "Jim McKay Maryland Million Day, October 18, 2014 – Laurel Park" (from Tommy Turner). … On a good note involving Washington, a charity food drive made a Metro map out of canned goods (from William Yurasko). … Sports Taekwondo Australia is looking for a new logo. … New can design for Bud Light (from Jason Hillyer).