Click to enlarge
NFL teams are only allowed to use one helmet shell, and their jersey colors have to be scripted months in advance. But there's nothing keeping them from freestyling with their pants, and that was the case yesterday in Baltimore, as the Ravens pulled a surprise move by debuting the first set of mustard-colored pants in team history (additional photos here).
It's not a terrible look, or at least no more terrible than what they already had. Obviously, I can't stand purple, but I can appreciate on an intellectual level, if not an emotional one, that the new pants makes a pretty natural color pairing with the jersey. Yeah, it's a bit Washington Huskies, but whatever. I'm not usually a fan of "switching things up" just for the sake of doing so, but in this case I think it's a plus. Good for them.
Aside from the Baltimore's new britches, it was a quiet day around the league, but here are a few tidbits:
• The Jaguars went mono-black.
• So did the Eagles.
• Colts defensive back Vontae Davis had some serious biker shorts action going on. For that matter, so did the other player in that photo, Texans wideout DeAndre Hopkins.
• As we had noted in a Ticker a while back, the 49ers went with throwback end zones for their game against the Bengals — a shout-out to the teams' two Super Bowl match-ups in the 1980s.
• Speaking of Super Bowls past, very good-looking game yesterday in Oakland, as the Raiders and Packers reprised the look of Super Bowl II.
• Here's a weird one: Broncos cornerback Aqib Talib was missing his TV numbers. What's up with that?
•  •  •  •  •
Reminder No. 1: Today is the final day to enter my annual year-end reader-appreciation raffle. The deadline is 7pm Eastern tonight. Full details here.
Reminder No. 2: Tomorrow is the last day to get in on my "Let's redesign the Maple Leafs" content. Full details here.
Reminder No. 3: The patches for those of you who collected all 12 Uni Watch T-shirt Club shirts have arrived, and they look great:
If you're eligible for the prize but haven't yet claimed it, you need to prove that you ordered all 12 shirts by either (a) taking a photo of the 12 shirts or (b) taking screen shots of your 12 order-confirmation emails from Teespring and putting the 12 shots into a folder. Then email the photo or the folder to TshirtClubProof@gmail.com (note that this is a new address — please do not send your proof to the regular Uni Watch email address), and be sure to include your mailing address so I know where to mail your patch.
•  •  •  •  •
Click to enlarge
Curling champs: Congrats to the Rock Its, skipped by our own Phil Hecken, newly crowned champs of the Fall 2015 Lakeside Curling Club. As you can see above, Phil wore his Uni Watch ugly sweater sweatshirt while leading the team to victory last night — nice.
• • • • •
Culinary Corner: Over the weekend I was invited to a small party and needed to bring some sort of portable edible. I decided to make some spiced nuts, which turned out to be fun and delicious — a great mix of sweet, salty, spicy, and gooey. These are easy to make. Here's how:
1. Start with four cups of roasted nuts. I used a cup each of walnuts, pecans, almonds and cashews, but you could easily substitute peanuts (which are less expensive), filberts, or even pumpkin seeds. Whatever you use, put the nuts in a big bowl and set aside.
2. Put a half-cup of sugar, a quarter-cup of water, a tablespoon of butter, a teaspoon of salt, and a few pinches of black pepper in a small saucepan. Then add whatever spices, herbs, and flavorings you want. I kept it pretty simple by using half a teaspoon of cayenne pepper, close to a tablespoon of dried rosemary, and a few splashes of Worcestershire sauce, but you could use almost anything here — paprika, cumin, mustard powder, Tabasco, garlic, cinnamon, whatever. Once you've added your flavorings, put the saucepan over medium head and stir gently until about a minute after the butter is melted.
3. Pour the saucepan mix over the nuts and toss to coat.
4. Put sheet of parchment paper onto a baking sheet tray, spray lightly with cooking spray, and then spread the flavor-coated nuts out into the tray. Arrange them in a single layer and then put them into a preheated 350 º oven for 10 minutes.
5. Remove the tray from the oven and use a wooden spoon (or something similar) to stir the nuts in the tray for three or four minutes. The coating should get slightly thicker and more syrupy as it cools, so try to get all of the nuts at least somewhat coated in the syrup. Then redistribute them in a single layer again and put the tray back in the over for six more minutes. Let the nuts cool a bit before serving.
That's it. If the nuts begin to fuse together in big clumps (as mine did, although that might be because they had to travel to New Jersey on a cold day), just provide a fork so your guests can break apart the clumps:
•  •  •  •  •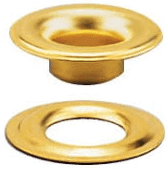 Grommets, continued: The grommet project now has a name: Gromm-It. I know, I know — lots of you really liked Hole Foods, but there were various factors that mitigated against that one. The good news is that I was able to work "Hole Foods" into the project's subtitle, which you can see on the new Gromm-It website. If you scroll down to the bottom, you'll see that the site includes posts for all of the grommeted foodstuffs I've shown here on Uni Watch (all backdated to when I originally took the photos), along with several new ones (including grommeted ice cubes and a grommeted egg, both of which I'm pretty damn pleased with, thank you very much). The site still needs some work — a logo would be nice, for starters, instead of that type treatment I threw together — but it's a decent start.
I'll keep posting photos here as I add them to the Gromm-It site. Here are a bunch, just so we're caught up here…
Grommeted ice is twice as nice (click pics to enlarge).
Which came first, the grommet or the egg?
Why settle for Hershey's with Almonds when you can have Hershey's with Grommets?
•  •  •  •  •
Teeny-Tiny Ticker
By Paul

Hockey News: Goaltender Ray Emery, now with the Toronto Marlies, is still wearing his old Flyers mask, but with tape covering the team logos. I didn't realize that the Maple Leafs have their top minor league affiliate right there in Toronto — interesting (from J. Walker).

NBA News: Nets F Thaddeus Young must've been wearing an old jersey the other night, because it had the NBA logo on the front. "¦ The Hawks did the mismatched uni thing again last night. Lots of additional photos here. … Magic F Channing Frye lost his mouthpiece before shooting a free throw last night, and then put it back in after wiping it on his shorts. Five-second rule! (Thanks, Mike.) … Whoa, check out the amazing warm-up sweaters worn by the 1918 Christian Brothers' Business College team (great find by Will Scheibler).