As most of you know by now, Wisconsin is my favorite state. So when the ESPN Radio affiliate in Madison recently invited me to take part in a panel discussion about uniforms on the morning of Tuesday, Dec. 15, I didn't just accept their offer — I turned it into a mini-road trip with the Tugboat Captain.
We only had a few days to work with, so we flew in to Milwaukee on Saturday, spent the day there, and then, as you can see above, tooled around a bit in the southeastern part of the state, tracing in a clockwise route that eventually brought us back to Milwaukee on Tuesday. Here's a closer look at the ground we covered (as usual, the route shown is approximate; click to enlarge):
We were in more of a "Let's experience this" mode than a "Let's document this" mode, so the photographic record that follows is very incomplete, but it should at least give you a bit of the flavor of the trip. Most of photos were taken either by me or TBC (you can generally assume that the better ones are hers), plus I poached a few from the web. You can click on any of them to see a larger version.
Saturday, Dec. 12: We arrived in Milwaukee a little past noon — lunchtime — so our first stop was Jake's Deli, which is one of America's more unusual eateries: a Jewish deli staffed entirely by blacks. I had a pastrami on rye; TBC had a Rachel (pastrami, Swiss, and slaw on rye toast). Both were my-t-fine:
After make a few other stops, we picked up longtime Uni Watch pal/ally Comrade Robert Marshall, who'd taken the train up from Chicago to meet us, and then decamped for my favorite spot in all of Milwaukee: Gene & Marcy's Holler House, a corner tavern whose basement is home to America's oldest pair of league-sanctioned bowling lanes:
I had called ahead a few days earlier to book the lanes and arrange for a live pinboy (no auto-set pins at Holler House!), so we had a few drinks and then went downstairs to bowl. It was TBC's first time, and she made herself right at home:
I've bowled many times at Holler House, and it's always a special pilgrimage, but it was particularly satisfying this time around, because (a) it was my first time bowling after breaking my arm two months earlier, and I was relieved to find that my arm felt good and all my mechanics still felt right, and (b) Marshall had been talking smack for several days about kicking my ass and continued to give me the ol' rufus-goofus as we bowled, so it was extra-satisfying to stick it to him:
After three games, we tipped our pinboy and moved on to Three Brothers, an old, well-regarded Serbian restaurant, where we ordered suckling pig and burek, which is a wonderful meat pie consisting of filo dough and ground beef. Dee-lish (first photo poached; video from a local news station):
Sunday, Dec. 13: I've long been a fan of American Science & Surplus, which sells all sorts of specialized gadgetry and trinkets — some of it edumacational, most of it fascinating, all of it playfully presented. Sort of a hardware store for cool geeks. I've mail-ordered from them many times but had never visited any of their three shops, one of which is in Milwaukee, so that's where we began our day.
It did not disappoint. Sooooo much cool stuff! I was particularly charmed by the display of cork stoppers, although several other displays also caught my eye:
Eventually we pushed on, leaving Milwaukee and winding our way through the countryside. Although I've been to Wisconsin at least 15 times in the past 20 years, I'd never been there in the late fall or winter, and it was interesting to see the state's beautiful landscape reconfigured by the season — the trees without their leaves, the fields shorn of their corn. Wisconsin, like so much of America, grows soooo much corn (way too much, actually, but that's another story for another day), and it was striking to see all of those fields stripped bare, especially because the corn harvest leaves behind all these little stumps, which somehow makes it feel like the land has been scorched or ravaged, not just farmed. Driving through all those bare fields was still beautiful, but it was a different kind of beauty — more reserved, more melancholy.
We wanted to find a tavern where we could watch the Packers/Cowboys game. (Footnote: Our rental car had Texas plates, pretty much the worst possible option for that particular weekend in Wisconsin.) We found it in Janesville, where we stopped in at the local Eagles club. It's technically for members only, but we talked our way in and had no trouble making friends with Jamie, the bartender, and a few of the other patrons. At one point a gent at the end of the bar bought a round for the house, which resulted in two eagle-themed chits being placed in front of us. I really wanted to save them as souvenirs instead of cashing them in, but of course that would have been rude, so this photo will have to suffice:
As for the game, the Packers won, so everyone was happy. I had worn my vintage Packers dickie under my shirt and had hoped to show it off to a fellow tavern patron during the course of the game, but I sensed that it just wasn't that kind of crowd, so I kept it to myself.
After the game we grabbed a bite and drove on to Evansville, where we stayed with my longtime pal the fabulous Kelly Hogan. If you're not familiar with her solo work, you may know her from her old bands, the Rock*A*Teens and the Jody Grind, or for her backing vocals with Neko Case and, more recently, the Decemberists. Or maybe you've never heard of her, in which case you're really missing out, but whatever — either way, she's one of the most awesome and inspiring people I've ever known. I hadn't seen her since 2008, when the Forewords (my short-lived lecture/slideshow "band" with my friend Liz Clayton) opened for the Magnetic Fields in Madison, so it was a treat to stay with her. Here she is with her completely ridiculous pooch Eddie Spaghetti:
Monday, Dec. 13: We bade farewell to Kelly and set out in search of a bunch of small-town taverns, cheese shops, thrift stores that had been recommended by various sources. Two of the taverns — Brewer's in Albany and Dot's in Belleville — were outstanding (Dot's was particularly interesting because it's located in the basement of a house on a residential block), but we didn't get photos of either one. Dang.
Soon it was time for us to arrive in Madison. We checked into our hotel, had dinner with the ESPN Radio people who had invited me for the panel discussion, and then went off to the Madison Curling Club, where we met up with longtime Uni Watch reader/commenter R. Scott Rogers, who recently moved from DC to Madison (and who really polished the apple by wearing his Uni Watch ugly sweater T-shirt):
We also met up with my friend (and U.S. Olympic athlete!) Craig Brown, who was the skip on my first curling team back in 2010. Craig, who lives in Madison, was busy leading his team to a victory when we visited the club but scooted back to chat with us a few times in between shots. Kicking myself for not getting a photo of myself with him. Next time!
Tuesday, Dec. 15: Finally, it was time for the panel discussion, which was the reason we were here in the first place. I'd been informed the night before that the "panel" would simply be me being interviewed by radio host Greg Scalzo (one or two other people dropped out) — not quite what I'd had in mind, but I was fine with it.
The event was the latest in a series of quarterly sports-themed dialogues presented by the radio station, and the invitation-only crowd was primarily comprised of local businesspeople. Greg was a great host — we talked back and forth for about 45 minutes and then took questions from the audience. I thought it all went really well, and lots of people approached me afterward and said how much they'd enjoyed it — nice.
Unfortunately, this is the only photo:
The jersey I'm wearing there is this one, which I wore because it's from a Wisconsin factory team — figured the local connection would be a good talking point (and it was). And yes, I tucked it in, which I'm sure some of you think was a dork move. I actually agonized over that point but ultimately decided it would be too informal, or maybe even rude, to go untucked when I was the guest of honor. And since I was wearing corduroy slacks and dress shoes, not jeans and sneakers, I think it was okay.
After the event we spent most of the day moseying back to Milwaukee. We made a few stops along the way, including one in Watertown, where we wanted to check out this 1850s octagonal house:
It's open to visitors for most of year — except in winter, so we couldn't go inside. But it was still fun to walk around it. We had spotted a cool-looking eatery in another part of town, so we stopped there for lunch:
Wish I'd gotten a photo (or, better yet, a video) of the counter gal, Natalie, who was a real stitch. More of a performer than a server, and I mean that in the best way. I'm assuming she's locally famous — and if she isn't, she should be.
A bit later, as we were heading toward the shore of Lac La Belle, we found ourselves on a road called Oosty Ave. Such a fun name — Oosty! That seemed pretty good, but then we came upon this intersection:
I'm fairly certain that only in Wisconsin can you come to the intersection of Oosty and Oosty.
There was more (lots of frozen custard, lots of bars, a historic marker for the site of the state's first limburger cheese factory, etc.), but that's enough for today. Thanks for your indulgence. We'll get back to more typical Uni Watch content tomorrow.
• • • • •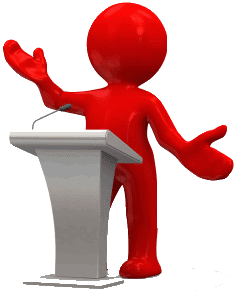 Speaking of speaking gigs: I enjoy doing events like the one I just did in Madison, and the audience usually seems to enjoy it as well. If your company or organization has a budget for this type of thing and you'd like to have me stop by for a presentation or a Q&A session, let's talk. Thanks.
• • • • •
Year-end raffle reminder: In case you missed it on Monday, I'm giving away lots of very cool stuff in my annual year-end reader-appreciation raffle. Check it out here.
• • • • •
Leafs-redesign contest reminder: My latest ESPN design contest is a challenge to redesign the Maple Leafs. Full details here.
• • • • •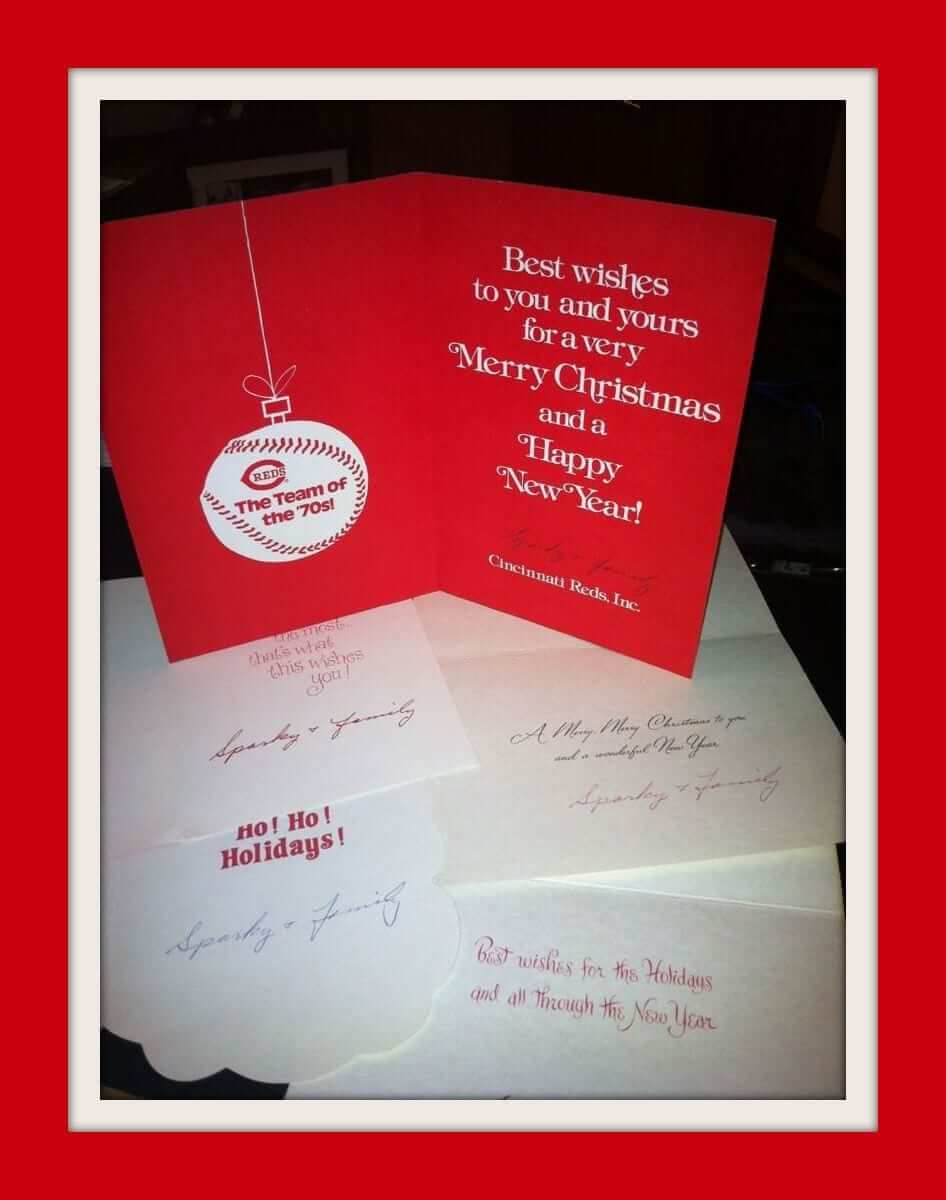 Collector's Corner
By Brinke Guthrie
As a season ticket holder for the Bengals in the 1970s, I always looked forward to getting the team Christmas card. Never got one from the Reds, but here's what Sparky Anderson's card looked like (at least through Christmas of 1977). And here's a team-issued card from Christmas of 1970.
Now on to the rest of the week for this rare Thursday edition of Collector's Corner:
• Here's an early-1970s decal for the ABA Miami Floridians, and a late-1960s decal for the Houston Mavericks (who I had no memory of, frankly).
• I like this 1969 Pro Football Hall of Fame Game ticket stub featuring the Packers and Falcons. They're both "Member Teams of the National Football League," which I guess you needed to know before you actually went to the game. [I suspect that was to differentiate them from the AFL, which was still a separate league at that time, although plans for the merger had already been set in motion. "" PL]
• Nice retro look to these 1970s bedsheets. Is that a Rams QB with a red and white helmet and uni?
• Would I have loved to see one of these 1970s Cowboys helmet plaques under the tree when I lived in Big D? I think so.
• Two great 1970s Mini-Stick and Goal kits — the West Division here and Eastern Division here.
• This Game Bag is "the hottest thing in football" — says so right there! Endorsed by Alex Karras, the Game Bag was basically a big thermal sack you stuffed yourself into. I can think of a few Bengals games this would have been good for.
• Great graphics on this boxed set of 1960s NFL playing cards!
• Now here is a stocking stuffer! Seventeen NFL Helmet Buggies in one lot, right here!
• We've got a 1970s Pittsburgh Penguins promo hockey puck here, sponsored by Duke, the Krausened Beer. Being a non-drinker, I had to look that one up.
• Look at this 1962 Sears boy's football uniform set ad. In the lower right, the image says "UCLA stripes" on the sleeves — and you can get your name on the back!
Follow Brinke on Twitter: @brinkeguthrie
•  •  •  •  •
T-Shirt Club year-end prize update: The prize for those of you who ordered all 12 of the Uni Watch T-Shirt Club's designs has arrived. Check it out:
Nice, right? This patch is only available to people who ordered all 12 shirts. If that's you, you can prove you've collected 'em all and thereby claim your prize by either (a) taking a photo of all 12 shirts or (b) taking screen shots of your 12 order-confirmation emails from Teespring and putting the 12 shots into a folder. Then email the photo or the folder to TshirtClubProof@gmail.com (note that this is a new address — please do not send your proof to the regular Uni Watch email address), and be sure to include your mailing address so I know where to mail your patch.
For those of you who've already sent in your proof, I'll start mailing out the patches today.
•  •  •  •  •

And now a word from Phil: In case you missed it in Sunday's post, I ran a set of holiday recollections from Jimmy Corcoran (scroll down), who's the son of former NFL, WFL, and NCAA Quarterback King Corcoran. He shared some great stories, along with some photos of uniform-related holiday ornaments.
That got me thinking — do you guys have any uni-related ornaments, cards, and decorations of your own? If so, I'd love to see them. Jimmy's recollections are a good guide as to what I'm looking for, and there are further instructions in Sunday's post. Send photos and a brief description to Phil.Hecken@gmail.com. I'll run your stories on the weekends for the remainder of 2015. Thanks!
•  •  •  •  •
Grommetization project, continued: Might this be the ultimate grommetable foodstuff? Perhaps, perhaps (click to enlarge):
• • • • •
The Ticker
By Paul

Baseball News: I'm quoted in this MLB.com article about stirrups. "¦ And speaking of baseball hosiery, look at this amazing page of socks from an 1875 sporting goods catalog. Also love the name of the catalog at the top of the page (from John Thorn). "¦ Keeping with the same theme, check out this awesome Willie Mays sock ad! "¦ I've written several times about the White War of 1967, but now Keith Olbermann has come up with something new: Four gorgeous color photos showing the A's wearing white caps for their game against the Yankees on May 31, 1967. Click on those thumbnails to larger versions of the pics. Also, note that the first shot shows starter Diego Segui warming up before the game next to home plate instead of in the bullpen, once-common routine that's now all but forgotten. "¦ Pretty cool vintage Fleet City Bluejackets uniform on display at the California state capitol. "¦ Someone has ranked the caps of the Rockies' minor league affiliates.

NFL News: "I'm a member of the Chicago Bears Season Ticket Advisor Group," says a reader who'd prefer not to be named. "At our meeting on Wednesday night, they informed us that every Thursday-night game next year will be a 'color rash' game [which we already knew, of course "" PL], and that if the Bears play on a Thursday Night, they will wear mono-navy, not orange." To my knowledge, the Bears have worn mono-navy only once before, for a Monday-night game against the Packers in 2002. They lost, and the party line since then has been that they'd never wear mono-navy again because of the loss. I think that type of superstitious thing is silly, and I can certainly think of other, better reasons for them not to go mono-navy (for example: looks like total fucking shit), but it's nice to know that they can scrap their superstition in order to conform with a silly corporate costuming initiative. "¦ Check this out: Raiders LB Tom Louderback apparently had FNOB — thereby living up to his surname, one might say — for a 1960 or '61 Topps photo (from Keith Olbermann). "¦ Color Rash on tap tonight for the Bucs (and also for the Rams, of course, but haven't seen their silly graphic, which is probably for the best). "¦ Kinda sad that this is noteworthy: Ted Taylor points out that Pats QB Tom Brady often appears at press conferences wearing a plain, logo-free sweatshirt. I find that remarkably refreshing — good for him. "¦ Old-school end zone design on tap for the 49ers. That's for their game on Dec. 20 against the Bengals — the NFL is hyping it as a past Super Bowl match-up, hence the retro design (thanks, Brinke).

College Football News: Here are the patches for the Credit Card Bowl, the Middlebrow Steakhouse Bowl, the Lifestyle Cap Bowl, and the Really Crappy Internet Hosting Bowl. Happily, no corporate douchebaggery for the Stagg Bowl patch. "¦ Southern Miss's equipment staff has a shitload of non-Southern Miss helmets (from @StateFan3000). "¦ Here are Notre Dame's sideline jackets for the Obstacle Course Bowl.

Hockey News: Here's a rundown of ugly Xmas jerseys (thanks, Phil). "¦ The Capitals' new red throwbacks finally made their on-ice debut last night. "We finally get to see that the helmets are red, which happens to match the old days," notes Mike Engle.

NBA News: Here's a look at some of the Bulls' most eye-catching uniforms over the years (from Bryce Starkey). "¦ Reprinted from yesterday's comments: Interesting piece on the art of NBA court design (from James Steever). "¦ The Wizards will debut their Bullets fauxbacks on Saturday (from @sknsane). "¦ Only two colors on the court for last night's Nets/Heat game: black and white. Yes, yes, I know — white is the absence of color, black is all colors, blah-blah-blah. And yet: Only two colors on the court last night, black and white (from @Bobb_O).

College Hoops News: Seton Hall will unveil a new "old school" uniform — which I guess means a throwback, right? — this afternoon. "¦ Throwbacks last night for UMass (from @caliparty8). "¦ High Point's NOBs are sitting way too high. Vertically center them! (From @SoCalMindset).

Grab Bag: Check it out: Bjorn Borg once had his own candy bar (from Brinke, of course, who also posted this big set of very cool vintage tennis photos). "¦ Somewhere out there is a guy who runs half-marathons in a business suit (from Tommy Turner). "¦ Whoa, check out this awesome letterhead from an old curling broom company. Poignant letter, too (great find from Joanna Zwiep). "¦ Boxing Day jersey for the Leeds Rhinos rugby team.